Successfully managing multiple projects is not easy. From project planning and deadline tracking to task designation and team collaboration, a project manager has plenty of responsibilities. Thus, it's not surprising that 35% to 41% of project managers considered quitting in 2021.
Fortunately, the best project management software provides a good overview of all the projects you're managing and what your team members are working on.
Some tools also allow you to automate specific processes and perform time-consuming tasks with just a few clicks. Other project management apps even have finance tracking features to ensure you don't overspend on a particular project.
Your team members will also greatly benefit from this tool. They will become more productive because all they have to do is log in and check what they need to do and when it's expected to be done. They (and you) can also easily track their progress.
Of the many choices available, which among the available project management solutions should you choose? Allow us to help you out.
A Quick Comparison of the Best Project Management Software Programs
This list includes 13 tried and tested project management tools perfect for any working arrangements. Whether you and your team work from home, at the office, or a combination of both (hybrid), they will help ensure you meet your goals and deadlines.
For a quick reference, here's a table you can use to quickly and easily compare each of the software we'll review below:
| | | | | |
| --- | --- | --- | --- | --- |
| ProjectManagementSoftware | User-Friendliness | Customizability | CommunicationandCollaboration | Integration |
| Asana | ★★★★★ | ★★★★☆ | ★★★★☆ | ★★★☆ |
| ClickUp | ★★★★☆ | ★★★★★ | ★★★★☆ | ★★★★★ |
| Clarizen | ★★★★★ | ★★★★★ | ★★★★☆ | ★★★★☆ |
| GanttPRO | ★★★★★ | ★★★★★ | ★★★★★ | ★★★☆ |
| Hive | ★★★☆ | ★★★★★ | ★★★★★ | ★★★★★ |
| Kissflow Project | ★★★★★ | ★★★★★ | ★★★★★ | ★★★ |
| Microsoft Project | ★★★★☆ | ★★★★★ | ★★★☆ | ★★☆ |
| Miro | ★★★★★ | ★★★★ | ★★★★ | ★★★★ |
| monday.com | ★★★★★ | ★★★★★ | ★★★★☆ | ★★★★☆ |
| Teamwork | ★★★★★ | ★★★★ | ★★★★ | ★★★★ |
| Wrike | ★★★★★ | ★★★★★ | ★★★★☆ | ★★★★★ |
| Zoho Projects | ★★★★★ | ★★★★ | ★★★★★ | ★★★★☆ |
Best Project Management Software Reviews
Here's an in-depth look at the key features, benefits, and drawbacks of our top picks to help you find the best software to manage your projects.
1. Asana | Best Project Management Software for Goal Setting and Tracking
Asana is a project management software focusing on platform reliability and scalability. It currently has more than a million subscribers who use the tool to manage marketing campaigns, product launches, reach their objectives, and more. It's also one of the top options for free project management software.
Key Features
This project management tool launched in 2008 and has one of the most user-friendly and inviting interfaces. It has a Goals feature where the project manager can select the company or team objective or goal, quantify it, and attach it to the task or workflow.
By doing so, Asana will track the project's progress, measure its completion, and report any wins or setbacks. Even better, cartoon animations known as Celebration Creatures will zoom in on your screen once a task gets completed.
What makes Asana ideal for all business sizes is the available productivity items categorized for easy navigation. You can manage projects with the platform's task boards, work request forms, timelines, reports, workload management notifications, rule and workflow builders, automation tools, and more.
You can even personalize your to-do list because you can choose from several styles. In terms of integrations, there are also a lot, including:
Adobe Creative Cloud
DropBox
Gmail
Instabug
Microsoft Office 365
OneDrive
Automate.io and Zapier users can connect to Asana for easy integration with other available tools or apps. Just keep in mind that, like other project management tools, not all of these features are available in every plan.
That said, one minor issue with Asana is that it has no active, real-time chat feature. You can only communicate and collaborate through comments or other communications apps.
Pros:
Forever Free basic plan
Easy to use
Multiple integrations
Designed for all business sizes
Con:
2. ClickUp | Top Project Management Software for Scrum Users
This project management app has some of the more advanced project management functionalities. It's the best project management software for businesses with Scrum Agile product sales, marketing, and product development teams.
Key Features
What makes ClickUp stand out is how customizable the workspace is. This is thanks to ClickApps, which lets you enable any proprietary task management features.
For instance, LineUp™ will ensure every team member knows what to prioritize. They will also have a good idea of the next task they need to handle.
Another ClickUp feature you would surely love is the Box View and Assigned Comments. The former allows you to see what your team is working on and what has been accomplished. It will also help you predict their capacity, which you can use when assigning tasks in the future.
Meanwhile, Assigned Comments is a function wherein the project manager can assign subtasks to one particular person by leaving a comment. Other team collaboration tools and task management features available include:
Task checklists
A task scheduler
Task templates
A project planner
Resource management
Calendars
Timelines
Chat
There is also six built-in, customizable team reporting features and document and Wiki editing tools.
In addition, this project management system allows integration into some of the most popular and beneficial platforms, including Dropbox, G Suite, and Slack. Additional integration into over a thousand platforms is also possible through Zapier.
Lastly, it's among the best free project management software for individual users. ClickUp has a free plan with no expiry date, but expect the features to be less extensive than the paid plans.
Pros:
Free plan allows unlimited members
Affordable unlimited plan
Highly customizable workspace
Con:
Some customizations take time to set up
3. Celoxis | Best Project Management Software for Complex Projects
The Celoxis platform is one of the most widely adopted project management solutions utilized by famous companies like Rolex, Del Monte, and HBO. To help enterprises eliminate multiple software subscriptions, it offers real-time tracking for several data that mid-sized and large teams deal with daily.
Key Features
This project management system has interactive Gantt charts beneficial for project data recording and tracking. The entire team will also benefit from the timesheet, bug-reporting, task and to-do list view, and ticket management software features.
In terms of team collaboration and communication, Celoxis won't disappoint. The platform ensures the team gets notified of any messages or comment mentions and can send updates even without logging in. This project management tool also allows document version control, file sharing, and activity stream.
At times, opening different tabs and shifting from one to another to view or manage a particular tool can be annoying or even distracting. What's worse is that it can affect productivity. Fortunately, each member of your project team can perform 80% of common actions, such as update status, attach files, and start the timer, straight from their Celoxis dashboard.
This project management platform also has built-in dashboards and reports that allow project managers or admins to have real-time insight into:
Project progress, issues, and risks;
Resource utilization and availability;
And project-specific finance management, such as actual vs. estimated expenses and profit margins.
With this feature, you can start formulating possible solutions or making adjustments. This way, you can decide which is the best route to take for your project, team, and company or organization. If you still haven't, we suggest utilizing any of the top decision-making tools to help you decide more quickly and confidently.
What makes Celoxis one of the best project management software is that subscribers can choose between the annual SaaS package and the on-premise package with a one-time fee. Both require a minimum of five users and offer a 30-day free trial.
Lastly, the makers of this project management tool understand that every industry, company, and organization is different. That's why they made sure the project management system is flexible and customizable.
Pros:
Great value for money for mid-sized and large companies
Short setup time
Easy to use
Includes task, resource, and finance management tools
Con:
No free version
No billing, invoicing, and proofing features
4. Clarizen | Most Flexible and Scalable Project Management Software
As one of the best project management software solutions for your business or organization, Clarizen doesn't just help you accelerate the accomplishment of multiple projects. This platform also allows cross-company engagement, saving you more time and effort.
Key Features
This project management software helps you create strategies and plan the execution of your multiple projects while supporting the whole work cycle. You can also configure the workflow to ensure it fits your goals, objectives, and needs while maximizing project outcomes and eliminating double-task assignments.
The user dashboard is customizable, which can help increase each team member's focus, productivity, and effectiveness. Clarizen also has a ton of primary features for:
Enhanced portfolio and project optimization;
Demand management;
Resource management;
Dashboarding and reporting;
And project-related financial management.
As such, making data-driven financial decisions, managing expenses and time, creating status reports and improving your project's health all become easier.
As one of the top management software, Clarizen doesn't fall short when it comes to team collaboration and communication tools. It has chat and link, email, file, and discussion-sharing capabilities.
If that's not enough, you will love the Clarizen Bot feature, which makes connecting your project data and workflows to Microsoft Teams, Slack, and other chat platforms easier. Engaging and communicating with your entire team and even with stakeholders and clients have never been easier!
Clarizen also integrates well with enterprise-grade software, including Jira, Zapier, and Salesforce, to extend the platform's functionality.
With all these features beneficial for your project tasks, you might be wondering, "How long does it take for one to learn the ins and outs of this good project management software?" Well, you'd be surprised to know that Clarizen has a relatively user-friendly interface.
Pros:
Customizable
User-friendly
Ample communication and collaboration tools
Task, resource, and finance management tools
Con:
Could be impractical for small teams, companies, or organizations
5. GanttPRO | Most User-Friendly Project Management Software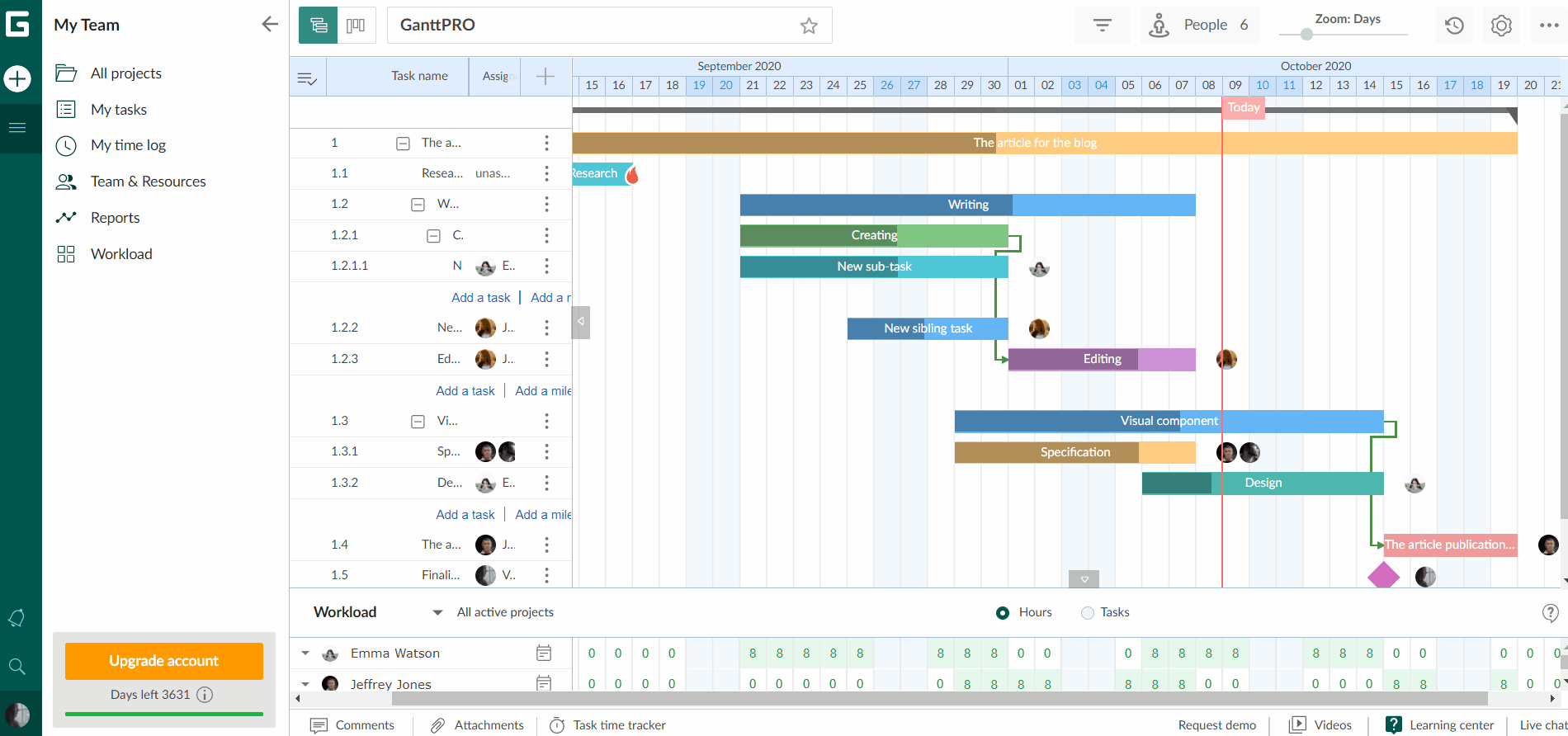 GanttPRO is among the project management solutions created by combining the inventors' experience and user feedback. Unlike other project management tools that use or integrate Gantt charts, this one has its own online, intuitive Gantt chart software.
Key Features
With this tool, you will be able to efficiently break down your simple and complex projects into sibling tasks, subtasks, and subprojects. Not only that, but you can also set milestones and dependencies without any hassle.
Sharing Gantt charts with the team, clients, and even top management won't be a problem and time-consuming. The same goes for exporting these charts to your reports, presentations, and business plans because it is compatible with Microsoft Project and Excel.
This project management solution even has ready-made professional project templates you can use to start any project immediately. Still not convinced that GanttPro is one of the best project management software? If so, the fact that the platform also allows you to do the following might just change your mind:
Set project priorities, statuses, deadlines, and duration
Assign tasks
Track project progress in real-time
Estimate timeline
Plan projects
This project management software based on Gantt Chart also boasts cost, portfolio, resource management, and time-logging features. Additionally, the team can collaborate quickly and smoothly through mentions and comments. Project integration into Google Drive, Jira, Slack, and other third-party apps is also possible.
Do you think these are the only reasons why GanttPro has 600,000+ new users in 2020 and 700,000+ registered users in 2021? Definitely not.
Among its most outstanding features are the dashboard's user-friendliness and customizable visibility. You can switch from the task dashboard, Board Views, and Gantt Charts without any hassle. Lastly, it offers one of the most affordable project management solution packages.
Pros:
Short learning curve
Multiple, customizable project views
Advanced sharing and exporting tools
Affordable packages
Cons:
Limited integrations
Non-customizable dashboards and reports
No recurring task creation feature
6. Hive | Most Comprehensive Project Management Tool

Built by users for users, this great project management software improves and upgrades its features based on user feedback. Hive is well laid out, and project managers can scale the tools up or down based on their current team's needs.
Key Features
Hive is a comprehensive project management solution primarily popular for its Preferred View feature. It enables each project team department to customize the workspace interface to help increase their productivity. Likewise, the entire team can quickly and easily switch to several views, such as Kanban boards, Gantt charts, a calendar, and tables.
Project managers would want to ensure they can track the progress of each team member or the team itself without constantly sending them messages.
After all, micromanagement interferes with job performance and negatively impacts employees' morale. 69% of micromanaged employees also considered changing their jobs, while 36% actually quit and looked for another job.
Thanks to Hive Analytics, you won't have to worry about that problem. This project management tool feature lets you, and even the admins, accomplish the following tasks:
Monitor your team's progress and actions
Check every task assignment completed by every team member
Not only will it give you an idea of who's more productive, but you will also have an insight into the most productive days of the week and times of the day. You can use this information to make or suggest changes in your company, agency, or organization's workflow or system to improve overall team productivity.
Hive also understands the importance of communication when running a business, managing a team, and accomplishing simple to complex projects. That's why it has a chat feature you can also use to assign a task.
To use this feature, all you have to do is drag and drop the assignment into the chat window. There is also a comment section where you can transfer a task, communicate potential or current issues, and attach files.
As a project manager, you will love that all actions and tasks are displayed on each member's Personal Dashboard after creating tasks or projects. As such, everyone gets to stay on track. You will also save time from repetitive tasks because Hive allows template duplication.
Another feature that makes Hive one of the best project management software is the automation buttons. Use them to add sub-actions and labels to tasks, move cards from one project to another, and change assignees.
Other add-on features include proofing and approvals, resource management, advanced security for data protection, and timesheets. Last is the newest Hive feature: email integration. With this, you'll be able to receive Outlook and Gmail messages from and through the Hive project management app.
Pros:
Excellent inbuilt communication tools
Pleasant and intuitive user interface
Easy tool integration
Cons:
Steep learning curve
Mobile app has limited functionality
7. Kissflow Project | Top Project Management Software for Workflow Automations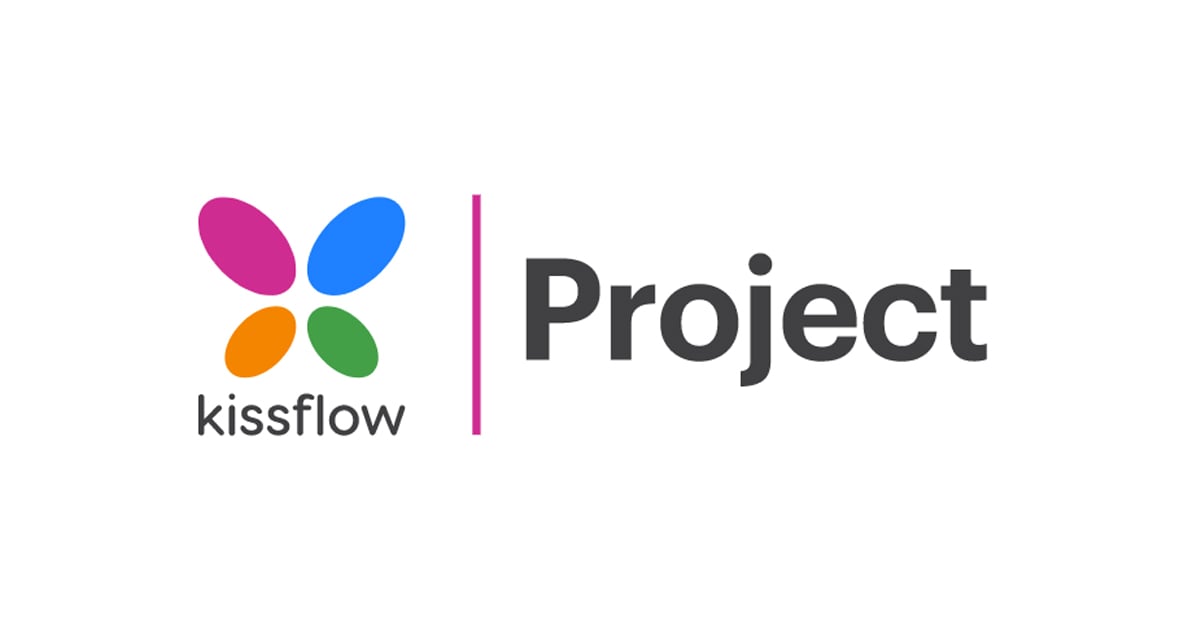 Kissflow Project is yet another company that offers project management solution plans for all, from a small team and a growing team to mid-sized and large enterprises. They currently have more than 10,000 registered users distributed in 160 countries.
Key Features
With a focus on collaboration, coordination, transparency, and productivity, Kissflow Project is easy to use and navigate for project managers and team members. Even better, it is customizable and can adapt to your team or business needs, giving you full control. Choose between several view settings, such as list, Kanban boards, and swimlanes.
Project managers or leaders can design tasks, flag priorities, and assign them to team members. You also won't have to go through the stressful and repetitive task of reminding an assignee or the whole team of deadlines. Instead, they'll receive a reminder when the due date is approaching.
Additionally, the Project States function of this popular project management software helps you track the project's progress. You and any of the assigned team members can mark each task with any of the available project status labels: in progress, on hold, and done.
Of course, Kissflow Project also doesn't fall short in terms of centralized communication tools. There are chat and comment functions so that you can still ask for updates and even provide feedback.
Sharing a project plan, document, and any file for presentation, discussion, or digital asset and document management and storage purposes is also possible. You can even integrate Google Workspace and Microsoft into the tool.
As the project manager, you can create a customized dashboard to quickly view project status, tasks about to be due, and when and where there were roadblocks. The Analytics Suite is another feature you will love the most. With it, you'd be able to create visual reports based on time, flow, and tasks.
Pros:
User-friendly
Highly customizable
Multiple view settings
Several project tracking tools or features
Project management solutions for all business sizes
Cons:
Lacks Gantt charts
No automation for recurring tasks
Not designed for complex projects
8. Microsoft Project | Most Extensive Plan Choices
With a trillion-dollar market cap in 2020, who isn't familiar with Microsoft in this day and age? Understandably, some might not be aware they have a tool called Microsoft Project. It's marketed to help individuals, businesses, agencies, or organizations manage projects, programs, and portfolios.
Key Features
As one of the best project management programs, MP is available in Cloud-Based and On-Premises project management solutions. Each comes in three different plans, from least to most expensive. Like other project management solutions, the most affordable plan has limited features compared to the more expensive ones.
That said, whichever plan you choose, the Microsoft Project management software will help you efficiently organize and keep track of your programs or projects. You will also find that it has three primary modules, but which ones are available will depend on the plan.
These are standard scheduling tools and built-in templates you can access via mobile and desktop. To put it simply, these task management tools will help accelerate the project creation process.
Simplifying the program or project planning stage is also made possible through the Gantt Charts. That's all thanks to its prepopulated pulldown menus that are easy and quick to use and navigate.
This module allows you to model several scenarios and consolidate gathered data for more in-depth analysis. How so? That's because this Microsoft Project management software module integrates well with the company's business intelligence system known as Power BI Pro.
Why is this feature so important? With it, deciding the best path for your program or project won't be as challenging as it used to be. It will also ensure you can prioritize tasks, objectives, and initiatives according to rules and using urgency and data-driven insights.
Like other project management solutions supporting this module type, you won't worry about full transparency of shared resource utilization and more. You will have full visibility of real-time data, and the whole team can simply enter updates.
It is also effortless to generate burndown and financial chart reports and share them with any member of the team and/or company or organization.
Pros:
Full visibility
Great value for money
Adaptive or customizable
No bells and whistles
Cons:
Limited resource management features
Steep learning curve for newbies
9. Miro | Best Project Management App for Hybrid Work Setup
According to the website's trend tracker, Miro's active user weekly growth had a 236% increase between March and mid-June of 2020. One of the top reasons for this is that it isn't just project management software. Miro also has an Academy where you can find learning materials for continuous learning and skill development.
Key Features
Primarily designed for hybrid workers, this platform focuses on a collaborative, interactive online whiteboard. That's all thanks to its extensive task management tools, such as:
1,000+ templates for the following:

Gantt Charts
Research and Kanban Boards
Mind boards
Flowcharts
Product wireframes

Inbuilt Video Conferencing
Miro is one of the top choices for free project management software because of its no-expiry Free Plan for unlimited members. However, getting the free version means you can't enjoy all the benefits you will get from the paid plans.
For instance, you can allow clients and stakeholders to have access to a specific project or task when you have a paid plan. Therefore, collaboration isn't exclusive to your company or organization's team.
This feature makes it the perfect project management software if you are dealing with fussy clients. They will become part of the decision-making process, so you can save time from multiple changes initiated by the client.
Exporting your document to PDF isn't also the highest quality if you register as a free user. That said, the Miro paid plans can integrate with multiple famous tools, such as:
Asana
Airtable
Azure DevOps
Box
CA Rally
Confluence
Figma
Google Drive
Jira
Microsoft Teams
Notion
Slack
Webex
Zoom
Wondering which of these integrations you'll miss when you avail of Miro's free project management software plan? That would be Azure DevOps, CA Rally, Confluence, and Jira. Thus, it is advisable to check what these tools can offer and see if they are valuable for the type of projects you handle and the industry you are in.
Pros:
Forever Free Plan
Hassle-free to setup
Easy to navigate
Well streamlined collaboration
Con:
Jumpy zoom function for larger projects
10. Monday.com | Top Project Management Software for Large-Scale Tasks
This platform boasts over 150,000 active users around the globe, including popular companies in different industries. As such, our list won't be complete without monday.com. It has some of the best time-saving functionalities that every business or organization will love, especially those handling multiple large projects.
Key Features
Project management software Monday.com has the necessary features you'll usually find in a good platform. These include time tracking, multiple boards, and a reporting dashboard.
Of all its features, its reporting dashboard stands out because it allows you to collect all the data from several boards. Doing so enhances progress tracking capabilities. Another thing most users love about monday.com is how they can customize the work methodology to match the team or project's needs.
Even better, managers can turn the workflow into a unique template. They can then share this template with anyone within the company or organization, if and when needed, with just one click of your mouse. Setting color or visual codes is also possible, so each member can easily identify cards or tasks.
Are you one of the managers or leaders who want to check even the tiniest details of a portfolio or project? Project management software Monday.com has got you covered.
Using its tools, you can view every project datum in multiple ways so that you don't miss anything. You will also see the bigger picture, giving you an idea of how the project should turn out.
Not only is Monday.com one of the best project management programs for ensuring a smooth workflow. It is also one of the top choices for collaboration needs, thanks to the following features:
Uploading and attaching files to specific cards
Leaving comments
Mentioning teammates or members
Tracking deadlines and project progress or status
Identifying and resolving any roadblocks
If that's not enough, everyone involved, even the stakeholders, gets notified in real-time of any updates or changes within the project. This means the manager or leader has full control of their team's activities.
This project management software also has a resource management feature but lacks project invoicing and accounting solutions. Nonetheless, you will benefit from its timeline, hour, and invoice tracking capabilities.
Also, you will be able to integrate other project management software via Zapier, including:
Dropbox
Gmail
Google Calendar
Google Drive
GitHub
Jira
Slack
Trello
Typeform
It's worth mentioning that project management software Monday.com has one of the strictest cybersecurity measures. You can set user permissions and access controls to ensure data and information safety.
Pros:
Lots of supported integrations
Highly and easily customizable board
Rich with collaboration tools
Numerous automation functions
Cons:
Not ideal for small teams
Complicated pricing; need to email support
11. Teamwork | Best Tool for Client-Facing Professional Service Providers
With 20,000+ current users around the globe, this Ireland-based company aims to help you deliver projects on time and within the specified budget. Not only that, but you can also eliminate any client or customer chaos that can otherwise affect your company, agency, or organization's reputation and profits.
Key Features
Teamwork is mostly popular for its ease of use and setup as well as excellent customer support. You will find that its user interface is easy to navigate. Plus, you also won't have difficulty searching for any tool you need because you can see everything in one place.
The platform has pre-built templates to help you get started quickly and easily. In terms of the essential project management features, it has an extensive list, but the most notable ones are:
Card assigning to multiple members
Gantt Charts
Kanban boards
Time tracking
How about resource management capabilities? Teamwork allows you to have a bird's eye view of each project milestone, budget, and more. This feature ensures you don't miss any billable and go beyond your budget.
Likewise, the platform has invoicing and billing functions, making it the right project management software for teams handling client work, such as ghostwriting. Integration-wise, Teamwork Project Management Software is compatible with the following:
Locoia
estimateX
Float
Make for Teamwork and Desk
Microsoft Office Add-in
Microsoft Project
MS Teams
Outlook Desktop and Online
Slack
SoftSync for Jira
SupportBee
Taco
Task Clone
Task Reviewer
You'll also enjoy integration with thousands of apps or tools through Zapier. Additionally, Teamwork has its own list of integrations you can benefit from, such as Teamwork Timer and Teamwork Chat.
The company is one of the best project management software for seamless collaboration and communication among the team members and even with your clients. That's especially true if you subscribe to any of its paid plans, which include an unlimited collaborator feature.
The whole team will enjoy the benefits of the available chat tools, intake forms, and the collaborative editor function. Meanwhile, task managers, leaders, or assigned members can give your client access permissions or controls.
Once done, your client can leave comments on specific task lists, deliverables, and milestones. Thus, the team can make any changes as and when needed instead of after project completion.
Doing so will save the company, the team, and the client time, resources, and effort. It also reassures a client will most likely avail of your services again because you were able to meet their needs and requests on time.
With all these features, you should expect that the paid plans are a bit more expensive than most project management software. Nonetheless, it has a 30-day free trial offer to help you make a more informed decision if it's worth investing your money.
Even better, the company won't charge for an extra seat or user if you need to hire a freelancer as your project requires.
Pros:
Easy to use, navigate, and setup
Free trial available on all plans
Clients access (paid plans)
Long list of compatible integrations
Cons:
Limited free version plan
A bit costly
12. Wrike | Popular Project Management Software for Unlimited Users
Since the number of individuals wanting to land a remote job continuously increase, cost-effective PM software is ideal for growing teams or businesses. Wrike Project Management Software is another go-to solution because its free version doesn't have a limit in terms of the number of users.
Although some platforms' free plans also have unlimited-user offerings, the company has been generous enough to ensure the plan has enough beneficial features.
Key Features
Whether you work with a small, mid-sized, or large team, managing projects from start to finish is convenient with the Wrike software. Its intuitive dashboard gives you a quick, 360-degree view of your priorities and goals.
For a more personal touch, you can swap between different palette schemes, thanks to the Wrike Themes feature. You can also customize your project folders and report tools, including Gantt Charts, purpose-built templates, and Resource Allocation.
Organizing the entire workflow process based on your needs is also possible. You can change the order of your list alphabetically or according to date, importance, and status using the platform's dropdown menu.
Wrike also included a custom request form you can use to do the following:
Create rules
Collect information or data
Auto-assign and auto-create tasks for each of your team members
One of the most outstanding features of this platform is Wrike Work Intelligence, allowing you to accelerate results, save time, and predict risks. The software also has a good list of collaboration tools to ensure seamless workflows.
One of these programs is the Snooze Setting, which will send reminder notifications to your team's inbox. You can set it up to three hours (the default setting), one day, or one week. Alternatively, you can opt for the custom menu wherein you can select the date and time for the app to send reminders.
Another useful feature is the Work Schedule Management system, which is useful for flagging and grouping employees based on their typical weekly schedule. What's more interesting is that Wrike will save it and use it to plan your project or task's timeline.
For seamless communication between you, your team members, and key stakeholders, the platform offers voice commands and smart replies. You will also love its 400+ pre-built native integrations with some of the most famous marketing and file management tools, including:
Dropbox
Google
Microsoft
Marketo
Salesforce
How about integration with third-party apps or systems? Wrike is compatible with some of the most useful ones like Adobe Creative Cloud, Jira, and Github.
Access to all these features will depend on the plan you get, just like any of the project management software or tools with free and paid subscriptions.
Fortunately, Wrike offers the best free project management software plan, especially if you're a startup company. To give you a better idea, here's a comparison between what you will get for each plan:
Alt: A Quick Comparison of Wrike Plans
Image Source: https://www.wrike.com/price/
Pros:
Easy to use
Flexible and scalable
Advanced intelligent features
Highly customizable
Allows simultaneous management of ongoing work and other projects
Con:
Choosing a plan can be a bit tedious; better to contact support
13. Zoho Projects | Most Affordable Project Management Software
With one of the most affordable plans, it's not surprising that over 400 companies (or about 200,000 subscribers) use Zoho Projects. Of course, it isn't just about the cost, as the platform also has a ton of features for small, growing, and mid-sized businesses or organizations.
Key Features
Thanks to its Gantt chart feature, this widely-used project management software will help you handle even the most complex projects. Basically, what it does is that it breaks down any project into smaller sections and actionable tasks. You can then visualize and plan different milestones and tasks for easy and quick creation of task lists.
You can also use the chart for resource allocation to visualize your team's workload and project schedule. This way, you won't have to guess who is available, unavailable, and overloaded with tasks. It goes without saying that you can evenly distribute the tasks so that no one gets overwhelmed, affecting the project's progress and result quality.
Not only that, but Zoho Projects also allows you to monitor the amount of work accomplished and set task reminders. Tracking time is also possible via the timesheets, helping the whole team stay within the schedule for project completion.
Using the timer, you can manually record the specific number of hours spent on certain tasks and then compare it with your set goals. Alternatively, you can let the platform record it automatically on the timesheet and generate an invoice using the information gathered.
With the Zoho platform, you won't waste time and effort doing repetitive routine tasks because you can automate them at regular intervals. All you have to do is set up any recurring task and set reminder emails for each.
You will also notice that the platform has features that make it look like it is a social networking site. These include:
Forum or Discussions: A place where you can discuss issues, solutions, and ideas
Feed: Allows interaction with the whole team and tracking of project activities
Meeting Tab: Beneficial for conducting virtual meetings
Chat: Useful for individual or group conversations
Thanks to its Document Management Module, Zoho Projects won't disappoint in terms of the document, spreadsheet, and presentation creation, sharing, and uploading. Likewise, you will find that it offers a long list of integrations.
For in-house integrations, you have Books, Finance, Cliq, Flow, and more. For third-party integrations, it is compatible with:
Google Drive
Microsoft Teams
Microsoft Office 365
ServiceNow
Zendesk
Zapier
Pros:
Excellent value for money
Easy to navigate and set up
Can automate several tasks
Lots of communication and collaboration tools
Cons:
No pre-made templates
No file type export options
Improving Your Team's Productivity and Project Delivery
When the world became more digitalized and advanced, the project management practice also started changing and will continue to do so. You can keep up with the changing times by using the best project management software.
The best project management app eliminates the need to use several tools that can lead to confusion, a time-consuming learning process, and missed updates and changes. All of these result in inefficient tracking and failure to meet deadlines.
More importantly, these programs also ensure you don't overwhelm any of your team members with tasks while others stay idle or only work on a number of tasks.
Lastly, you can avoid micro-managing for better productivity and less stress, make decisions based on accurate data, deliver quality results, and secure more clients. Use our list above to end up with modern project management software that will assist you for years.
Project Management Software FAQs
After narrowing down the choices through our review of some of the best PM apps, are you still confused about whether or not you need one? Still unsure which one to pick? We'll help you decide by answering some of the most common questions regarding the software.
1. What are the characteristics of a complete, standard project management software?
From our list, you will notice common features because they are the ones that make an app a true project management software. These features include task and tracking, document management, collaboration and communication, and a metric dashboard.
It would be best to keep these features in mind, especially since some apps appear to be complete project management tools but are only designed for collaboration and communication.
2. Are there different types of project management software?
Yes, there are, and they are categorized based on accessibility and functionality. For accessibility, we have desktop and cloud or web-based.
The former refers to software that requires you to share the document for collaboration. On the other hand, cloud-based types allow convenient collaboration because the members only need access to the internet and log in to the account.
For functionality, there are three: individual, collaborative, and integrated. The individual is a simple application used by the project manager. However, they can share it with the team by giving them access.
Meanwhile, the collaborative type brings the whole team together and is customizable. One possible problem is that it only allows the management of one or two projects.
Lastly, you will find that integration PM software is more advanced and feature-rich than collaborative. Therefore, you'd be able to handle multiple projects at a time. The software we reviewed above belongs to either of the last two types.
3. How do I choose the right project management app?
It's easy to just pick the most affordable tool, thinking it's the most practical decision. It is also easy to be swayed by all the features that expensive plans offer. In truth, the best way to choose a tool and plan is to think about cost-efficiency.
It goes without saying that it will be impractical to choose a project management software tool laden with features you won't really use. Multi-feature tools can also lead to confusion, especially if you are new to the project managing industry. On the contrary, the simplest and non-feature-rich apps might not be enough for some.
When choosing PM software, always consider the size of your team or institution and your potential and current projects. It would also be best to list down your specific needs. Doing so will help you evaluate which features you can do without and which ones you need the most.
Additionally, checking the app's integration compatibility is essential to ensure you can easily add more helpful tools as your team grows. As your client base grows, so is the number of tasks your team needs to handle, finances and resources you need to keep an eye out for, and more.
Since most of these platforms offer a free version and even a free trial for the paid plans, consider taking advantage of it. That said, to avoid wasting your time and effort, ensure you've already narrowed your choices to a maximum of three apps.
4. Which among the best project management software should I choose?
Based on the last question, we can conclude that no single tool will work for every project type, industry, company, agency or organization, and team. That's simply because your needs are different from the others.
Nonetheless, we can narrow them down based on team or institution sizes or types. If we have to choose, our top recommendations are as follows:
Small and Growing Teams or Businesses
If you have a small team, your main concern is probably efficiently managing and tracking multiple projects.
You won't need many client billing and employee scheduling features, so Zoho Projects is ideal. After all, you can just scale it up once you require more features or your team starts to grow because of the many in-house integrations available.
You may also opt for GanttPro if you have little to no experience with project management. Not only does it offer low-cost plans, but it is also the easiest to use.
Likewise, Asana, Miro, and Wrike are great options because of their forever free project management software plans. They're perfect choices, especially if you're on a tight budget or still waiting to have a return on investment (ROI). After all, you can simply upgrade as and when needed.
Mid-Sized and Large Teams or Businesses
With a higher number of employees, clients, and projects, you will definitely be managing multiple teams and require more resource management features. Therefore, our top recommendation for you is Clarizen and Wrike paid plans.
These platforms are designed to help handle multiple projects and non-project (such as accounting and admin) tasks. The best part is that they are able to do these tasks simultaneously.
5. Is Google Sheet a project management tool?
We consider Google Sheet a project management software because it allows you to track and update tasks and collaborate with users whom you shared the sheet with. You may also do so, but we only recommend it for teams with less than five members because of the limited features. It is perfect for independent contractors who handle projects and tasks for multiple clients.
6. How do I use Excel as a project management tool?
Some project managers or leaders use Microsoft Excel to help them visualize, plan, and monitor project progress. Perfect for small-scale projects, here's how you can use this simple project management software:
Step 1: Create a project table.
Step 2: Create a bar chart.
Step 3: Add a tenure to the chart you created.
Step 4: Add a task description.
Step 5: Change your bar graph to a Gantt chart.
Step 6: Improve your Gantt chart by changing colors or adding effects. You may also use the many available Excel templates for your convenience. Like Google Sheet, this is ideal for individual contractors, startups, and small teams.