Making it in today's cutthroat world of business calls for implementing the right webinar marketing strategy. Central to this: using the best webinar software to meet your goals.
As much as 95% of establishments believe that webinars can help them accomplish their objectives.
Webinars allow businesses to build a more personal relationship with clients and answer their complaints at scale. They are even more vital now, with Covid-19 pushing many companies to take in-person events and sales meetings to the virtual environment.
Using automated webinars, you can make conducting these virtual events even easier for your team. Let's run through 10 of the best webinar software platforms to get your webinar marketing plan up and running.
We'll look at each platform's primary purpose, key features, and pros and cons to help you pick the one that meets your needs a lot.
What Is Webinar Software?
A webinar is a type of web conferencing that fundamentally combines the terms web and seminar. These virtual conferences are run using webinar software. They are better described as live presentations, meetings, lectures, or events that are entirely web-based and attended by a private audience.
As mentioned above, webinar software is used to run a webinar. It features tools that make your webinars more flexible, interactive, and engaging. Today's most popular webinar platforms include Zoho Meeting, Livestorm, and Livestream.
The best webinar platforms make recording and sharing videos a lot easier. They also let you follow up on prospects with fewer hassles and little to no downtime.
Overall, webinar tools are great for small businesses since they facilitate the delivery of top-notch live video content and sync with their email list. They also help in sales process automation and MQL engagement through product demos and live training videos.
Furthermore, many video conferencing tools come with features like live-chat, streaming, email marketing platform, built-in polls and surveys, and automated webinar sequences, among others.
In particular, automated webinar sequencing is ideal for hosting evergreen content such as employee onboarding videos, podcast interviews, or online courses.
Best Webinar Software Platforms
1. Demio
Demio is one of the complete webinars platforms available today. That is why it comes as no surprise to us that they've thrived throughout the pandemic.
They've adapted and kept up with the changing needs of marketing teams being forced to conduct meetings online.
Like the other platforms on this list, Demio has succeeded whereas many others have failed.
In Demio, you get a modern and robust platform cut above the rest. Unlike most conferencing software, it doesn't make you choose between live or automated webinars—it offers both.
It also offers the option for producing mixes of pre-recorded and live recordings.
As you conduct your webinar, this platform lets you launch offers, run interactive polls and Q&As, share document handouts, and more.
It is a dedicated webinar tool for marketing teams after the automated replay feature and focuses on live virtual events.
Demio has also proven a great fit for education companies and nonprofits forced to run operations online due to the pandemic. The company offers a 50 percent discount to these organizations.
Marketing heavyweights like OptimizePress and Drip swear by this webinar software, so you're in excellent company.
Top Features
Here's a quick overview of why Demio made it to our best webinar software list:
Private Chat: The software allows you to either send a message everyone can view or a private chat to the event coordinators.
Analytics: This tool evaluates your webinar performance to help you improve.
Like Live Replays: Builds email lists by automating webinar replays.
Branded Registration Page: Ensures that everything aligns with your brand
"Stay Registered" Series: Lets people sign-up once for a continuing series of unlimited webinars.
2. Riverside
If you own a large business, you may find Riverside a better fit for your needs than other platforms on this list.
The tool offers a ton of great features for hosting webinars, including the ability to record conferences with clear uncompressed audio locally at 48kHz WAV.
Another highlighted feature is the Magic Editor, which lets users edit material and integrate it into well-structured conferences. It weaves together all recordings locally while separating audio and video channels at the same time.
That means you can access each independently when you edit.
Hosts can invite visitors to record online events anytime and anywhere. You can start recording in a few seconds, making this an easy platform to use in any scenario.
Transcriptions are also available for your webinars, so you'll always know what to do. This way, you can also provide your audience a more complete and interactive experience.
Using this feature, you can jump to a specific moment or time frame within the video without scrolling through the minutes or hours of the recording.
Riverside also lets you stream interviews simultaneously on Facebook Live, YouTube, LinkedIn, and other channels if you want to share them with others. It also allows you to ask for feedback from visitors on these channels while you're live.
Thus, you get real-time insight into what guests think of your performance.
You can have up to eight guests at your conference, which means every event provides a more personal and engaging experience.
Top Features
The highlights of this platform include the following:
Confirm Participation Easily: Guests only have to click a link on their Chrome browser or iOS app to confirm their participation.
Share Live Recordings: This means people can still watch the entire conference even if they don't make it live on time.
Additional Features: These include tools like the YouTube Name Maker and Podcast Name Generator that make it easier for users to expand their business.
Quality Service: The companies Riverside has worked with speak for themselves: TED, Freakonomics, and TED, among others.
3. Livestorm
If there's any doubt that Livestorm belongs to the cream of the crop of webinar tools, its ability to go above and beyond as a marketing tool should remove any trace of it.
It still has the usual-suspect features like automatic replays and automation sequences, but these are merely the tip of the iceberg of the platform's offerings.
For instance, Livestorm lets you have up to 12 guests for meetings and demos. Plus, it integrates collaborative tools like Miro to take your online conferences to the next level.
The entire platform is gorgeously designed and offers a superb user experience. From the registration landing pages to the live recording, everything is structured to provide a complete experience.
Lastly, the platform is not a black box. Unlike the more dated platforms, Livestorm incorporates some of the most popular marketing tools like Salesforce and HubSpot to provide a clear assessment of webinar performance.
Based on what the tool offers in terms of features and integrations, it would be an excellent alternative to Demio for tech marketing teams to consider.
Top Features
With so many tools to offer, Livestorm's most notable features are:
On-Demand Webinars: Informs users that a webinar is about to occur and encourages them to sign up.
Live Webinars: The typical format of the live webinar.
Polls: Speak to a live audience in real-time and have them answer tests or polls.
Automated Webinars: Let you schedule webinar replays at fixed times throughout the day.
Free Training: Provides in-depth resources on creating different webinar types.
Instant Meetings: Livestorm can replace your business' go-to video meeting software.
Analytics: Assesses your type of webinar strategy
4. Zoho Meeting
Tons of users love Zoho Meeting, and for a good reason. It's one of the most excellent webinar tools for those who want to conduct their marketing webinars, group web conferencing, internal team webinars, or one-on-one meetings using a single platform.
To top it all off, it's one of the easiest-to-use platforms and is trusted by thousands across the globe.
Zoho is known for providing a wide range of top-tier products for the different aspects of a business. From CRM and marketing tools to customer service and finance software, Zoho covers all the bases and covers them comprehensively.
Top Features
The most notable tools Zoho offers its users are as follows:
Launch and Join Features Easily: Zoho Meeting lets you launch and join features from the browser without downloading.
Join From All Devices: Just download their mobile app to join from any device
High-Quality Recording Options: These include audio, video, and screen sharing options.
Sync With Calendar Apps: Sync with these popular apps to always be on time for live conferences.
Advanced Webinar Settings: These allow you to control up to the smallest detail of your webinar presentation.
Customize Registration: Personalize your registration form to align with your brand. 
5. EverWebinar
The fifth platform on our list is EverWebinar, another excellent candidate for running your upcoming webinars.
While their site gives off strong infomercial vibes that can be off-putting to some, their platform delivers in every way possible.
The automated "evergreen webinar" came years before it became popular. Using this platform, you can arrange and automate webinars to run at set intervals.
The software aims to recreate the live experience for webinar attendees who don't attend live.
Using EverWebinar to automate webinars for your business could lead to great results. You may see increased webinar attendees, email leads, and overall webinar performance.
This tool is best for those who want to automate screenings for prerecorded conferences and transform them into an effective webinar strategy for generating leads.
Top Features
Here's what you can expect from this webinar software:
Analytics: Assesses the performance of your webinar marketing strategy.
Integration: Helps build email leads by integrating with email marketing software platforms like MailChimp, GetResponse, and ActiveCampaign.
Free Training: Provides in-depth resources for producing webinars.
Time Zone Auto-Detect: Adjusts webinar plays to a wide variety of time zones, so you only need to schedule things the first time.
Just-in-Time Webinars: Inform users that a webinar is about to start and encourage them to sign up then and there.
Block Dates: Stops your webinar from playing on a certain date or holiday.
Block Night-Time Viewing: Maintains the illusion of a "live" webinar by stopping your webinars from playing through the night.
Just-in-Time Webinars stand out, especially because it gives users the necessary nudge to sign up and be among the webinar participants.
6. WebinarJam
Number six on our list is an incredibly simple and easy-to-use webinar tool. Seriously, if you're someone who has little to no knowledge of setting up a webinar, this platform should help you learn in a breeze.
In addition, WebinarJam allows you to stream directly to YouTube and have a secure, password-guarded web-based meeting with your target audience.
Some other distinct advantages of this tool include:
Offers pop-ups during the webinar session, which lets users buy your product or service straight from the conference.
Provides outstanding two-way communication through live chat by pulling a video of the attendee for one-on-one video conferencing.
WebinarJam makes use of one-of-a-kind broadcast technology that produces a universal signal. Aside from that, it employs several of the latest technology, such as Flash, HLS, RTMP, and WebRTC, for compatibility with devices and web browsers across the board.
Its other impressive features include customer-facing interfaces, beginner-friendly dashboards, HD video, and the multiple-presenter option. It records each recording automatically so late webinar participants don't miss anything.
Furthermore, there is nothing complicated about the tool. If something has you scratching your head, there are training videos to fix that.
WebinarJam best suits marketers looking to stream live webinars and record them to use with EverWebinar.
Top Features
Here's a quick summary of the most vital offerings of this platform:
Recording: Automatic recording
Streaming: Integrates with all social media platforms
Presentation-boosting features: built-in autoresponder and reporting on live webinars
Convenience: Handles multiple attendants easily
Compatibility: Compatible with multiple operating systems and browsers
Great for Beginners: User-friendly interface and dashboards and quick setup process
Live streaming aside, where WebinarJam truly takes the cake is in the auto-record feature. That means each webinar you run offers evergreen webinar content you can replay using EverWebinar.
7. Webinar Ninja
Rarely is webinar software as powerful and as complete as Webinar Ninja. It's as close to an all-in-one solution to today's web conferencing challenges, evidenced by the favor it has gained from some of the world's major brands like Printful, Podia, and AppSumo.
It has some of the easiest tools and the most uniquely designed sign-up pages.
The platform makes every aspect of creating a webinar easy, so much so that it won't take you a minute to create one.
Here are the four different types of webinars you can produce using Webinar Ninja:
Live Webinars: A live host broadcasts this type of webinar for audience interaction
Automated Webinars: Recorded webinars that run on set intervals or on-demand
Hybrid Webinars: a combination of live and pre-recorded webinars or conferences
Series Webinars: A group of multiple webinar options
Webinar Ninja is yet another platform that suits businesses and marketers searching for a modern and dependable webinar tool.
If you're creating a webinar for less than 100 participants, you should definitely consider this option.
However, if you're setting up an online conference for around 500 guests, you may want to lean towards Demio, as this one may fall short in a couple of aspects.
How about webinars meant for even a larger audience? Our next platform could be an even better option.
Top Features
The features of this platform that you need to make a note of are:
Paid Virtual Event: Run paid virtual summits or free webinars
Automated and Hybrid Webinars: Run fully-automated replays at set intervals or combine pre-recorded and live videos
Multiple Presenters: Choose from one or several presenters
Ad Tracking: Insert Facebook Ad tracking pixel
Integrations: Over a thousand apps to integrate using Zapier
Analytics: Provides reports on live webinar performance
8. WebEx
WebEx goes above and beyond the requirements of a webinar platform. Hence, its placement on our list of the best webinar solutions.
Its comprehensive features cover the different aspects of online events, meetings, team collaboration, interactive presentations, and training sessions.
This full-spectrum application is what sets the platform apart from the rest of the field, though pricing isn't that different.
So that's plenty more features for money compared to some in this listicle and an entirely different set of traits compared to others.
Despite having a broader range of features than most platforms, something is missing from this tool. Yes, it lacks a dedicated marketing tool.
Primarily, WebEx is a video conferencing suite that addresses the different needs of marketers who run webinars and other live events. So while it's not just a webinar tool, it also falls short of being the best webinar marketing tool.
WebEx is a powerful system for video communication that lacks marketing tool features. If that's what you need, then this platform has your name on it.
Top Features
To help you decide better if this platform is perfect for your needs, here's a quick list of what it offers:
File Sharing: Ensures better workflow with its ability to share apps and files
Chat and Brainstorming Features: Provides an interactive whiteboard and other amazing collaborative tools
Webinars and Video Conferencing: Lets you host a range of live meetings, training sessions, and other event plans
Call Back: Automated calls invite people to participate in your webinar
9. ClickMeeting
Another dedicated webinar tool comes in the form of ClickMeeting. It's one of the most popular tools around and has pretty much everything going for it.
Well, maybe not everything. The platform lacks a major feature you would expect webinar software to have at this stage: the automated relay feature.
That could be a dealbreaker for marketers who expect their needs covered across the board. Nevertheless, the fact that you can record videos and download them for sharing should be a good consolation.
Overall, ClickMeeting is a well-integrated, intuitive platform with options for personalized invites and automated webinars. That means small and medium-sized companies should find it extremely helpful.
The tool is simple—instructions are clear as day, and there is no need for technical stuff. Thus, you can set up your webinar with little to no effort.
It also offers analytical insights into your webinar performance if there are areas that need improvement.
Top Features
The following are what you'll expect from this platform:
Customization: Personalize branded webinars, waiting rooms, and invitations
Subaccounts: Assign webinar tasks to different members of the team
Engagement: Use the interactive whiteboard, dynamic presentations, and live chat and videos to engage attendees
Recordings: Record webinars and share them with whoever you feel like
Analytics: Offers analytics and reports on webinar attendance rates and other crucial metrics
10. BigMarker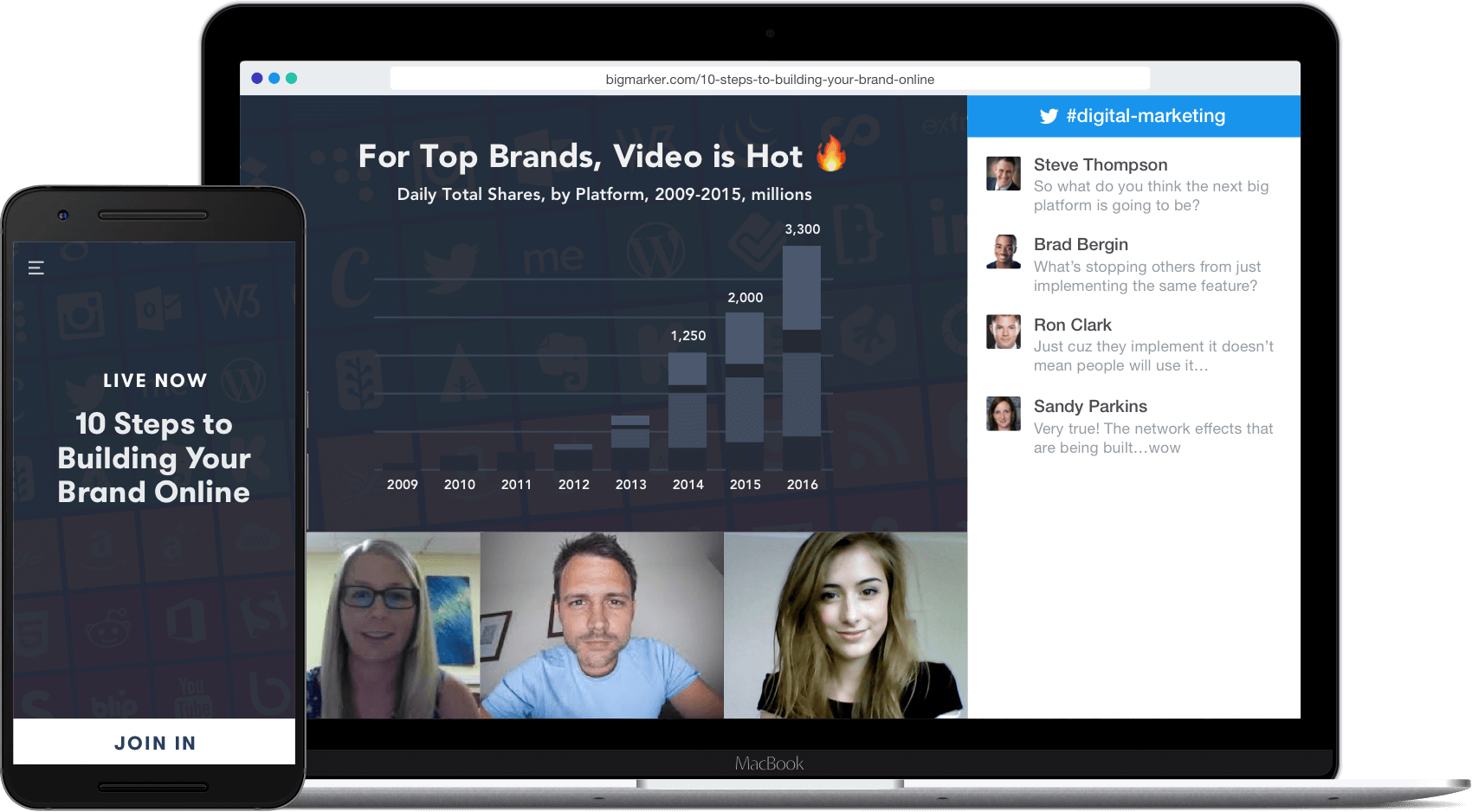 Seriously, we would be doing you a big disservice if we didn't include BigMarker on our list. It's the world's number one video platform for summits, webinars, and virtual conferences.
Live streaming is truly where BigMarker claims the top prize. You can create an interactive space with a vast assortment of features for a group of up to thousands of attendees.
You can do live Q&As, have the audience answer polls and surveys, or provide handouts for a better customer experience.
The software also doesn't limit the number of presenters at the conference. Anyone can jump on board and participate in the on-screen discussion.
Hosting live events is a lot easier with BigMarker, thanks to its suite of marketing tools, including registration landing pages, helpful event reminders, and custom email invites.
With the automated webinar, the platform can be integrated with CRM software to qualify candidates and nurture, generate, and convert leads.
Driving sales with BigMarker calls on you to:
Create automated webinars to fill the top of your sales funnel
Use embedded forms, polls, and surveys to acquire your prospects' data
Book meetings based on data and lead status to move prospects further down the funnel
Extensive third-party integrations with applications like Calendly, Marketo, and MailChimp are also possible with this software. You can also integrate with payment providers like Stripe for easier transaction management.
Since we are dealing with a browser-based platform, there is no need for downloads or installations to join a webinar. People can join on their laptops, PCs, mobile phones, or tablets straight away.
Another standout feature of BigMarker is its white-label offerings. You can use this to create personal video experiences and have them embedded on your website without coding.
You get to own the customer experience through this since all the webinars, emails, and landing pages are live on your domain.
Top Features
Here's a quick summary of what this platform has to offer:
Live Streaming: Offers a range of unique live streaming features, including one-click meetings, public chats, polls, handouts, and Q&A sessions
Extensive Native Integrations: Integrates with apps like Zapier, Hubspot, Salesforce, and more
Free Trial Period: Lasts for seven days
Social Media Integration: Stream numerous camera feeds on YouTube and Facebook Live
Different Types of Landing Pages: Over 15 different landing page types
The Benefits of Webinar Software
Hosting an event or presentation using webinar tools holds a ton of benefits, and five of the major ones include:
1. Cost-Effectiveness
Webinars are specifically meant for an online audience already interested in your products and services.
Unlike webcasts, webinars don't require anyone to be physically present, so no physical location needs to be set up. Hence, you won't need to pay for space, rent a room, or spend for most of the things a physical seminar entails.
Attendees also won't have to pay much to join these online events. So the arrangement should make excellent business sense for both parties.
To run a live webinar, you only have to secure the following:
An engaging script
Good internet
A group of interested individuals
A webcam
Quality webinar software for hosting and recording videos
A decent microphone (built-in or USB)
Assistants to perform the different webinar-related tasks
Guest speakers
Arranging a webinar can cost you anywhere between $100 and $2,500, which is nowhere near the cost of planning and organizing a live, physical conference.
That said, if you use a tool that offers a seven-day free trial period or a 14-day trial for one dollar, you should be able to save yourself tons of money.
So, yes, a webinar is a cost-effective approach for winning over prospective leads.
2. Better Audience Reach
When you use software to run webinars, you render the issues that come with billing setups and social media integrations irrelevant.
These platforms let you reach out to a wider audience across the globe, regardless of your location.
The logistical cost of attracting people from all corners of the world for a live, physical conference would normally involve a six- to eight-figure deal.
Owners of small and medium businesses would bristle at that number. Most of them won't be able to afford it.
Fortunately, you can slash several of those zeroes off while still accomplishing your goal by running a webinar that targets prospective leads no matter where in the world they may be.
3. Improved Lead Generation
Statistics indicate that over 70 percent of B2B marketers believe that webinars are the most effective way to generate quality leads.
Using the right webinar marketing strategy, you transform a webinar into a well-oiled engine that churns out quality lead after quality lead over time.
Attendees usually join based on personal or professional interests. While not all are potential customers, it's crucial to be able to identify who they are and target them using email based on their actions.
The majority of popular webinar software features marketing and lead generation tools that help soft-sell products, emphasize their value, and move users down the sales funnel.
EverWebinar, for instance, lets you send automated follow-up email notifications, create personalized messages, and communicate with subscribers before and after the conference.
Use these impressive essential features to take lead generation to the next level when hosting regular webinars.
4. Generate More Interest Through Guest Speakers
Webinars open countless doors for engaging audiences and enriching presentations. One of the best ways to accomplish this is to invite guest presenters to your webinars.
You can boost your credibility by getting a guest speaker on board. Preferably, these individuals should be industry experts that audiences will actually listen to and trust.
Furthermore, an industry leader is more likely to have tons of peer interaction and a decent professional following.
Getting an industry member to contribute to or participate in the discussion also gives you a big chance to connect with people in their contact list.
Most webinar software provides options for hosting several presenters, which lets you invite distinguished guests who can expand your target audience reach.
For example, WebinarJam allows for the participation of up to six guest speakers and even lets you host a roundtable of influential industry members to share their knowledge.
5. Build Domain Expertise
Webinars create personal interactions that boost domain expertise while putting you in touch with a new following.
The more you create webinars, the more connections you form and, consequently, the more attendees you get.
You make more people aware of your brand and acquire tons of domain knowledge, including soft skills in webinar management and presentation.
Eventually, you can establish yourself as an industry stalwart and thought leader, which helps increase customer retention and business lifetime value. This would no doubt boost sales for your company long-term.
5 Effective Ways to Use Webinar Software
It's no secret that most of today's online businesses host webinars. Still, that doesn't mean they turn prospects into customers effectively.
To get ahead in the competition, it's vital to have a competitive advantage by creating and giving value. That is why strategizing the ways to use your webinar platform is paramount.
Using the right plan at the right place and at the right time can make all the difference.
Create standout webinars by following the tips below.
1. Learn More About Your Audience
Basically, we're saying: research, research, research. The goal of your webinar is to generate leads that result in the purchase of your products or services.
Hence, you need to know who these people participating in your online seminars are. Before hosting the conference, it is useful to research comprehensively about the participants.
What type of people are they? What demographic do they belong to? What industries do they work in?
The answers to these types of questions help you produce webinars that are of value to your audience. Hence, you increase their likelihood of "adding to cart."
In-depth research lets you gauge precisely what your audiences hope to get from the webinar versus the current market scenario.
Here are some of the most effective ways to gather information about the target audience:
Online research
Acquire customer data
Perform surveys
Use the webinar registration page to collect additional info
KISSmetrics, for instance, provides a registration form asking pertinent questions that help determine what type of audience will be attending their webinars.
Identifying the specific needs of your customers is an excellent way to increase the conversion rate of prospective leads to customers.
2. Use Analytics
When you leverage analytics, you help yourself understand the kind of message your audience responds to the most.
To name a few, Facebook Insights and Google Analytics are some of today's most excellent analytics tools for providing a detailed and customized breakdown of webinar traffic based on different parameters.
One cannot predict traffic movement around a specific webinar because every business is unique. Using analytics tools lets you acquire business-specific data aimed to maximize the potential of your online conferences.
A lot of popular webinar platforms have advanced analytics features. These detailed analytics reporting tools help you understand what actions led to audiences doing this or that as the webinar is taking place.
3. Keep Webinars Condensed
Long blocks of texts virtually have the same effect as lengthy videos: they make your audience want to click exit.
Not many want to stick around for an hour or two to hear you talk. In fact, studies show that over 80 percent of viewers prefer their webinars no longer than 45 minutes.
This indicates that most webinar attendees prefer more succinct, value-packed sessions. This sheds light on another strategic consideration: selling the right content.
No one wants to hear a long, convoluted speech.
To run a successful webinar, one's goal should be to discuss things that can be demonstrated easily and come across as easy to understand.
You want to make sure you're getting ready to present your sales pitch around the 30 to 35-minute mark. This should have you finishing before people start to lose interest.
4. Use Visual Branding
According to experts, people remember only a small fraction of what they're told three days later.
Accompanied by a relevant visual aid, however, this information becomes more memorable—around six times more, to be exact.
That's why you shouldn't overlook visual branding in webinars.
By implementing the right visual branding strategy, you can run webinars that captivate your audience and increase lead generation.
Visual branding, like inserting a tagline or logo, can heighten brand retention and recognition by leaps and bounds. It introduces perceptible elements that attendees may associate with your brand even weeks after participating in your webinar.
Using the same visual styles for upcoming webinars will only work in your favor. They build brand image in the customers' minds, which could eventually lead to brand loyalty.
Visual branding is a feature provided by most of today's popular tools. With just a few clicks, LiveWebinar delivers an array of visual branding options to strengthen brand identity and maximize the lead-generating capabilities of each webinar.
This includes personalized branding in waiting rooms, pre-event mails or email reminders, follow-up emails, and presentations.
5. Time Promotions Well
Well-timed promotions are known for creating an unrivaled sense of urgency in people.
Imagine it's a Friday, and your favorite brand just announced they're having a huge discount sale for one day only the next day. You probably won't be able to sleep.
What if this same announcement was made a couple of months earlier? It most certainly won't have the same effect. In fact, few may even remember it when the time comes.
What if you heard about the sale five days ago? Would it cross your mind the day before it's supposed to happen? It likely will.
This emphasizes how important the date and time of announcement are to webinar attendance. Registration dates are said to peak a week before and on the day of the event.
More than two weeks to two weeks before the conference are also good dates to promote webinars.
That means it would help to announce numerous times within this period that you will be conducting a webinar. You can post on social media platforms, send emails, and create teasers. Anything to remind people that a valuable online conference is coming their way in the next few days will be effective.
Creating short promotional videos and uploading them on social media platforms during these dates may also help bring in more participants.
That said, as far as promotional emails and email invitations, some dates could be more effective than others. For instance, Tuesdays, Wednesdays, and Thursdays are said to be the best days for sending promotional emails.
It's worth noting, though, that promoting a webinar doesn't guarantee a good turn-out. The competition is tight, and you'd have to implement the best strategies to succeed.
The Right Webinar Tool for You
There you have it, 10 of today's best webinar platforms! What these webinar tools have in common is that they have impressive and user-friendly features to help you implement the right marketing strategy for your business.
Speaking of your business, that's what you need to focus on when making your decision.
What software fits it to a T?
Several things have to be taken into account to identify this.
First off, you have to set a budget and compare software within that range accordingly.
You would also need to identify the size of your audience and the specific features required to get them engaged.
There's also the fact that features could be event-specific, so what does your upcoming event need?
Then, there's your end goal. Is it to conduct a poll or survey or boost conversion rates? It's vital to choose the software with the specific tools you need.
Fortunately for you, whether your choice falls on a platform on this list or an outside bet, you should be able to test out its compatibility with your business on a free trial or money-back guarantee basis.
And when you find something that works, that's when you make the final purchase.
FAQs About Webinars
Let's go over the answers to some of the web's most frequently asked questions about webinars.
1. What makes webinars so effective?
Webinars work effectively most of the time because they allow you to communicate directly with each participant. Also, most people join these conferences from the comforts of their own private space.
Attendees don't need to be physically present with tens or hundreds of others, which creates a feeling of direct communication.
This online space encourages guests to ask questions and allows the host to answer them in a more organized manner. In that way, participants get their fair share of attention, and everyone feels included.
2. What equipment do I need to run a webinar?
You won't need much, especially compared to what you would need to arrange a live, physical conference. The following should be enough to get you started:
A basic webcam
A computer, laptop, tablet, or mobile device
A microphone (preferably a headset since speakers can be disruptive)
3. Why should I use a webinar software platform?
Using webinars platforms is one of the most effective ways to get the results you want from your webinars.
Most popular platforms are cheap and easy to use. They also have a wide range of features that help you go about online video conferencing in the way that is best for your business.
4. What equipment would my participants need?
Your attendees won't need anything more than a mobile device, tablet, or computer to join your webinar. Unless they are in a noisy environment, they will need a good headset.
5. Why use a platform and not just Google Hangouts or Skype?
As far as creating a quality webinar that generates leads, neither Skype nor Google Hangouts can offer much in that regard. These platforms will limit you in quality and the number of tools at your disposal.
Using a great webinar platform, you gain access to countless features, such as screen sharing and analytics and reporting tools, allowing you to host more people and provide them with a more interactive experience.