Technology has indeed made our lives easier. With just a click, we could relive memories instantly or even save important business data.
You won't have to inhale dust from cabinets to find the stocked-up family photo album anymore. Uploading photos on Instagram, Facebook, and other social media accounts. But how about photos before the digital age? This is where the best photo scanning software comes in.
With photo scanning, you can turn physical copies of your old photos into digital images you can carry on your phone and save on your USB, SD card, and/or computer.
To save you the trouble of finding one, we've listed our top picks for photo scanning software. We've included a general description, review, and pros and cons for each one to help you choose which suits you best.
Best Photo Scanning Software: A Table of Summary
Below is a summary of the best features and prices of our chosen photo scanning software that you can use as a quick reference when comparing them.
Photo Scanning Software
Best Feature
Price
VueScan
One-time payment
All-around best
$19.95 for Basic Edition
$49.95 for Standard Edition
$89.95 for Professional Edition
Google PhotoScan
Completely free
Free
Photo Scan App by Photomyne
Photo editing and enhancements
$19.99 annually
AutoSplitter
Automatic image detection and splitting
One-time payment
$19.99 for Basic License
$29.99 for Premium License
CamScanner
Wireless printing and Global FAX
$4.99 monthly
ScanSpeeder
Photo negatives, film, and slides scanning
One-time payment
$29.95 for Standard Edition
$39.95 for Pro Edition
ReadIris 17
Voice annotation
Audio file conversion
$89.99 for Pro Version
$129 for Corporate Version
BlindScanner
Remote scanning for potentially unlimited computers
One-time payment
$29.99 for Client License
$249 for Server License
$279 for Terminal Server License
ScanittoPro
Fast OCR processing
One-time payment
$29.95 for Single-User License
$199 for Site License
Best Photo Scanning Software Reviews
Now, let's learn more about the best image scanner software we've picked out for you. Here's a short review of each of our chosen software for you to learn more about each of them:
1. VueScan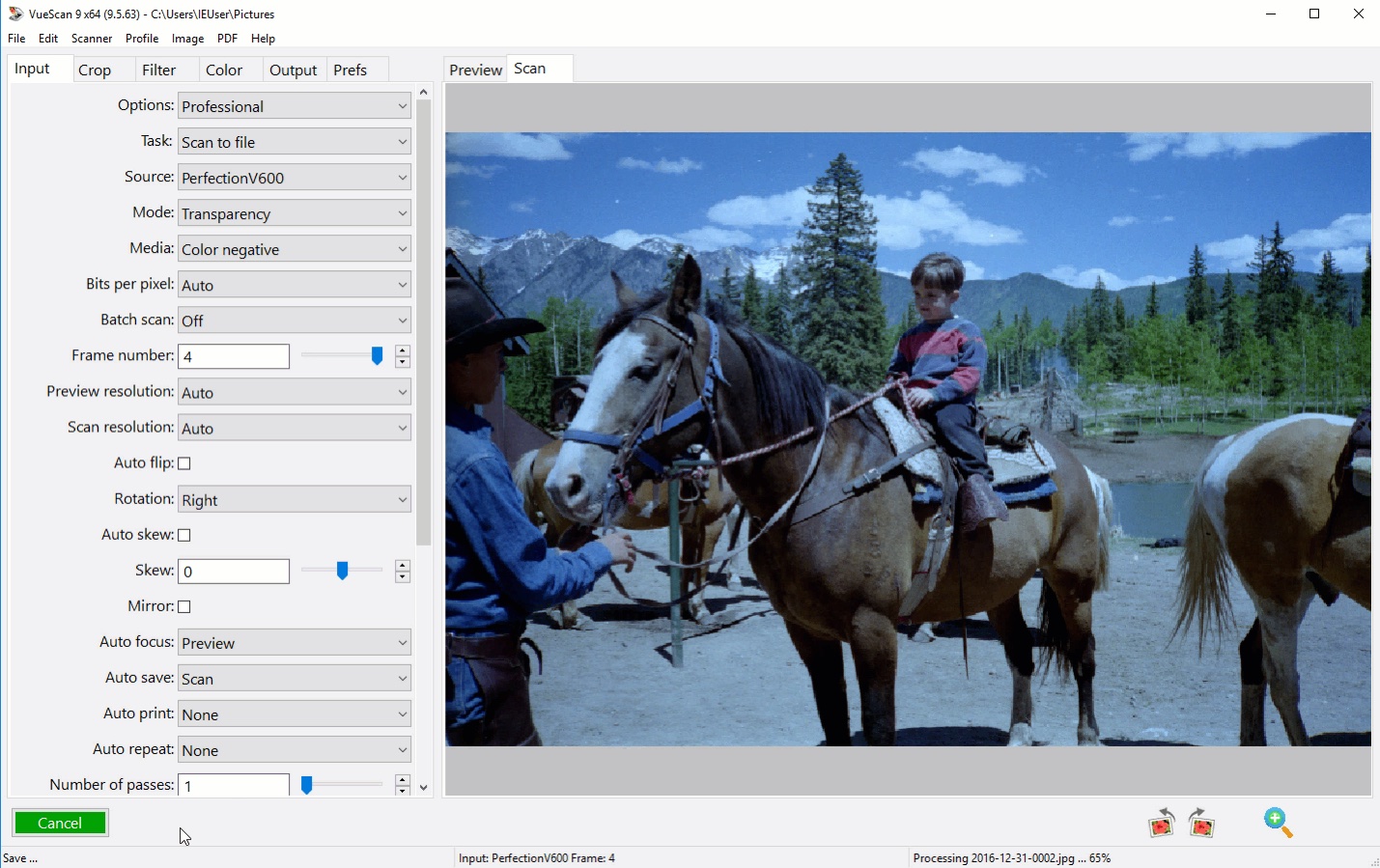 VueScan is a top pick for the best scanning software for Windows 10, macOS X, and Linus. It has a well-rounded set of features that virtually solves all your photo scanning needs. It also features a user-friendly interface fitting for casual use while providing many options for professional scanning capabilities.
VueScan came from Hamrick Software, a company run by a father and son duo. They had specialized in scanning software since 1998, when VueScan was released.
Now, VueScan remains at the forefront of scanning technology, with over 600,000 users and five million downloads worldwide. It also features one of the most consistent review databases, with records as early as 2002.
If that doesn't convince you, their customers include NASA, the US Army, Disney, and the US Department of Justice.
Review
There are a lot of things to be admired with Vuescan. The scanning software offers a wide range of compatibility with most operating systems and high-quality flatbed scanning devices on the market.
Upgrading your flatbed scanner won't bother you as much since VueScan can support up to 7100 scanners from 42 manufacturers.
Raw scanned images also come out crisp with VueScan's automatic color detection. If you're not content with raw results, don't worry since you'll still have access to more than 150 pre-calibrated photo settings that work with just a click.
VueScan also packs lots of features for scanning documents. It offers your normal conversion to PDF files and other editable file formats through Optical Character Recognition, but with added features that would otherwise require you to use different PDF editing software.
The cherry on top? It's deskew feature that automatically corrects your skewed images.
Film scanning with VueScan also delivers professional results. Even if a photo album page contains many photos, VueScan will still be able to scan multiple photos in no time with its automatic document feeder compatibility.
Faded photos will also look new with VueScan's compatibility with your scanner's infrared cleaning option. If you're still not convinced with the image quality, you can improve it with multi-pass scanning up to 16 times which VueScan is also capable of.
You'll be happy to know that the images integrate seamlessly with Photoshop for maximum image editing.
You can also scan multiple photos through different scanners simultaneously with Option Sets which enables you to more smoothly and more efficiently navigate through your workflow. However, this feature is only available for the Standard and Professional Editions.
VueScan is also relatively affordable as it comes with a one-time payment for the Basic Edition, Standard Edition, and Professional Edition plans.
Pros:
Wide compatibility
Great for value
User-friendly interface
Has image editing features
Integrates well with Photoshop
OCR and PDF conversion scans
One-time payment
Con:
Learning curve may be relatively higher
2. Google PhotoScan
Google PhotoScan may be the simplest and best free photo scanning software available for your mobile device. Released by Google in 2016, this app will be precious if you like having Google's ecosystem.
PhotoScan works well with Google Photos and even offers unlimited storage for compressed copies of your scans for a fee. It's also a well-received application, with more than 10 million downloads in Google Play.
Review
Like other photo scanning apps for smartphones, Google PhotoScan's main user interface looks like a normal phone camera viewfinder. Scanning an image is as easy as taking a picture of it.
Google PhotoScan also features a unique glare-removing procedure. Tapping the capture button shows four white dots overlayed near the corners of the image you wish to scan.
For better results, you can try maximizing the viewfinder's space with the image on a level surface.
Scanning one photo seems simple enough, but it can be quite a task if you're going to scan multiple images. The app will then ask you to move your phone to center the dots, which turn blue once complete.
You have to hover your phone above the dots for centering and not just tilt it since it could skew the image.
Google's deep neural network technology excels in aiding you with image processing after scanning. You need to crop out some edges occasionally, but obvious backgrounds automatically get cropped.
You can remove glares by overlaying the four pictures taken while scanning. This feature allows glare removal even from glossy pictures in most lighting conditions.
You also won't need to remove pictures from their frames. You could scan them instantly from where they hang.
You'll also enjoy the auto-alignment feature, which is common in the most mobile scanning software. What's unique is PhotoScan's ability to rotate images with words automatically.
Like other apps by Google, PhotoScan also comes free, which is a plus if you only scan images casually. Unfortunately, you can no longer access Google Photos' unlimited free storage because they limited it last year.
Pros:
Simple user interface and mechanics
Free app
Glare removal from any position and condition
Cons:
Photos take 15 to 30 seconds to process images
Limited editing capabilities
3. Photo Scan App by Photomyne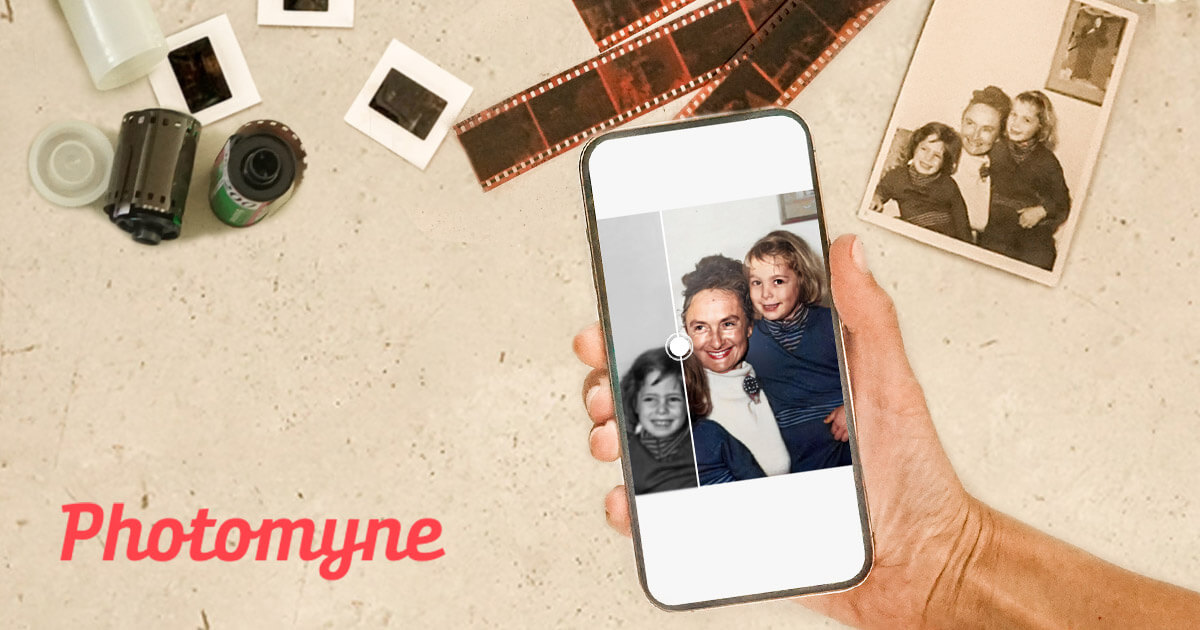 Photomyne's Photo Scan App is one of the best image scanner software for your mobile device. It has a free version containing in-app purchases and a paid version you need to pay annually.
You could also purchase their cloud backup service that offers unlimited storage for all images scanned with the app.
Released in 2015 by Photomyne, the app already has an impressive 32 million downloads with over 330 million photos scanned worldwide. It also features 4.5 million downloads in Google Play.
Photomyne is a company that also provides other smartphone photo and video editing apps such as FilmBox, LifeShow, and Colorize. Unfortunately for Android users, most of their services are only available for iOS devices.
Review
As with Google PhotoScan, the app uses your phone's camera and a simple viewfinder interface while scanning. This is great if you don't have time to learn about complicated features for casual scanning sessions.
Unlike a flatbed scanner, scanning multiple photos with your phone through the Photo Scan App isn't its strongest suit. Scanning one photo, you hover above the image you wish to scan for three seconds until you hear a click.
Although you can technically scan up to four images simultaneously, the reduced quality and glare reduction effectiveness render this feature practically unusable.
Photomyne themselves also recommends that you scan one image at a time. You have to manually adjust your camera angle or image position to reduce glare and achieve the best possible image quality, but the app automatically crops the backgrounds for you.
You can edit the photos individually after scanning them, but you'll understandably have limited editing options on your phone.
Pros:
Simple user interface
Good paid version
Fast image conversion for one image
Cons:
Free version offers little
No automatic glare removal
4. AutoSplitter
Launched in 2013, AudioSplitter is another reliable multiple photo scanning software for your flatbed scanner. Although the interface looks like it hasn't been updated since the early 2000's, it's still capable of giving you quality images while packing many features.
Review
As the name implies, AutoSplitter gives you automatic image detection and splitting from your flatbed scanner. It means you can put as many physical photos that can fit your scanner, and AutoSplitter will scan all of them at once while splitting the images into different files.
AutoSplitter also has premium features that you can expect from paid software. For one, it can automatically straighten and deskew images.
It can also automatically retouch your images using the Revitalize Colors features which is especially helpful with old or damaged photos.
The software also enables you to add in-image captions to your scanned photos, giving them a newspaper-like look. You can also add meta tags to help you find your images more easily using other photo cataloging or editing software.
This feature makes AutoSplitter one of the best image scanner software out there.
Some other features of AutoSplitter include saving images in two different file formats at a time, manual adjustments for fine-tuning the automatic photo detection feature, one-click rotation to different angle presets, one-click horizontal or vertical flip, and document scanning.
Downloading AudioSplitter automatically grants you a 30-day free trial period with 10 free scans. That's right; you won't be asked for your credit card information.
If you're happy with what you get during your trial, you can avail of their basic license or premium license for a one-time payment. Both licenses can accommodate all PCs in your household.
A downside to their one-time payment is that this doesn't include lifetime free updates. You'll have to pay for future updates outside a specific period after purchase.
Pros:
Automatic multiple image splitting
One-time payment
Feature-rich
30-day trial period
Cons:
Clunky user interface
Paid updates after a certain period
5. CamScanner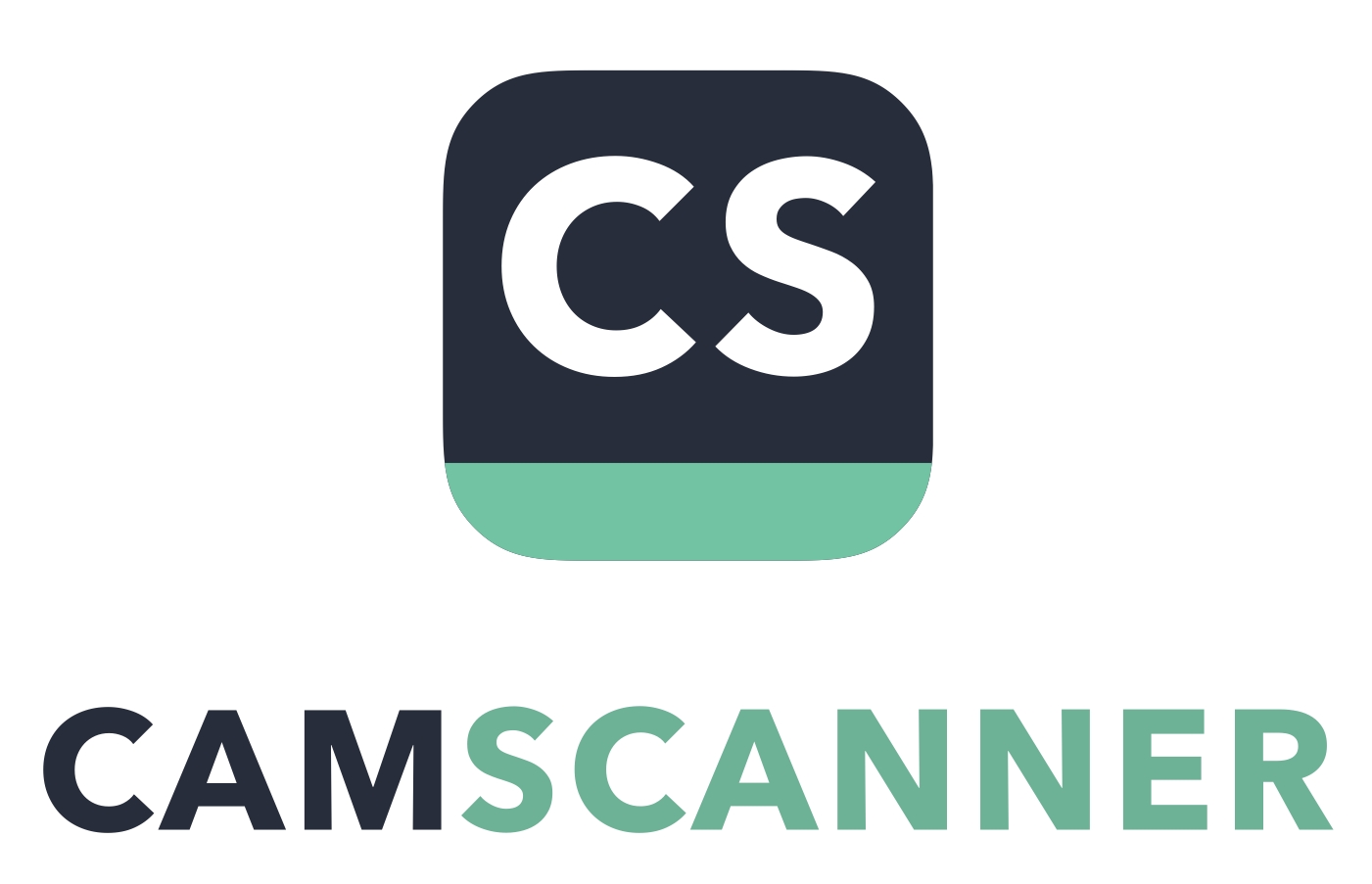 CamScanner is another excellent free photo scanning software for your phone. The app is more geared towards document scanning, but you can still use it for casual photo scans.
Released in 2011, CamScanner enjoys high ratings in both the App Store and Google Play, with over 900,000 reviews and over 3.9 million reviews, respectively.
Overall, the app boasts being downloaded 700 million times worldwide, making it one of the most downloaded productivity and business apps in 2021.
Review
CamScanner packs a lot for a mobile scanning application.
The free version gives you simple scanning with automatic border detection and deskewing capabilities. In exchange, you need to watch some ads from time to time. Your scanned images can also only be converted to JPEG format.
On the other hand, the paid Premium Version gives you access to features such as collaboration and annotation. You can also convert scanned documents to other file formats. Of course, with this plan, you won't have to watch ads anymore.
The app's Optical Character Recognition feature also gives you access to additional features that are not available with the competition. You can edit texts within the scanned documents if converted into Word, TXT, Excel, or PDF formats.
However, we like the app's ability to extract and translate texts from 40 supported languages. You can also scan documents from different angles without compromising quality.
You must adjust the borders manually, and the app will automatically align the document properly.
Guess what? This functionality also works in the free version, effectively making it one of the best free photo scanning software.
Since CamScanner is an app, you can easily share and synchronize your files with other devices or accounts. You'll also be able to do some wireless printing with compatible printers.
What's more interesting is their Global FAX feature. It enables you to send document facsimiles to any compatible FAX machines around the world.
However, CamScanner was removed from Google Play for some time after it was found that some lines from third-party codes used to show ads were infected with malware.
Don't worry, since the issue has since been resolved, and CamScanner assured its users that they had boosted their safety and security protocols.
Pros:
Wireless printing
Multiple device synchronization
Simple user interface
Good features for the free version
Extraction and translation from foreign documents
Cons:
History of malware infection
Not one-time payment
6. ScanSpeeder
ScanSpeeder is our second-best scanning software for Windows 10, macOS, and Linux. It offers faster and easier scanning compared with some of the competition, making it worth a try.
Since its release in 2016, ScanSpeeder has been one of the top-performing photo scanners. They boast over 250,000 downloads with lots of great reviews from actual users.
They offer a 30-day money-back guarantee which you could consider a free trial period. You'll get 10 free scans with their demo version, and if you like what you got, you can subscribe to their Standard Edition or Pro Edition plans.
Review
ScanSpeeder offers lots of great features for speedy scanning. Like others, it offers multiple photo scanning with a high auto-detection rate. It translates to more accurate photo separation and a more crisp border recognition.
Like AutoSplitter, ScanSpeeder can save different image files from a single batch of multiple photos. You'll also get less hassle with some of its features.
With ScanSpeeder's automatic batch cropping and straightening of skewed photos, you won't have to worry too much about your photo's arrangement. Just put what fits in your scanner, and you'll be ready.
ScanSpeeder's anti-glare feature is one of its strong assets, enabling you to scan photos directly from a photo album page or thin picture frame. You'll no longer risk ripping an old photo's surface.
Sorting your scanned images is also a breeze with its auto-naming feature. Select your preferred name for specific pictures, and the software will automatically name all proceeding scans.
The software also has a One-Click Magic Wand, its automatic photo enhancement feature. You can customize the presets for this feature or use Advanced Photo Enhancement to tweak the images manually.
You can also adjust photos by batch through a single preset, saving you more time.
The Pro Edition gives you more advanced features in your arsenal. It allows you to scan slides, film, and photo negatives using TWAIN-compatible scanners.
You'll also find the colors captured better with compatible scanners with ScanSpeeder's 48-Bit Deep Color and 16-Bit True Gray Scanning.
ScanSpeeder also has optical character recognition, which allows you to create a database to search PDF files, calling cards, and receipts easily. Their automatic document feeder compatibility feature also helps them stand up to the name ScanSpeeder. This is especially useful for businesses that require lots of paper trails.
Pros:
Photo negatives, film, and slide scanning
HD scans
Simple user interface
One-time payment
Cons:
Only one year of updates and support
Only five PCs per account
7. ReadIris 17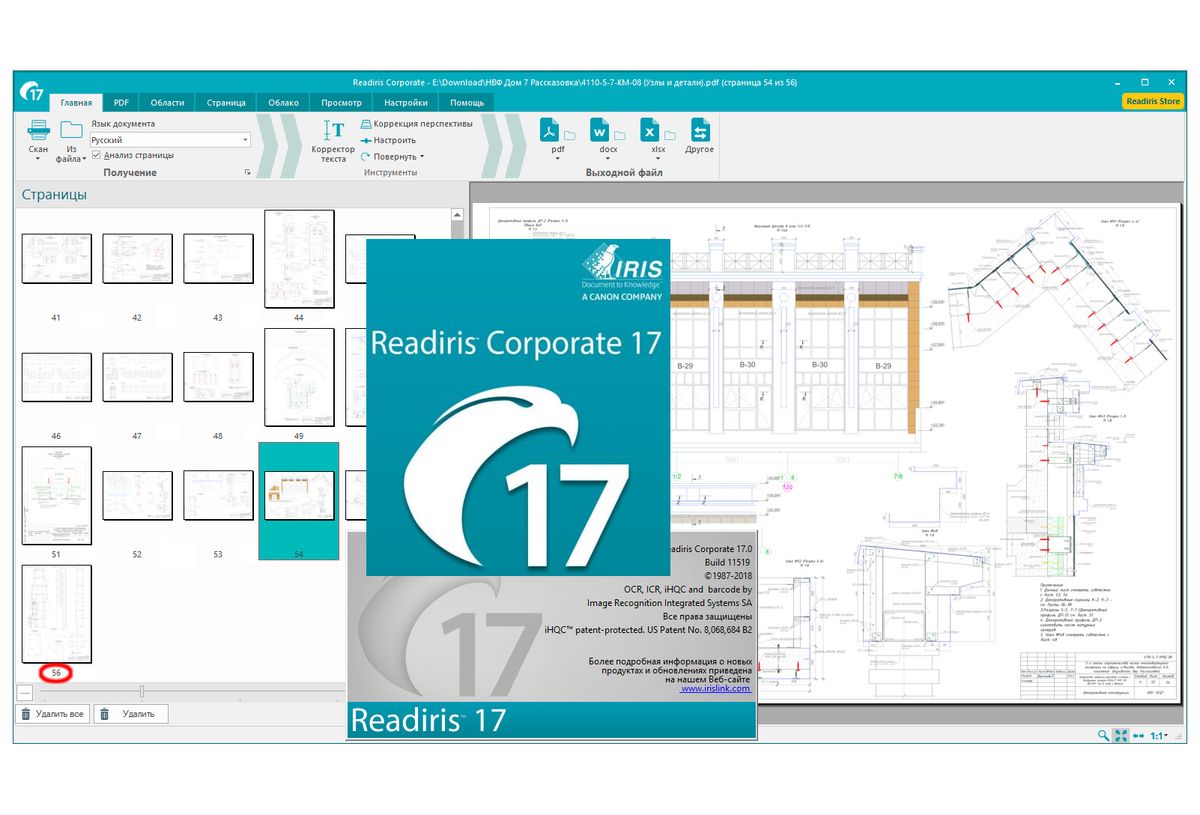 ReadIris 17 seals its spot as one of the best scanning software with its top-notch optical character recognition compatibility. This feature saves you lots of time you would have otherwise used for manual typing.
Although ReadIris 17 is more focused on document scanning, you can still seamlessly scan photos with it, but with fewer features.
Released in 2017, ReadIris 17 is IRIS' flagship scanning program. This intelligent and practical document scanning software has amassed many positive reviews, making it one of the top picks on this list.
Review
ReadIris 17 offers one of the most excellent OCR utilization among other document scanners. It allows you to create and annotate your PDFs, even with a handwritten document.
Just make sure that the writing is legible, of course.
What really sets ReadIris17 apart from the rest is its use of voice and audio in a market saturated with optics. It features voice annotation that allows you to dictate revisions on your PDFs.
But wait, there's more! It can also convert your documents to MP3 files. Yes, you can now theoretically scan books and turn them into audiobooks.
It can also recognize up to 138 languages, which is a great help if you're handling a multinational company. You can also split, merge, and compress your PDFs for space-saving purposes.
For added flexibility, you can edit and convert your files to Microsoft Word, Excel, PowerPoint, and their equivalents. As a bonus, Excel users will also find ReadIris 17's ability to recognize and edit numbers and calculation tables.
Their Corporate Version gives you added file protection for your sensitive documents, such as PDF signing and encryption.
You'll also enjoy PDF/A solutions that are helpful in long-term archiving. You'll also be able to process multiple documents at once through different PCs and scanners.
ReadIris 17 is understandably higher priced than some of its competition, and the prices will be higher for 10 or more different devices. You'll also have a 30-day money-back guarantee, so you won't have to worry if you find ReadIris 17 lacking. We're willing to bet that you won't!
Pros:
138 languages recognized
Voice annotation
Audio file conversion
Sleek and user-friendly interface
Excellent OCR features
Cons:
Pricier than competition
Document-scanning focused
8. BlindScanner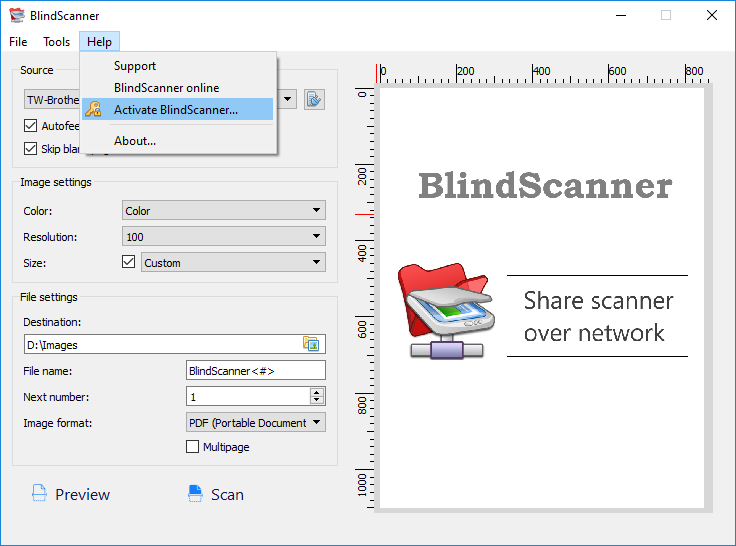 Another well-thought scanning software is BlindScanner. Its unique features include remote access to scanners through WiFi and remote servers in your office or household.
However, this feature is mostly reserved for established businesses due to its high price.
Released in 2013, BlindScanner works with regular updates to give you improved compatibility and features.
Review
BlindScanner offers all your office scanning needs. Did a coworker ask to have a document scanned and FAXed? Don't worry, as its remote scanning feature comes in handy when scanning documents from different floor levels; just make sure you're connected to the same WiFi network.
You can also convert physical documents into editable PDF or TIFF documents and other file formats like JPG, PNG, GIF, or BMP.
You'll also achieve faster scanning speeds with BlindScanner's auto document feeder compatibility and multi-page scanning. Just fit all pages that your flatbed scanner can, and start scanning.
BlindScanner will be able to separate the pages automatically.
If you know how to code, you can modify the automated scanning routine through its command-line interface that allows third-party software to use.
You can use BlindScanner free for 30 days, but you'll have to purchase their licenses after the period. A Client License is available at a one-time payment, but you'll only be able to use it for one computer. Offices can benefit more from their Server License, which gives you one server for an unlimited number of remote computers.
Their Terminal Server License is the most expensive, but it gives you unlimited servers that can connect with an unlimited number of remote computers.
This license should also enable you to use different WiFi networks to access computers and scanners.
Pros:
Remote scanning
One-time payment
Best for office use
Cons:
Costly server licenses
Lacks in features compared with others
9. ScanittoPro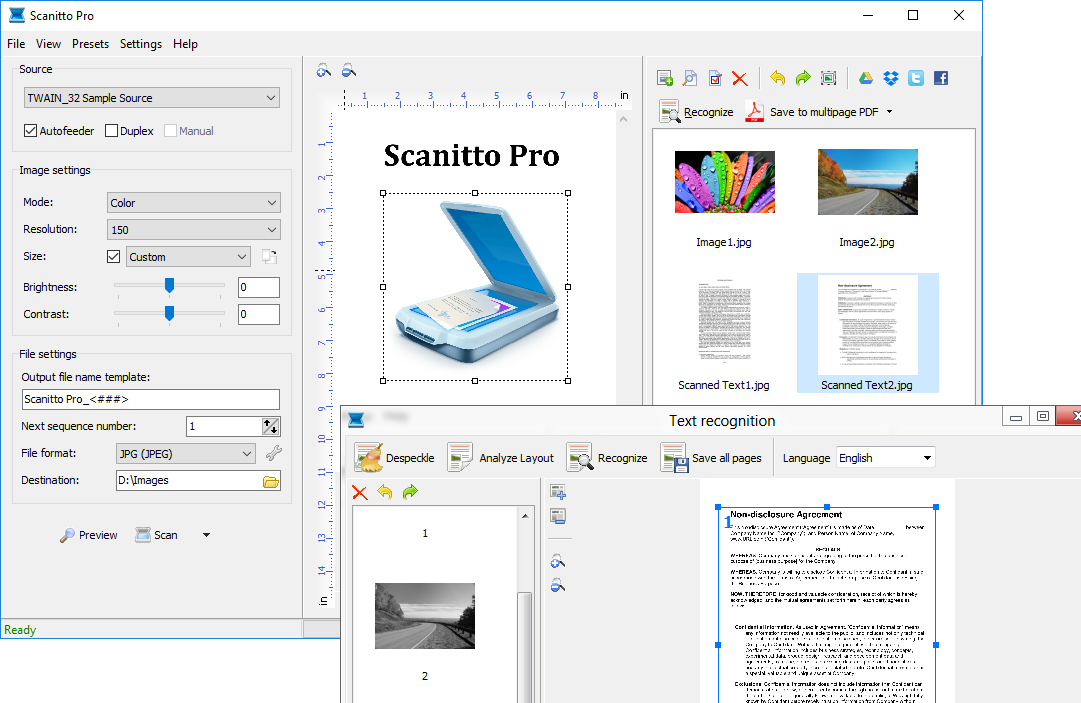 Another excellent document scanner to complete your office needs is ScanittoPro. Released in 2009, it's one of the first scanning software developed, which is why some of its features that were considered new at that time may be dated today.
However, ScanittoPro still performs well to serve your scanning activities.
Review
ScanittoPro allows you to scan multipage PDF documents from their physical copies quickly. It also features searchable PDFs for faster document retrieval and processing. You can also further edit your PDF document pages with manual reordering.
Its OCR features also offer adequate services. It gives you deskew and de-speckle features that fix unaligned and blurred scans. Its page layout analysis feature allows you to rotate scanned documents automatically.
A modern feature you'll be happy to have is its built-in compatibility with Cloud Sharing, such as Google Drive, Dropbox, Facebook, and Twitter.
However, unlike modern OCR scanners, ScanittoPro falls short with only six recognized languages: English, Russian, Italian, Deutsch, Spanish, and French. This is not ideal for multinational companies since, among these six, only four belong to the most spoken languages, further limiting their OCR abilities.
We're also not that satisfied with their pricing. You can use ScanittoPro free for 30 days, but you have to purchase their licenses after the period. You can purchase ScanittoPro for a one-time payment, which is only eligible for one user.
Their site license, the better choice for office use, includes free minor updates for a lifetime.
Pros:
Multi-page searchable PDF
Fast optical character recognition processing
One-time payment
Cons:
Costly for what it offers
Limited features
Only six languages recognized
Preserving Your Memories Like a Pro
Memories are important things to cherish. After all, as psychoanalyst Kristen Beesley put it: "Your memories make who you are." That's why you deserve only the best software companions, whether it be photos or documents you want to edit or preserve.
We hope you'll take your pick in our best photo scanning software list. Ultimately, however, you should always ensure your hardware's compatibility with your chosen software. It sucks if you've already paid for high-end software only to be met with compatibility errors from your scanner.
Best Photo Scanning Software FAQs
Before we bid you goodbye, allow us to give more information about photo scanning and the best photo scanning software.
We'll answer some of the common questions about them to help you understand better why the right photo-scanning tool is essential. If you're still undecided about which one to choose, the information you'll find here can also help.
1. How do you scan photos?
To scan your photos, you first have to set up hardware and software for scanning.
Scanning hardware could be printer scanners, which are scanners integrated with printers, or flatbed scanners, which are specialized for digital scanning.
Alternatively, you could use your smartphone; just note that your camera's quality greatly affects your scanned images.
Scanning software could be the scanner's own software or third-party software. It offers more comprehensive features, but you may have to buy them separately, such as those listed above.
Your smartphone can pick apps from its operating systems' app store, which we've also included in our list. The actual scanning process varies depending on the software or applications used.
Smartphone scanning apps typically use simple point-and-click functions. Desktop scanning requires more steps which generally involve scanning preparations and preset configurations, photo or document alignment, and the optional post-scan editing.
2. What is the best scanning software for photos?
Our pick for the best photo scanner on a flatbed scanner would be VueScan.
It has a well-rounded set of features that virtually solves all your photo scanning needs. It also features a user-friendly interface fitting for casual use while providing many options for professional scanning capabilities.
It offers wide compatibility as it works seamlessly with macOS X, Linux, and Windows and is compatible with most scanners. Its one-time payment also makes it great for its value. It also has lots of features for image editing and document scanning.
CamScanner also works well for casual document and photo scanning on your phone. The free version gives you simple scanning with automatic border detection and deskewing capabilities. On the other hand, the Premium Version makes it the best photo scanner for smartphones as it gives you access to advanced features such as OCR features, collaboration and annotation, and file format conversion.
3. What is the best format to scan old photos?
The best format to use when scanning old photos is JPG or JPEG, if you compress it to the least amount possible.
300 dpi should also be enough, but if you want crisp details, you should set your scanner to 600 dpi. However, if you really want to boost it to the best possible level, you should set your scanner to 1200 dpi.
4. What is the best way to scan a lot of photos?
For better efficiency, we suggest using a printer or flatbed scanner. It should also give you the best quality, many features, and multiple photo scanning features.
For this purpose, we suggest you look at our review of VueScan, AutoSplitter, ScanSpeeder, and BlindScanner above.
Scanning many photos will take some time if you use your phone. While still possible, we don't recommend this option.
5. How do I digitize thousands of photos?
Digitizing thousands of photos will take you quite a lot of time. We recommend using a high-quality scanner paired with compatible software that features an auto document feeder and multiple photo scanning.
You can look at this list for the best scanners with ADF. VueScan, AutoSplitter, ScanSpeeder, and BlindScanner offer multiple photo scanning and ADF compatibility.
6. Which is better: PhotoScan vs. Photomyne?
Both are excellent photo scanning apps that we suggest you try to see what you prefer.
In summary, Google PhotoScan offers a simple and entirely free photo scanning app available for iOS and Android devices. This free photo scanning app also features a unique glare-removing procedure.
Aptly named, it allows glare removal even from glossy pictures in most lighting conditions and even in their picture frames. Google's deep neural network technology also excels in aiding you with image processing after scanning.
Photomyne's Photo Scan App, on the other hand, comes with a free version and a paid version. The free version has slightly worse glare reduction than Google PhotoScan, but their automatic background cropping is virtually the same.
The paid version offers more features than Google PhotoScan, so if you don't mind the cost, we suggest you choose Photomyne.
8. Is SlideScan app any good?
SlideScan is another free photo scanning app made by Photomyne. The difference between this and Photo App Scan is that SlideScan specializes in scanning slides with your phone, as the name implies.
It's beneficial if you want to scan slides without a specialized printer or flatbed scanners.
All you need to do is open a backlight on your PC or another light source with wide and consistent white light. Then, press capture for about three seconds.
After that, slides are automatically scanned and enhanced. While you can get the app for free, you can also pay for their annual membership plan. It offers additional features such as unlimited scanning and photo enhancements, better photo quality, phone-to-PC transfer, and online storage.