Because of the current global situation, many small business owners choose to open an online enterprise rather than a physical store.
These entrepreneurs kickstarted their online ventures by launching their own websites. While that sounds simple enough, it's not as easy as it sounds.
Each website must have a content management system (CMS), a domain name, and a secure socket layer certificate (SSL).
Hence, they need to find the best web hosting services for small businesses to ensure consumers feel their online presence.
Types of Web Hosting for Small Business
Choosing the right type of web hosting for small businesses is crucial to your online venture's performance and success.
Since web pages vary, there are also different servers to match the requirements of each website.
Today, we will check the best web hosting for small businesses and help you find the right one for your needs.
Cloud Hosting
Cloud hosting is a cost-effective service that combines virtual private server or VPS with multiple remote servers.
Each server used in cloud hosting plans performs a different task. As a result, another server will take over if one encounters a problem.
That is how cloud hosting differs from traditional web hosting platforms. It ensures that your website has fewer minutes of downtime due to server errors.
What's more, cloud hosting is a scalable platform, allowing you to adapt your resources according to your website's demand.
Pricing for this web hosting service will keep changing as the website traffic changes, making it suitable for small to large businesses.
Dedicated Hosting
A dedicated hosting plan offers a physical server for one business.
Because of this setup, you can expect dedicated plans to provide faster speed and excellent uptime without interruptions from other websites' traffic.
As the owner of a web page using dedicated server hosting, you will have complete control over your site's technical settings.
You will have access to advanced features to fix configurations, choose software programs, and anything else your website needs.
That said, you will need to have enough funds to subscribe to dedicated plans because they are the most expensive among other platforms.
Because of its higher price, a dedicated server plan might not be what you're looking for if you are still new to the business.
Reseller Hosting
A reseller hosting plan is a business model offered by web hosting providers to third-party agencies or organizations.
Also known as white label web hosting, you can buy packages from a provider and resell the services to your clients at an additional cost.
This hosting package will not suit those who want to launch their website and start an online business.
On the other hand, it's the perfect add-on service for agencies or professionals, like web designers and developers, with existing clients.
Shared Hosting
Not enough funds to avail dedicated plans? If you are looking for the most basic plan at an affordable price, shared plans are worth considering.
As its name suggests, shared hosting means dividing the resources between various websites under a single server.
This cost-effective shared service is the perfect choice for beginners and small websites because it does not need technical expertise to operate.
However, since you share the services with other websites, you cannot expect an excellent and flawless performance from a shared basic plan.
There might be slow-loading issues and lower uptime rates because of the traffic patterns of other websites, which are beyond your control.
Simply put, shared hosting might be the most suitable option for beginners and budget-conscious website owners, but it won't deliver excellent performance.
VPS Hosting
VPS or Virtual Private Server is an upgraded version of shared hosting. What do we mean by an upgraded version?
With VPS hosting plans, you will have more secure and stable services with fewer websites sharing the resources of a single server.
In addition to splitting the central server into several virtual ones, each website owner can customize a VPS according to his required settings.
Through this hosting environment, you will have more resources, resulting in better website performance.
Not only that, but your web page will also have an uptime guarantee and faster loading times without the need to worry about website crashes.
Although it's not mandatory for all websites to have individual servers, a VPS hosting plan offers some privileges of dedicated hosting without the extra cost.
VPS hosting provides flexibility, allowing you to set up your resources according to your website needs, but there are still limitations.
This hosting option is best suited for small- to medium-sized websites that need a constant uptime guarantee on their page.
Tech-savvy website owners would love the offered resources of a VPS, allowing them to make custom changes.
Opt for VPS hosting if you have large image and video files for better website performance. The same goes for interactive web pages with complex files.
WordPress Hosting
WordPress hosting is developed for websites using WordPress as their content management system.
WordPress is one of the most common CMS or content management systems used today. As such, it requires advanced security features to prevent cybercrime risk.
If you are a WordPress user, this hosting service is your best option if you want a better website.
It comes in two different types: managed and shared WordPress hosting.
Shared WordPress hosting is similar to how a shared plan works, but you can preinstall the WordPress application.
On the other hand, managed WordPress hosting has additional benefits like enhanced security, server caching and staging, and faster load time.
Best Web Hosting Services for Small Businesses in 2022
After learning about the best web hosting for small businesses, the next step is to check web hosting providers and their offerings.
You need to follow some guidelines in choosing the most suitable hosting service for your small business.
Firstly, determine your budget. How much do you plan to spend on a hosting service? Are you willing to pay extra for additional features?
Next, know the bandwidth and storage your website needs to perform well.
To help narrow down your options, here are the most trusted web hosting providers today and the kind of services they offer:
1. Bluehost
Bluehost is one of the leading web hosting companies that offer innovative ways of empowering people to utilize the web.
It is a constant favorite for business and personal web hosting services because of its ease of use and setup.
Bluehost offers web hosting services at an affordable price, which is why it's suited for beginners and small businesses.
The company also provides a free domain for your first year of subscription, a free SSL certificate, and a one-click WordPress installation.
Its WordPress website builder lets you create professional-looking websites easily.
Additionally, Bluehost's resource protection feature ensures that your web page's performance is safe, even if you share one server with other websites.
Furthermore, a Google Ads credit of up to $150 is given to new U.S. customers to kickstart their campaign.
Lastly, the company's domain manager allows you to manage, purchase, transfer, and update all your web pages in one tool.
Here's what you can expect if you avail of their web hosting plans:
Bluehost has multiple types of hosting solutions for every user. It offers dedicated, reseller, shared plan, VPS, and WordPress hosting.
The shared plan is the most affordable and accessible way to connect your website to the internet. It is commonly used by small business owners and individuals.
A VPS provides additional access and a level of security for ventures needing flexibility in using their server space.
Dedicated plans are among the best web hosting services offering the highest support and security for high-traffic web pages.
Bluehost offers a wide frequency range from one terabyte to unlimited bandwidth. This will depend on the user's hosting solution type and plan.
Bluehost provides a storage capacity from 30GB to unlimited disk space. Like the bandwidth, this will vary according to the user's plan and hosting type package.
Whenever you need help, Bluehost is ready to provide excellent customer service. It has in-house live chat and phone customer hosting support experts to answer your queries 24/7.
2. Cloudways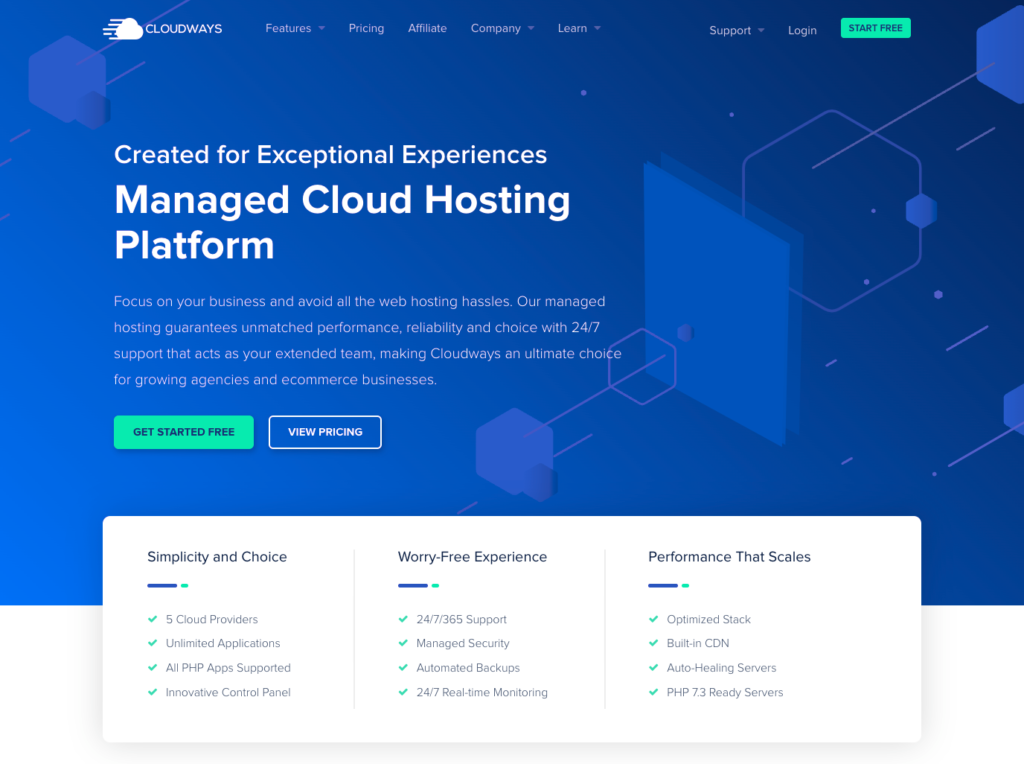 The best managed cloud-based web hosting platform is Cloudways, offering customization and flexibility for their clients.
Users will get free standard online support anytime, with possible add-ons to improve their chosen service.
With Cloudways' Pay-as-You-Go feature, users only need to pay for the service they use every month with no hidden charges.
The company has experts who can move your website with fewer minutes of downtime, with the first site migration free of charge.
Keep your website safe and secured with Cloudways' free one-click SSL installation, improving your website security with an SSL certificate.
What's more, Cloudways has no lock-in contract, allowing you to use its services on demand.
With only one account, users have the freedom to accommodate unlimited applications regardless of the plan they choose to use.
Here's how Cloudways can help streamline your business' online venture:
Cloudways has five different types of hosting solutions available for a free trial, pay-as-you-go, standard, and premium plan options.
DigitalOcean is a simple and easy-to-use cloud hosting solution, allowing businesses and developers to set up their websites quickly.
Linode is a cloud hosting platform supporting different business applications for Linux-powered virtual machines.
VULTR is an advanced cloud platform simplifying support distribution to empower businesses and developers globally.
AWS or Amazon Web Services is a complete and popular cloud platform with more than 200 global services from various data centers worldwide.
GCP or Google Cloud Platform is a public cloud merchant offering a collection of computing services, allowing customers to access resources from Google's global data centers.
Cloudways' bandwidth allocation starts from one terabyte and up, depending on the customer's chosen plan and platform.
Like the bandwidth, Cloudways' storage capacity ranges from 25 gigabytes of disk space and higher and will depend on the user's choice of plan and platform.
Cloudways offers three levels of best-in-class support, from the free standard to advanced and premium add-ons.
3. HostGator
HostGator is one of the leading providers of affordable and secure web hosting for small businesses.
With a 99.9% reliable uptime guarantee, you can be sure that your web page is always available for your clients.
Its packages are user-friendly and are perfect for beginners. In fact, merging and organizing your apps is easy with HostGator's One-Click Installer.
Not only that, but with the company's offer of a free SSL certificate, your clients will feel secure every time they visit your page.
Here's what makes this web hosting provider stand out from the competition:
With different types of hosting options comparable to the most popular providers, HostGator is the best platform for tech-savvy businesses.
For instance, the company's affordable and easy-to-use share hosting platform comes with one-year free domain use, unmetered bandwidth, and unlimited storage.
Moreover, its intuitive website builder makes it easy to create a web page using the drag, drop, and publish method.
Then, there's the WordPress hosting solution, which ensures faster speeds, increased security, free migrations, and a one-year free domain.
As for HostGator's VPS hosting plan, you'll get easy scaling and full root access, providing you with more control and extra flexibility.
Lastly, they also offer a dedicated hosting service, which ensures ultimate performance and complete server control.
With this plan, you'd be able to take full advantage of powerful hardware, unmetered bandwidth, and a choice between Windows and Linux.
HostGator offers unmetered bandwidth for its hosting platforms. As you can imagine, this will allow you to transfer data as much as you want.
If you need loads of storage, HostGator has got you covered. Users will get anywhere from one terabyte to unmetered disk space.
Compared to other web hosts, you'll never run out of storage for all your website's content with HostGator.
HostGator offers multiple ways of providing 24/7 customer support to its clients.
Depending on your preference, you can call, chat, or tweet them.
If phone calls, chats, or tweets are not your thing, you will also find answers in the knowledge base or learn new information from their blogs.
4. InMotion Hosting
It's tricky to find a low-cost hosting solution that offers unlimited bandwidth. Fortunately, there is InMotion Hosting, known as the best web host provider with that offer.
InMotion Hosting commits to innovating and delivering an excellent web hosting experience to its clients through plenty of impressive features and technologies.
With InMotion's easy-to-use platforms, you will have your site working and onboard in no time.
The provider also offers complete server solutions, allowing you to build custom stacks, choose your preferred operating system, and host your apps.
InMotion Hosting has a flexible billing solution. This way, you have the option to choose your plans and terms according to your needs.
There is no questioning the company's dedication to securing websites by defending and monitoring their clients' pages from online threats.
Lastly, while some providers offer a 30-day money-back guarantee, InMotion raised it to 90 days risk-free.
Here are more benefits you'd enjoy from InMotion Hosting:
InMotion Hosting covers several web hosting categories to cater various clients with different business needs.
Shared hosting is under the essential web hosting category suitable for small businesses. It is a fast, reliable, and cost-effective platform perfect for beginners.
InMotion's WordPress Solutions category includes WordPress hosting and a website builder.
WordPress hosting optimizes your website's performance, while the website builder's drag-and-drop technology makes it easy to create a page.
The last category is server hosting, where you will find VPS and dedicated server hosting.
VPS hosting is for high-traffic sites, resellers, and larger businesses.
In comparison, dedicated plans are for the most prominent websites, IT groups, and custom deployments.
InMotion Hosting provides four terabytes to unlimited bandwidth for its consumers, depending on the user's plan and platform.
Users will get an initial 50 gigabytes of disk space but have the option to upgrade to unlimited storage depending on their hosting solution type and program.
InMotion Hosting has a team of experts available 24/7 to provide you with support concerning your business.
Web Hosting for Small Business FAQs
1. What is web hosting?
Web hosting allows individuals and organizations to create and post a website.
A service provider or a web host provides the services and technologies to view and access the website on the internet.
2. Why do you need a hosting service?
Buying a dedicated hosting service for your website will cost you an arm and a leg, which is not advisable for new businesses, especially those on a tight budget.
Using a web hosting service is the most economical way for beginners and small business owners to launch their websites.
3. What web hosting features should I look for?
There is a wide selection of web hosting providers offering various services, which can get confusing for beginners.
Here are some essential features you should look for when searching for a web host.
Storage Capacity
When looking for a web host provider, check how much storage it offers to know how much data you can store.
Having several gigabytes for small and medium-sized websites is sufficient.
Bandwidth
Going hand in hand with storage, the amount of bandwidth is also an essential feature you should check when looking for a web host provider.
Bandwidth is the web host's monthly limit on data allocation that you and your site visitors can use cumulatively.
Customer Support
The level of customer support, especially in the technical aspect, is essential when looking for a provider.
Ask what kind of support is offered and the process of coordinating with the team whenever necessary.
4. Why do you need an SSL certificate?
SSL or Secure Sockets Layer is a digital certificate authenticating the website's identity, which then enables a secured connection.
Website owners need an SSL certificate to ensure the safety and security of the user's data.
It also verifies ownership of the web page while preventing attackers from making a fake version of your page.
5. Is web hosting essential for my business?
Having a domain name is not enough if you want your business to thrive. Web hosting makes it possible for people to access your website.
Your website data is stored in one of the web host's servers, making it easier and faster for your clients to access.
Best Web Hosting Services for Small Businesses in 2022
Finding the best web hosting for small businesses becomes easier if you know what your website needs.
Before deciding on the hosting plan and platform, confirm that it has all the essential features you need to get enough visits per month.
If you're having second thoughts, try calling the customer service team of your preferred provider to learn more about their services.