Social media data is responsible for helping over 70 percent of companies make big business decisions. Central to acquiring such data is to use the ideal social media management tool for your business.
From content creation and publishing to reporting and analytics, social media marketers must accomplish a daily list of social media marketing tasks. To say this can get overwhelming is an understatement.
Dedicated social media managers and their teams can rely on many social media management tools to do the job.
From the best tools for small businesses to the best platforms for freelancing, the best social media management software that saves time, streamlines workflows, and gets content to the right audience is out there—and in here!
Ready to boost your social media presence? Today, we'll showcase 15 of the best social media management tools that can make your business an increasingly visible figure on social networks.
A Comparison Chart of Our Top Five Picks
15 Best Social Media Management Tools for Businesses
Our list is not arranged in any particular order, and it is composed of tools designed to address businesses' social media needs in their unique ways.
Let's look through each social media marketing tool so you'll know the right one to deploy in your social media channels.
Buffer is one of the best social media management platforms for small businesses. It is intuitive, streamlined, and designed to drive meaningful engagement and results on social media.
The tool has a complete range of features for analytics, creating basic landing pages, collaboration, engagement, and publishing.
These are products structured specifically around the needs of social media marketing teams to help them work effectively and efficiently.
We've heard many good things from users of this tool, with many commenting that its cleanliness and intuitiveness are central to its strength. It has also been praised for the responsiveness of its customer support.
Buffer has a lot of great and useful content that marketing teams can access through a forever-free, $5, or $10 monthly plan with a 14-day free trial. You can add $10 monthly per social channel.
2. Hootsuite
Used by over tens of millions of people around the world, Hootsuite is widely regarded as one of the most popular social media management tools today. And we don't mean just anyone; we're talking about Fortune 500 companies and many successful businesses.
In short, this tool has repeatedly proven itself at the highest level. That doesn't surprise its users who leverage this all-in-one platform's incredible ability to run social media ads, curate and schedule content, and measure social media returns on investment.
The platform is one of the most comprehensive out there, holding numerous useful features like monitoring several keywords and accounts, linking to over 30 social networks, and advanced scheduling of social media posts.
Form the perfect social media marketing strategy with the Hootsuite free plan, $29, $129, or $599 monthly plan. They also offer enterprise pricing with a 30-day free trial.
3. Sprout Social
Another top social media management tool comes in the form of Sprout Social. It combines an array of social media tools like social media monitoring, scheduling, and reporting into a single platform.
Unlike other social media management tools, Sprout Social offers customer relationship management or CRM features. When you have a complete profile of your clients, you help serve them better and forge stronger relationships.
Reporting is another of Sprout Social's strong suits. Many users found their reports so comprehensive and aesthetically pleasing that they would send them to the concerned parties as they are.
This is another tool that offers a 30-day free trial and paid monthly plans starting at $99. $149 and $249 plans are also available.
4. Sendible
Sendible is one of the best social media management tools for agencies with numerous clients. It stands out as a social media tool for its customizable dashboard, which lets you personalize your dashboard according to your brand to draw in more clients.
Some of Sensible's most impressive integrations are with YouTube search, royalty-free image search, and Canva graphics editor. It also offers some level of automation to save time on recurring tasks.
Plans start at $29 per month and can get as high as $299 per month, with enterprise pricing and a 30-day free trial available.
5. eClincher
eClincher is a social media management tool that lets you publish and schedule posts, respond to messages, and assess social media performance.
Where eClincher sets itself apart from other tools is that it has an auto-post feature for RSS feeds and smart queues, a large image media library, and a search feature for social media influencers.
Get your eClincher monthly plan starting at $49. You can also avail of the $99 or $199 plan per month. Enterprise pricing is available, which comes with a 14-day free trial.
6. AgoraPulse
AgoraPulse is similar to tools like Hootsuite and Sprout Social in that it offers reporting, scheduling, responding, and engagement features in one platform.
However, it stands out for features like Facebook contests applications and competitor analyses at competitive price points.
You can avail of a free plan or get a paid plan starting at $79 per month. A $159 per month plan and enterprise options are also available.
7. Social Pilot
What's great about Social Pilot is that it fits most social media management tools, except monitoring, into a relatively straightforward dashboard and offers them at affordable prices. Its client management feature is particularly ideal for agencies working with numerous clients.
Social Pilot curates and recommends content from different industries like education, health, and tech, which makes finding relevant content easier.
The tool's white label reports further solidify its value to agencies.
Plans start at $10, but there are also $24, $40, and $80 plans in case you're interested. They also offer enterprise options with a 14-day free trial.
8. CoSchedule
Coschedule isn't just your everyday social media management tool; it's a feature-rich calendar designed to meet most of your marketing needs.
Using the platform, you can manage and collaborate with your team members to create content, posts, tasks, and events on social media.
Coschedule is specially designed for organizing projects (emails, content, social media, and events) in one place.
In particular, the ReQueue feature stands out for helping teams find out the best posting times for their content, effectively filling the gaps in your social media with high-quality posts.
Coschedule offers a free plan and paid plans starting at $20. Paid plans range from $20 to $1200 monthly with a 14-day free trial.
9. MavSocial
Next is MavSocial, a tool that focuses primarily on visual content. Higher-priced plans allow you to manage Facebook ads using the platform, which is incredibly convenient.
Outside of the common features like monitoring, scheduling, and reporting, the tool also has a media library for managing, using, and editing multimedia on posts.
It also comes with its own search engine for browsing through a huge library of stock photos.
Should you desire, MavSocial also has a feature for addressing repetitive tasks, shaving time off your schedule for engaging with customers.
MavSocial has a 7-day free trial and a free plan, but you can also avail of a paid plan for $19, $78, $199, and $499 monthly.
10. Friends+Me
There's a lot to love about Friends+Me, and one of those is its strong focus on Google+ while also allowing you to schedule content to other social media platforms except for Instagram.
This social media management platform stands out for its Google+ scheduling support, covering profiles, communities, collections, pages, and even the GSuite Google+. It also provides automation set-ups for reposting repetitive Google+ posts on different platforms.
It's a great tool for marketers focused mainly on their performance on Google+. If this social media platform is central to your company's growth and development, you may avail of any of Friends+Me's paid plans starting at $9. $29, $59, and $259 monthly plans are also available.
And if you're not too sure about it at the outset, a free plan should provide an adequate test drive.
11. Crowdfire
This free plan has been adding several new features over the years, much to the delight of the small businesses who rely on it. It's among the best social media management tools for freelancers because of its accessibility.
Aside from scheduling, you can manage your Twitter account from it and recommend articles for sharing.
However, the true difference in using this tool lies in its ability to connect your YouTube channel, online shops, and blogs and create social media posts for any updates in each.
12. SocialBee
Very few tools perform better than SocialBee when it comes to promoting your brand on social media. Its core functionalities let marketers add, organize, and share posts and content on different social channels from a single place.
Whether you do it on Facebook, LinkedIn, Instagram, Pinterest, or Google, the changes will apply across all your social accounts. You can even integrate SocialBee with Buffer.
But SocialBee becomes a game-changer in recycling evergreen content while keeping the said content fresh through post variations. On top of that, SocialBee is also known for its top-notch customer support.
SocialBee offers a 14-day free trial and plans, starting at $19.
13. Later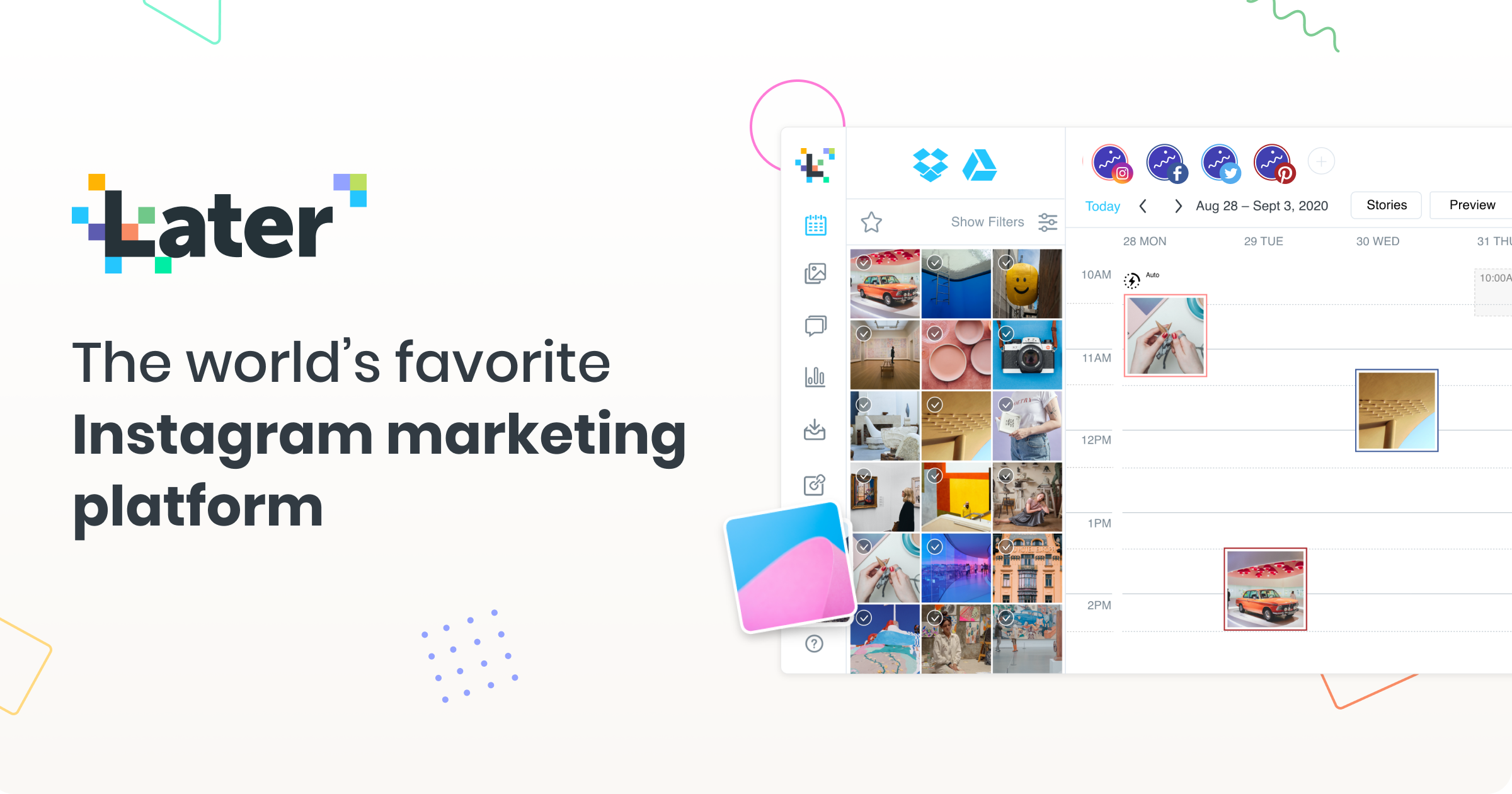 Later is an IG-focused social media management tool that connects to Pinterest, Twitter profiles, and Facebook.
Its most adored feature is the visual content calendar, from which you can drag and drop images easily for scheduling. It also provides a free link tool that can be used to link your IG page to a shoppable IG feed or blog posts and various sites.
You can avail of the $9, $19, $29, or $29 monthly plan. Enterprise pricing options are also offered.
14. Post Planner
Post Planner's core functionalities aim to assist social media marketing teams with discovering high-quality content, planning the best publishing calendar, and posting consistently. It's similar to some of the tools on this list in that it curates and rates content recommendations and lets you build a content-based schedule.
Post Planner's find tool is highly convenient and lets you zero in on content that draws in more engagement. Furthermore, unlike other tools where you select time slots in your schedule for forming sharing plans, this one lets you select content type per time slot and fills the slot with the chosen content.
Monthly plans start at $3 and there are also $11, $24, $59, $129, $299 monthly plans. Plus, enterprise pricing options are available.
15. Tailwind
If most of your social media presence is on Instagram and Pinterest, then Tailwind is the tool for you.
Aside from post-scheduling, conversation monitoring, and results measuring, the platform offers suggestions on improving IG and Pinterest performance.
Apart from the usual social media management tool features, Tailwind offers a range of Pinterest and IG-focused functionalities like content promotion and UGC content management.
Tailwind offers a free trial with limited features. It also has $9.99 and $799.99 monthly plans and enterprise pricing options.
10 Most Comprehensive Social Media Management Tools for Enterprise-Level Businesses
In case none of the tools above align perfectly with your social media management needs, a more comprehensive tool may be in order.
The following social media management tools are known for their thoroughness in handling social media tasks for larger enterprise businesses.
16. Sprinklr
The Sprinklr suite of products introduces the Social Cloud, which links and serves customers across all channels at scale. It allows for effective team collaboration where members can reach out, listen to, and engage with their clients across 25 or more social channels.
17. Oktopost
This platform caters especially to B2B marketers who seek to improve social media lead generation and quantify their social media efforts in business value. From social media promotion to employee advocacy, this tool has B2B marketers covered in all the ways that matter.
18. Falcon.io
Big businesses get everything they need in a single platform using Falcon.io. From social media management, promotion, and engagement to analytics, landing page building, and customer experience, there's almost no area where this tool doesn't deliver.
19. HubSpot
HubSpot is an all-in-one marketing software that offers social media management tools designed especially for larger enterprises. It integrates your email, CRM, social media, and SEO efforts into one platform.
That way, you can compare results across marketing channels easily and get an accurate measure of social returns on investment.
20. Salesforce Social Studio
You won't find any other platform with a more comprehensive suite of products for enterprises such as Salesforce Social Studio.
It's Social Studio, under its Cloud Marketing Platform, forges and strengthens client relationships by aligning customer service, sales, and marketing efforts on social media.
21. Social Hub
With Social Hub, you get the best social media management software designed especially for larger businesses, agencies, and governments. What's great about the tool is that it provides secure, scalable, and efficient solutions.
22. Spredfast
A comprehensive social media software used by the likes of LinkedIn, Patagonia, and Johnson & Johnson, Spredfast has quite a stellar reputation in the industry. You would definitely be right to consider it as a tool for handling the social media management of big companies.
23. Likeable Hub
Likeable Hub is all about ease and efficiency. As far as comprehensive social media tools go, it's on the low-end of the price spectrum with a $299 per month starter plan, which should bring many social media managers happiness.
It's not too shabby a tool for managing your social profiles, either. It suggests thousands of ideas for content, helps in lead and referral generation, social media reach amplification and many other essential functions.
24. Social Flow
You can count on Social Flow to help create data-driven content for large enterprises. It works especially well as a publishing and advertising tool, evidenced by its big-name users like Fast Company, NatGeo, and The New York Times.
The tool was even responsible for boosting Fast Company's shares on Facebook by 30 percent.
25. NUVI
In NUVI, marketers for large businesses get real-time visualization of data and insights into social media performance to help improve social media strategy. It also has functionalities for publishing and engaging customers on social media efficiently.
10 Reasons You Need a Social Media Management Platform
With the need for customer service strategies and social media marketing growing, so has the demand for tools designed to manage social media accounts.
In fact, many are now taking to Google in desperate search of the answers to help them live with the competition.
While consumers generally understand the importance of social tools for businesses, do they know exactly what their specific business needs?
You'll want a tool that fits your company to a T and helps you gain a competitive advantage using social platforms, not one that leaves some of your needs unaddressed.
Many don't fully understand how social media management tools bring a competitive advantage to their business. Here are the many ways they do that you don't want to miss out on:
1. Start and Maintain Social Engagement
Thanks to social media, customers can now reach out to their favorite brands and interact with them daily. Whether it's to sing their praises, ask for help, or voice criticisms, there is now a direct channel for customers to voice their feedback.
Companies have taken advantage of this to find out what their customers really need and give it to them.
Marketing Charts reports that close to 40% of consumers turn to social media for their customer service queries. On top of that, 42% of them who reach out via social media expect a response in under an hour.
Demands are rising, and many brands are struggling to keep up; eight out of nine messages remain unanswered in the first three days.
2. Manage Social Pages
Businesses set up various social profiles and networks as part of their marketing strategy, which can make managing social media accounts incredibly complex.
Why not have just one social page? While that could certainly work for some businesses, others require setting up different pages for their teams, locations, and product lines.
Imagine how difficult it would be to log in and out of each account, update posts, and check all the messages.
Social media tools collect all the messages sent to each profile and network and send them to one spot, saving you from the hassle of constantly having to switch accounts.
3. Manage Consumer Relationships
Each customer is unique, and they should be treated as such. Canned responses won't do; you need a tool that keeps track of the customers you've interacted with and your conversations with them.
In doing so, you can personalize each customer experience, which they will undoubtedly be very happy with.
Social media management tools let you mark relevant notes to use for reference when interacting with customers.
4. Better Team Collaboration
Working on small or large projects may have you collaborating with another team.
In this scenario, social media management could get a little crazy, with you running into issues like queries slipping through the cracks or more than one person responding to the same message.
A good tool allows those assigned to operate within a shared inbox that informs you what another person is doing so you can do something else.
5. Boost Social Accountability
When rogue employees or hackers publish content they aren't supposed to, the social bedlam is not lost on some brands. Outsiders may find this entertaining, but there is nothing to laugh about for the brands in the center of the chaos.
A social media management platform provides additional layers of security so that only trusted employees can post and send messages using your profiles. And if something does slip through the cracks, the tool should make it easy for you to track the culprit so you can deal with the situation swiftly and accordingly.
6. Monitor Relevant Keywords
Complaints, criticisms, and praises about your brand may escape your notice because customers fail to tag your page in their posts. We can't have that since such information is critical for improving our services.
Companies must have an effective means for keeping track of these conversations, so their assigned members of their team may participate and respond as necessary. Here are some key elements to monitor across social media channels:
People may mention your brand or product offerings directly, but they may forget the # or @ sign that should go before these mentions for them to be effective.
Terms adjacent to your brand must be monitored so you can reach out to those who've shown purchase intent but failed to mention your brand or a specific product you're offering. Basically, this boils down to any keyword that any person searching for your product would use.
Being mindful of the competition also means monitoring how similar companies perform in the social media scene.
What handles do they use? What key product phrases and brand terms do they deploy for gathering info on new products? What are the typical marketing tactics they employ and customer complaints they receive?
You can use these answers to shape an effective social media marketing strategy.
7. Build a Social Calendar
Sometimes, companies churn out social media posts in quick succession thanks to the real-time marketing that informs their content strategy.
As effective as some of these posts can be, the timing of their posting should be better thought-out. Schedule social media content most effectively using the best social media management tools.
The right tool lets you plan your posting strategy, so content gets distributed most timely and effectively. It should let you plan posting weeks or months in advance, freeing up your schedule to engage with customers or do other important tasks.
8. Analyze Social Performance
Planning for the future requires looking at the past to determine what was effective and what wasn't. Social tools provide data that help shape marketing strategies moving forward.
Using this data, you get answers to important questions like:
What social networks are best for my business?
Which demographics should my content cater to the most?
What type of posts gets the most engagement?
What keywords or keyphrases lead to the most clicks?
Using the answers to these and other questions, you can create a social strategy that revolves around your specific business. For instance, you'll know what elements (images, keywords, keyphrases, etc.) to include in your posts, so viewers are more likely to share them.
9. Present Reports to Shareholders
Aside from the social media manager, many other important people in the business want a clear picture of its social media performance.
Stakeholders especially want to know how their investment is faring, and part of that is monitoring how it's doing on the social media front. Whether it's a client, the marketing director, or the chief marketing officer, it's vital to supply easily digestible information.
Social tools let you export presentation-ready reports to those in the organization who need them.
10. Operate Social Media On-the-Go
Sitting in front of our computers to monitor our social media isn't possible. Even if our bodies let us manage it somehow, the fact that we have social media on mobile means there's no reason to.
Some social media tools come with mobile applications that let you manage your social media accounts on the go. That way, managers won't have to sit in front of their desks all the time; they can take much-needed vacations.
Which Tool Suits Your Needs Best?
There are social media management tools for businesses of all sizes, so it all comes down to choosing a platform that best aligns with your needs. Consider your social media goals and objectives when making your choice.
And remember, the list of best social media management tools for small business needs is not the same as the best platforms for large enterprises. Know the difference, so you can plan an effective social media marketing strategy cost-effectively and efficiently.
Best Social Media Management Tools FAQs
What are the web's most frequently asked questions about social media management tools? Let's go over five of them in this section.
1. Why is a social media management tool important?
Using a social media management tool helps you manage your social profiles in one place. These tools focus especially on simplifying social media marketing tasks to make it easier for marketing teams to engage with customers, schedule, publish, and promote content, analyze data, and generate reports.
2. How do social media marketing tools work?
Those who are unaware of what these tools do are software that lets you publish, schedule, monitor, and manage profiles on all your social networks from one place.
3. Do I need a social media management tool?
These tools help you manage your social media accounts more effectively and efficiently.
Everyone, from freelancers and small businesses to agencies and large enterprises, needs them on some level. That's because most of their target audience is on social media, and these tools can considerably grow your presence on social platforms.
4. What are effective ways to manage social media?
Effective social media management doesn't just mean using the right social media management tool. It also calls for the following:
Following trends
Recycling content
Telling stories
Reacting to controversies
Being consistent
Posting daily
5. What is social media management?
Social media management is managing your presence on social media channels like Facebook, Twitter, and Instagram by creating, scheduling, publishing, monitoring, and analyzing content that you post. The process also requires engaging and interacting with social media users to boost conversions.