Shopify is one of the largest e-commerce platforms you could use to expand your business. However, not every seller knows how to maximize its potential.
That's one of the many reasons only 66% of business startups survive the first two years since their launch.
If you don't want to be part of the 34% of failed businesses, we encourage you to look for the fastest Shopify theme out there.
Shopify themes help you create and analyze various digital marketing campaigns that ultimately improve the quality of your business processes.
So, if you want to bring your online store to Shopify, or in other words, if you're hungry for success, here are the best themes you could use.
Top-Notch Shopify Themes to Choose From
Here's a quick summary of the best Shopify themes before we discuss each of them in detail:
THEME NAME
PAID
FREE
STRONGEST POINTS
1. Air Theme One
✔
✔
Mobile-optimized
Ultra-fast
2. Ecolife
✔
✔
Pre-built demos
Mobile-optimized
Improves online presence
3. Flex
✔
✖
Custom CSS
Versatile layout options
Additional Elements
4. Debutify
✔
✔
Thousands of users
Built-in third-party apps
5. Turbo
✔
✖
Custom CSS
FastStunning visuals
6. Streamline
✔
(Free Trial)
Quick Setup
Optimized for multimedia
7. Expanse
✔
(Free Trial)
Content promotion
Cross-selling
8. Brooklyn
✖
✔
Fast
Continuous growth
9. Venue
✔
(Free Trial)
Superb support team
Allows age-restricted products
Convenient
10. Shoptimized
✔
(Free Trial)
Optimized for SEO
Mobile-friendly
11. Shella
✔
✖
Multiple templates
Unmatched support system
12. Fastor
✔
✖
Free apps
Huge community
Easy Customization
1. Air Theme One
The Air Theme One can reach a theme speed score of 80 to 95 using Google Pagespeed Insights. This makes it arguably the fastest Shopify theme you could use for your business.
The free version still gives you the benefits of an SEO optimized theme with flexible components and customizable sections using Shopify's drag-&-drop builder.
However, it focuses mainly on user-friendliness and speed, which means you might not get the premium experiences you could get from other popular Shopify themes.
The Air Theme One lets you add images, texts, overlays, videos, collections, FAQs, and other features to your homepage. It also offers free customer support should you need assistance in using the theme.
Here are some additional benefits you could get from this theme:
This Shopify simple theme is mobile-oriented. As more and more consumers shift from using desktops or laptops to smartphones, Air Theme One prioritizes mobile optimization to target a larger market.
Air Theme One uses tiny digital footprints and clean coding systems to avoid the lazy loading of your Shopify store. Thus, you and your customers can access your store at the optimal speed possible.
2. Ecolife
Envato Shopify themes are slowly but steadily gaining popularity over the recent years. Ecolife, a multipurpose Shopify theme from this brand, offers convenience and modernity to any kind of business.
The free version allows you to gauge the potential of this Shopify simple theme, and you can evaluate the premium features before you decide to purchase it. This way, you can guarantee whether or not you'd get the best bang for your buck.
The Ecolife Shopify theme offers multiple layout options that cater to all sorts of niches. With this theme, you can get the following benefits.
This online store tool from Evanto Shopify themes offers more than 20 unique and pre-built demos that give your business a whole new look.
About 32% of US internet users purchase online each week using their mobile devices. With over 230 million people using smartphones, every Shopify store owner should aim to target this market.
The Ecolife Shopify theme is optimized to function responsively on all kinds of mobile devices, be it smartphones, tablets, laptops, or desktops.
Establishes Online Presence
One of the best features of this theme is that it automatically shares new items in your inventory to social media websites. Through this, you can quickly establish your online presence and attract more customers.
3. Flex
Flex took the Shopify world by storm since its release in the 3rd quarter of 2019. It's a product of the creative minds of Out of the Sandbox, a team of developers known for creating some of the best Shopify themes we have today.
The Flex theme is the successor of the throne which previously belonged to the Turbo Shopify theme. The development team asked users how else can Turbo improve their experience.
Well, if there's one thing you should know about Out of the Sandbox, it's that they listen to their customers. They gathered the suggestions from the consumers and incorporated them into the Flex theme.
There are 12 major styles you could get from the Flex theme. All of them include multiple features that enhance your experience of the Shopify store.
Here are the best features you can expect from it:
With the Flex Shopify theme, you can control the layout of your documents written in XML or HTML. The theme editor allows you to modify and generate new CSS elements while staying on the same page.
If you want your Shopify store to reflect your creativity, the Flex Shopify theme allows you to customize just about anything on your Shopify site. You can choose from different presets or build your page from the ground up.
Lastly, the Flex Shopify theme has a deep inventory of icons and other elements. You can use a wide variety of stickers, text columns, and announcement bars to improve your Shopify store.
4. Debutify
Debutify is the fastest free Shopify theme that all Shopify store owners could benefit from. The free version is loaded with basic features that'll boost the overall performance of your store.
On the other hand, the premium version brings three to 28 or more additional features, depending on the plan that you avail of.
Debutify is also hailed as the highest converting Shopify theme optimized to cater to all types of products and industries. Never mistake simple for boring.
Debutify ensures that you and your customers can easily navigate your online store while guaranteeing that it displays all the things customers need to see from your products. In addition to this, Debutify also provides you with the following benefits.
Arguably the best thing about Debutify is that it offers a wide array of features without even asking you for a dime. Unlike others you'd find on the internet, this cutting edge Shopify theme will still provide you with efficient tools and features even with their free version.
Currently, there are over 450,000 Shopify store owners using the Debutify theme. This is a testament to how trustworthy and powerful the theme is.
Thanks to its user-friendliness and advanced features, the Debutify community just keeps on growing.
Built-In Third Party Apps
One of the most important things you need when starting an online business is conversion, which means turning audience into customers. Shopify sellers often use various third party apps to boost their conversion rate.
However, Debutify already has built-in third party apps for this purpose, allowing you to save up to $2,500 every month on operational costs.
5. Turbo
Turbo is another one of the many Out of the Sandbox themes that maximize website speed. Well, you can certainly see that from just the name of this theme.
If you're looking for the fastest Shopify theme that also offers a vast array of features, Turbo will deliver all your needs. From sidebar filters and interchanging thumbnail colors to convenient product sorting and expanded banners, Turbo is another masterpiece from Out of the Sandbox team.
There are countless teams out there that aim to focus mainly on theme speed, sometimes leading them to compromise other important aspects of a Shopify store.
However, Turbo gets the best of both worlds. Here's what you'll get from this theme.
6. Custom CSS
One of the first things Shopify store owners look for in themes is CSS customization. This allows them to design layouts and sections.
With this feature, store owners can use fewer CSS files that optimize speed while ensuring the website is personalized to their liking.
If your website takes over three seconds to load, you lose almost half of your potential customers.
The Turbo Shopify theme maximizes the caching system to avoid lazy loading. It's also optimized for mobile devices so that you can catch a bigger market.
Turbo makes you feel like it's your own theme because of how customizable it is. Your homepage displays your galleries, while the image sections allow you to include several action buttons for better customer navigation.
7. Streamline
The Streamline theme Shopify offers is a quick way to get your business started. When we look for the fastest Shopify theme, we should also consider how easy it is to set up your webpage.
Streamline offers customizability and speed in one theme. You don't even have to use special coding to maximize its potential.
You can simply use the drag-&-drop feature to create sections anywhere on your website. This well-designed Shopify minimal theme is a great option for store owners with a high volume of products.
You can quickly start your business while ensuring that each of your items is highlighted.
Here are the strongest points of this theme:
Setting up your store is relatively easy with this theme because of the minimal steps in the theme editor that you need to follow to display your catalog. Despite that, you can still include a collection page, featured promotions, product sales points, and lots of other details.
Streamline displays GIF-style images and text animations on your website. It even allows you to use videos for product promotions.
All of these are mobile-friendly and do not affect the theme speed.
8. Expanse
With the Expanse theme, Shopify becomes extremely easier to navigate. It's designed by Archetype Themes, a brand known for developing layouts for small to extra-large inventories.
The Expanse theme caters to business owners with huge catalogs looking to improve their site speed. It's for dropshippers, so you don't even need to have the stocks.
You just need to pass the sales orders to the suppliers, and they'd be the ones to manage the shipping. Nonetheless, Shopify sellers with physical stores can still benefit from this theme.
Expanse is a Shopify simple theme designed for versatility, cleanliness, and speed. By using this theme, you can incorporate the following benefits into your Shopify store.
One of the biggest advantages of the Expanse Shopify theme is its content promotion. Through its theme editor, you can use various footer styles and a multi-announcement bar to promote your products in different parts of your site.
Cross-selling is also significantly easier with the Expanse theme. It allows you to use the drag-&-drop feature to add sections that display content from a specific seller, location, or other recommended products.
9. Brooklyn
Brooklyn is an incredibly fast Shopify theme tailored for fashion apparel. It allows you to showcase some of your best products using the header slideshow, ultimately boosting your brand's image.
It's completely free, making it a great option for small business startups with little budget for brand establishment. Even the updates won't ask you for a dime.
If you don't have photos to use, you can access Shopify Burst to find free stock photos.
Here are some other key features of Brooklyn:
The two layout styles of Brooklyn, Classic and Playful, scored 95% on Google Pagespeed Insights.
Using the Yslow speed test, it scored about 81%, making it one of the fastest free themes on Shopify. In fact, you can fully load the homepage of your Shopify store in 2.5 seconds or less.
Despite being free, Brooklyn works with the latest features of Shopify and will continue to do so. Thanks to its unlimited free updates, your store can stay up-to-date with the latest trends on every eCommerce platform.
10. Venue
The Venue Shopify theme is a flexible but user-friendly layout designed for simplicity and versatility. It's optimized for mobile devices, but desktop users can still find this theme valuable.
It's a theme designed by Safe As Milk, and it accommodates all sorts of products and different volumes of inventories.
Venue offers up to 21 sections in different parts of your site. With its brand-new collection filters, this multipurpose Shopify theme will provide its users with the following benefits.
The best thing about the Venue Shopify theme is that it has one of the most reliable customer support teams you'll find on Shopify. With its numerous positive reviews, you can expect their team to help you out in running your Shopify store.
It's sometimes difficult to find a Shopify theme that accommodates products intended for an adult audience. Thankfully, Venue lets you catalog products like tobacco, alcohol, and even lottery tickets.
The Venue theme also incorporates the drag-&-drop theme editor. That means store owners with little to no knowledge of technical website development can still maximize this theme's potential.
11. Shoptimized
Shoptimized is one of the fastest Shopify themes you can use for your store. It's also a contender for the highest converting Shopify theme, fighting against Debutify at number one.
It scores a site speed of 90 to 99 using Google Pagespeed Insights. In fact, it only takes less than a second to load and respond to commands.
You can also try its demo shop import feature to see how it performs using your device and products. It offers three purchase options; Basic, Pro, and Ultimate.
Here are some of the things that you'll love from this theme:
If you're looking for the best Shopify theme for SEO that's not just fast but also visually stunning, look no further. Shoptimized is very efficient in using more than 200+ ranking factors to establish your brand's online presence.
Using third party apps will not just drain your wallet but also slow down your site speed. To solve this, Shoptimized uses built-in conversion tools, allowing you to save more than $2,000 a month on operational costs.
Aside from working for any type of store, Shoptimized works for all sorts of devices, especially mobile gadgets. In fact, Shoptimized is the first-ever Shopify theme to be designed specifically for mobile users.
12. Shella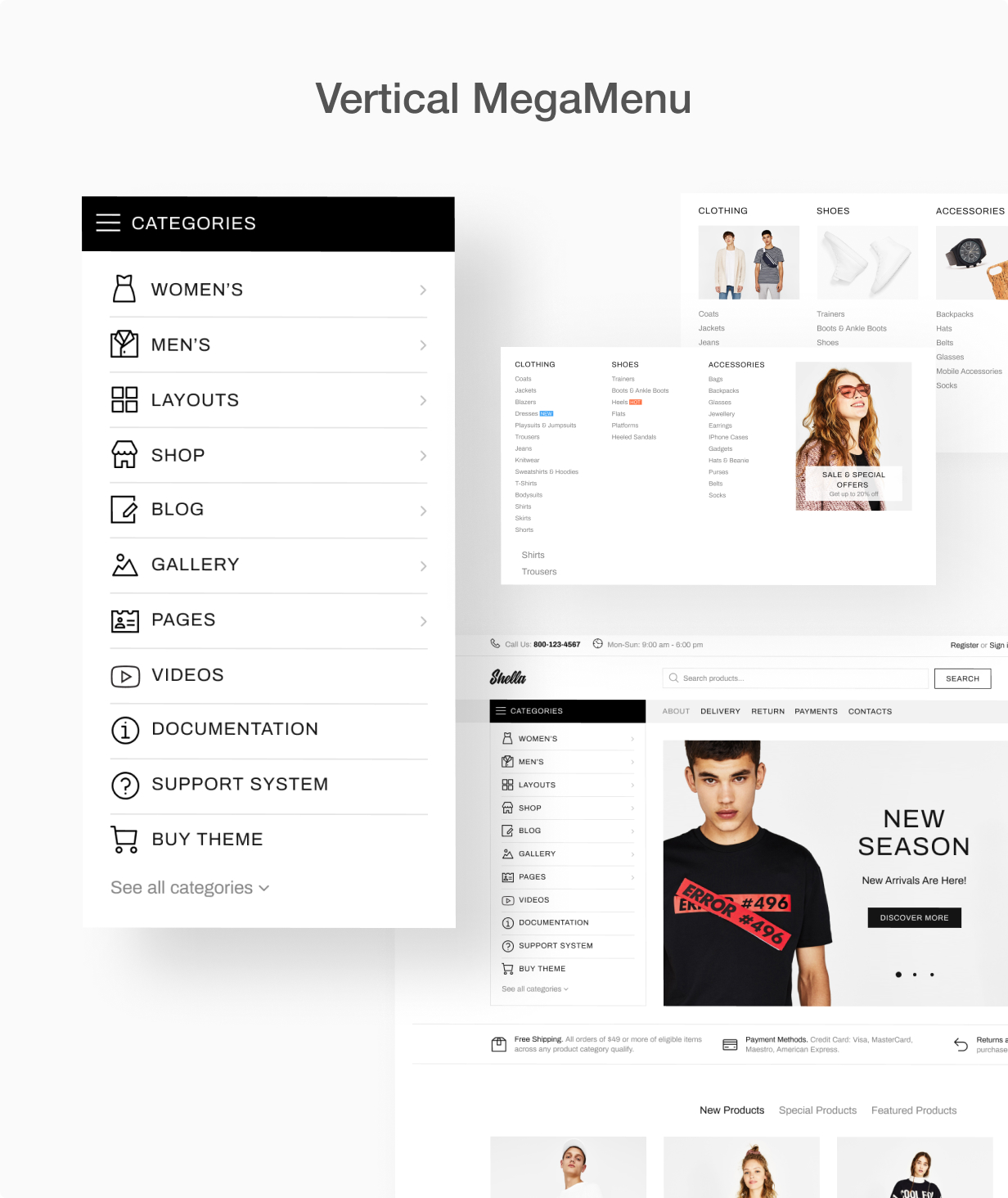 Shella is a multipurpose Shopify theme featured in Envato Shopify themes and other eCommerce giants. It is one of the fastest tools you can use for your business.
It scores 87 and above on Google Lighthouse performance metrics, which means it outperforms a lot of other themes on Shopify.
Here are some additional features you will enjoy about Shella:
Shella offers up to 99 templates for you to use. It allows you to save a lot of time navigating the theme editor because the pre-designed pages have already done the groundwork for you.
Don't worry. The templates are stunning, and it's even ranked as the best theme for your Shopify by Envato.
Shella won't leave you behind. The team behind it guarantees that you can set up your online store with ease.
They offer walkthroughs, video tutorials, and step-by-step guides to help you maximize the theme's potential.
13. Fastor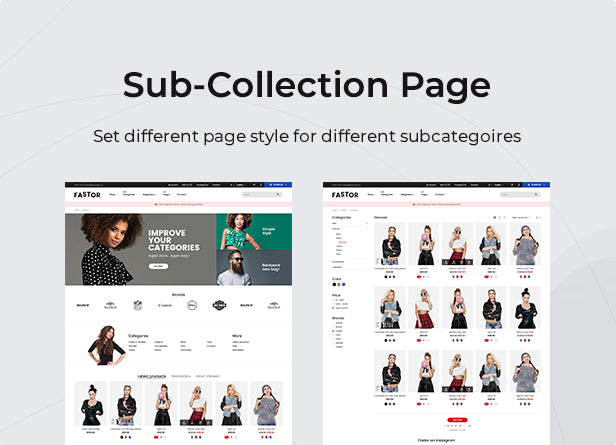 Fastor is the best selling Shopify theme of 2019. It offers about 87 layout templates that are the best fits for all sorts of products, including electronics, sports equipment, fashion apparel, and even jewelry.
It's a great tool to improve your Shopify site because of how easy it is to customize the pages of your store. If that isn't your cup of tea, the pre-built multiple layouts should still make setting up your store easier.
Here are some of the key features you should know about Fastor:
Fastor offers numerous free applications that improve your store's performance. From Page Speed Booster and Terms and Conditions in Cart to WhatsApp Share and TikTok Ads Pixel Installer, you can maximize user experience while establishing your brand's online presence.
We mentioned that Fastor was the best selling Shopify theme of 2019, didn't we?
Well, more than 10,000 Shopify store owners are using this theme. This is a testament to the theme's trustworthiness.
In fact, Fastor has a running record of four years of high ratings from its users.
Users who wish to set up their stores as quickly as possible and store owners who want to customize their homepage will benefit from this fast theme. The ready-to-use layouts and the extra-convenient theme editor are perfect for sellers of different preferences.
Invest in the Best Shopify Themes
Penetrating the eCommerce industry is difficult, but it's absolutely vital to the survival of your business. That's why integrating some of the best digital marketing practices into your business is important.
One of the best methods to do this is to join an eCommerce platform, especially Shopify. While there are many things you need to prepare to do this successfully, the first thing you need to do is invest in the fastest Shopify themes in 2023.
Be sure to check out every one we have on this list to determine which of them best suits your brand.
FAQs About Shopify Themes
1. Where can I get the fastest Shopify themes?
You can purchase or install the best and fastest Shopify themes from Shopify itself. On the other hand, other trusted websites like the Envato market or Theme Forest also offer most of them.
2. What is the fastest free Shopify theme?
The free version of Debutify is not just visually stunning but undoubtedly fast as well. However, if you want something that is 100% free, including all of its features but still avoids lazy loading, the Brooklyn theme is a great option.
3. How long does it take to create a Shopify store?
Several factors affect the speed of setting up your Shopify store. Generally, it takes around one to three days. If you use pre-built templates and you're quite knowledgeable, you can launch your site faster.
4. What is a good Shopify score?
The website speed will significantly affect your store's conversion rate. A score of 50/100 using Google Pagespeed Insights is considered good enough.
However, if you want to give your audience the best experience, aim for 80 or even 90 and above.
5. How do I increase my Shopify speed?
There are several methods to improve your website's speed. From analyzing its performance and compressing images to reducing media and apps and HTTP requests, all of these increase the speed of your Shopify store.
However, perhaps the easiest method is to use the fastest Shopify themes in 2023.