Deciding between Brex vs Divvy vs Ramp vs Airbase vs Stripe is important for any company looking for access to funding. As top-tier business credit card providers, each of these companies features an exclusive list of benefits and notable features for every account holder.
Knowing exactly what each provider offers and their extensive advantages can help you make the perfect financial partnership for your growing business.
Brex vs Divvy vs Ramp vs Airbase vs Stripe: At a Glance
Before we delve into the specific details of each card, let's compare their main differences in a chart.
Card Type
Main Features
Rewards
Discounts
Brex
No annual fees
Flexible credit limits
Charge card
No foreign transaction fees
No personal guarantee
8 points/dollar for rideshares
5 points/dollar for flights and hotels
4 points/dollar for restaurants
3 points/dollar on subscriptions
1 point/dollar on all other purchases
25% off Slack for 12 months
$5,000 AWS credit
40% off QuickBooks for 12 months
Up to 50% off UPS shipping
$150 in Google Ad credits
50% discount on Experian services
$10,000 credit on Freshworks product suite
Divvy
Credit reporting features
Flexible credit line
Accounting software integrations
Flexible credit limits
Unique security features
Spend tracking tools
Ability to build credit with cards
2x-7x points on restaurant purchases
3x-5x points on hotels
1.5x-2x points on software subscriptions
1x-1.5x points on all other transactions
$25,000 AWS credit
$150 discount on Google Ads
$15 off any FedEx order
$50 off new Costco memberships
20% off MileIQ annual subscriptions
$50 off new Verizon phones
Ramp
Spending management and tracking
Duplicate payment notifications
Charge card
No annual fees
1.5% cashback on purchases
Over $175,000 in savings from AWS, Google Ads, Snapchat Ads, Lattice, Datadog, Plaid, etc.
Airbase
Built-in accounting automation
Budget management tools
Virtual and physical cards
Unlimited cashback
No interest and feesCharge card
2.2% cashback on purchases with pre-funded Airbase cards1.6% cashback on Airbase charge cards
N/A
Stripe
Automatic rewards redemption
Customized spending controls
Real-time expense reports
Flexible credit limits
Accounting software integration
Fraud protection
No annual fee
No foreign transaction fees
1.5% cashback on unlimited purchases
$5,000 in AWS credits
$150 in Google Ads credits
25% off Slack for 12 months
Three months free of Gusto
50% cashback up to $5,000 for Notion
50% off Expensify for six months
Other discounts available for Snap, Zendesk, Airtable, Carta, Guideline, HubSpot, and InVision.
Brex vs Divvy vs Ramp vs Airbase vs Stripe: Comparing the Features
It's time to get into the details of what makes each of these business credit card companies unique from one another.
First, we'll start with a quick chart that showcases the pros and cons of each and a few benefits. We'll then delve into the specifics to ensure you're borrowing from the best possible lender for your needs.
Brex

Brex is an outstanding choice for small businesses and startup companies. Their cards don't require personal guarantees and allow you to adjust your borrowing limits based on your company's income.
As you become a more recognized member, you can unlock exclusive benefits and discounts that the most valuable account owners have.
It can be challenging to gather the perfect amount of credit your company needs when it comes to corporate credit cards. This is because more lenders require personal guarantees and individual credit scores for you to be eligible for an account. Brex makes it simpler, especially for startups, as they don't require personal guarantees for approval.
The Brex card is hosted on the Mastercard network and is designed specifically for businesses. Your credit limit will be a direct result of the incoming cash in your company without needing to put your personal finances on the line. All eligibility requirements are analyzed based on how small businesses spend and the number of sales.
It's also important to note that this business credit card is a charge card needing to be paid in full every 30 days. If you're interested in corporate credit cards that allow you to carry a balance, this isn't the ideal one for you.
Most account owners have their amount owing automatically withdrawn from their company debit account every 30 days.
Features
By putting small businesses and startups first, you can guarantee Brex has an assortment of features to consider. There's plenty to appreciate, from impressive discounts to the elimination of certain fees.
Let's jump into the most remarkable features you'll experience as an account holder.
Businesses must have access to credit limits that adapt to their company's specific needs.
With the Brex card, your company credit limit will be based on the individualized spending of your company. Your total sales volume and incoming cash flow will also be considered.
You can expect your credit limit to be relatively small if you're a startup. However, your credit limit will scale with you as your business grows.
The more business you do, the more you can borrow, making it a simplistic yet convenient approach to borrowing.
One of the main features that make the Brex corporate credit card unique is that it's a charge card rather than a standard credit card.
You'll be expected to pay the total balance off every 30 days as you spend. Alternatively, you can opt to pay the balance daily, which could unlock additional rewards for your account.
Compared to a standard credit card, a charge card doesn't have interest. This feature is essential for businesses continually making big purchases. You'll never carry over a balance and never have to pay a cent of interest.
If your company is known for doing business internationally, the last thing you want is to deal with foreign transaction fees.
The Brex corporate credit card has zero fees for overseas payments and transactions. Additionally, it doesn't have any annual fees, helping you keep an account over the years without losing any money.
There's no doubt Brex reviews have found the card has plenty of rewards, mainly as it's operated on Mastercard's network. You can earn several rewards, ranging from points per dollar spent to money spent on specific companies. Below, you'll find a few top examples of ways you can benefit from using this card:
Earn five points per dollar spent on hotels and flights
Earn eight points per dollar on rideshare companies (Lyft, Uber, city scooters and bikes, and more)
Earn four points per dollar on restaurants and eligible dining opportunities
Earn one point per dollar on all purchases
Another important thing to note about the rewards program is when you're redeeming your points. Currently, account owners can transfer their rewards at a 1:1 ratio, helping you make the most of your earnings.
Having access to a virtual card is something that every future-proof business needs to consider. It's also simpler to give multiple people access to the same account.
With Brex, they offer a virtual card that's immediately accessible as soon as your account is approved. Not only does this streamline the borrowing process, but it also makes the account much simpler to manage.
You'll no longer worry about employees losing their company cards or replacing cards due to theft.
Pros:
Exclusive discounts from Amazon, Apple, Google Ads, and more
Interfaces with QuickBooks, NetSuite, and other expense reporting platforms
Borrowing limit based on company cash flow
Ideal for small to large businesses
Cons:
It can be hard for small businesses to qualify
Don't have any introductory offers
Is the Brex card right for you?
If you're a business looking for a card with scalable borrowing limits, Brex is a great option.
Their cards are available to large and small businesses alike, providing credit limits based on each company's cash flow. Additionally, they offer many benefits, such as exclusive discounts from top retailers.
This card falls short mostly during the application process, especially for small businesses.
There are some qualifications to adhere to, especially regarding a company's cash flow, which can be challenging for smaller organizations. Also, it's important to note that Brex doesn't offer any introductory offers to new clients.
Divvy
Divvy is one of the fastest-growing credit card providers in the FinTech industry. Thanks to their massive benefits and exclusive offers, their corporate card is one of the most attractive.
It is ideal for new business owners and startups, and any other business interested in additional credit building functionality.
With an account, you'll have access to exclusive features such as a spend management platform, helping you manage your finances.
The card is packed with numerous perks through partnered companies like AWS, FedEx Office, and Google Ads. The card's additional integrations with accounting software are another cherry on top.
Divvy is unique because it takes a startup credit card and catapults it into the future.
With their innovative budgeting and expense report software, businesses get multiple benefits. You'll have the credit spending limit your company deserves paired with the tools needed to manage your finances effortlessly.
The company touts its ability to provide flexible and fast business credit, with credit lines over $15 million. Regardless of your business' size, this is one of the few providers willing to help small and large companies alike.
As an added benefit, the entire application process is online, streamlining the experience you can access the funding you need.
Features
The impressive number of features Divvy brings to the table puts them at the top of the best corporate credit cards. You'll find an assortment of flexible rewards, enforceable budgets, and unique integrations with future-proof software.
Let's look at some of the best features Divvy offers to credit card account holders.
There are a few different ways to earn rewards with a Divvy card.
Depending on when you set up your payments, different rewards are to be earned. For example, monthly payments can earn between one and two points per dollar, while weekly payments earn more.
The payment-based rewards are rather extensive, but let's look at a few great examples to make it simpler.
Weekly Bill Payment Rewards
Five times the points on hotels
Seven times the points on restaurants
Two times the points of software subscriptions
1.5 times the points on all purchases
Twice per Month Bill Payment Rewards
Three times the points on hotels
Four times the points on restaurants
1.75 times the points on software subscriptions
1x the points on all purchases
Monthly Bill Payment Rewards
Two times the points on hotels and restaurants
1.5 times the points on software subscriptions
1x the points on all purchases
When you've accumulated enough points, you can redeem points for real items like any credit card rewards program.
Divvy is well-known for its gift card program, helping account owners make cash by spending credit. Their travel program is the most lucrative option, allowing you to convert one point into one cent for travel.
The majority of other redeemable rewards are converted at 0.5 cents per point. You'll likely have to make many significant purchases to reap big rewards.
Apart from their rewards structure, Divvy also ensures their account owners have access to added discounts. This feature is particularly notable, especially for a business that likely has plenty of spending needs.
Whether you need new cellphones or are looking to place digital ads, there are savings to be taken advantage of. The most notable discounts you'll come across as an account owner include:
$50 off a new phone from Verizon Wireless
$15 off any order from FedEx Office
$50 off new Costco memberships
$25,000 in AWS credit spanning over two years
$150 off Google Ads
Unlimited Card Amounts
When opening a company account, you must have enough cards for your entire team. However, some banks require you to pay for additional cards, which can be a significant expense.
With Divvy, they ensure that every member has access to the account for free.
As soon as you qualify for a credit limit, you'll be able to unlock unlimited physical cards. You will also be able to allocate unlimited virtual cards to all those on the account.
You'll experience several benefits such as seamless integration, easy money management, and more with virtual cards.
As a business, one of the most fundamental aspects of having a credit card is to ensure expense reports are maintained. This is another area where Divvy outperforms other providers, as they integrate reporting with the corporate card itself.
You will receive automatic expense reports, helping you streamline your accounting in-house. Additionally, there are phenomenal integrations with top-rated account software like NetSuite and QuickBooks Online.
With both of these benefits, you can effortlessly track and manage spending across your entire company.
Giving employees access to a company account is a massive benefit, but it also comes with many risks.
As a business owner, you must control how much your staff spends and where they spend it. Fortunately, this card gives you all of the tools you need to control your employee spending limits.
You'll find employee spend controls through your dashboard with a Divvy account. You can set specific spending limits for every physical and virtual card connected to your account.
Also, you'll be able to sync each user with budgeting tools for efficient team spending management. You can lock a specific card, cancel a certain card, cancel a particular card number, or adjust a card's spending limit.
You also don't need to visit an in-person location to make changes, as it's all done online. The simplicity of managing company credit cards has never been more convenient than with Divvy.
Travelling as a business owner is expected, and your credit card should accommodate your needs. As such, Divvy is one of the few corporate cards that will work overseas and in other international locations.
However, it's important to note that there are foreign transaction fees to be aware of.
First, there are crossborder fees, approximately .90% of the transactions you make as U.S.-based users. Canadian users can expect a .20% transaction fee when making purchases.
In addition to these added expenses, Divvy has currency conversion fees. The currency conversion fees are 0.20% of your total transaction volume, regardless of if you are Canadian or U.S. based.
Keeping these fees in mind is essential for avoiding any accidental charges while travelling.
Regardless of the type of business you own, you're likely purchasing products from another company. You'll want to ensure your payments are streamlined, so you don't have to worry.
With Divvy, you can set up an assortment of payees, and the platform handles the rest for you.
Simply add a payee or vendor and the total amount that needs to be paid. Divvy ensures the money is sent to the client on your chosen date. You'll never have to worry about falling behind on payments again with these planning features.
As you can guess, with such a technologically-advanced company, Divvy provides access to convenient mobile apps.
Users will be able to download the app on their Android and Apple devices and access online banking from anywhere. These features are essential for business owners always on the go who want to manage their finances regardless of where they are.
There's nothing more important than ensuring your money is sufficiently protected. With Divvy, you'll have a compilation of security features to protect your account.
Some of the largest benefits every account owner has access to include:
Multifactor authentication
Fingerprint scanning
Face ID support
Individualized passwords
Pros:
Easy credit building for startups
No annual or employee card fees
Easy-to-use budgeting software integration
Flexible rewards based on payments
Cons:
Late payment fees
Higher-than-expected foreign transaction fees
Is the Divvy card right for you?
It's hard to imagine any other corporate card as accommodating as Divvy, especially regarding credit building.
As a startup, being able to build credit is essential for establishing financial independence and responsibility. Also, their cards don't have any additional fees, such as an annual fee.
With the flexibility of their rewards system and built-in budgeting software, tracking and managing spending have never been simpler. Also, you can provide physical and virtual cards to your employees, managing them effortlessly online.
With that said, there are a couple of concerns to consider with Divvy.
First, they have different foreign transaction fees, which are important to note for international businesses. This issue can also be concerning if you're a business owner that travels a lot. Also, there are late payment fees to note, but this is common with most credit card companies.
Ramp
As a small business owner, finding a comfortable corporate card can be quite a challenge. You'll want to work with a provider that puts your company first while also offering numerous benefits and features.
Ramp is a great option, as they offer credit to small businesses interested in charge cards. Their robust collection of accounting benefits makes spending easy to track, well beyond what you'd expect with standard cards.
Additionally, you won't have to worry about annual fees, regardless of your company's size. With that said, it's not the most competitive card on the market, as it lacks travel and other significant perks.
Our Ramp credit card review found businesses can save a lot of time with bookkeeping.
The proprietary technology you'll receive with an account helps you analyze spending from every corner. You can also look at important statistics and metrics to help you curb spending and allocate funding more efficiently.
Their card is unique because it's fully integrated with Control Center, Ramp's predictive software. Through Control Center, you can manage employee cards, see flagged vendors offering lower prices, and be alerted to duplicate subscriptions.
It's the type of program that helps you spend better and protects you from spending too much.
Since this card is a charge card, it's important to note it's not the top option for companies looking to carry a balance. It must be paid monthly, ensuring you don't carry over a balance.
Account owners will have the total amount owing deducted from their company bank account each month.
Features
If you're in the market for a card that also pairs with accounting software, Ramp is the provider to consider. They have several phenomenal benefits waiting for you to use to your advantage.
Let's explore some of the most notable features you'll unlock as a member.
The rewards you earn from your prospective corporate card provider are the most important features to note.
In terms of Ramp vs Brex vs other providers' rewards structure, Ramp is simple. They don't have different earnings tiers, providing every account owner with the same benefits regardless of status or time spent with the company.
With Ramp, every purchase you make earns a flat 1.5% cashback reward, benefiting high-spending companies. If you know you'll be making plenty of purchases with your cards, you can earn a small number of spendings back.
There is also a unique feature added to their rewards program.
If there are specific products and services your business is most likely to use, you can earn additional savings. Some cardholders are eligible to get up to $175,000 in extra discounts and savings on likely-used products.
This feature is inherently beneficial for startups, helping you allocate your funding more effectively to get off the ground.
The general design of this card is quite similar to other corporate cards in that it's a chargeback card.
Unlike a standard credit card, you won't have a revolving balance, which is important to note to organize payments. You must pay your existing bill monthly on the same day.
To help make payments simpler, Ramp automatically withdraws payments from your company's bank account. You must make sure the correct funding is available by your payment date to clear your balance.
One of the most notable benefits of this card is the innovative technology that comes along with it.
With the help of the Control Center, users get notified of duplicate payments and any other notable activity on their accounts. Additionally, it helps to integrate the card with spending software, helping you manage how much your employees and self spend monthly.
When it comes time to catalog your expenses, you'll need to match your transactions with receipts for verification. This process can be quite time-consuming, even if you were to delegate it to your payroll team.
With Ramp, you benefit from built-in receipt matching, done efficiently and online.
You must upload a picture of your receipt, which will automatically be matched to a transaction on file. By the end of the month, you'll have a full catalogue of your purchases, making month-end and year-end much simpler to deal with.
Slack is one of the world's leading platforms for business communications and streamlined processes.
With that said, having Slack integration with your corporate card is a phenomenal benefit. You can receive real-time financial updates and alerts when you connect your two accounts.
Additionally, individuals on your credit account can make requests through Slack that you can answer immediately. It's a sure-fire solution for a business owner who's constantly on the go and needs to access tools remotely.
Virtual and Physical Cards
Virtual cards are quite helpful for the digital age, especially when making business-related purchases. With Ramp, you can order as many virtual cards as needed for your account, which will be delivered immediately after approval.
Additionally, you have full control over the number of physical cards you distribute to your employees.
Like many other corporate card providers, you can effortlessly manage your account entirely online. Alternatively, you can contact Ramp via telephone to handle additional urgent matters.
Accounting Software Integration
Control Center is the largest selling point of Ramp, but it also offers extra integrations with your most-used software.
Whether you're a fan of QuickBooks or other accounting platforms, Ramp offers diverse integrations. You have to pair your two accounts together and see how it can offer a team of accountants for a fraction of the cost.
Pros:
Early payments are allowed
Easy-to-use receipt matching
Plenty of digital integrations
Flat 1.5% cashback on all spending
Cons:
Businesses need $250,000 in a U.S. bank account to qualify
Not designed for sole proprietors or unregistered businesses
Is the Ramp card right for you?
The Ramp corporate card is a great option for businesses that want to stay on top of their finances.
The easy-to-use, technologically advanced receipt matching is essential for managing your spending. Also, there is an assortment of digital platform integrations to consider.
However, Ramp can be one of the more challenging cards for small businesses to consider.
Companies need a minimum $250,000 balance in a U.S. bank account to be eligible for a card. Also, this card isn't available to unregistered businesses and sole proprietors.
Airbase
At its core, Airbase is a company that specializes in spending management with products ideal for all businesses. They are mostly known for their accounting software and spending platform.
However, they also have an interesting corporate card that companies can use to their advantage.
As you would expect, Airbase bundles its corporate card and its industry-leading software. You'll experience many similar benefits to other corporate cards, such as cashback rewards.
But you'll have the added benefit of accounting software that does the job of an entire team for considerably less.
Airbase understands the importance of allowing small businesses and startups an opportunity to build credit. They don't require credit checks or personal guarantees before getting approved. Also, they are likely to give most customers up to 20x higher limits than other providers.
These benefits can be remarkably enticing to entrepreneurs and startup businesses that need help getting established. It's also the type of card you'll want to choose if you're ready to work without reward restrictions.
Overall, there are several amazing reasons Airbase could be the corporate card provider for your business.
Features
The features that Airbase provides are innovative, matching the needs of a modern-day business owner. You'll find competitive rewards rates, high credit borrowing limits, and no fees or interest.
Let's explore some of the most remarkable features the provider offers.
One of the largest selling features of any credit card provider is to give their clients cash back on purchases. However, some providers and lenders only offer a certain amount of cashback throughout your account ownership.
With Airbase, they have unlimited cashback across all of your purchases and categories. For example, you can earn competitive rewards per ticket purchase if you book a lot of travel.
Alternatively, if you take clients out to dinner regularly, you can also earn unlimited cashback rewards for each meal. It's a phenomenal way to ensure you're reaping more benefits based on your spending.
When you're signing up for a corporate card, the last thing you want is your personal finances involved.
With Airbase, they only care about your business finances, as they don't require personal guarantees. You also won't have to undergo a credit check, as your business standing is all that matters.
The more sales you make to generate income will translate to a higher credit limit available for you to use. Transversely, if your business generates less income, your credit limit will fit comfortably within your budget.
As your company grows, the card will scale with you, accommodating your needs along the way.
Charge and Pre-Funded Cards
When you begin researching Airbase's options for corporate cards, you'll find they have two distinct programs.
Business owners can choose to have a charge card or a pre-funded card. You'll be responsible for paying the balance back in full at the end of every month with a charge card.
As its name suggests, the pre-funded card requires you to add money to the account before it can be used. It's also important to note that the rewards for each card differ.
Pre-funded cards unlock 2.2% cashback on all purchases, while the charge card receives 1.6% cashback.
Virtual cards are a fantastic way to give your employees access to your corporate account without needing physical cards.
Airbase provides you with unlimited virtual cards for anyone in the business to use. Additionally, the transactions are traceable since items are purchased on the card.
You'll be able to review a complete audit trail, helping you to see one-time and recurring payments from each user. All transactions will also be automatically stored in your chosen accounting and bookkeeping software.
Convenient Physical Cards
If you're more interested in signing up for physical cards, Airbase has a solution for you. If you're making more in-person purchases, you can customize physical cards for each user. You'll also have access to additional management controls, ideal for keeping an eye on spending.
Account owners can view and set specific spending limits and block specific cards when needed. Physical cards offer slightly more control, giving you more peace of mind.
To make managing the cards on your account even further, Airbase allows for specific card customization. You can allocate various virtual cards for specific purposes, such as per diem for travel costs.
All you have to do is log into your account, set up a virtual card, and give it a name. From there, you can set specific daily limits to be pre-loaded or set a balance to expire on a specific day.
There's also the opportunity to create "Special Project" cards, giving a specific balance to an entire team to use for a budget, as needed.
Pros:
Streamlined digital receipt uploading
Automatic fraud detection alerts
Automatic syncing with accounting software
Straightforward built-in budget management
Cons:
Some features are somewhat confusing
Needs updated features for checking expense amortization
Is the Airbase card right for you?
Airbase has many high-tech features you'd expect to see with most corporate cards.
You'll unlock the benefits of digital receipt uploading and accounting software integration. One of their more unique features is built-in budget management, helping you ensure your company is spending appropriately.
One of the concerns with Airbase is that some features are confusing to use and navigate, especially as a new user. The company could also use a couple of updates to its expense tracking.
Stripe
Overall, the Stripe corporate card is a solid credit card with several benefits business owners and their employees can enjoy.
They feature no fees, ensuring you get access to the credit your company needs. Additionally, they offer a fantastic cashback program, which is essential for those looking for a card with rewards.
Stripe is managed by Celtic Bank, located in Utah, providing the company with substantial financial backing.
As a client, you'll experience several great features, such as expense reports and spend management tools. These features are essential to ensure your company spends an appropriate amount of money, ideal for startups.
With the Stripe card, you'll also find it boasts integration with popular platforms such as Slack and Expensify.
As an account holder, you can also get your hands on numerous discounts, ensuring you get the most for your money. Another significant feature of the card is that it works internationally, spreading its versatility across all types of businesses.
There aren't any specific details about the eligibility requirements to receive a Stripe card. However, you must be a U.S.-based business with your registration in hand.
There are a couple of other areas you can expect to be analyzed upon your application, such as:
Business payment history
Stripe account history
Bank account history
Features
Let's jump into some of the most impressive features account holders will experience during their time with Stripe.
Every credit card you consider should have a rewards program to take advantage of.
Stripe is one of the few that offers cashback rather than a standard rewards program. Regardless of your purchase, you'll earn 1.5% in cash in return, which can add up quite quickly as a business.
With that said, it's not the most boastful rewards program we've seen. At the end of the day, it's better than receiving no rewards and can help you pay back some of the balance at the end of each month.
The largest advantage of the cashback offer is that it's unlimited, ensuring you never have to deal with a cap on your spending.
As you can guess, it's easy to redeem the rewards you collect from continually spending on your Stripe card.
One of the more unique aspects of this feature is that you can also choose to put your cashback towards your balance. In fact, many customers decide to automatically have their rewards applied to their statements, reducing the monthly total.
Fortunately, you can make these changes entirely on your own. All you have to do is sign into your online banking account and access account settings. From there, simply turn automatic credits on or off as needed.
Along with the moderately beneficial rewards program associated with this card, Stripe offers numerous discounts.
This feature is particularly important for businesses since you likely use many services and require some savings. Again, there are dozens of companies and platforms you can save on, but the most notable discounts include:
Slack: 25% off the service for 12 months
Google Ads: Receive $150 in credit that you can use for advertisements
AWS: $5000 towards any Amazon Web Services
Expensify: 50% off this service for six months
Notion: 50% cashback up to $5000 in total
Gusto: Receive three months of the service free
Custom Spending Controls
You'll likely want to hand out different credit cards to the various team members. However, as a business owner, you also need to stay aware of the spending habits of those with cards.
Fortunately, Stripe makes credit card management simple with custom spending controls.
As the account administrator, you can review any card on your account and add specific spending restrictions. You can set customized spending limits per card and specific authorization rules.
With this added level of control, you'll always be able to maintain control over your company's expenditures.
Another essential feature that will help you stay on top of your employee spending is real-time reports.
Stripe automatically tells your employees that they must upload their receipts with these expense management reports. Every time they make a purchase, a receipt will need to be uploaded to the platform.
As the account administrator, you can set a specific amount before your employees get notified. For example, have a text sent for an uploaded receipt once $50 is spent on the card.
Fortunately, this type of reporting is seamless. Simply download the Stripe app, take a picture of the receipt, and it will be automatically uploaded to the platform.
Account administrators can then review uploaded receipts via their dashboard.
When you're an up-and-coming business, having access to funding is of utmost importance. You must find a credit card company willing to offer you enough credit for your needs.
Stripe is a helpful solution, as they offer flexible credit limits for all of their clients.
As mentioned, there are two main criteria the company looks at before awarding cards to its members: payment volume and bank history—the more business your company conducts, the higher your credit limit.
Alternatively, your credit will be scaled to an affordable amount if you have a small startup business until you establish a payment history.
One of the largest benefits of flexible credit is that the card will grow with you and your business. You'll never have to worry about running out of credit when you need it the most.
Like many other virtual corporate cards, Stripe helps make it simple to integrate with other platforms.
When it comes to managing your finances and expense reports, you'll find the company works with many types of accounting software. For example, you can integrate it with Xero, Expensify, and QuickBooks.
Managing the safety of the cards attached to your account can be done seamlessly with Stripe's intuitive dashboard.
Each card owner and user can report if their card has been stolen or lost. Once a card has been reported stolen, it is immediately frozen, preventing any fraudulent charges from being made.
As you would expect with any other bank, you will be credited if there are fraudulent charges on the account. However, you must discuss the matter with a Stripe customer service representative.
Pros:
Easy-to-use custom spend controls
Quick integration with financing software
Flexible and scalable credit limits
Google Pay and Apple Pay support
Cons:
Lackluster rewards program
Not ideal for travel-related rewards
Is the Stripe card right for you?
Stripe is a great option if you need a flexible card with scalable credit to adapt to your company's needs.
The card is designed for the future with integrated Apple Pay and Google Pay support. Also, your account will come with expense management software integration and customized spending controls.
On the other hand, Stripe isn't the best solution for business owners interested in travel. There aren't any travel discounts or rewards to take advantage of. Unlike other companies, their rewards program is overall lackluster.
What Corporate Virtual Card Is Best?
There's plenty to consider when comparing Ramp vs Brex, Brex vs Divvy, Brex vs Stripe, and other Brex competitors. These cards come with their own assortment of features and benefits.
At the end of the day, our top choice for the best corporate virtual card is Divvy.
Divvy ensures that every customer has access to the tools they need to manage their corporate spending effectively. They offer corporate cards, expense management tools, spend management, and accounting automation.
Another significant benefit is they work with every client, regardless of company size. If you're a small startup, you'll love the ample discounts Divvy offers, such as with Google Ads and AWS.
You'll appreciate how the card scales with you for large enterprises, allowing you to access higher credit as your company grows. Additionally, they do not require personal guarantees, helping to separate your finances from your business.
Credit building is one of the most considerable advantages Divvy has over Brex alternatives or competitors, such as Brex vs Mercury and Ramp vs Brex. With these business credit cards, you can build your company's credit, helping you establish a stronger financial foundation.
Over the years, you can easily increase your credit and be eligible for other loans or borrowing opportunities with regular payments.
With their exceptional list of benefits, ranging from up to seven points per dollar on certain expenditures, they're the best corporate credit card. Their customer service is also top-tier, making it easier to apply and get the corporate card you deserve.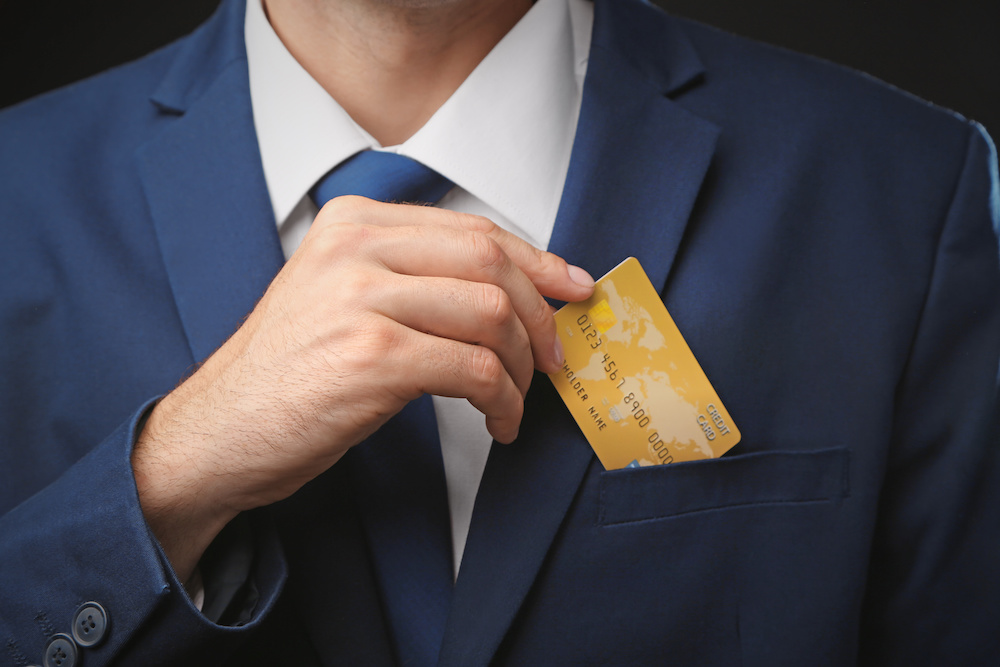 Frequently Asked Questions
1. How to use current virtual card?
Virtual credit cards are unique items that more banks are beginning to offer, especially for businesses.
With these cards, you'll have a credit card number used to mask the real number of your card. Typically, they are available for 24 hours, and if you need another virtual card number, you can request one.
The steps to use a virtual card are quite simple as you would use it just as you would a regular credit card. Let's take a look at the steps below.
Step #1: Get Your Virtual Credit Card Number
The first step you'll need to take before shopping with a virtual card is to get the number.
Most corporate card companies offer you the ability to acquire either a virtual or physical card, sometimes both. Typically, all you have to do is log into your online banking and request a card.
You could be given a virtual credit card number immediately, or you may have to wait a day or two before it's delivered in most instances.
Step #2: Find an Online Retailer
As their name suggests, virtual credit cards are useful for online shopping. You can also use them over the phone to make telephone purchases.
Unfortunately, they cannot be used for in-store purchases, as you won't have a physical card to tap, insert, or swipe.
Step #3: Enter Payment Information
Once you've collected all of your items in your online cart, it's time to enter your virtual card information.
This process is simple; it's exactly the same as using a regular credit card. You'll want to enter the card number, expiry, and the three digits on the rear of the card.
Step #4: Process the Payment
At this point, you've completed your transaction and have finished using the virtual card. Depending on your banking institution, you may or may not have to apply for another virtual card after 24 hours.
2. Are virtual cards safe?
When making online payments, you'll be glad to know that virtual cards are one of the safest options you can choose.
Unlike traditional credit cards, they aren't physical items that can be lost. Additionally, they are typically designed to be used within a certain period, causing them to expire afterwards.
With a virtual card, there will always be an account owner that can review and trace the purchases made on the account. This added security layer helps ensure the right parties are using the card number.
It's also very easy to cancel the card if needed, as all you need to do is access your online banking.
Companies enjoy using virtual cards because they give employees temporary spending power. It's a great way to book travel and other online necessities without giving a physical card to multiple parties. Also, with their effortless management, staying up to date with transactions has never been simpler.
3. What is a Divvy alternative?
Divvy is by far one of the most popular virtual and physical corporate card providers.
When comparing Brex vs Divvy, you'll find it has far more benefits. For example, Divvy is the perfect solution for building corporate credit, something most other cards don't offer.
With the high-tech features of Divvy's cards, finding a Divvy alternative will be challenging. It's unlikely you'll find another company that offers as many integrations, helpful features, and fantastic customer service as they do.
4. Can corporate cards affect your credit?
When signing up for a corporate card, one of the first things you need to consider is a personal credit check. You won't want to opt for a company that requires your financial information to give your business spending power.
Without personal guarantees, the only thing that matters with your company's finances is the company itself. Credit cards that don't require personal guarantees will not affect your personal credit.
This is very important to confirm with the company of your choosing, as you won't want your business' spending habits to affect your personal credit.
5. Are virtual credit cards free?
Virtual credit cards are very helpful and come in handy on several occasions. They are also usually provided free of charge from the bank of your choosing.
Some of the top lenders, like Brex vs Ramp or Divvy vs Brex, ensure you can have virtual cards for free at any time.
6. Where can virtual cards be used?
Virtual cards can be used at an assortment of retailers, as long as they're digital and not brick-and-mortar locations. They can also be used to place payments over the phone, such as booking travel.
They're undoubtedly a convenient alternative to traditional credit cards, especially when offering cards to your employees.
7. Is Divvy secure?
It's important to note that many card companies, including Divvy, are not classified as banks. However, they are often backed by banks, as this is where the funding comes from. Divvy works alongside Cross River Bank, a longstanding financial institution with a great rating.
Cross River Bank is an FDIC member regarding security, ensuring your money is sufficiently protected. It's one of the top choices if you're looking for a competitive and secure way to obtain corporate credit.
8. How do virtual card companies make money?
With all of the virtual card companies on the market offering products for zero fees, it's a wonder where their income comes from. Like standard credit cards, these companies make their money from interchange fees.
When a client makes a transaction, the card company charges a fee to the tender. Instead of collecting interest (as most virtual cards are charge cards), the interchange fees produce all the income. Also, it's important to note that business cards often have higher charges placed on them, helping to accumulate higher interchange fees.