Are you looking for the best invoicing software for small businesses to lighten your load as a business owner or operator? Or better yet, make your accounting personnel more productive?
We know that invoicing is essential for any business, despite being time-consuming, because it gives you valuable insights into your finances. Hence, we looked into various invoicing software and picked the ones that stand out.
Good invoicing software will provide the solution fit for your context. You will know that it is a good one if it's user friendly-enough to help manage your projects, estimates, and payments.
Best Invoicing Software: A Table of Comparison
In picking the programs to feature, we looked at some software that the industry recommends regarding billing and invoicing. Here's a table that you can use as a quick reference:
Invoicing Software
Best Feature
Price
Square Invoices
Allows customizable, unlimited invoices
Supports both small businesses and emerging ones through its versatility
Has time-tracking ability and inventory management integration
Aids in project tracking and automation
Ranges from $0 to $20 (has both free and low cost-plans)
Xero
Functions as an all-around accounting software
Offers an effective invoicing solution especially for smaller businesses
Allows unlimited number of clients
Has embedded inventory tracking
Has unlimited bank transaction reconciliations 
Sets automatic payment reminders
Ranges from $12 to $65
FreshBooks
Comes with a free trial plan and free software
Features a user-friendly, navigable interface with easily understandable terminologies
Has advanced features like customer-based invoicing and bank reconciliation
Enables a client portal for users regardless of plan
Ranges from $15 to $50
Zoho Invoice
Has billable hours and project tracker features
Allows user-friendly sending of estimates and creation of customized invoices
Features several payment gateways
Ensures that software interface is intuitive and straightforward, especially for small business owners and freelancers
Includes a project management tool
$0 (Free Plan)
Intuit QuickBooks Online
Allows all kinds of payment
Features bank reconciliation
Features unlimited, customizable invoices
Has time-tracking tool and tax features
Tends to cater to the needs of small business owners
Allows easy, quick sending of invoice statements
Houses a project tracker of outstanding invoices
$25 to $180 monthly
Best Invoicing Software for Small Businesses: A Review
Since there are many recommendations, we advise you to look at all invoicing features carefully. However, you still get to decide on what the correct invoicing software is for you.
Your choice depends on many factors, like your personal preferences, company size, and, most importantly, budget allocation.
Also, note and study the many benefits of invoicing software, such as the number of hours you save, the ability to scrap paperwork and track budgets, and build a legit, reputable brand.
We also urge you to consider each invoicing software's integration capabilities and additional perks and features.
With that in mind, here's our top picks for the best small business invoicing software. We can also categorize some of them as the best invoicing software for freelancers.
Square is a company that specializes in cloud-based solutions, especially for billing and project management, and invoice creation. They have been active in the industry since 2009.
The company's goal is to help small and growing businesses streamline their processes in line with managing contests, capturing signatures, tracking payments, and, more importantly, creating invoices.
Square also offers several products in the field of banking and commerce. They take pride in building business tools that, according to them, empower all types of businesses.
In particular, their invoice software is one of the best invoicing software for freelancers and seasoned entrepreneurs. That's all thanks to its helpful features like sending invoices from anywhere and having a 24/7 payment feature.
Overall, businesses know Square best due to their streamlined approaches to payments and proper management of point-of-sale and online transactions. They can easily accept payments online.
Review
Without a doubt, many regard Square as one of the best small business invoicing software. Current users commend it for ease of use and its value for money.
It is also very appealing to business owners given the flexibility of its plans, which one can avail of either for free or at meager costs. It also has a one-click payment options feature, which customers appreciate.
Square also allows users to send unlimited invoices and regular scheduling of professional invoices for loyal, trusted clients. Talk about ease of use and organization!
They will also work for you regardless of the nature of your business. You could be selling physical products or running an online service-based shop, and you can still benefit from its features.
However, the developer might want to review the processes that small business owners, in particular, need to do at the beginning of each transaction.
Some clients have complained about the app's tendency to seek various details for documentation after they have already executed more than five point-of-sale transactions in a day.
There are features of Square, like project tracking, automation, and customization, that only work when one avails of the paid plan, which is terrible news for those who might not be able to afford it.
Also, Square needs to look into building a more seamless integration between online web access and app use. Clients also recommend the provision of editing capacities in specific line items of an invoice statement.
Additionally, a major problem for Square users is the quality of customer support. Unfortunately, the existing Square support only uses a bot; users also find it challenging to get ahold of phone and email details.
Pros:
User-friendly software; smooth point-of-sale transactions
Cater to the needs of small business owners
Allows easy, quick sending of invoice statements
Houses a project tracker of outstanding invoices
Enables users to check payment status quickly
Cons:
Has transaction fees
Customizable invoice templates are limited
Not ideal for high-risk and high-volume businesses
2. Xero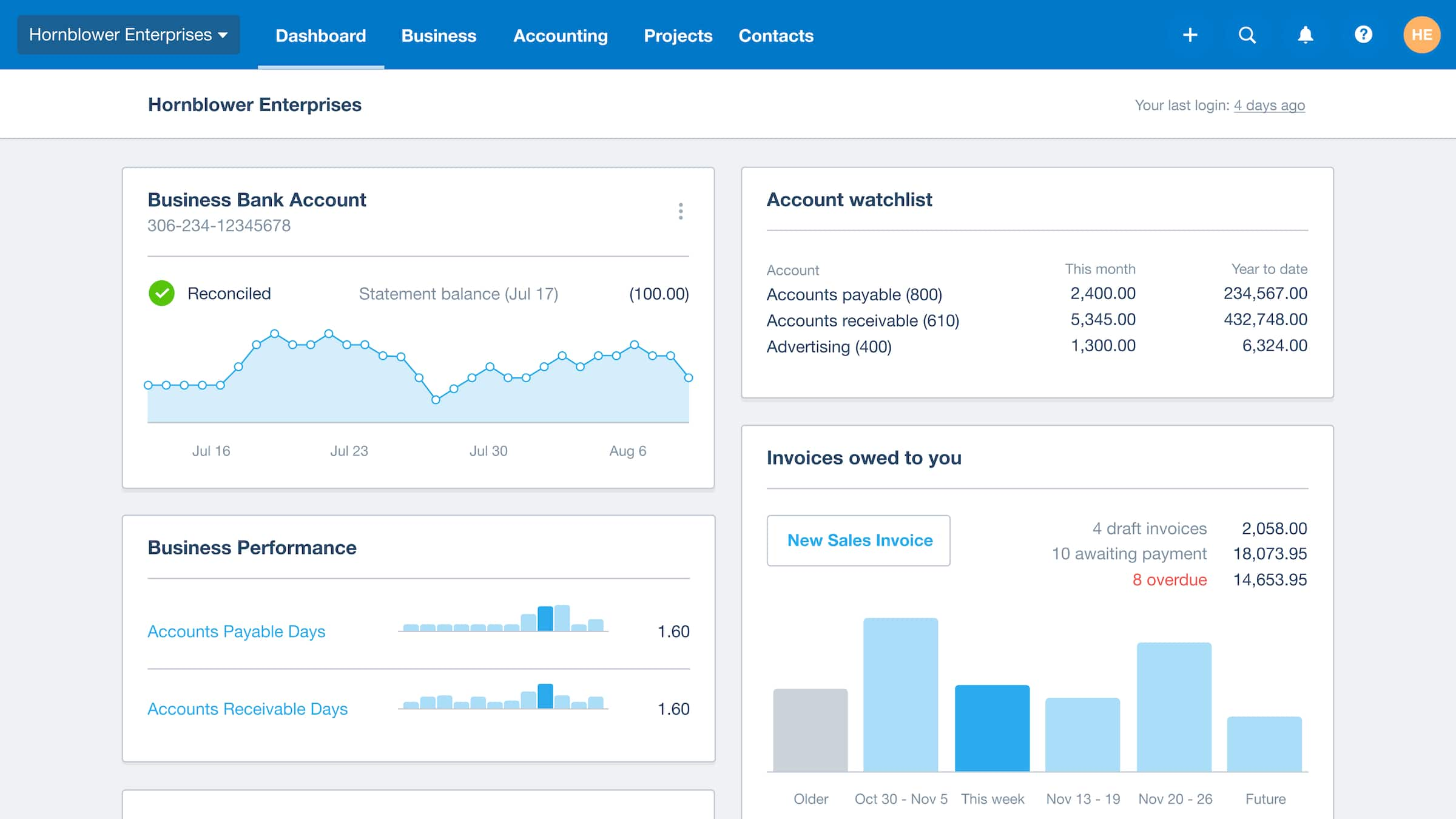 While their software mainly functions as software for accounting, one can argue that Xero is a top contender for being the best invoicing software for small businesses.
No wonder Xero, as a company, has more than two million subscribers worldwide. Like Square, they take pride in assisting the advisors and owners of small businesses.
Xero Limited specializes in cloud-based accounting software platforms, offering access to pertinent financial data anywhere and at any time, regardless of the device used. One can find the headquarters of Xero in New Zealand.
Xero is also part of the Australian Securities Exchange. Additionally, the company has been active in the software as a service (SaaS) industry for the past 16 years.
Accounting industry professionals commend Xero as a dependable invoicing and billing software. They like the excellent tools Xero has made (e.g., invoice templates) for project tracking, sales management, accounts reconciliation, and purchase transactions.
Review
Xero calls its software "intuitive," claiming that it helps business owners work "smarter." After all, once done, business owners can send invoices quickly through online means.
The plans are affordable, too, through a free trial run and at $22 monthly for its paid version. Xero also allows customization of invoices; they even encourage adding one's logo.
Customers need not worry too much about making online payments; they can do those instantly, and entrepreneurs get to accept payments quickly. Business owners, just the same, can set hassle-free, automatic reminders for their loyal, trusted clients' payments.
Customers also laud Xero for being an invoice app with vital features: improved security and the provision of smart lists, pertinent business insights, and interactive quotes in the app.
On top of that, they enjoy friendly, exceptional customer service support online.
However, despite its excellent features, the customer service support team can benefit from having a live chat. Others also do not appreciate the lack of reliable customer service and the pace of responses (very slow), especially when it comes to phone support.
There's also the issue that Xero is not an intuitive app and that it calls for a learning curve.
Mobile access also remains a big concern that the developer needs to address. Users have expressed frustration regarding the app's functionality, especially compared to the Desktop version.
Reports of crashes and bugs also abound. We believe this to be a flaw that the developer can solve quickly, too.
Still, the efforts of Xero to improve its existing perks, especially since 2020, are commendable. They have add-ons, like the Xero Analytics Plus, which allow businesses to create short-term cash flow projections for up to 90 days.
The add-on also has a snapshot dashboard that displays where profit and expenses lie. Check out the pros and cons below to see if it is the right invoicing software for you.
Pros:
Acts as free invoicing software through a 30-day free trial
Allows customers their choices for payment processing
Enables customization of invoice statements
Houses accounting features for both free and paid versions
Has unlimited bank transaction reconciliations
Sets automatic payment reminders
Cons:
Has a limited number of quotes, invoices, and bills (only up to 20 a month)
Only has unlimited invoicing and billing of paid plans
Support for multiple currencies only runs on its Xero Established version
3. FreshBooks
Headquartered in Canada, FreshBooks is another strong contender for being the best invoicing software for contractors and almost anyone who needs the app. We also would like to note that their business ownership status is private, with most of their financing as venture capital-backed.
As developers of cloud-based accounting software, FreshBooks has been around in the financial software industry since 2003, with more than 300 employees. As of 2021, their latest deals have amounted to more than 100 million dollars.
FreshBooks invoicing software programs are well-regarded because of their scalability and user-friendliness. You should get FreshBooks if you need a seamless double-entry accounting experience.
The tools that they have catered to those with small business needs. This feature is why many regard it as one of the best invoicing software for freelancers.
Also, if integration is a non-negotiable for you, then it might interest you to know that FreshBooks integrates with Microsoft Outlook and Gusto. These integrations can help you manage your payroll, accounts payable and receivable, and inventory, among others.
Do you need to create reports on project profitability? You can also do that with FreshBooks with the integrations above.
Do you also need a bit of flexibility in terms of pricing plans? FreshBooks has four choices for you: Lite, Plus, Premium, and Select; the prices are $15, $25, $50, and custom, respectively.
What's great is you might also get a better package if you opt to pay yearly.
Review
FreshBooks has many features that we recommend and appreciate. Anyone new to most invoicing software might not find accounting terminologies easy, but FreshBooks's main selling point is: they make it easily understandable.
Also, if you're a small business, you don't even need to purchase their plans that are on the higher end. A low-cost FreshBooks account will allow you to do the usual activities for your clients.
Online payments are also easy to set up with FreshBooks. With their Plus plans and Advanced Payments add-on, you have options such as subscription-based invoicing or accepting payments by phone.
Just note that there are additional charges per online transaction.
FreshBooks also allows integration with WePay and PayPal; these payment gateways charge transaction fees. Commendable, too, about FreshBooks is its integration with inventory tracking. If you use it on mobile apps, automatic mileage tracking is also available.
With its team collaboration and time tracking tools and context-sensitive settings, you can't go wrong with FreshBooks.
However, the developer might want to heed customer feedback about dashboard deficits. Also, some do not like how the customizable invoices are limited.
Additionally, while FreshBooks allows easy setup of payments, some clients gave feedback about how bank connections may take some time and delays.
Other users would like to see better report generation and more currencies to support. They also wish to see more invoice templates and integration with QuickBooks Online.
Another sad news is that some users like FreshBooks Classic (an older version). It's a good thing that those using FreshBooks are allowed to revert to the Classic edition.
Lastly, FreshBooks might want to look into its pricing. They tend to fail in that department, especially when some competitors offer a free version of their software.
We urge you to look at the pros and cons below to see if it is the best overall invoicing software.
Pros:
Offers a free trial of the program
Allows owners to accept online payments
Features some customizable invoices
Enables a client portal for users regardless of the plan
Houses a user-friendly interface
Cons:
Offers no free plan despite the free trial
Other crucial features are only available through paid add-ons
Too many users can still avail top-tier plans
4. Zoho Invoice
Zoho Invoice is software from the Zoho Corporation, a multinational tech company. They operate from their India Global headquarters, but they also have their corporate headquarters near Texas, U.S.A.
Zoho Corporation has been part of the information technology, cloud computing, and software development industries since 1996. They used to call themselves AdventNet, Inc.
As of last year, they already operate in nine countries, with 12 offices. Zoho has already serviced 50 million customers, with more than 40 applications under its belt.
With more than 12,000 employees, they continue to provide services and products specializing in online office suites, business management tools, and CRM software.
Most of Zoho's clientele commend Zoho for offering innovative, adaptable, and customizable software like Zoho Invoice. Clients use this software to simplify and automate their processes, which is helpful for most businesses.
With that glowing company profile, one might ask, "Is Zoho Invoice the best invoicing software for contractors, freelancers, and small business owners?" We offer our review and a set of pros and cons below.
Review
Solopreneurs, freelancers, and small business owners see Zoho as a way to manage their payments well, primarily due to its free version. It does the job of sending payment requests from clients and receiving payment.
Users need not worry if, in the past, they were more inclined to create each invoice manually.
The app's user-friendliness will improve the process and take professionalism a notch higher, especially in tracking payments. After all, isn't that invoicing software's role is improving accounting processes and offering solutions and benefits?
Zoho Invoice has other commendable features. It allows you to manage records of all received and sent invoices. You also get to view invoice history for seamless payment tracking.
Did we also already mention the built-in professional templates, which can send invoices in multiple languages?
On top of that, one can record all offline payments with ease. In terms of invoice creation, you can choose to your heart's content from a wide array of template selections and customize it according to your personal preferences, especially your branding.
Additionally, Zoho provides a reporting dashboard that gives business owners a bird's eye view of their invoice status and financials. If you need to send invoice reminders, Zoho can help you do that, too.
Regarding payment gateway channels, Zoho has partnerships with ten, including PayPal and Stripe. For those who do not know yet, having these many options gives you more leverage in auto-charging customers and reminds them about their incoming payments.
Just keep in mind that all of these come with a set of processing fees (e.g., if, by credit card, you get a fee of 3%). However, note that processing fees are already an industry-standard matter, including ACH bank transfer fees.
Did you know, too, that you can integrate Zoho Invoice with other apps like Zoho Analytics? This feature is beneficial for those who wish to create advanced reports.
Speaking of integrations, Zoho works well with third-party apps like Google Drive and Dropbox. However, despite the strong ratings and customers' positive words, there are still complaints, mostly minor flaws.
One is poor customer service; users tend to complain about difficulty reaching a phone representative. Regarding customer service representatives, there are also linguistic challenges (i.e., having a language barrier) that lead to further frustration.
Additionally, some still find the software difficult to navigate. It might also be good for Zoho to review the state of invoices that users generate automatically.
Some would still like to edit these generated invoices. Also, when it comes to integration, some businesses encounter issues when using Zoho Invoice with other apps from Zoho Corp. The company might want to look into ways to address this concern.
Pros:
Functions as a free app; but with payment add-ons
Has various options for customized invoices
Intuitive and straightforward, especially for small business owners and freelancers
Includes a project management tool
Cons:
Has very few functionalities if one uses the free app
Has no integration with inventories
Limits the annual number of invoices to 1000
Prohibits more than one user and five customers per account usage
5. Intuit QuickBooks Online
The last but not the least on our list of recommended invoicing software is Intuit.
Intuit Inc., the developer of Intuit QuickBooks Online, has its headquarters in Mountain View, California, United States, with over 13,500 full-time employees.
The American company's specialization is financial software which has been around the enterprise software industry for the past 39 years. It also runs international operations, particularly in Canada, which is great news for all our Canadian readers.
After all, most of the invoicing software out there particularly caters to US-based clients. It's something that we believe the industry should adjust.
Other than QuickBooks, which we will discuss later, many know Intuit's services, such as TurboTax Free File, a free online service.
Another user-friendly move that Intuit has pursued is the creation of various online communities. In these communities, they help users of their apps, like small business owners, manage their finances.
Their online communities provide podcasts, webinars, videocasts, and avenues for discussion groups and fora.
On top of that, they created a free online tax research resource called TaxAlmanac. Many customers took delight in this service and hailed it as a "community of customers."
By 2021, Intuit has earned up to two billion dollars, raking in annual revenues of nine billion.
Below, we review one of their well-loved applications, the Intuit QuickBooks Online app.
Review
For many reasons, Intuit QuickBooks stands out among all available software and accounting websites.
One, it is user-friendly for those still learning accounting automation. Its user-friendliness also goes beyond just ensuring that there are understandable terminologies.
It has an excellent onboarding process. The transaction categories, built-in search, and added mobile access are good features.
Like a few other invoicing apps, it includes a 30-day free trial. You can also take your pick among four different versions.
Other versions include the Essential Plan, which costs $50 monthly, and the Plus Plan, which costs $80 monthly.
Those starting (i.e., microbusinesses) only need to pay $25 monthly for the Simple Start edition. The Simple Start edition helps you do all vital day-to-day tasks, including:
Creating and sending estimates and invoices
Ensuring bank account connections
Receiving online reports
Tracking sales tax
Recording income and expenditures
Running basic reports
Another compelling reason to use QuickBooks Online is that you already get access to various invoicing and accounting features through your monthly fee. These all come with customer support and updates.
Don't you want to track all of your finances in one go?
However, not many appreciate that the client portal is not built-in. The lack of a free plan might also serve as a deterrent for many business owners who can't afford even the $25 monthly for a Simple Start version.
Also, the developer might want to look at several issues that some users have raised over the years.
One is how the solution is rife for data manipulation. It is different from simply fixing an accounting entry mistake.
Other QuickBooks users might have ill intentions toward your company's books and can easily access your data. It may even risk one's financial security if you're not careful.
Another disadvantage of using QuickBooks Online is the lack of integration opportunities. Unlike Zoho, which offers a lot, QuickBooks has limited. That said, it is not a problem if integration is not crucial to your operations.
Another criticism of QuickBooks is the limited number of users and file size. There are reports of random crashes, especially when users need to process large transactions. This complaint is probably why QuickBooks is more effective for small business owners.
Lastly, despite the beauty of the online communities that Intuit has pursued and created, it's creating an effective online knowledge base. Their customer support is the one that needs improvements.
Pros:
Features an outstanding dashboard
Provides user-friendly and excellent navigation and interface
Allows the creation of customizable reports
Houses in-depth transaction and contract records
Includes enhanced onboarding
Aids in project management, payroll tracking, and various integrations
Cons:
Tends to be more costly than other software
Online support can improve further
Low-cost plans have limited features
Create Invoices Like a Pro With the Right Software
With some of the industry-approved best invoicing software available to you within your fingertips' reach, waste no time making sure you have the best one for you.
Some are partial to invoicing apps that help you transmit records securely and provide multiple payment options.
Timely notifications are also to watch out for, including a user-friendly interface and portal. Integration, import, and sync are not bad to have, too.
Whatever invoicing app works for you, we hope it does its job: to propel your business to greater heights and help you manage the day-to-day and long-term goals and implementation. You'll never go wrong with the tools we reviewed above.
Best Invoicing Software FAQs
Now that you have a good selection of good invoicing software, let's learn more about this tool by answering some of the most common questions about it.
1. What is the best invoicing program?
We believe that the best invoicing program is the software that allows you to do your business operations well, given your unique context. That is why above these FAQs, we have carefully laid out the pros and cons of each software that some consider the best invoicing program.
We have even included primers on the developers if that is also a crucial factor for your choice. These programs are some of the best invoicing software; you just need to sift through your options and decide which is a suitable fit for your business and brand.
However, if we trim down our choice to only one app, our best overall invoicing software is Intuit QuickBooks Online. Not only is it an effective invoicing software, but it is also an all-around practical accounting application.
We also think that its developer can address users' minor issues. To know more about Intuit QuickBooks Online, re-read our review above.
2. What is the best free program to create invoices?
There are a lot of choices when it comes to free software to create invoices, but our recommendation is Zoho.
We believe that it is the easiest software you can use and it is very well-organized. Its interface is intuitive, it features various templates that you can customize, and you can automate many things such as payment reminders.
You may look at our full review of Zoho through the details mentioned above.
3. Do you have suggestions regarding features of invoicing software to prioritize?
As we have said many times, the important tasks you should be able to do with any invoicing software are project tracking, sending invoices and estimates, and ensuring that you get timely payments.
Therefore, you might want to look for apps that make automated processes easy for you. Some software can even help convert quotes into billable hours and invoices.
Another major consideration is your budget. How much are you able to spend or how much are you willing to spend? Are you a brick-and-mortar company, or are you a service-based business?
A word of advice: when it comes to the features you would need and compare the value. Prioritize the features you need, whether it's contractor management or specific bank reconciliation features.
4. Does Microsoft 365 have invoicing?
There used to be a specific invoicing app that Microsoft 365 had, but Microsoft retired this feature in 2020.
The invoicing feature of Microsoft used to be part of their Business Apps add-on, their Office 365 Business Premium, and their Microsoft 365 Business subscription.
Back then, users located Microsoft 365's invoicing by visiting the main Office 365 page. Alternatively, you can use the app menu in the top left corner.
The quick menu showed clients not only invoices but also Price Lists, Customers, and Estimates for their products and services.
However, they still allowed users to retain their customer data and import data to the new application. They also created a guide for users to export their customer data before they retired Microsoft Invoicing.
But why did Microsoft discontinue this tool? Even if the invoicing app, which was part of Office 365's productivity suite, had a lot of features for businesses, Microsoft still did not pique the target user's interest in the app.
5. Does Microsoft have an invoice template?
Yes, these invoice templates are available both in Microsoft Word and Microsoft Excel. Note that Microsoft has designed these invoices and estimates templates so that small businesses can thrive in providing services to customers.
The templates are also professional-looking. This is a plus for new small business owners who want to level up the quality of their invoices over the usual fare.
6. Can you create an invoice on Microsoft Word?
Yes, you can use Microsoft Word for creating an invoice. Microsoft Word is just one of the many programs that give you a professional, efficient way to request client payments.
There are two ways to do this, either through a customizable Microsoft Word invoice template or by designing it on your own from scratch.
You just need to click File, then New Template, and enter "invoice" to access the required template results.
Many templates are suitable for your own business needs. You can also customize the templates on Microsoft Word and add important details like your logo and your company's contact details. Inputting a unique invoice number is possible, too.
A big advantage of using this feature is being able to save the invoices properly. However, a huge downside is that it is not automated, unlike the financing software described above.
Note, too, that you can't use formulas in Microsoft Word, so you need to make all the necessary business-related transactions on your own.
7. Does Excel have an invoice template?
Excel has a lot, whether you need service, shipping, or sales invoices. You just need to pick a template that is best for your context. When it comes to design, choose a choice that aligns with your company branding.
Of course, when it comes to customizing the invoice, you can add all the details you need. Whether it's an itemized list of the services you offer or some payment terms you need to articulate, complete with a number of hours you have worked and brief descriptions, you can do that in Excel.