One can't help but notice the significant growth in the number of YouTube creators and live streamers over the past few years.
What's even more enticing is the fact that these content creators earn a good amount of money free from the burdens of a 9-to-5 job.
For this reason, a lot of people are curious to know how to make money on YouTube.
If you're thinking of trying your luck as a content creator for YouTube, we've got the essentials you need to learn right here.
What Is YouTube?
Before anything else, let's quickly look back on YouTube's history.
As the second most visited platform today, it's not surprising that many people dream of becoming successful YouTubers.
YouTube is an online social media and video sharing platform owned by Google and launched in 2005, February 14 to be exact.
Here, users can watch videos uploaded by others. They can even comment, like, or share them with other people or on another platform.
It's easy for anyone to make a personal account and create and upload videos for others to see.
Additionally, users can subscribe and follow each other to see updates about new uploads. Some create video playlists for a more organized watching experience.
How To Make Money on YouTube
There are numerous ways to get paid on YouTube.
That said, you first have to ensure you are in a YouTube-approved country. Otherwise, you cannot monetize your videos.
Here's how you can start earning money from this platform:
Reach 1,000 Subscribers
The first thing you need to do is draw an audience to your channel by creating consistent videos that people will like.
Be sure you follow YouTube's Community Guidelines so that the platform will not block your videos.
The viewers may like your content, but you need to have at least 1,000 subscribers to be eligible to join the YouTube Partner Program.
Join the YouTube Partner Program
Becoming part of the YouTube Partner Program gets you closer to getting paid through your video creations.
In addition to the number of subscribers and quality video content, your videos in the last 12 months must have a valid 4,000 public watch hours.
Once you have accomplished all these thresholds, you can click on your YouTube profile and the monetization tab.
There is also an option to request an email notification once YouTube deems you eligible for the program.
To apply for the YouTube Partner Program, you need to sign the Partner Program terms and link a Google AdSense account to your YouTube account.
YouTube will then ask for your bank details to send your earnings if everything is okay.
You can start earning money from video ads and YouTube Premium Subscribers watching your videos.
As a YouTube Premium Subscriber, members can send money through Super Chat during a live stream where YouTube will highlight their message.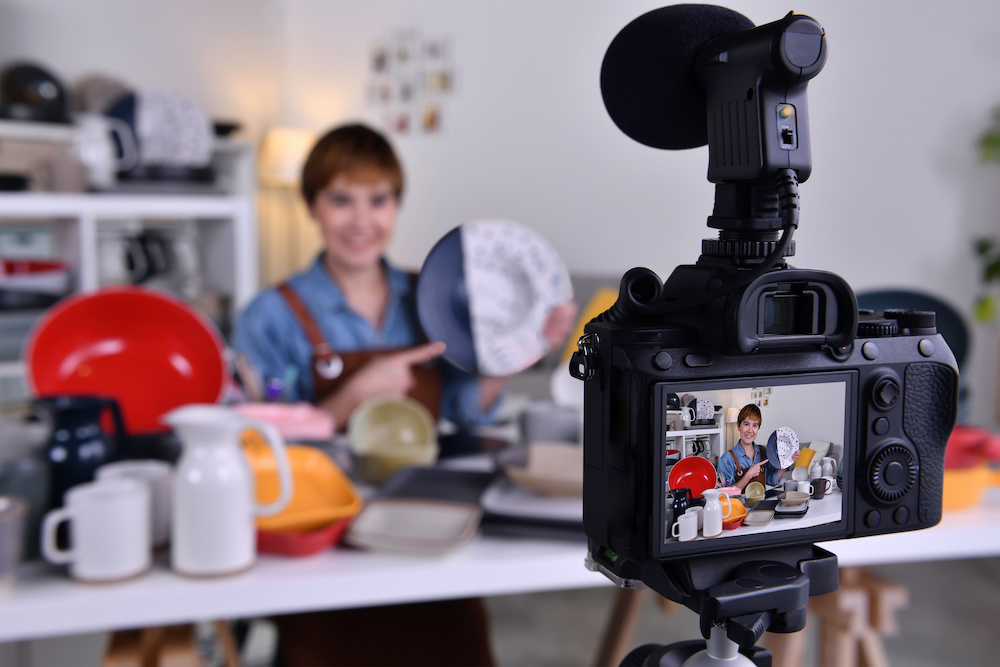 Be an Affiliate Marketer
Becoming an affiliate marketer is another way of earning money through your YouTube account.
One of the most valuable ways of monetizing the traffic on your YouTube channel is through affiliate marketing.
It is a practical option to put affiliate links under the video description, especially if you like making videos about product reviews.
You can apply to join popular affiliate programs like Amazon Associates.
As one of Amazon's video creators, you can promote products as content and share advertising revenue with YouTube and the company.
Although this option may not be as profitable as you expect, you can use it as your first revenue stream using your YouTube account.
Using your video platform, don't forget to inform your target audience about the featured brand while pointing them to the link in the description box.
Make Sponsored Content
Another way to use your YouTube channel to earn money is via a brand deal, a different form of affiliate marketing.
Making sponsored content is easier if you already have a loyal audience who appreciates your content style.
There are different ways to earn through brand deals using YouTube traffic. Some companies offer lump-sum payments, while others give commissions on every sale.
Remember to notify YouTube if you are using affiliate products in your video by modifying the advanced settings on your channel.
Produce and Sell Your Merchandise
Most content creators these days, especially those with a constant following, sell their merchandise on their YouTube channel.
Some offer physical products like T-shirts and other accessories. In comparison, others opt for downloadable items like art prints or eBooks.
Producing your products can be more challenging, but you will earn more because you keep most earnings.
Crowdfunding
Another monetization method is crowdfunding, which falls into two primary types: project-based and recurring.
Most content creators use the recurring type, where their subscribers pay a minimal monthly subscription fee for exclusive perks and deals.
More members translate to more income for the content creator. There are different crowdfunding platforms today that many YouTubers use.
A crowdfunding community is a big help for beginners and YouTubers who do not have thousands or even millions of subscribers.
How To Start Your YouTube Career
As the second biggest search engine and visited website today after its owner Google, YouTube is an excellent place to showcase your talent and business.
If you want your YouTube channel to succeed, make sure you follow these tips:
Know Your Purpose
Having a clear purpose for why you want to create a YouTube channel is essential to its success.
Some people want to share their talent and passion with the world, while others use their channels to promote their businesses.
Having a definite purpose in mind will make it easier to create consistent content for your channel; without it, you will not attract subscribers.
Create and Upload
Don't stop creating and uploading videos to help you reach the required viewing hours threshold quickly.
Just keep on recording, and don't worry too much about your equipment.
When it comes to making YouTube videos as a beginner, you learn as you shoot. As cheesy as it may sound, practice makes perfect.
Know Your Niche
Focus on your niche and stick to it. You will attract more viewers and possible subscribers if you know what you are talking about as a content creator.
Also, your video title must be related to your content. Your viewers will eventually feel your online presence through your focused presentation.
Well-Planned Videos
Entertaining and well-thought videos will attract a decent audience. However, you should be aware of copyright laws so that YouTube will not block your creation.
You might even have viral video content if you focus on creating one. What's more, you can monetize your work by offering exclusive content to your subscribers.
Top YouTube Earners for 2021
Most content creators work hard to attract an audience for their YouTube channels. Others spend hours trying to master the algorithm of this video-sharing platform.
Surprisingly, some content creators have discovered how to earn massive amounts of money by doing even the mundane.
Below are some of the top earners on YouTube for 2021:
Mr. Beast
Mr. Beast is the current top earner of YouTube. His channel has expanded since his viral video of counting up to 100,000 in 2017.
According to Forbes, he earned 54 million dollars in 2021, which is twice the amount he made in 2020.
Remarkably, most of his earnings came from ad revenues from his 89 million subscribers who watched his channel.
He would often pull over-the-top stunts, splitting them between personal challenges and ridiculous pranks.
What makes him different from other YouTubers is that most of his content shows him giving away his hard-earned money to help others.
Also, he sets up charities outside of YouTube. In 2019, he organized #TeamTrees, raising enough money for a tree-planting project worldwide.
Two years after, he organized another charity called #TeamSeas to help remove plastic from the ocean.
Because of his charities and giveaway videos, Mr. Beast earned YouTube's most prominent philanthropist and became the highest-paid content creator of 2021.
Jake Paul
Logan Paul's younger brother, Jake Paul, has more than 20 million YouTube subscribers. He is the second-highest-paid YouTube celebrity for 2021.
Before YouTube, he and his brother became famous on Vine, challenging each other to make the best video.
Storytelling and video creating started as a hobby for the brothers. Eventually, he also tried making films and TV, gaining him even more fans.
Today, his YouTube channel describes him as a boxer, which proved to be more lucrative, earning him 45 million dollars in 2021 as proof.
Although he still acts, he dedicates most of his time to boxing, where most of his earnings come from.
He may not be an active YouTuber these days, but he became famous on this platform.
Markiplier
The third on the list is Markiplier, who became a YouTube sensation while playing video games.
He became famous on YouTube because of his sense of humor and horror-themed video games.
With more than 30 million subscribers, his videos were watched over 11 billion times by 2019.
Although his content revolves around video games, he is currently trying to do other video projects, including his Unus Annus channel and interactive films.
Markiplier filmed a television series in 2021 based on a podcast done initially a couple of years prior.
Currently, he is trying to sell the TV series to an online streaming platform.
Much of his 38-million-dollar earnings in 2021 came from T-shirt sales and other merchandise as supported by his subscribers.
Make Money on YouTube FAQs
1. How many views on YouTube to make money?
You don't earn anything from video views, but when a viewer clicks or watches an ad.
Although there are payment variations, a YouTuber with 1,000 ads views can expect about $18 on average.
Since not everybody has the patience to watch the ads, we can say that a YouTube channel earns an average of $3 to $5 for every 1,000 video views.
2. How much money can you make on YouTube?
It's hard to provide a specific answer to this question because it will depend on the popularity of the individual.
Those with a large fanbase with millions of followers can easily earn up to seven figures.
Newbies are advised to focus more on affiliate marketing until they establish their channels and have a solid following or specific niche.
3. What is YouTube Premium?
YouTube Premium promises to enhance your viewing experience through a monthly paid subscription service.
It includes offline playback, ad-free video viewing, and paywalled content by famous YouTube celebrities.
4. When will you start earning on YouTube?
YouTube will start paying you once you have a $100 balance on your account. For example, you can earn $4 for every 1,000 video views who watched the ads.
To reach the $100 account balance from ads, you need to have at least 25,000 video views.
On average, you will only receive payments every few months if you have a small YouTube channel.
It will significantly help if you know how Google AdSense works with payments and handling taxes.
5. How do YouTube creators get paid?
Content creators get paid in several ways. If chosen, they can become a YouTube Partner Program member or receive a Shorts Bonus.
All YouTube earnings go through AdSense, the platform's primary payment method.
Payments from affiliate channels go through MCN or multi-channel networks. YouTube pays the MCN, who then pays the creators.
Payments coming from a creator's merchandise shelf come directly from the retailer the YouTuber is working with.
6. Are YouTube earnings taxable?
For U.S. tax requirements, Google withholds them from the earnings generated from US viewers.
Content creators must submit their U.S. tax information in their AdSense accounts for Google to determine the withholding rate.
Google would withhold the maximum amount if the creators did not submit their U.S. tax information.
All YouTube content creators must submit their U.S. tax information wherever they may be in the world.
YouTubers from other countries may also have tax liabilities from their country of origin.
How Do You Make Money on YouTube?
It's not always money that forces content creators to make videos and upload them on YouTube. Some are just happy to share their passion with the world.
That said, you can't deny that these YouTubers make money through their creations, and you can, too!
By uploading quality content and attracting subscribers to watch them, you can be the next YouTuber the internet falls in love with.