While virtual credit and debit cards have already been around for quite a few years, they haven't been so popular until the recent COVID-19 pandemic.
Contactless transactions have become a major thing with the entire world in restrictions for over a year. Now, even though restrictions are easing and most parts of the world have finally gotten back to normal, the use of virtual cards is just about to get bigger.
In fact, virtual card spending has increased by 18.3% between 2019 and 2022, according to statistics. The report also estimates that it will reach 6.8 trillion dollars by 2026.
What's the craze about virtual cards, and why should you consider getting one for yourself or your business? Let's find out.
What Is a Virtual Credit Card?
A virtual credit card is an alternate 16-digit card number that you can use while shopping online. Your current credit card provider may offer this service to protect you from fraud.
You can only use a virtual card number once though it has an expiration date of up to 12 months. Once it expires, your bank or credit card provider will deny all transactions charged to it.
There are two types of virtual credit cards, one for personal use and one for business. Let us discuss each one in detail in the proceeding sections.
But first, let us talk about the difference between a virtual card and an online payment app.
How Do Virtual Cards Differ From Payment Apps?
You might be wondering, how does a virtual debit or credit card differ from tokens like Paypal? Even Apple, Google, and Samsung offer payment apps that you can use for online purchases or payments.
Like a virtual card, these payment tokens consist of their own unique 16-digit card number. Thus, you can make payments without providing any real account information.
These apps also maintain account privacy and prevent a third party's reuse or duplication of personal and card details.
Of course, for you to use a payment app, you should fund it. This is where the virtual card comes in.
You can create a unique virtual account number for your frequently used smartphone payment apps. With this, you can keep all your payment numbers accessible in one place and keep track of your payments or purchases.
Unlike payment apps, you can use your virtual card directly for any new purchase. Since it's connected to your main account, you can buy or pay for services as if you were using a real card.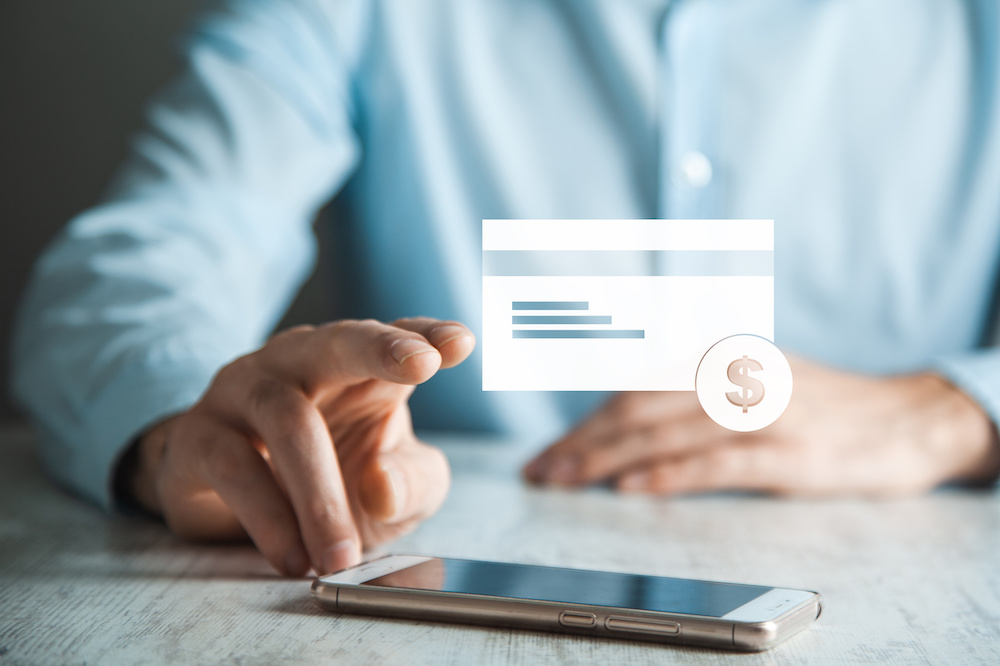 The Personal Virtual Card
Virtual credit cards are just like a normal debit card or a normal credit card, only that you don't have an actual plastic card. You can use these cards for whatever purpose you wish, from booking flights to purchasing products on Amazon, eBay, and more.
Virtual credit cards come in handy if you make a lot of online payments and deal with different merchants. The great thing about personal virtual credit cards is that they often come with cashback and rewards.
Moreover, if your virtual card number is compromised, you can easily request a replacement.
Benefits
Below are the major benefits of personal virtual credit cards:
Virtual cards are more convenient to use than physical plastic cards. You can make payments through your phone or laptop without the hassle of getting your card and putting in your details.
As such, they make online shopping easier and more convenient.
Even though virtual cards are linked to your main credit or debit account, they mask your information by limiting the amount shared when you make a purchase.
In general, your account numbers are encrypted. The system will generate temporary numbers in a randomized sequence that you can only use for one-time purchases or payments.
Since your identifiable information (PII) is hidden, the virtual card numbers will be useless to hackers.
With a virtual card, you can set your daily spending limit. At the same time, you can choose which merchants you can pay using it.
Additionally, you can select a date that you'd like it to close or schedule it to close automatically after payment is made.
Have you ever had subscriptions in the past that you were no longer using, but you're still getting billed on your physical credit card?
Luckily, you can easily cancel subscriptions by canceling your virtual credit card number. It works the same way with a virtual debit card.
The Virtual Card for Business
Like a personal card, a virtual card for business is a 16-digit code with a CVV and an expiration date. It only works for online payments, but it has nifty features that businesses can take advantage of.
These virtual cards can be integrated into your accounts payable system, which allows you to request, approve, and generate virtual credit cards for each vendor. It is similar to invoice processing, only that approvals are done before payments are made.
Benefits
Here are the top advantages of virtual cards for businesses:
Virtual cards allow your finance team to manage how company money is spent. For instance, instead of providing your employees with individual cards with high limits, you can create a spending request and generate card numbers once they are approved.
The same thing with vendors. You can generate a digital card for each vendor or merchant type.
Virtual cards allow businesses to take full control over card issuance, suspension, and use.
You can set permission settings of the cards and restrict certain purchases or disable specific merchants from making charges on your employees' company credit cards.
Another advantage of a digital card for a business is card transactions are automatically synched into your AP system, so you can process them like invoices.
All transactions will be documented and verified, and invoice fields and approvals will be set at card issuance. As such, you can process bulk transactions with a few mouse clicks.
This translates into seamless invoice management. Such capability also allows you to identify potential invoice matches, which helps avoid duplicate payments.
By using an approval system in virtual cards, you can automate the accounting and reporting tasks. This makes it easy to track ownership of the transaction.
Cardholder Accountability
With virtual cards, your employees are notified and reminded to upload purchase or transaction receipts. They can do it on their phones or computers.
Cardholders can also view the card account balance and their transaction history to keep track of their online spending.
Moreover, both the cardholder and manager will be notified in case of card cancelation, suspension, and limits. All of these enable cardholder accountability.
Shadow spending is when employees bypass the company procurement policies to make unauthorized purchases.
By using virtual cards connected to your AP automation system, you can provide complete control over employee spending. This is because approval has to be made before a purchase is made.
Since everything is run online, the operating costs of issuing virtual cards are significantly lower than physical plastic cards and checks. That is why most banks offering virtual cards to businesses can offer very low prices for their services.
What's more, you can earn cashback along with other promotional offers.
With virtual cards, you can keep track of the funds available per employee in real-time, with the data provided in the system. This promotes better transparency, along with an efficient payment process.
Depending on your card features, you may be able to assign virtual cards to specific employees, vendors, or suppliers. This helps you easily manage your cash flow.
Compared to traditional cards, you also have more flexibility and control over virtual cards.
For instance, you can assign a card to a specific person with a specific amount of money.
This helps cut down the process for reconciliation for your AP department.
It's been common for many corporates to have one or two cards being passed around the office. This often causes confusion, fraud, poor spending tracking, and other issues.
With virtual cards, there is no need to share the company card.
The use of virtual cards streamlines payment processing. Thus, companies adopting virtual payments spend less time and effort on manual processes. This results in a boost of productivity and savings.
With virtual cards, you can ensure timely payments to your suppliers and vendors. They eliminate the fear of checks being stolen or lost or getting delayed.
It facilitates quick and timely payment processing. Also, many virtual card programs come with rebates, which translates to more savings.
How To Get Virtual Credit Card for Personal Use
If you have a credit card, you have an instant virtual credit card.
Today, virtual cards can be issued automatically and customized according to your preferences. They can also be revoked as you wish.
Essentially, virtual card numbers are linked to an existing account. Thus, if you have one already, all you need to do is contact your bank or card provider to activate your virtual card number.
Currently, only three banks in the US offer virtual credit cards to their customers. They are Bank of America, Capital One, and Citibank.
Bank of America's ShopSafe service is its virtual card offering. It's designed for account holders who have either a Visa or a Mastercard or those using online banking.
Meanwhile, Citi offers virtual cards to selective credit cardholders only.
Depending on your bank or card issuer, you may be able to request a virtual card number through your online account or app.
At the same time, you can request a maximum spend limit or threshold for each virtual card you receive. You can even customize the expiry dates to protect yourself from potential misuse, fraud, or overspending.
Cons of Virtual Credit and Debit Cards
At this point, you've seen the benefits of owning a virtual card. However, it isn't without some drawbacks, including:
Limited Availability
As we mentioned earlier, only three banks offer virtual cards to their customers. That said, you'll find reliable virtual credit card providers.
Thus, if you don't have an account with any of the three major banks, you can order a virtual card from third-party virtual card providers.
Limited to Online Payments
You can't use your virtual card for in-store pick up, car rentals, and the like. Also, since the card expires as soon as you use it, it can be difficult to return a product or get a refund (though it's possible).
Not for Recurring Payments
You should use your primary credit card for recurring payments like utility bills. Otherwise, you have to generate a new number each time, and you could lose track of automated payments.
Accounts Receivables Issues
For businesses, the main challenge of virtual cards goes to suppliers having to deal with reconciliation difficulties and transaction fees.
Even though virtual cards automate payments, they make receiving payments more difficult unless the supplier manages their virtual card acceptance policies.
Note that secure emails are the main delivery method for virtual cards. Unless they have implemented an automated solution, it can be difficult for suppliers to identify and intercept those emails.
How To Get Virtual Credit Card for Your Personal Use
Getting a virtual card has become a must these days, especially since most of us opt for online payments and purchases. It's a great way to protect yourself from fraud and online hacking.
Below are the steps to get a virtual credit card.
1. Check the Features
Virtual cards from different providers may vary in features. Choose the card that is most suitable for your needs.
For example, some plans give you up to 10 slots for sub-accounts. Meanwhile, other plans include medical emergency coverage, car rental insurance, and phone insurance.
Lastly, some providers offer a free online checking account with virtual debit cards.
2. Choose Your Card
Choose between one-time virtual cards or multi-use virtual cards. Both of these cards can be used to prevent fraud.
However, a single-use card is only meant for one online purchase, while a multi-purpose card can be used for a frequently visited merchant.
3. Submit a Request
This is the easiest part. Suppose you're applying for a virtual card from your existing bank. In that case, you don't have to supply additional details like your personal information.
However, if you're getting the card from a different provider, you're likely to submit documents.
How to Get a Free Virtual Credit Card Without a Bank Account
If you don't have a bank account but would like to have an instant free virtual card, you can go with providers like Skrill, Ezzocard, and Neteller.
These companies offer virtual cards without verification. Take note, however, that these cards only have small limits.
Other issuers like Curve need you to verify your identity and link an existing credit card. You can also get a PayPal virtual card if you are a US resident.
How to Get Virtual Credit Card for Your Business
Virtual business credit card requirements vary by issuer, although most companies would have a similar set of stipulations. Follow these steps to apply for a virtual card:
1. Choose the Type of Virtual Card Suitable for Your Business
Generally, there are three types of virtual cards.
One is the "single" credit card, which you can use for single payments. It's usually created for one-off purchases by your employees. Once the payment is done, the card gets automatically closed or canceled.
While this type of virtual card for business is a great way to prevent prevention and overspending, the drawback is getting a refund from a merchant becomes difficult.
The second type is a virtual card linked to your existing business account. Some banks and credit card issuers offer the ability to create virtual cards from existing cards. It's more like "cloning" your main account into several cards for your employees to use.
This type of virtual card offers more flexibility. The only drawback is that your single balance might dry up, and you won't have the ability to allocate a specific budget for each cardholder.
The third type of virtual card for business is those with dedicated balances. They are also called "standalone" virtual cards.
They have their own maximum and minimum balances, so your finance team can allocate a budget for each cardholder. This makes spending monitoring and budget allocation a lot easier.
2. Send Your Application
Once you have chosen the type of virtual card for your business, the next step is to submit an application. Talk to your bank or card issuer about your options to choose the best type of plan.
Most banks and card issuers make applications for virtual cards a lot easy. Often, all you need to do is log in to your online account and send your request from there.
The approval can take a few days.
Once your request has been approved, you will get a notification and start using your company virtual cards immediately.
3. Set Settings and Permissions
As we mentioned earlier, virtual cards enable customizations. Before dispensing the virtual cards to your employees or vendors, set the settings as applicable for each cardholder.
For example, you can limit the merchants your employees can make transactions with using the card. You can also set the card expiration dates, limits, and more.
How to Use Virtual Cards Wisely
To use virtual cards effectively and efficiently, here are some essential tips to keep in mind:
Make Sure to Settle Your Accounts Payable on Time
Like a regular account, you should pay your virtual credit card dues on time to avoid penalties and extra charges. If your card is linked to your primary credit account, it will be easier for you to track your expenses and settle your bill.
Monitor Your Statement and Credit Score
While virtual credit cards are a great way to protect yourself from hackers, it's still important to be vigilant. There's no 100% foolproof security measures.
Thus, you must carefully examine your monthly statements for any unauthorized charges or purchases.
The good news is that using a virtual card number makes it easy for you to identify where any suspicious or fraudulent activity took place.
Use Your Device to Generate Virtual Card Numbers
You can generate virtual card numbers from your device. With virtual cards, you don't have to request a new number from your issuer.
In most cases, you only have to download an app or software. It's where you can generate a temporary credit card number that you can use for one-time payments.
How to Choose the Best Virtual Credit Cards for Your Business
When it comes to virtual cards for business, it's important to consider the features and functions to ensure that you get the best card. Here are some features to consider:
Full Control
Needless to say, you want your finance team to have full control of budgeting.
For instance, you can set spending limits and vendor locks, define expiry dates, freeze or delete accounts, and more. All of these abilities help prevent fraud and overspending.
Spending Visibility
You want to choose a virtual card that enables you to see, in real-time, the financial transactions made by your employees.
A good virtual card gives you a notification each time an employee uses their card to purchase something or pay for a service. Along with that, you also get additional information like the receipts.
Accounting Integration
Choose a virtual card you can easily integrate into your accounting and payment tools. This should help your finance team operate seamlessly and keep track of everything.
Furthermore, your card issuer should be able to help you sync the virtual cards to your system.
Affordable Fees
No matter how enticing the features are, consider the price of the card before you give it a go. Even the best cards could have staggering fees, so you must carefully weigh your options.
Most virtual cards come with a higher fee of 1.65% on average. You must look at their pricing before ordering a card.
A Virtual Card Is a Way to Go With the Digital Age
The use of virtual cards has become indispensable, especially in the current times when most people and businesses heavily rely on online transactions.
There are many reasons to get a virtual debit or credit card. They include convenience, security, spending control, and account management.
Take the time to choose the best virtual card plan for you or your business. Consider the fees, rewards, and flexibility options. This way, you can make the most of your card.
FAQs About Virtual Cards
1. Will a virtual card affect my score?
Creating a virtual card linked to your primary account will not affect your credit score. However, if you open an account with any financial institution to get a virtual card, it can affect your score.
The institution has the discretion to report to the credit bureaus should you have issues paying your dues.
2. Can you get instant approval virtual credit card?
Yes. Many providers offer instant approvals so you can immediately use your card.
One example is American Express. The company offers access to credit card numbers immediately after approval.
You can also have an online bank account with instant virtual debit card numbers. Ask your bank if they offer such services.
3. What can I do with my virtual card?
A virtual credit or debit card can be used just like a physical card. You can use it for online purchases, contactless payments, or as a funding source for your online payment app.
4. Can you transfer money from your virtual card to your bank account?
Yes, you can easily transfer funds from your virtual card to your regular card and vice versa.
Like a traditional physical card, your virtual card will have an account number, expiration date, and security code that need to perform most types of transactions.
5. How do I activate my virtual card?
Depending on your bank or provider, you may be required to register first to access your virtual card portal.
Follow the registration instructions as provided by the issuer. You may be asked to enter a username and password, which will be provided to you via email or seal mailer.
Once you complete the registration, you can start using your card.
6. Can I get a virtual card anonymously?
While your virtual card is linked to your bank account, your information will not be shown to the merchant. Instead, they will get a temporary card number that will expire once used.
7. Can I get an instant bank account with virtual debit cards?
Yes, as long as you have an existing debit account with your bank. The registration for most virtual debit cards is fast and easy, and you can start using your virtual card immediately.
8. Are virtual card numbers secure?
Most virtual card numbers are encrypted for virtual transmission.
Once activated, you can set a customized PIN that adds an extra layer of protection when making payments online.
Also, most virtual card issuers are obligated to comply with the Payment Card Industry Data Security Standard.