Have you ever wondered how to turn your website visitors into potential customers? Do you feel your marketing efforts are not luring enough customers for your business?
If you haven't seen an increase in revenue after using Engagebay for some time, you might need a quick solution to patch things up.
Today, we will talk about Engagebay alternatives and understand how you can boost your growing business. We will also learn about the different features that these alternatives will provide. So buckle your seats, and let's get on with it!
What Is Engagebay?
For those of you who do not know, Engagebay is an all-in-one customer relationship management (CRM) solution.
You're probably on the verge of acquiring its services, and you're here for a second opinion.
As its name suggests, Engagebay offers its customers a network of business engagements.
Such connections are designed to help you with marketing and sales so that you can convert your website's traffic to potential buyers.
Engagebay offers marketing automation tools, email marketing solutions, and managing leads. It helps you build customer relationships with the aim of making them buy again or avail of your services repetitively.
Remember that not all online services are the perfect fit for everyone, and you must welcome changes and opportunities that may come along the way.
Suppose you find Engagebay does not have what you need. It's high time t hunt for alternatives.
Before we actually study the other options for Engagebay, we must learn about the critical factor that allows these websites to help your business operations. This factor is called lead generation.
What Is Lead Generation?
Lead generation or lead management is the process of making prospects, attracting customers, and making them into potential buyers or consumers in the near future. Since lead management nurtures these customers, it becomes one of the best marketing tools.
Lead generation is responsible for marketing automation and customer data management. These business processes form the basis for increasing demand.
If you're stuck with Engagebay and it hasn't helped you generate new leads, you'll need a replacement or several, for that matter.
Engagebay Alternatives
Now that you have an idea of what and how Engagebay works, we will now discuss the best alternatives to Engagebay. Keep in mind that using an online CRM solution also has negative sides. Here's a comparison table of our top eight Engagebay alternatives:
Name
Features
Pros:
Cons:
1. ActiveCampaign
Email Marketing
Transactional EmailMarketing Automation
CRM & Sales Automation
Lots of features
Fully functional email marketing
Fully integrated CRM with machine learning
Takes a bit of a learning curve
The on-site chat functionality is an add-on
2. Hubspot Marketing
Marketing Hub
Sales Hub
Service Hub
Free CMS tools
All-in-one CRM tool
Has a free CRM Software
Easy to use and User-friendly
Minimal features on the free version
Templates are not easy to edit and modify
Support requires additional payment
3. Agile CRM
Email MarketingSales & Marketing Automation
Content Planner
Website builder
PPC Management tools
Very affordable prices
Easy-to-use contact management tools
Integrated and automated Sales Pipeline System
Single integration feature on the starter package
Third-party integrations are also limited
Lacks reports
4. SharpSpring Marketing
Sales & Marketing Automation
Email Marketing
Social Management
Landing Page Designers
Affordable plans
Easy-to-use and intuitive interface
Quick support response
Billing is directed at the client and not the handling agency
System failures and bugs
Fewer features and functions on the landing page builder
5. Freshsales
Email Automation
Advanced reporting
Mobile CRM
Deal Tracking & Event Management
Clean interface and easy-to-use
Responsive development team for support
User engagement can be easily tracked using websites
Error logs are manually accessed and not forwarded to user's email
Buggy reporting system
Integration with other apps and programs still needs to be improved
6. Keap
Sales & Marketing Automation
Sales Pipeline
Email & Text Marketing
Easy-to-use and simple user interface
Fast CRM categorization because of tags
Excellent support and customer service
You can't remove existing tabs of previous data that you don't need anymore
Not flexible with most browsers, including Firefox
Search feature has limitations
7. Omnisend
Marketing Automation
Email Marketing
Web push notifications
Popup forms
Template creation is straightforward
Automated follow-up campaigns make it easier to reach out to inactive customers
Easy to understand reports
Product picker feature is sometimes faulty
Some emails fail to be sentNo option to filter out fake emails
Popup forms can be irritating to leaving customers
8. Zoho CRM
Sales Force Automation
Marketing Automation
Performance Management
Predictive Sales

Interaction tracking made easy because of webinars
API creation for easy application integrations
Good customer support
Tutorials are hard to understand
AI assistance has many limitations
Events automatically marks as "done" when the date arrives
Half of the work will still depend on your marketing team and how they will handle the marketing game. The Engagebay alternatives that we will list down below don't guarantee you 100% success. You must still consider your team's marketing capabilities.
1. ActiveCampaign
ActiveCampaign prides itself on its handy email marketing tools. It helps small business owners connect with their website visitors. Furthermore, it nurtures them to become potential customers and guides them to return to said businesses to avail themselves of more services.
Review
ActiveCampaign helps small and midsize businesses track potential customers precisely and accurately. It will lead them to the correct prospects and help them manage leads with their handy marketing automation software.
This website offers a lot as much as Engagebay does. It offers products such as email marketing, transactional emails, marketing automation, and CRM & sales automation.
Their marketing automation software also provides lead scoring, which helps business operations operate smoother by picking out the best potential customers and focusing on them.
Their marketing automation software is up-and-coming. Aside from email automation, it can also pull in prospects using tags from other digital channels such as social media. It will provide you with landing pages that will help you lure customers into checking the services your business has to offer.
ActiveCampaign also offers the feature called Predictive Sending. It is an email marketing tool that helps you know the ideal time to send a marketing email to a customer. The software ranks the hours wherein a specific contact is usually active. This helps significantly with scheduling follow-ups and sending updates to ensure that the contact will see it.
ActiveCampaign has already made its name out there. Many different business owners trust them. Also, this website has over 850+ integrations over multiple e-commerce and other CRM platforms such as Shopify, WooCommerce, Salesforce, JotForm, and many more.
2. Hubspot Marketing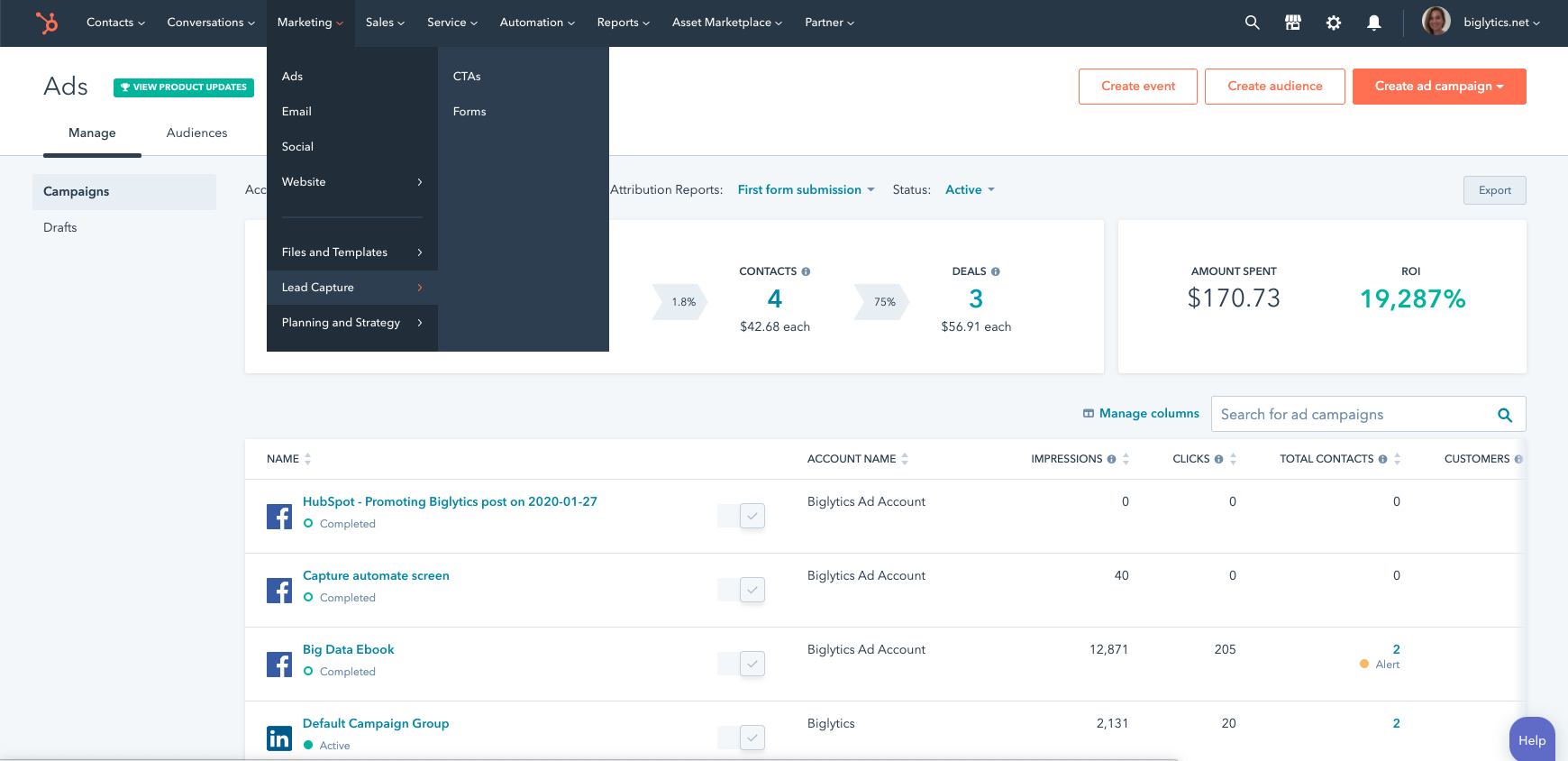 Hubspot Marketing is a CRM Marketing platform that provides you with all the tools for better lead management. Aside from having premium services, it also offers free tools that never expire! It also gives you a free trial of its premium services, so be sure to check that out.
Review
Contact management is easier using Hubspot's all-in-one tools. It will show you different graphs to manage your leads and contacts and see what your marketing campaigns lack.
These tools make it one of the top Engagebay alternatives and most likely one to be compared to other websites such as Salesforce CRM.
This website will also give you a thorough understanding of how well your landing pages perform. All the graphs related to your marketing automation are available and ready for viewing. This makes contact management easier to analyze.
The free trial of their demo includes everything their premium package has to offer. This includes SEO tools, marketing automation software, video and hosting management, social media management tools, blog and content creation tools, and analytics dashboards.
Small and midsize businesses usually find the free version very useful. It has the essential starting tools for lead management. The free version allows you to edit and personalize your customer's CRM data. Of course, availing of the full option will allow you to unlock upgraded features of the free one.
Hubspot Marketing's motto is "Empowering, not Overpowering." What they mean by this is that they allow their users to take full control of the management hub.
Their website offers flexibility in marketing automation and contact management. Imagine that Hubspot is a luxury car, it still needs a driver to be able to reach places. That driver is you.
3. Agile CRM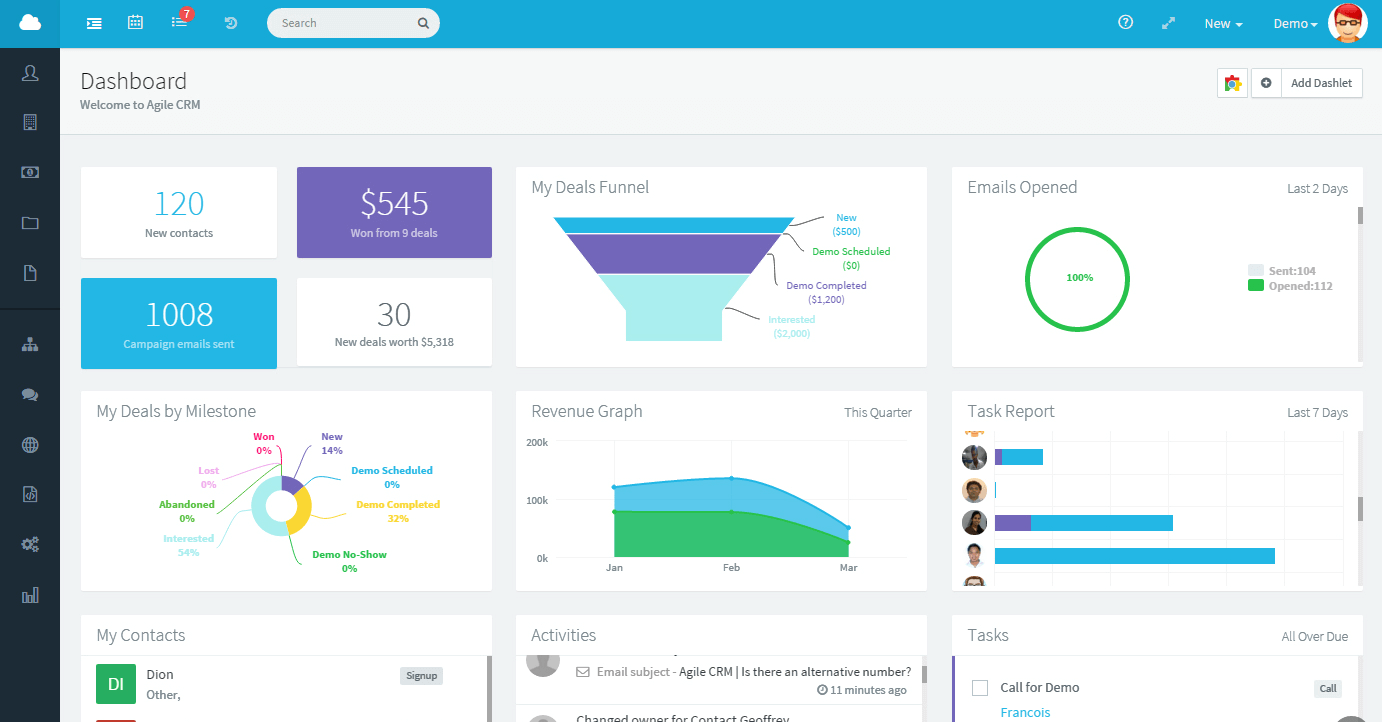 Agile CRM offers various CRM management tools, from landing pages to website building. It provides you with different integrations and tight data security to avoid data leaks. It offers a great support system to guide you whenever you encounter problems.
Review
Agile CRM is all about simplicity. One example of this is their single-page contact management. The page has different useful filters like tags, score, value, source company, company size, log-in recordings, and many more. This allows you to review specific potential customer aspects with a single click of a button.
Another tool that Agile CRM has is its content planner for different marketing campaigns. This tool is called NinjaContent. This software takes care of customer relationships by automatically posting, planning, and arranging content.
This content planning software assists the users by determining what type of material to post and when to set the deadline for time efficiency. This is achieved through data gathering and choosing what kind of content gathers more engagements from customers. It will help you decide your potential market's niche and adapt to it.
Their SEO tool, NinjaSeo, enables you to optimize your website to enhance your digital marketing potential ahead of your competitors. It extracts data from multiple potential competitors and analyzes the backlinks. This way, it boosts your page ranking and gives you an idea of how you can make your website gain more engagement than others.
It offers the necessary tools you need to build your website's career. From email marketing up to PPC Management, Agile CRM got your back.
Lead nurturing has never been easy. That's why this website offers a complete CRM management experience to help your small business grow to its full potential.
4. SharpSpring Marketing
SharpSpring Marketing assures top-of-the-line sales automation for agencies and small to mid-size businesses. It helps them close a deal faster to avoid wasting time, increase productivity, and gather more potential customers to nurture and help reach their goals.
Review
Not only does SharpSpring offer services for small businesses, but it can also cater to large enterprises that handle millions of contacts. With such a large market, it will require tons of effort, especially when trying to reach out to them individually.
SharpSpring has catered to large and well-known enterprises such as Hyundai, Staples, WellCare, and many more, making it famous for providing effective digital marketing solutions.
Imagine working with a company that also works with big industrial names. Regardless, it still provides you with the exact same service. Now that's awesome.
SharpSpring offers affordable plans for small businesses. They have a starting plan of 1,000 contacts. This plan allows unlimited users and provides a complete set of features, unlimited support, and a dedicated onboard specialist to assist in every step.
If you are looking for an agency to help you manage marketing and sales, SharpSpring has partnered with thousands of trusted agencies worldwide. You can filter these agencies to your liking, whether it be the location, certification level, or the services they offer.
5. Freshsales
Freshsales is a product owned by an IT solution company called Freshworks. It is a marketing automation software that helps you manage your contacts, close a deal faster, increase revenue, and nurture leads. This software also has a free version that can do the job quite well.
Review
Freshsales is all about automation, which includes team management. Freshsales provides custom roles to rank a team member on its permissions when managing this software. This helps with data security as it allows for access to authorized personnel only.
Freshsales also has its pipeline management tool called Freddy AI. It studies all your historical data from past transactions. After carefully analyzing the data, it will give you predictions on what would be the best move for your next CRM deal. This gives you an advantage in choosing what next to focus on and closing deals faster than before.
You can also integrate this software with other contact and messaging apps. This is useful, especially if you want to monitor your business's CRM engagement. It can help receive and record calls, respond to WhatsApp CRM messages, and many more.
If you want to monitor more using your phone without integrating other messaging apps, Freshsales has its own app as well. This app can add notes, record important voicemails, access your CRM dashboard, join zoom meetings, and get important CRM notifications.
6. Keap
Keap is another CRM software that has a free version. It also offers a demo of the premium version. Keap provides marketing automation tools that benefit not just small businesses, coaches, and professional marketing agencies.
Review
Keap has been in the CRM business for a very long time, 20 years to be exact. Through this, it has built its reputation and experienced multiple CRM method changes over the years.
This alternative offers various options, namely Keap Pro, Keap Max, and Keap Max Classic. Each option differs from the other.
Keap Pro mainly focuses on small businesses that want to grow fast. Keap Max caters to established companies and large teams. Keap Max Classic, formerly InfusionSoft, handles big entities and enterprises.
This software also offers CRM & sales pipeline management. It helps you to be manually involved in the process using a drag and drop feature. This feature enables you to move leads, close more sales, manage prospects faster, and be updated with every sale's status easily and quickly.
This sales pipeline management breaks a deal with conversions by stages into various segments. It will also calculate the average time or duration of a current contract, giving predictions for possible results.
7. Omnisend
Omnisend, an easy-to-use marketing platform, is considered one of the top Engagebay alternatives. They are more than just providers of email campaigns or your usual CRM websites. They provide cheap but reliable CRM services that fit a business owner's needs.
Review
At first, you can try Omnisend's free marketing automation services and decide if you want to purchase the full version later. They provide valuable and concise email marketing campaigns.
Omnisend has already prepared templates for you to choose from, removing the burden of designing a marketing email without having an in-house designer.
Aside from sending personalized emails, you can also send multiple SMS integrated with the said emails and push notifications for extra marketing effect. Omnisend also offers popups and web push notifications to capture leads more effectively.
This program allows you to customize landing pages with ready-to-use templates. Omnisend designed these templates to attract customers, get their attention, and direct them toward where you want them to be. With this method, you can convert simple website visitors into potential customers.
Omnisend offers three different plans. The first one is free, allowing you to manage up to 250 contacts, 500 emails, and 60 SMS per month. Their Standard subscription offers 500 contacts, unlimited web push notifications, 6,000 emails, and 60 max SMS monthly.
As for their Pro plan, you can reach up to 500 contacts with unlimited emails and web push notifications. This package comes with 3933 SMS per month. Pro plan subscribers are the top priority for their 24/7 chat and live support.
If you have been in the marketing game for some time, you probably know that you cannot convert all visitors into potential customers.
Omnisend has a solution for this. The method uses popups for capturing abandoning visitors. These are called "exit popups." The idea is to captivate the attention of leaving customers by sending them popups related to the items and services they searched for, giving them other options to look at.
8. Zoho CRM
Zoho CRM has gained a lot of reputation, which is why major companies such as Suzuki, Bose, and many more consider it reliable. This platform promises quick results and steadfast growth, providing the best marketing automation tools. Let's see what this website has to offer.
Review
From lead generation to workflow automation, Zoho has one of the best automation processes from lead generation to workflow automation. They can provide blueprints, review processes, and provide scores and rules, which is the core of process management. Zoho lays out a plan for you every step of the way.
Zoho enables your sales through different integrations like portals and wizards. It also provides full Google Workspace and Office 365 integrations.
Another key feature that Zoho CRM offers is they fully support and guide you through partner relationship management. This perk allows you to strengthen collaborative selling and maintain a good reputation with business partners.
You can also access Zoho and monitor your company's progress and data through their mobile app. This app lets you stay on top of your deals anywhere you are.
Not missing valuable opportunities while you are away from your office significantly increases your chances of success with your business or career.
Customizing your landing pages is also possible with Zoho. You can edit and create a layout for every process, making accessing specific elements like lead management easier.
Zoho is all about efficiency. That's why it can also detect and eliminate data that doesn't fit your CRM's criteria.
Zoho allows you to target a broad market. They have a vast selection of currencies and translations depending on where your potential clients are. It also offers developer platforms so clients can input their own scripts, widgets, and APIs that would be useful for their e-commerce business platforms.
Start Your CRM Journey Now
Automated project and marketing management has changed how the business world works. This is why we are recommending our top pick, ActiveCampaign, to be your first choice when it comes to finding Engagebay Alternatives.
Without adapting to new techniques, starting businesses might find it hard to put their name out there considering the competition they have to overcome. Sometimes, all we need is a helping hand and something or someone that will guide us towards success.
Frequently Asked Questions
1. What is CRM?
CRM (customer relationship management) is a system or software for maintaining relationships between organizations and their customers.
The system's primary goal is to optimize processes and increase sales and revenue. Gathering data also leads to product quality improvement.
2. How does CRM generate more sales?
SFA or Sales Force Automation allows CRM to get customers automatically without moving any data manually. The CRM software filters everything, which helps it determine which leads should be targeted at a specific time. Useful landing pages also help CRM achieve this goal.
3. How do I know if I need to use CRM on my small business?
Some signs may appear during your business operations that indicate you need to use CRM to grow.
These signs include having an intense workload but less workforce and mismatched schedules. It also covers data security and management, especially when your business grows faster than expected.
4. How does CRM maintain good customer relationships?
A CRM software monitors every interaction a customer does on your website or landing pages. Using this data, a CRM app suggests related information to the customers, keeping them entertained until they avail of your services.
CRM software also forward marketing emails and notifications, keeping the customers updated and maintaining the engagement your business needs.
5. Is CRM beneficial for small businesses?
Of course! CRM websites provide services for small and starting businesses, as mentioned above. Having CRM will give small business owners an idea of how lead management and nurturing work.
Having something to guide you is always ideal, especially if you only know little about how the e-commerce world operates.