In today's hyper digitalized world, a strong digital marketing campaign is the backbone of any successful business. Without building an online presence for your eCommerce businesses, it is impossible to thrive in today's competitive market.
Choosing the right software that offers all the right marketing automation tools and provides robust features for ad campaigns and lead generation is a key step in unlocking a competitive marketing strategy.
Drip and MailChimp are two leading software providing market automation tools to drive successful marketing and sales campaign.
Let's have a detailed comparison between Drip vs MailChimp and explore the importance of marketing tools and the distinctive advanced features offered by Drip and MailChimp to advanced marketers.
Why Is Buying Marketing Tools Important for Growing Businesses?
Integrating impactful marketing tools into your digital business is vital for the promotion and growth of your business.
The following are some of the ways marketing tools impact your business:
1. Help You Get Established in the Market
Marketing is an essential tool for any business to establish its customer base. Especially for startups, integrating marketing tools direct you towards the best possible path via which you can find your target audience to sell your services.
2. Analyze Your Competitors
By utilizing marketing tools, you can be more informed of the strategies employed in the product promotion market. You can keep an eye on your competitors via marketing tools to be able to offer unique and dynamic content to your customer base.
3. Establish Your Brand's Presence
For eCommerce businesses, building their brand reputation online is essential. Using marketing tools, you can build your brand reputation by promoting your content on social media platforms, earning customer reviews, and launching your upcoming products.
4. Gain More Customers
An effective marketing strategy such as building email campaigns, Facebook lead ads, and landing pages about your products and services can help you gain more customers. Targeted advertising via digital marketing allows you to reach out to the interested audience.
5. Track Your Business Growth
You can track your business growth and the effectiveness of your marketing strategies by tracking your marketing analytics and conversion rates using marketing software. Via data-driven marketing, you can easily find the target areas that need improvement in addition to getting to know your users' interests.
An Overview of Drip: A Marketing Automation Software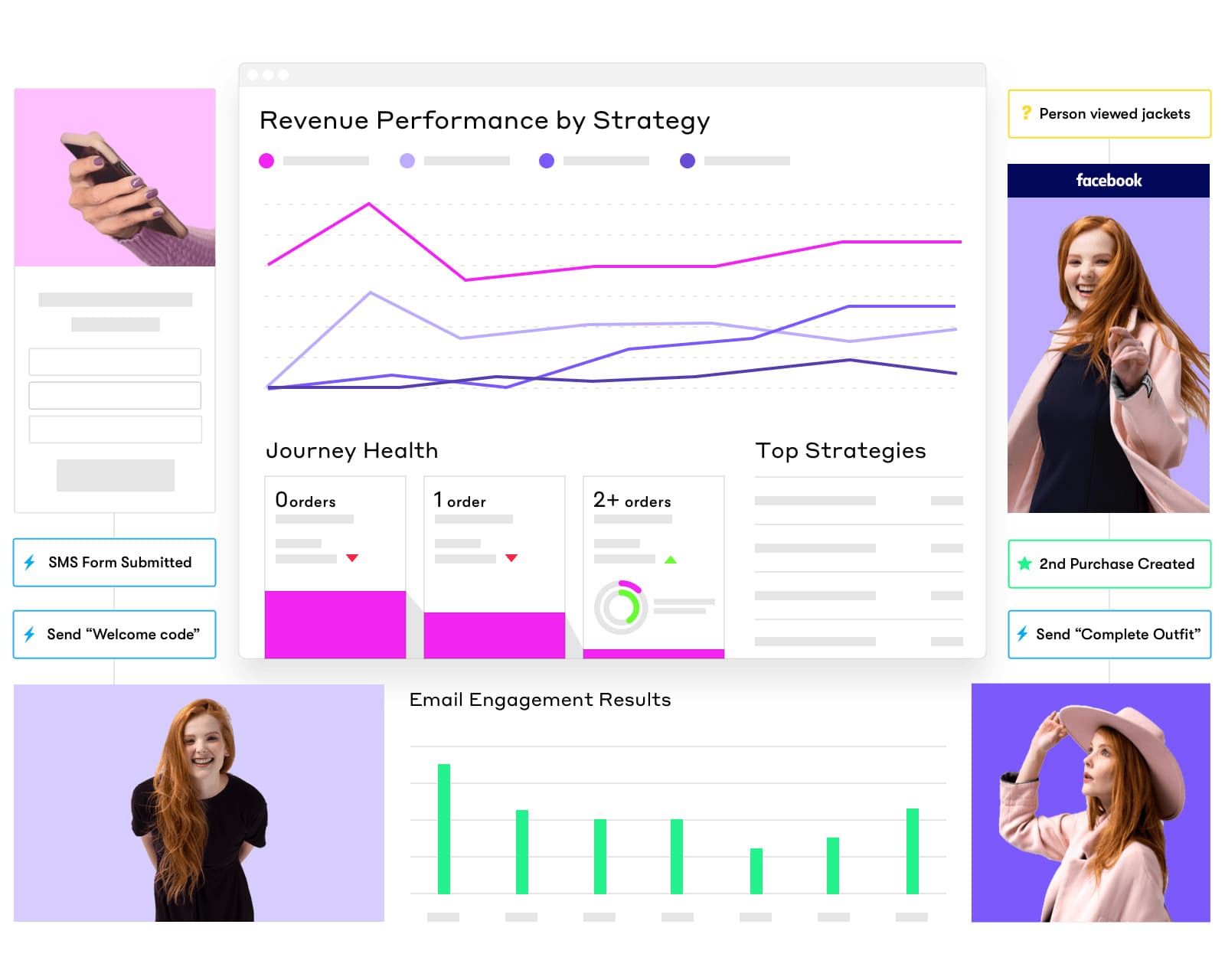 Drip features itself as an email and SMS marketing platform for growing e-commerce brands by promising them multi-channel marketing campaigns with proven effectiveness in bringing results. It is easy to use and convenient to manage without the need for coding or professional programming skills.
To establish its credibility as one of the leading promotional platforms for eCommerce marketers, Drip proudly features its customer satisfaction and earned revenue over time. According to its web statistics, Drip is being used by over 30,000 eCommerce marketers with 99% customer satisfaction and an earned revenue of two billion dollars through the platform.
Features
Here's a detailed look at the key features of Drip:
Drip lets you grow your audience by offering Popup and Forms features on your website. Plus, setting up popups and forms is fairly simple with few clicks.
You can avail yourself of the pre-built or custom templates to design every CTA button from its font style to size to color without using any coding methods.
With personalized popups and forms, you have complete control over when and what appears to your users while navigating your site.
Drip offers a personalized email marketing feature which is an excellent way for you to earn more revenue on your eCommerce business.
With personalized email marketing, you can build and strengthen your customer relationships. Also, its effective email marketing tools allow you to craft your emails with simple clicks.
Additionally, automating your eCommerce best practice becomes easy by utilizing the platform's pre-built playbooks.
With Drip's email marketing tools, you can craft welcome series, abandoned cart emails, purchase campaigns, discount offers, and more.
With the integration of SMS marketing in your business, you can significantly improve your customer base. It allows faster outreach to customers.
Using automated and personalized SMS marketing features, you can expand your revenue streams, easily promote flash sales, and build your custom VIP audience.
Setting up traditional marketing campaigns is a total waste of time. Meanwhile, setting up an automation workflow makes it more convenient for digital marketers to manage campaigns more effectively.
The automation feature offered by Drip empowers you to boost your revenue by building automated SMS and email marketing. You can also set up automation split testing to test variations and run them along with your website.
Segmentation and Personalization
Drip focuses on personalized marketing to help you reach interested customers more effectively. Its powerful segmentation allows you to track your website's customers' activities and interests.
In response, you can generate personalized content to pique the interest of your users and potential customers.
Drip insights make it possible for you to keep track of your marketing campaigns and work towards data-driven digital marketing. You can improve customer engagement and conversion rates and generate higher revenue by making your marketing clearer and more personalized.
An Overview of MailChimp: A Popular Email Marketing Tool
MailChimp has a broader service range where it offers its marketing services in addition to helping you build your online business. It has an integrated website builder with built-in marketing tools and tools to launch an eCommerce store in addition to providing custom domains for its users.
You can have an all-in-one user experience via MailChimp, where you get to develop, market, and manage your online business on one platform.
The marketing tools offered by MailChimp are similar to Drip, with some exceptions. Using MailChimp, you can run successful email and SMS marketing and develop digital ads, social media campaigns, and landing pages to attract more organic traffic and potential customers.
Main Differences Between Drip vs MailChimp
Both Drip vs MailChimp are leading marketing tools to allow small to medium businesses to large enterprises to grow their businesses. They offer competitive features to help you improve your marketing strategy.
That said, based on what they offer, here are some key differences between MailChimp vs Drip include:
MailChimp has a free plan available with limited features for Startups or smaller businesses. Drip does not offer any free plan.
Automation MailChimp tools are basic in nature and easier to use. On the contrary, Drip offers you advanced segmentation tools.
MailChimp is more feasible for small to medium businesses. On the contrary, Drip is more suitable for medium businesses to larger enterprises to improve their marketing strategy and integrate sales automation systems.
MailChimp is limited in terms of its customer outreach, with its automation builder only supporting 100k subscribers. At the same time, drip automation builders can reach out to millions of users.
MailChimp has a wider variety of email templates that you can customize. Meanwhile, Drip only offers a basic email template for automated emails.
Detailed Comparison of MailChimp vs Drip
Now that we have an idea of how Drip vs Mailchimp differs, let's have a more detailed comparison of the most important features you need to consider when deciding between the two.
| | | |
| --- | --- | --- |
| Features | Drip | MailChimp |
| UI (User Interface) | Advanced and Professional | Simple to Navigate |
| Customization of Landing Pages | Limited | Easily Customizable |
| Template Management | Yes | Yes |
| Availability of Customer Support | 24/7 | 24/7 |
| Suitable Customers | Small businesses to Large Enterprises | Small to Medium Sized businesses |
| Analytics | Available | Available |
| List Management | Available | Available |
| Event Triggered Email | Available | Available |
| Drip Campaigns | Available | Available |
| A/B Testing | Available | Available |
| Dynamic Content | Available | Available |
| Customer Surveys | Not Available | Available |
| Auto-Responding Service | Available | Available |
| Training Services | Available | Available |
| Pricing | Starts from $19/month | Starts from $10/month |
Drip vs Mailchimp User Interface
MailChimp has a more retro vibe to its interface but has a clean user interface that allows the users to navigate through web content with ease.
Everything is categorized into distinguished segments. Hence, you can easily find your target service by navigating through them.
Compared to MailChimp, Drip has a more sleek UI. It has a more modern feel in terms of its user interface, which is easier to navigate and visually aesthetic.
Verdict: Drip takes the lead in offering smooth UI with easy navigation to access desired services in terms of UI.
Drip vs Mailchimp Social Media Integration
MailChimp offers you a separate platform to build your social media campaigns, including Facebook, Twitter, and Instagram ads.
You can customize your ads, select your target audience, set your desired budget, and start advertising. You can also track the progress of your social media ad campaigns.
One drawback of MailChimp in this regard is that it does not offer automation features for social media marketing.
Verdict: Social media marketing is limited with Drip, which only supports Facebook ads. However, the plus point is that Drip allows you to automate your Facebook campaigns.
You can directly integrate your Facebook Lead Ads with Drip and automate your campaign.
Drip vs Mailchimp Landing Pages
Building landing pages with MailChimp is easier as you get to have a variety of customizable templates to accommodate your content.
To create a landing page on MailChimp, you only need to specify your audience. The next step is to choose a design from various templates and add content blocks to it, and it's done.
With Drip, building landing pages come with certain limitations. You can edit fields on your landing pages in Drip, but there are no customization options to design your page. However, a distinguishing feature of Drip is popups that you can elaborately customize.
Verdict: MailChimp takes the lead in terms of creating customizable and attractive landing pages.
Drip vs Mailchimp A/B Split Testing
Both MailChimp vs Drip allows you to split test your marketing campaigns.
Split testing with MailChimp involves setting up a limited trial of the subject line by setting up the name, varied content, and the "send time" to test the introduced variation within a service.
You can split test up to three variations via MailChimp and set the target percentage of people to test the introduced variations.
Unlike MailChimp, split testing via Drip is more streamlined. To create a split test, you have to specify the subject line, name, and delivery time of your variation.
A/B testing without disturbing the automation workflow is only possible with Drip as no other service offers similar features.
The only limitation concerning split testing with Drip is that it does not allow testing variation of email content.
Verdict: Drip takes the lead as the best platform to conduct automation split testing.
Drip vs Mailchimp Email Campaigns
Designing elaborate and automated email campaigns is possible using both Drip and MailChimp.
MailChimp has a dedicated category to create email campaigns for sending promotional offers, newsletters, product announcements, and more to its subscribers.
You have three different options available in MailChimp. You can create either regular emails, automated emails, or plain emails, each varying in terms of its purpose and intended audience.
Drip also has a distinguished feature for creating automated emails where you can either develop a campaign or generate broadcasts. Each has its own trigger depending upon the user activity.
Drip also has a unique feature of liquid templating where you can set up a VIP audience via setting up specific conditions. In addition, Drip also includes an "expiring URL" feature to handle a broad userbase without needing help from third-party tools.
Verdict: Given its unique and competitive features, Drip takes the lead in terms of developing and delivering successful email marketing campaigns.
Drip vs Mailchimp Integration
MailChimp holds the most significant number of available integration tools. Over 200 integrations are possible into your website via MailChimp, including several APIs.
By integrating other sites into your platform, you can improve user experience and expand your user base.
Compared to MailChimp, Drip only supports 50+ integrations at present, including Zapier integration and webhook functionality.
Verdict: MailChimp is the most viable option if you aim for a marketing site that allows you to integrate maximum external platforms.
Drip vs Mailchimp: List Management
Managing your user base is essential to driving an effective marketing campaign.
MailChimp offers its users a dedicated feature to manage its subscriber list. You can also divide your subscribers into various segments by setting up the conditions to deliver targeted mail to users.
However, one hassle with list management via MailChimp is that you have to filter out inactive users from your list manually.
With Drip, you can manage your list more conveniently by adding pruning conditions to remove inactive users from your list. It saves time and allows effective marketing management by categorizing your audience under specific tags.
Verdict: The ultimate winner is Drip because of the convenience of removing inactive users.
Drip vs Mailchimp Pricing
Mailchimp has three basic packages: Essentials, Standard, and Premium, and a free plan, where you can enjoy some limited MailChimp features for free.
The price of each package will depend on the number of contacts you have or want.
On the other hand, Drip does not include any free plans, but it does offer a 14-day free trial. The basic package of Drip's services starts from $19/month. The Drip price varies depending on the number of subscribers that need to be reached out to.
Mailchimp vs Drip Pros and Cons
Here is a detailed graphical listing of the Pros and Cons of using MailChimp and Drip as your marketing platforms:
MailChimp vs. Drip: Which Should I Choose?
Both MailChimp and Drip offer their unique services to facilitate their users in creating strong digital marketing campaigns.
Both software has their positives and negatives in terms of varied services, pricing plans, and the effectiveness of the delivered services. Deciding which software to opt for your marketing services solely depends on your business scale, budget, and business needs.
However, choosing Drip over MailChimp is more feasible and convenient considering the delivery rate and targeted marketing and offering a friendly user interface for the customers to develop their marketing campaigns.
Frequently Asked Questions (FAQs)
1. How can I grow my email list?
To grow your email list with the potential to reach out to more clients, you can opt for two feasible options. You can buy an email list or build one yourself via an email builder.
Buying an email list comes with several disadvantages since it does not offer a targeted customer base. You can be sending spam messages to individuals who are just not interested in your products.
Organically building an email list allows you to have more control over your targeted audience. The organic listing also lets you do email pruning and refine your customer base.
2. How can I know the effectiveness of my marketing campaign?
Using marketing analytics tools, you can trace the click-through rate, email bounce rate, and conversion rate of your marketing emails. Drip vs Mailchimp provides you with analytics features to trace the effectiveness and targeted performance of your marketing campaign.
3. What are potential alternatives to MailChimp?
MailChimp's best email alternatives include GetResponse, Omnisend, Moosend, AWeber, Hubspot, and Mailjet. These services offer you almost similar features vs MailChimp but at discounted rates.
4. Is drip marketing more effective than traditional email marketing?
Yes. Drip marketing is more customer-targeted and reaches out to targeted customers via automated mailing tools. With drip marketing, you only send a limited number of emails to your audience on scheduled timings and based on their interest in your products.
In comparison, traditional email marketing is more generalized and reaches out to subscribed users without a controlled direction of promotional emails.
5. What is the difference between a drip campaign and a nurture campaign?
The primary purpose of the drip campaigns is to direct customers towards conversion via the sales funnel. They are more generalized and do not offer a personalized experience to the users.
The nurture campaign offers a more personalized experience. Via nurture email campaign, you can direct personalized mail to the subscribers based on their activity on your site.
6. Can you do drip campaigns with MailChimp?
Yes. MailChimp offers its users the facility to create drip campaigns.
However, availing drip campaign feature in MailChimp comes with additional costs. You can only access single email marketing automation with free or basic plans of MailChimp.
Utilizing the MailChimp drip marketing feature, you can make your digital campaign more effective by automating your emails to the target audience based on customers' actions on your website.
7. How can you create an effective drip campaign?
Since drip campaigns are automated mails delivered to users based on their activity, a drip campaign should be designed to appear more natural and personalized for the users.
An effective drip campaign does not let the customers feel like they are reading pre-written automated emails. It should aim towards providing a personalized experience.