Have you ever heard of design thinking? Some may have, others may have not. You might even be applying it in your everyday life without realizing it.
As it is, design thinking is one of the most talked-about concepts these days. That's because design thinking tools help solve complex issues in the public and private sectors. Now, it's up to you to find which program will work best for you.
An Overview of the Best Design Thinking Tools
There are various design thinking tools for each design phase. We will check a few and what they have to offer to help you decide which one is worth adding to your arsenal.
Design Thinking Tools
What It's Best for
Fee per Month
Why It's Popular
Typeform
For creating interactive forms, questionnaires, surveys, and videos
Free
$25 Basic
$50 Plus
$83 Business
Multi-page online form builder and logic jumps
Zoom
For video conferencing
Free
$14.99 Pro
$19.99 Business
$19.99 Enterprise
Screen-sharing and web-conferencing features
Smaply
For creating mapping tools to understand customers better
Free
€19 ($19.79) Basic
€29 ($30.21) Pro
Custom – Enterprise
Easy to use and offers excellent functionalities
Userforge
For generating personas and creating user stories
Free
$16 – $29 Personas Pro
$29 – $49 Full Workspace
$59 – $79 Power Workspace
Allows users more freedom to create personas
MakeMyPersona
For generating customizable and professional buyer personas
Free
Free persona generator tool you edit and share
Batterii
For designers and creatives to share ideas and collaborate
Free trial
$20 flat rate
Makes it easy to collaborate with the whole team
SessionLab
For collaborating with teammates and clients to create a better workshop
Free
$20 Basic
$70 Team
$105 Business
Extensive open library of facilitation tools
Stormboard
For sharing ideas and collaborating with the whole team
Free
$10 Business
$16.67 Enterprise
An online whiteboard tool for holding meetings, monitoring projects, and more
IdeaFlip
For being a straightforward online design thinking tool
Free
Online sticky notes
Boords
For web-based storyboarding
Free
$36 Studio
$60 Company
$120 Company Plus
Animation tool and storyboard creator
Mockingbird
For prototyping and wireframing
Free
$9
$20
$40
$85
For its drag and drop functionality
POP
For creating interactive prototypes for mobile users
Free
$16 Pro
$48 Team
Perfect tool for mobile users
UserTesting
For providing real-time user feedback
Pricing varies depending on features
Real-time human insight
HotJar
For analyzing feedback from customers
Free
$39 Plus
$99 Business
Scalable
Allows instant feedback from users
PingPong
For testing participants
€90 Pay as You Go
€400 Business
Enterprise
Automated testing system
Sprintbase
For remote design thinking
$50 or $70 Student
$1,125 Non-profit
$1,500 Standard
Dedicated tool for each process
InVision
For making interactive prototypes
Free
$4 Pro
Enterprise
Real-time workspace
17 Best Design Thinking Tools
It's not easy to find the best tools for clustering or shortlisting ideas, especially since there are hundreds of them to choose from. To help you get started on the right track, we've listed 17 of our top problem solving tools and decision making tools below.
1. Typeform
Typeform is a versatile data collection software that does not require codes. It offers flexibility in creating forms, questionnaires, surveys, and nonsynchronous video solutions. The design process is easy and fast through templates and an interactive designer.
Typeform has more than 120 integrations, ensuring that your needed information plugs into your workflow seamlessly. It also comes with a built-in GDPR compliance and enterprise-level security to make sure user data is safe.
Quickly crunch survey data and improve question design through Typeform's wide range of extensions. These add-ons are also what make it compatible with your other software.
Typeform uses an intuitive browser-based form designer where you can type the questions and use bullet points to add multiple-choice questions. It has customizable blocks where you can pull past responses from previous questions and add them to another.
Questions come out as slides, so they are more engaging. You can then add design thinking images, videos, and other visual content related to the question. There is also an option to change other basic style elements like color and fonts to match your brand.
Plans and Pricing
Typeform offers several plans for different users; you can choose to use the free version or any of the paid options. With Typeform's free plan, you will uncover the potential of conversational forms but with limited features.
One user can start creating more innovative and creative forms with the Basic Plan for $25 per month. On the other hand, you can be on-brand and customize your forms with a Plus Plan for $50 a month. Lastly, you can get high-quality data and enhanced performance with the Business Plan for $83 monthly.
2. Zoom
Zoom is a frictionless communications platform that uses video as a foundation. Since its founding in 2011, it has become the standard for innovation. It helps people stay connected and accomplish more together by powering the communication needs of everyone.
This reliable and secure platform provides a high-quality experience you can easily customize, manage, and use. In fact, Zoom is one of the most easy-to-use platforms that combine cloud video conferencing, group messaging, and simple online meetings into one.
Plans and Pricing
Depending on your needs, you can use Zoom for free or get a paid subscription. A free plan can accommodate 100 participants for an unlimited number of meetings for 40 minutes. It also includes private and group chats and a Zoom Whiteboard. You'll get to enjoy up to three boards you can edit, 25MB of storage, and other basic features.
The cheapest paid subscription is perfect for small teams at $14 per license monthly. It comes with all the features from the free plan but with additional storage, group meetings for up to 30 hours, social media streaming, and more.
The $19.99 per month per license for small businesses can host up to 300 participants and comes with additional features.
3. Smaply
No idea how to level up customer experience? Try Smaply. It's a journey mapping software that allows businesses to create stakeholder maps. It has a drag-and-drop function, making adding design thinking images, video files, or texts to journey maps easier.
After creating the journey map, you can download it in different formats, such as Excel, PDF, PowerPoint, PNG, and more. Through Smaply's collaborative platform, businesses can provide role-based access to some employees.
Moreover, the journey mapping tool allows you to discover moments of truth and pain points in your customer's experience. Use the personal mapping tool to understand your customer's needs and expectations by creating empathy maps.
Lastly, you can learn the connection and effects between stakeholders and your service through the stakeholder mapping tool.
Plans and Pricing
Smaply offers a free plan to create a simple customer journey map with quick results. The Basic Plan charges you EUR19 (USD19.79) per user monthly. With this plan, you can create up to three projects and unlimited customer personas, journeys, and system maps.
In a Pro Plan, the most popular option, you can use all collaboration and visualization tools for EUR29 (USD30.21) per user monthly. The Enterprise Plan provides you with custom solutions for complex organizations.
4. Userforge
Userforge is a modern online tool with a story generator, user persona software, and tools for planning and UX design. With the platform's User Persona Template, you can create realistic and in-depth personas starting from the basics.
For example, you can customize your text output and create a persona in another language. Also, it is possible to add design thinking images to your project to help promote empathy and strengthen the profile.
Add a visual impact and a professional touch to the profile by choosing beautiful icons. Then, use the platform's story template to create well-written stories and sync them to Jira software. Finally, use the platform's story mapping tools to share the persona and story with the whole team.
Plans and Pricing
Userforge is available for free and paid subscriptions. You can try it on a demo workspace with two collaborators and two personas.
Paid plans follow a flexible pricing system. The most popular is the Personas Pro, which will cost you $16 to $29 per month. The Full Workspace plan is ideal for smaller and early projects, priced at $29 to $49. Lastly, the Power Workspace, priced at $59 to $79, is suitable for corporate projects and agencies.
5. MakeMyPersona
You can quickly make customizable and professional buyer personas using the MakeMyPersona free generator. What we like about this platform is that you can use it to organize your research through strategic questions.
For instance, a semi-fictional buyer persona represents an ideal consumer based on actual data of your existing users combined with market research. After completing the process, you will have a document containing vital details about your audience you can edit and share.
Most organizations use a buyer persona to provide context and structure for their company. These profiles make it easier for them to map out content and divide the team's resources and time.
Plans and Pricing
The best thing about MakeMyPersona is that you can take advantage of all its features without needing to pay a dime. Even though it's completely free, it allows you to quickly and easily create professional-looking buyer personas you can customize and share.
6. Batterii
Batterii is an online tool for designers and visual thinkers, bringing them on the same page and structuring their thoughts to create more visuals. It offers various templates for stakeholder analysis, empathy, and customer journey maps.
Through Batterii, you can be in the same place with your team digitally and continue collaborating and innovating. You and your teammates can share objectives, collect trends and inspiration, and generate ideas.
Use the power dot and sticky notes to digitally monitor and guide your team's thinking. You can then begin to leverage your framework by using Empathy Map and Value Proposition Canvas.
Plans and Pricing
Batterii does not offer a free version, but you can utilize its free trial to get a feel of the platform. Its paid version has a flat rate of $20 monthly fee.
7. SessionLab
SessionLab offers a simple way of designing a practical workshop quickly and easily. Here, you can search for high-quality workshop activities, methods, and templates from its facilitation library and quickly adapt them according to your needs.
This platform also lets you share your plans with colleagues and clients, getting feedback and input in real-time. Using SessionLab, it will be easier to impress your clients by making impressive workshop materials and printouts.
All in all, it can help you enhance your workflow and stay organized by keeping all your resources and materials in your personal or team workspace.
Plans and Pricing
Whether you are working in a company or on your own, SessionLab has a suitable plan for you. You can use the Basic Plan for free if you are the only one who will use the platform, but you'll get limited features.
SessionLab also offers a paid subscription, starting from the Pro Plan for $20 a month exclusive for one user. The SessionLab Team Plan costs $70 per month and is perfect for five members to share and collaborate on ideas.
Lastly, the Business Plan, which will set you back $105 monthly, will get you better workshop options across organizations.
8. Stormboard
Stormboard lets your team work better together through its shared visual collaboration workspace. It helps turn ideas into actions by offering seamless remote collaboration for members to quickly share ideas, whiteboards, and sticky notes.
Even better, you don't have to worry about your ideas being compromised. That's because they are transmitted over a safe and secured bank-grade internet connection.
With Stormboard, you will have plenty of built-in business processes that will help you kickstart productivity. What's more, you can easily go back to your discussion with the help of instant meeting notes.
Plans and Pricing
Stormboard is available in different plan subscriptions, which will vary depending on what features you need.
The Personal plan is an excellent way for teams or individuals to get started with Stormboard. For USD10 per user per month, small to medium companies can choose Stormboard for Business, which has advanced collaboration and meeting features.
Stormboard also offers a plan for bigger companies called Enterprise, starting at USD16.67 monthly. The platform's Business and Enterprise plans come with a free trial if you want to try the system first before subscribing.
9. IdeaFlip
Ideaflip is a platform that allows teams to quickly turn their thoughts into ideas and share them with others remotely. It is a mind mapping tool inspired by the silent brainstorming concept, allowing members to write ideas on virtual sticky notes before sharing them with others.
Ideaflip offers unlimited flexibility as you brainstorm, organize, vote, annotate, connect, and export ideas. You can collaborate with your team by sharing sticky note boards in real-time. Plus, members can even invite guests from anywhere for additional insights.
Plans and Pricing
Ideaflip is available for free and paid plans, giving you multiple options to choose from. Choose the Personal plan if you want to try the platform for free. This plan includes three boards and an option to share with two guests.
The Basic Plan is ideal for small teams who will use the platform internally. They will need to pay USD9 per user every month.
If you are looking for more flexibility, go for the Professional plan at USD12 per user per month. It is the perfect plan for larger teams that work with outside clients. Both Basic and Professional plans offer a 14-day trial period.
10. Boords
Boords is a useful platform for modern video teams. Its features will help teams organize and produce the best storyboards and animatics. In a nutshell, it is an easy-to-use platform with great export features. Teams love it because it offers cloud-based collaboration and sharing through a password-protected link.
Additionally, this secure cloud-based software gathers client feedback before moving flawlessly to production. Overall, Boords will help you easily collaborate and share with your team to get frame-specific feedback and make simple revisions.
Plans and Pricing
For starters, you can use the free version but expect limited features. The cheapest plan is called the Studio, which is designed for three users and costs USD36 a month.
The next option is the Company plan worth USD60 per month for 10 users. If you need something to accommodate a bigger team, you can avail of the Company Plus plan for USD120 a month, which can be used by up to 50 users.
11. GoMockingbird
GoMockingbird is an online wireframe tool with a user-friendly interface that makes prototype creation possible in minutes. In case you're wondering, a wireframe is the blueprint of a website.
This platform boasts many functionalities you can put to good use. You will get a drag and drop interface, easy prototype sharing with clients and colleagues, interactive page linking, and more. The drag and drop feature allows you to mock up your ideas quickly. You can also link several mock-ups and check them interactively to see how it looks when you go live.
With GoMockingboard, you can collaborate in real-time by sharing a link with your clients and colleagues. This way, they are able to provide feedback and edit the wireframe in real-time.
Plans and Pricing
GoMockingbird offers a free trial version and several paid subscriptions. You can get a plan for as low as $9 a month for two projects, followed by $20 for 10 projects.
If you have more pending projects to complete, you can choose the $40 a month subscription for 25 projects. For unlimited project options, you can subscribe to the $85 a month plan.
12. POP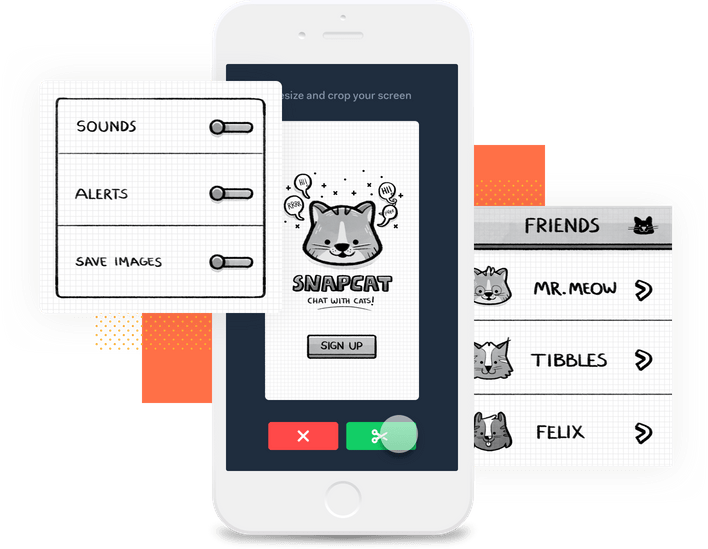 POP or Prototyping On Paper is a mobile application that turns sketches into animations.
You simply take a photo of your drawing and let the application turn it into an interactive prototype to use it. You can even share your prototype and let the users provide their feedback instantly. The best part is that you can view it on most Android and Apple devices.
POP also offers a web app where you can invite others to your projects. You will also have access to a lot of other features.
Plans and Pricing
Like most tools, POP is available for free and paid versions. For $16 a month, you can get the Pro plan, which allows one user and unlimited projects. At $48 per month, the Team plan is perfect for small teams. If you have a larger organization, you can opt for the Enterprise plan.
13. UserTesting.com
This platform is one of the best testing applications you'll come across today, and it's easy to understand why. With UserTesting, you can choose a participant based on what you are testing. Then, you will see how the platform keeps track of how the participant performs the assigned task.
Get real human insight by targeting your customers, asking them relevant questions, and watching their experience through the Customer Experience Narratives.
Moreover, you can learn from your customers by building intuition and empathy using analysis, metrics, transcripts, and visualizations. Then, share your insights across the organization.
Plans and Pricing
UserTesting offers a flexible pricing model by scaling your plan according to what your team needs. You can choose from Essential, Advanced, and Ultimate plan options.
The Essential plan provides everything you need to start collecting customer feedback. In comparison, the Advanced plan offers capabilities for teams to build awareness in making decisions.
On top of problem solving tools and decision making tools, the Ultimate Plan offers complete security capabilities and targeting analysis for large enterprises.
14. HotJar
HotJar is all-in-one feedback and analytics tool that allows you to collect information about how people navigate your site. They provide instant feedback from polls and customers, identifying the issues that may be affecting your business negatively.
Plan and Pricing
The Basic plan is free for 35 daily sessions, while the Plus version is priced at $39 a month for 100 meetings. The Business plan is the most recommended, priced at $99 monthly and with starting daily sessions of 500. HotJar also has the Scale plan, which offers unlimited daily sessions.
15. PingPong
The PingPong platform has plenty of testers worldwide and will automatically provide you with the best ones. As a user-research platform, it will help you schedule interviews quickly and record them for analysis afterward.
What's more, you will like that PingPong is an automated tool under a single interface. This means it eliminates the hassle of recruiting testing participants yourself.
Plans and Pricing
When choosing a plan, select the one within your budget and what suits your needs.
PingPong offers a Pay-As-You-Go option for 90 Euros per credit ($93.83), which is an ideal option for one-off projects. The Business option costs 400 Euros monthly ($417) and is perfect for small teams and researchers constantly gathering and analyzing customer feedback.
If that's not enough, the Enterprise option is also available. Its features are designed to help businesses that focus on human-centered design and user-experience research.
16. Sprintbase
Sprintbase is a design thinking software program with superb functionality and structure support from the app. It has templates and tutorials that will educate users on how to innovate well and be more agile.
Plans and Pricing
Sprintbase has a customized and branded environment called Studios under different categories. It has the Student Studio for $50 per semester or $70 a year, followed by the Non-Profit option starting at $1,125 per year. Lastly, the Standard Studio starts at $1,500 per year and is inclusive of five annual licenses.
17. InVision
InVision is a digital product design tool. It provides solutions for creating and sharing ideas, collecting inspiration, designing prototypes, organizing information, sketching, and wireframing. With InVision, you can align faster, move forward together, and collaborate better in a real-time workspace.
Plan and Pricing
InVision offers a free plan for individuals that need basic features. If you often collaborate with a team, you'd be better off with the Pro plan, which costs $4 per active user. An Enterprise plan is also available for organizations with advanced needs.
Design Thinking Tools FAQs
1. What is design thinking?
In the conventional way of problem-solving, brainstorming for solutions happens after the problem is identified. This is where design thinking comes in.
Design thinking offers creative problem solving tools and decision making tools. Among many, it mainly focuses on consumers' needs as defined through observation with empathy and their interaction with the environment. It also uses a hands-on approach and an iterative process to create innovative solutions.
Design thinking is human-centered, meaning designers study a person's actions towards a service or a product. Through these observations, designers think of ways to enhance the product and improve the consumers' experience.
2. Why is design thinking essential?
The design thinking method is not exclusive to technical organizations. Any company or user can take advantage of the design thinking process in handling business concerns. You can use the method for solving complex problems and providing solutions based on the users' interaction with the product or service.
The success of a business or a company depends on those who use the product you have provided. Through design thinking, the company will understand the consumers' concerns and provide solutions in response to these challenges.
As you already know, creating targeted solutions based on the user's experience can significantly affect customer activation, growth, and retention. This non-linear and flexible process allows the team to do repeat testing, ideation, and user definition suitable for the project.
3. What are the different stages of design thinking?
Design thinking can handle various problems through its five phases: empathize, define, ideate, prototype, and test.
Empathize
The first stage of the design process is when you try to put yourself in your consumer's shoes to understand better how they feel about your product or service. By going through this phase, you can think of better ways to improve your product for your customers to enjoy.
To empathize with your consumers, you have to interact with them and look at things from their perspective. Collect all available information from users to understand how they use your products or services.
Define
During this stage, you can combine all your collected data, observations, and analyses and make a statement or conclusion about the challenges your consumers experience.
The goal is to know how your products affect your consumers so that you can think of innovative solutions. Use your intuition from the empathize stage to address the problems concerning your users' experiences.
Ideate
After identifying the issues of your consumers from the Define stage, you can now think and create human-centered solutions. It would help to remember everything you have learned from the previous stages to design the right solution for your users.
Furthermore, it is vital to create a safe space for the team to brainstorm and provide as much input as possible. Use ideation tools to encourage your team to think outside the box and help them be more effective in the design thinking process.
Prototype
Design thinking is a quick and iterative process. It creates a business model of possible solutions to see their effectiveness before confirming it. In this stage, the team will draft, prototype, and evaluate possible solutions before making a final decision while remembering the needs of your users.
For the prototype phase to be successful, you must remember that it is not yet final; thus, it's okay to repeat the process. Make sure you persevere to find the best solution to all the issues raised by the users.
By using different prototyping tools to speed up the process, you can avoid the drawbacks of standard problem solving tools.
Test
The testing stage is where the exciting part of the whole design thinking process begins. After going through different phases, you can now test your solutions.
Ideally, the team will ask real consumers to test the prototype while constantly interacting with them and asking for feedback. Collecting data is crucial in the testing stage; thus, using a design tool is essential.
Some people think that testing is the last stage. In reality, there is still a chance that the users will find new issues and challenges with your product or service. As such, you may need to repeat the entire process all over again.
4. How can you implement the design thinking process?
You cannot implement the process without observing some basic steps. The first one is to identify the problem. Learn how to listen while trying to see the issue from other people's perspectives.
Next is to develop design thinking within your team. Start asking questions, understand their responses, and implement feedback loops. Keep on asking questions while observing a good feedback process. To get the best possible solution, learn to embrace the feedback loop.
5. What are the tools you should use for design thinking?
Use the following tools to identify and implement opportunities for innovation and growth:
Assumption testing
Customer co-creation
Journey mapping
Learning launches
Mind mapping
Prototyping
Rapid concept development
Storytelling
Value chain analysis
Visualization
Tools for Clustering or Shortlisting Ideas
We have provided you with great online tools you can use to create human-centered products and services, such as a dropshipping business. These tools of thinking can come in handy in organizing your thoughts and planning your path toward success.
As you will have learned, the design thinking process is an excellent way to solve complex problems and provide solutions that target your customer's concerns. Which tools are you most likely to use?