Captions remove linguistic barriers and help deaf people understand your video content better. However, creating captions can be challenging, and this is where the best closed captioning software comes in. This tool helps a video editor and content creator reach a wider audience and attract a new audience.
You'll find several options on the internet today, so below is a list of our top choices. We reviewed each of their key features, pros, and cons to help you decide which one works best for your needs. We'll also help you better understand what closed captioning is and why it's important to ensure you know what you're investing in.
5 Best Closed Captioning Software: A Review of Features
Some people use their video editing software's free closed captioning software or feature. However, this process is manual.
The caption editor will type all the words and captions they want to include in the video. That's why the internet provides us with various closed captioning software to help us with the burden of typing everything by ourselves.
Now that you have an idea of Closed Caption's purposes, we'll provide you with a list of the best Closed Captioning Software people use on their video files.
These are, of course, based on user percentage, meaning they are the most used closed captioning software:
Rev
YouTube Closed Captioning Software
AHD Caption Software
JUBLER
DIVXLand Media Subtitler
1. Rev
When it comes to closed captioning production, many users prefer using the website Rev.
Rev is an American STT or speech-to-text company offering professional captioning, subtitling, and transcription services. This company is based in two locations: San Francisco and Austin.
It was founded last 2010 and has been successful up until now. Rev has employed over 50,000 individuals who are independent contractors and captioning professionals to transcribe videos for a low price.
You don't have to download anything when using Rev. This means you will have issues with compatibility, receive unnecessary pop-ups, risk having viruses, and other problems that might be harmful to your computer.
Nonetheless, Rev will automatically transcribe the file for you.
Rev has an outstanding 99% accuracy rate when it comes to captions, saving you precious time and energy. Multiple options are also available to access a video you're trying to put captions on.
You can simply upload your video or provide them a link from other online video platforms such as YouTube and Vimeo. This process will take approximately minutes, sometimes hours, depending on the video length.
After Rev is done captioning your video, they will send you a caption or subtitle file, most likely ".srt" or "SubRip Subtitle" file formats, which are timed captions for a recorded video. If you are not comfortable with only receiving a .srt file, Rev offers another alternative.
Upon checkout, you can select the "burned-in-captions" feature, which automatically encodes the .srt file in your video. You will then receive your video with permanently coded captions.
Now that's an excellent deal, especially if you don't have the time to hard-code the .srt file into your videos.
As you might have already figured out, using Rev is not free of charge. Don't worry; Rev only costs $1.50 per minute in exchange for accurate captions.
That said, the burned-in-captions feature has an additional cost of $0.25 per minute. It might be costly when it comes to hour-long videos, but we think it's worth it compared to the effort of adding your own captions to your video and risking accuracy.
2. YouTube Closed Captioning Software
While some people search for a free closed captioning solution by Googling "closed captioning software free", some people use what's in front of their eyes.
People's favorite video platform, YouTube, offers closed caption services for free. This makes the lives of uploaders and viewers easier while also having a feature that will benefit YouTube.
YouTube Caption Software is pretty straightforward. You just have to do the following:
Upload your video as you normally would and set it as unlisted.
Fill out the necessary information like title, description, and tags.
Select the video language since this will be the basis of YouTube's automatic closed caption software.
After a while, YouTube should be done adding captions and subtitles to your video. Go to your uploaded videos and locate the recent video that you uploaded.
On the "languages" column, you should be able to see a dropdown arrow with the number of multiple languages detected on the video.
Click it and a blue link that says "duplicate and edit".
After editing, press "upload".
That's it! Quick and easy, right?
YouTube also has live closed captioning software for your live broadcasts. Whenever you stream, you can make use of YouTube's voice recognition live captioning software.
It directly translates what the streamer is saying to texts which act as subtitles for viewers to read. Many people use this feature on YouTube; that's why we can consider it the largest captioning company.
3. AHD Caption Software
The free closed captioning and subtitling software for Windows is also known as AHD Subtitles Maker. It is considered one of the best closed captioning software since it uses Google Translator as a base to convert various texts into a wide variety of languages.
This application is lightweight and only consumes a small space on your drives when downloaded. This feature makes it a great option for creators on a budget.
With this software, you can use different functions like exporting subtitles and creating closed captions in multiple languages. It also works with the following subtitle file formats:
FinalCut
Mplayer
Quicktime
Subrip
AHD's interface is also straightforward. On the left-hand panel, your video content is displayed with the subtitle area in the center. On the right area are the project subtitle tasks.
Although using AHD is considered very useful, the process of creating closed captions and subtitles is mostly manual.
On a side note, AHD Subtitles Maker only works on limited operating systems. For instance, famous Operating systems like macOS and Linux are having problems running this program.
To guarantee a smooth experience, make sure you use this program on Windows.
4. JUBLER
If you want to make new subtitles and captions or just simply edit pre-existing subtitle file formats, then JUBLER may be the software you're looking for.
It is a free closed captioning and subtitling software that enables users to refine, convert, and correct existing captions on your video content.
JUBLER also has the cool feature of showing you visualized "sound and audio waves", which makes you target parts of the video where you want to include captions and subtitles. This makes your video editing easier since you already know where to locate the parts where the person is speaking or where something important happens.
Same as AHD, JUBLER also offers translation functions included in their software. Jubler also has integrations with MPlayer, which allows users to preview subtitles in a specific part of a clip or film.
ASpell, a feature also included in JUBLER, lets you correct spelling mistakes which is a huge help for non-English speakers. Additionally, this software runs on different operating systems such as:
macOs
Windows 64bit
Windows 32bit
Linux
One of the advantages that this software has is that it works even without an internet connection.
However, JUBLER requires manual input of the subtitles. It might be a bit of a hassle, unlike YouTube, which has an automatic closed caption function.
5. DVIXLand Media Subtitler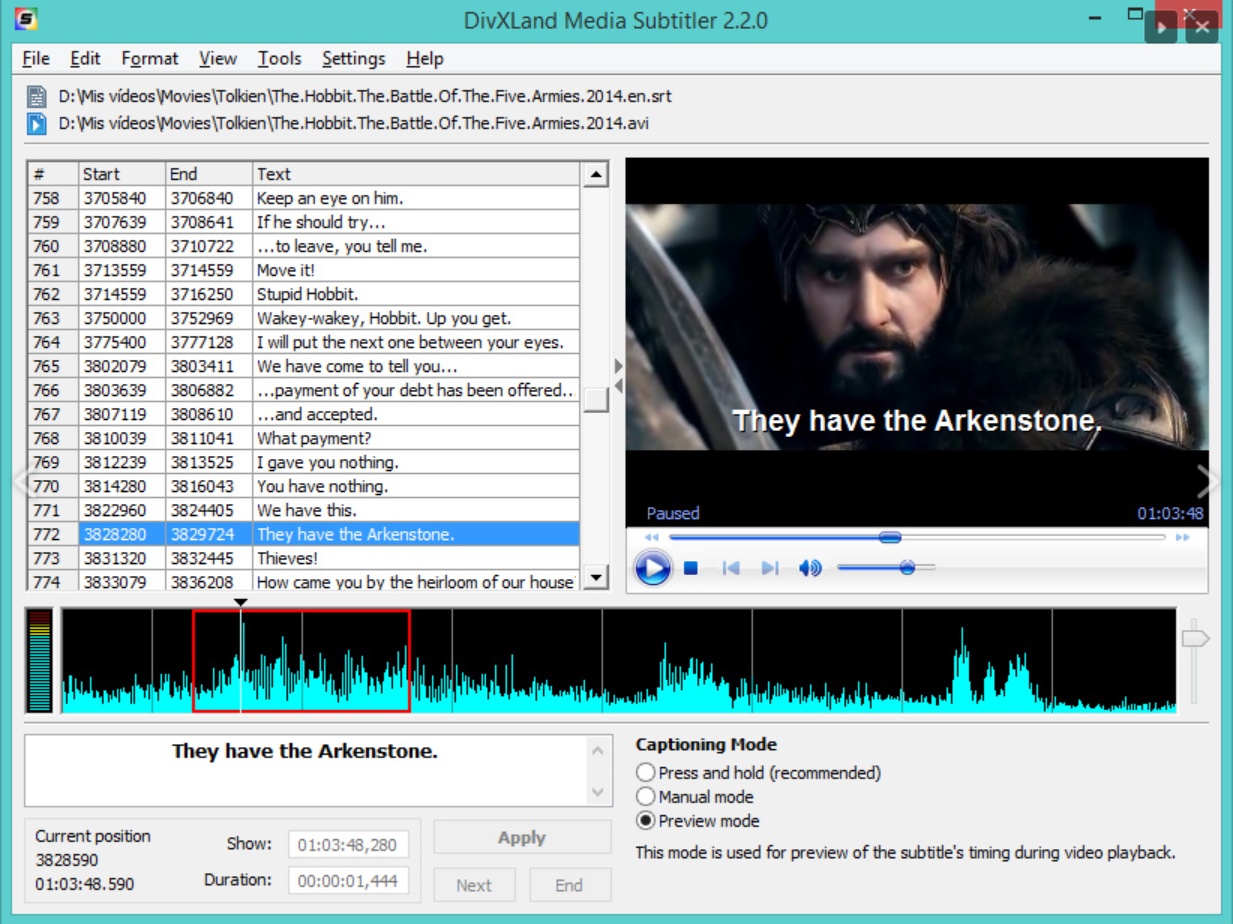 DVIXLand Media Subtitler is yet another free closed captioning software that allows you to upload or insert MicroDVD text or caption media files and synchronize them with the video content.
This software is user-friendly since it automatically sets the time limits and unifies captions and subtitles close to each other. Like AHD and JUBLER, it enables users to edit pre-existing captions within the video.
One of the best features of DVIXLand Media Subtitler is the instant preview feature. With it, you can instantly preview your subtitles on a specific timeframe you've already set in the software's timing tab.
As such, you don't have to scroll and locate a particular part of the video just to preview a subtitle. Just click the timeframe, and it will already appear in front of your screen.
Best Closed Captioning Software Pros and Cons
Not all of the Closed Captioning Software mentioned above is perfect. After all, they are free. They might not satisfy your needs or lack some advanced features you are looking for.
Here's a summary of the pros and cons of each of the closed captioning software we reviewed above:
Pros
Cons
Rev
Promises caption accuracy
Easy to use and not very time-consuming
Different output options
Doesn't require a final edit
Not Free
Can't be used without an internet connection
YouTube Closed Captioning Software
Doesn't require payment
Doesn't require a download
Includes live captioning software
Includes voice recognition closed captioning software
Automatic closed captions
Not accessible without an internet connection
Needs final checking and editing before you publish your video content
AHD Caption Software
Closed captioning software free
Uses Google for translation accuracy
Allows offline captioning
Multiple Subtitle file output options
Requires download
Not enough features for complicated uses
Can be used on limited
Operating Systems only
JUBLER
Completely free of charge
Allows you to edit pre-existing captions
Visual sound and audio waves for timestamp accuracy
Can be used on multiple Operating Systems
ASpell Feature for spelling accuracy
Requires you to download plugins and the actual software
Manual input of captions and subtitles
DVIXLand Media Subtitler
Completely free of charge
Can edit pre-existing captions
Built-in caption timing feature
Manual caption input
Requires extensions and software download
No version for macOS
Which Closed Captioning Software Should I Choose?
To summarize, closed captioning is a good way to market your videos as it helps with promotion. The main focus of closed caption is to help viewers understand and enjoy a video even if they have disabilities. In fact, even those without disabilities benefit greatly from captions. Choosing the best captioning software will always be based on what you specifically need and where you will use it.
If we had to choose for you, Rev and YouTube Closed Captioning Software are our top picks for the best captioning software. That is considering the captioning accuracy they offer and the effort it takes to produce a well-captioned video. On top of that, YouTube offers live captioning and a speech-to-text feature for your live streams.
What Is Closed Captioning?
From the review of our recommended closed captioning software, you probably already have an idea of what it is. That said, to put it into a clearer context, closed captioning translates the media's audio through textual representation. It also includes elements in the video that are non-verbal. Examples of these elements are speaker IDs and sound effects.
By using closed captioning or "CC", you're helping your viewers better understand your movie's or video's flow. Not only that, but it also gathers more attention by making viewers worldwide understand what you are trying to say. From a business perspective, more viewers equal a bigger target market.
Importance of Closed Captioning
Including captions on video files has always been essential throughout our ever-changing technology era. The number of hard-hearing and deaf people worldwide is continuously increasing, so they should also be given the opportunity to understand videos being uploaded daily.
If you're still unconvinced that this is a valid reason to include captions on video files, a court case previously made multiple websites add captions on their videos.
The ADA or Americans with Disabilities Act is a disability law that requires public places to be accommodating and accessible to persons with disabilities.
Although online video accessibility laws are not distinctly written in this so-called ADA law, recent litigation rulings have favored website accessibility more. This particular act has been present in the previously rising ADA website lawsuits.
One example is the National Association of the Deaf (ADA) v. Netflix case. When the Americans with Disabilities Act was proposed and enacted in 1990, no one expected that the future society would be using the internet to stream thousands of videos, movies, and TV shows. This idea of leisure or entertainment applies to the scope of public accessibility, making it relevant to the ADA.
Recent surveys, specifically a Nielsen Poll, revealed that an average American adult spends at least 10 to 11 hours a day interacting with media, and six hours of those were spent watching videos.
Take YouTube, for example. It has over 122 million daily users, with one billion hours' worth of content watched daily.
As we mentioned, deaf users would benefit a lot from captions. Approximately 466 million people worldwide have a hearing disability, which is technically 6.1 percent of the global population.
Without captioning, none of these people would have the means to enjoy and understand a video file they would like to watch.
This is just a brief summary of how important including captions on a video is.
Now that you have a hint or idea about how relevant captions are, here's a table listing the benefits of using captions:
| | | |
| --- | --- | --- |
| | With Captions | Without Captions |
| Advertising | Adding captions helps with SEO and helps your video rank on search engines. | Your video will only be discovered using the title. |
| Comprehension | People with difficulty with hearing will understand your video better when they read something that describes it. | Your video is only beneficial to those who can understand verbally. |
| Views | Your video can be watched in places where noise is not allowed. Just reading the captions will help the viewer understand what the video is about, even without audio. | People would need to wear headphones or turn up their device's volume to understand your video. You might lose viewers since they can't do this in places that don't allow noise, like libraries and offices. |
| Learning | People who watch videos with captions will help them enhance their communication skills and vocabulary. | People will only understand what they hear, missing out on the opportunity of learning the correct spelling and meaning of words. |
How Important Is Accurate Captioning?
The ideal caption accuracy is 99% which is also the global standard. The key factors in determining accurate captions are punctuation, grammar, and spelling.
Based on this, the final estimate of the ideal caption error should be zero to 15 for every 1,500 words captioned.
You might be thinking that having captions with multiple errors won't greatly affect the whole idea of the video. This is clearly wrong.
Some readers or viewers, especially people unfamiliar with the language written in the captions, might be confused about what you are trying to convey.
For example, synonyms might be similar in meaning, but in other languages, some words that are synonymic in our language might translate as different for them. This might cause information misdirection.
Another example is improper punctuation placement. Punctuations can change a sentence's meaning based on where it is positioned.
For example, the sentence "I already ate, Mark." can have a different meaning when you forget to place the comma before the word "Mark."
That would greatly horribly affect the video's meaning.
A grammatical mistake might cost you millions if you are a businessman trying to endorse a product through a promotional video. Be sure to make the captions precise and accurate to avoid this devastating outcome.
Keep in mind that prevention is better than cure. Review your work before submitting it to different platforms.
FAQs About Closed Captioning or Captions
Here are answers to some common questions to help you make a more informed decision when choosing a closed captioning tool.
1. What do closed captions look like?
Closed captions are textual representations that define and translate the media's audio files. You'll usually find it at the bottom of the video.
These texts represent what the character is saying or a hint of a particular sound effect in the media. Closed captions are usually white so that viewers can read them easily without getting distracted by other colors from the video itself.
2. What are the types of closed captions?
Closed captions are available in two types: Captions and Subtitles.
Subtitles are for viewers who don't understand the language in the video. In short, it is basically a translation.
Meanwhile, captions are for viewers who have a problem hearing the audio. It includes the dialogue and other relevant audios as well.
Subtitles and captions can be categorized as either Open or Closed Captions.
3. What is the difference between open captions and closed captions?
Closed captions are published as a separate file that you can turn on and off, and most video streaming websites use closed captions.
Examples of these websites are YouTube and Vimeo.
On the other hand, open captions are burned into the media or video. You cannot turn this off as it is a part of the video. This type is what the website Rev offers when you purchase the burned-in-captions feature. Open captions are mainly used on websites like Facebook and offline videos.
4. How do I know if I downloaded the right closed caption software?
Always make sure you download from the official websites of the software makers and not from others claiming they own the product.
After downloading, you should scan the file for viruses. Installing it immediately without confirming it is safe might result in bad outcomes. The last thing you want to do is harm your computer.
5. How to check if I have accurate captions?
Before rendering and publishing the outcome, you should review if the captions correspond to the dialogue and sound effects.
Adjust the caption timing if it does not match the correct timestamp. As for grammatical errors, there are software products available online that can check if there are errors in your rough translation. Directly putting it in Google translate is not advisable.
6. Where do I place my closed captions?
As mentioned, the usual place for closed captions is at the bottom center of the viewer's screen.
However, the captions should move whenever other texts are shown in the video, like names and important numbers, to avoid blocking important information. Closed captions should also disappear whenever there's silence or a pause in the video.