Founders looking for the best bank for startups will most likely come across Mercury vs Brex. They are two of the top-rated financial management technologies that offer a variety of business banking solutions for small and medium enterprises.
In this Brex vs Mercury comparison, we'll dig deeper into their similarities and differences to help you decide which one is more suitable for your business.
What Is Brex?
Brex is a fintech company that offers business credit cards and cash management services to tech companies. No, it is not a bank but a bank account alternative that allows businesses to store and send cash.
Over the years, Brex has focused on providing business credit cards known as Brex Cards. Unlike the lines of credit offered by traditional banks, Brex Card features tons of perks and rewards for qualified clients with no personal guarantee.
Brex popular among startups and small businesses because it issues credit cards to those with little to no credit history. The caveat? They need to have a high maintaining balance in their bank accounts.
Brex Card is ideal for well-funded companies that need a more organized approach to dispensing money to their employees and managing their expenses.
What Is Mercury?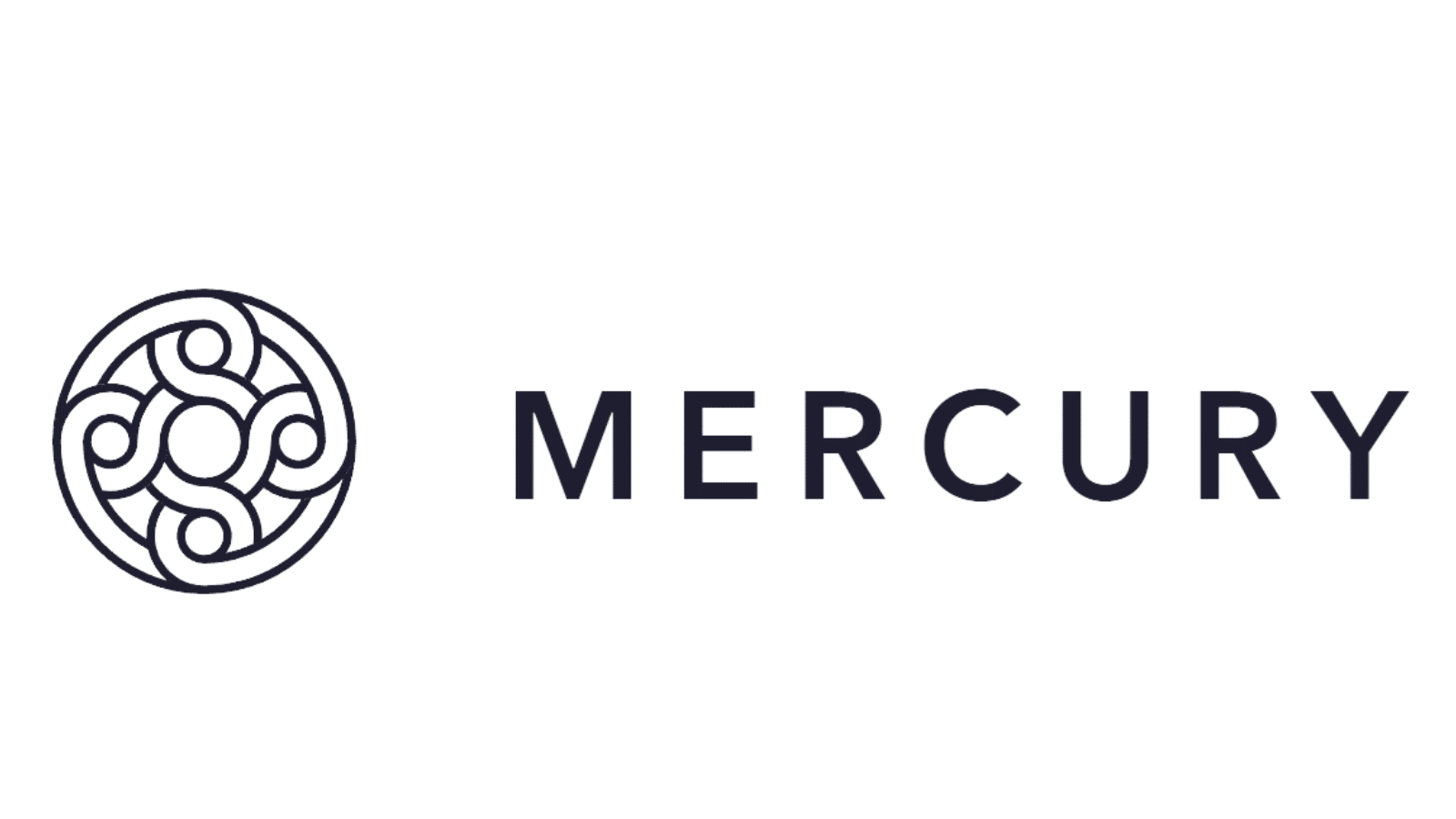 Like Brex, Mercury is a financial technology company specially designed for startups, eCommerce stores, and angel investors. It offers an extremely straightforward and user-friendly online banking platform that allows companies to manage their cash flow, send money, and make payments.
Mercury offers two types of business accounts: Standard Business and Mercury Tea Room.
The Standard Business bank account is free to open and doesn't have monthly costs. Meanwhile, companies that wish to upgrade their account can join the Mercury Tea Room, provided they meet the minimum balance requirement. This cash management account features free domestic and international wires and exclusive partner discounts.
Mercury's platform has built-in free wire transfers, APIs, and integrated financial software systems like QuickBooks and Stripe. It is an excellent platform for businesses that prefer to bank online and deal with numerous transactions daily.
Moreover, Mercury savings accounts come with seamless expense management software that will allow you to manage your finances more effectively.
Mercury vs Brex: An Overview
To give you a quick look at how these two compares, here's a summary of what you can expect from them:
Mercury
Brex
Services Offered
Online bankingDebit card
Standard account (free)
Mercury Tea Room account (paid)
Brex CardCredit card with no annual fee
Fees
No monthly service fee
No annual fee, and additional cards are free
Drawbacks
No local branches
Brex app only for iOS
Let's talk about each factor in detail so that you can get to know them better.
What Services Do They Offer?
Brex and Mercury offer a variety of finance management solutions to startups and businesses of any size. Let's take a look at their products and services.
About Brex's Brex Card
Brex offers corporate credit cards for both new and established businesses. These cards don't have annual fees. Plus, they have higher limits and best-in-class rewards than traditional credit cards.
What's more, there is no personal guarantee required. This means that the account holder will not be personally liable to pay the debt if the business fails.
Why get the Brex Card?
The main selling point of the Brex business credit card is the fact that it's available for startup founders with no credit score yet. Other benefits include:
No foreign transaction fees
Unlimited cards
Flexible card limits
Access to virtual cards
Expense report integration
What makes the Brex Card stand out is its very lucrative rewards structure. You earn points every time you use your card for payments or purchases. There's no cap on how many points you earn. Even better, they don't expire as long as you have an active account with Brex.
You can use your rewards to pay for travel expenses or redeem Bitcoin or Ethereum cryptocurrencies. Alternatively, you can transfer your points to your Brex Cash because it has a penny-per-point value.
Limitations
Brex determines your company's eligibility and credit limit based on your spending patterns and how much you have in your bank account. Typically, they require that your business have at least $50,000 in professionally managed funds or at least $100,000 in your bank account.
What Makes Mercury Bank Stand Out?
Mercury offers low-cost digital savings account for startups and tech-based businesses. You can open a checking or savings account and use financial tools to manage your funds.
Online Banking and Mobile Banking
Compared to traditional banks, Mercury doesn't have monthly fees or hidden fees. Most transactions are entirely free, so you can focus on growing your business.
Opening an account doesn't require a minimum initial deposit or a monthly balance. You also have the option to upgrade to the Tea Room account, where you get more perks and benefits, including access to Mercury Treasury portfolios.
Compared to other mobile banking providers that offer general services, Mercury Bank favors tech companies that rarely handle cash. The bank has a very user-friendly platform, featuring tools to process payments, monitor funds, and receive money.
On top of these, Mercury's online banking platform enables software integration. They have partnered with several third-party providers like QuickBooks, Xero, PayPal, and Venmo to assist clients with finance management.
Mercury has two types of cash management accounts: the Standard and the Mercury Tea Room.
The Standard is a free bank account. It doesn't have a minimum balance requirement and only charges on currency exchange.
Companies with at least $250,000 can upgrade to the Mercury Tea Room account. With one, they can partake in Mercury Treasury, which puts their extra cash in U.S. government securities. You also get access to partner perks, wherein you get things like servers, bookkeeping, and 409s.
Debit Card
Mercury doesn't offer credit cards, but they offer debit cards. This card allows you to withdraw cash from Allpoint Network ATMs without a fee, although you can use it at any ATM.
Once your business account has been approved, Mercury will send you a physical debit card. You can also create and use virtual debit cards immediately. This feature is favorable for startups because it is easy and convenient to use.
Limitations
Mercury is not ideal for startups that frequently deal with cash transactions. After all, they don't have local branches and cannot accept cash deposits.
Mercury vs Brex Fees
Both Brex and Mercury offer an affordable way to manage your finances. It's up to you to figure out which one matches your needs better. To help you out, we'll talk about pricing in detail below.
Is Brex free?
Brex Card doesn't have an annual fee, and the additional cards are free. It also doesn't have transaction or wire fees. However, for the money market funds, Brex charges 0.12 percent based on the average seven-day yield.
Do note that Brex is a charge card you can use to fund purchases and bill payments, like credit card bills. However, it must be paid in full at the end of each billing cycle.
Unlike a typical credit card where you carry a balance forward, you must clear the entire balance of your Brex card after 30 days. Otherwise, you will incur fines. Worse, your account will be closed.
Does Mercury charge per transaction?
Opening an account with Mercury is free, and there's also no monthly service fee. All domestic and USD international wires are free, and there are no minimum balance requirements under the Standard account. They only charge a one-percent fee on currency exchange.
The Mercury Tea Room has the same pricing structure, except for a minimum deposit of $250,000. Everything else is fee-free.
The same with Brex, Mercury charges a fee to the merchant. When you make payments or purchases, they receive a percentage of this fee, known as an interchange.
Ease of Use
Another major consideration when choosing a bank for your business is convenience and ease of use. Let's take a look at how Brex vs Mercury fare in these areas.
How do you use Brex?
Brex account holders are given access to a mobile app. There, they can take full advantage of a full financial stack of corporate cards and expense software. You can view your card information and pay merchants online through the app. You can also check your balance and make ACH transfers free of charge.
Additionally, the app supports check deposits. To deposit a check, all you have to do is take a photo of the check using your phone's camera. You can also upload receipts and memos.
Another highlight of the Brex app is expense monitoring. You can review the spending of your employees, from transfers to wires. You can also find transactions quickly with their updated search feature. Unfortunately, the Brex app is only available for iOS users.
Is the Mercury Bank app easy to use?
Mercury features online-only banking through its user-friendly app. Unlike Brex, the Mercury online banking app is available for both iOS and Android users. Through the app, you can sift through transactions, send and receive money via ACH or wire transfers, and make mobile check deposits.
The Mercury app also lets you view balances and manage them on the go. Compared to Brex, it is capable of supporting more software integrations. For example, you can use software like Xero directly with your Mercury app for your accounting needs.
The app lets you schedule one-time or recurring payments. Plus, you can customize the frequency of payment. For example, you can set the number of payments or when they should end.
Another interesting feature of Mercury's online banking platform is the transactions report. You can filter transactions based on dates and expense type, and the merchant name. You can also sort transactions based on payments, fund transfers, and check deposits.
For payments, you can view the history, such as who made the payment, when it was completed, and how much was paid. Furthermore, you can download monthly statements from the Dashboard through the Documents tab. This allows your team to keep a clear track of all transactions regularly.
Perks and Benefits
The best banks for startups offer interesting perks and benefits. So, how does Brex vs Mercury reward their loyal clients?
Get Generous Rewards From Brex
Compared to Brex competitors, startups can expect generous rewards across a range of categories. You can use your card to make daily payments and earn points with a penny-per-point value.
Here's a rundown of their reward system:
8 points per dollar spent on rideshares, like Uber and Lyft
5 points per dollar spent on restaurants
4 points per dollar spent on software subscriptions
One point per dollar spent on everything else
Other perks and benefits include:
$50,000 signup bonus points if you spend at least $9,000 on the first 30 days
Up to $100,000 credits via AWS for all new customers
3X cashback on eligible Apple purchases, including iPhone, Mac, and iPad
40% off on your first QuickBooks 12-month subscription
25% off on eligible Slack paid plans
Amazing Discounts Await Mercury Clients
Mercury offers rewards through referrals and software subscription discounts. For example, you earn $25 for every $1,000 spent by your referral using their Mercury debit card. They have also partnered with numerous SaaS and accounting software providers to provide exclusive discounts to customers, such as:
10% off on CoinTracker
50% off on Simplified
One year free Zeplin subscription
$100 Safara credit
40% off on QuickBooks for six months
25% off on Zeni for six months
Eligibility and Application
When choosing a bank for your business, you want a provider that makes it easy and quick to open an account.
How do you need to make a Brex account?
To qualify for Brex, your company should be incorporated in the U.S. and operates in the country. The basic requirements include a US EIN. You will also need to submit information about your company's business model, source of funds, spending patterns, and more.
If you qualify, you will most likely be offered a Brex Card with daily payments.
The Brex Card with monthly payments requires a company to have at least $1,000,000 in a U.S.-based bank account at the time of application. If you have professional investors, you need to have at least $50,000 in your bank account at the time of application.
Apart from these, Brex also requires the following:
Your business should be in operation for at least two years.
You have more than three months of runway.
You pass an Experian check.
You must have a functional website.
You have $1M in a bank account at the time of application.
Opening a Business Bank Account With Mercury
Unlike Brex, Mercury doesn't require startups to have big funding. There's no minimum deposit, and businesses with at least $250,000 in their account can upgrade to the Mercury Tea Room.
Mercury works with FDIC-insured banks, such as the Evolve Bank & Trust, to store your money. To create an account with Mercury, you must have a U.S. company and an EIN. The bank does not provide services to sole proprietors or trusts, as well as businesses in the money services.
Creating an account is fast and easy, and everything can be done online. During the application, you will be asked to provide basic details about yourself and your business. Plus, you need to provide a government-issued ID for you and any co-founders and number verification from the IRS.
Another requirement to open a business bank account with Mercury is the owners' profiles. These include the shareholders' information and who is responsible for managing the finances. As you can imagine, the application process is fairly simple and quick. After submitting all required documents, it typically takes just a few days to get approved.
Drawbacks
Any comparison that aims to distinguish which is better between Mercury vs Brex won't be complete without discussing their drawbacks. 
Brex
Overall, Brex is a good banking option, but it has some drawbacks too.
Stringent funding requirements
As you may have come to realize by now, Brex only makes a good option for well-funded startups. Again, you need at least $50,000 in your bank account at all times to qualify for monthly repayments.
If you don't meet those criteria, you can only get the Brex Card, which should be paid daily. That's only good if you want to build your business credit. Unfortunately, it offers less flexibility, and you might consider a business debit card instead.
Your credit limit depends on your cash flow
To get a credit card, you must have a Brex Cash account first, which is a corporate bank account you can use for deposits and payments. That said, your credit card is tied to your account, and your payments will come from your Brex Cash balance.
The card you get depends on the revenue requirement. Also, payments will be automatically debited from your company's bank account. Given that, the Brex Card is not fit for businesses looking to carry a balance.
On another note, credit limits on Brex depend on how much money an organization has in its bank account. If your company depletes most of its cash for the month, your Brex credit limit also reduces.
If you use the Brex Card with daily repayments, your credit is much more limited. It works the same way as a debit card, so you cannot spend more than what you have in your account. Thus, if you're making a big purchase, you must deposit enough money beforehand to avoid a failed transaction.
Unlike in traditional credit cards, your balance in Brex should be paid in full each month or day if you're using the Brex Card with daily repayments. You won't owe interest, but you won't be able to pay in installments for big purchases.
At the end of the billing cycle, your account will be debited with the full balance, which means you need to have enough cash on hand.
Complex rewards structure
Brex has varying point values and elevated earning categories that may not fit your spending. Also, they offer big earning rates only for the first two months. After that, you must exclusively use your Brex Card. Otherwise, your rewards will be downgraded to the standard rate of one point per dollar spent.
Even their travel perks are very limited and lack the benefits of premium travel cards. Thus, if you are after travel rewards, you may check out your other cards.
Mercury
Mercury stands out for its almost fee-free banking model, but it also has a few disadvantages.
Not available for sole proprietors
Sole proprietors make up 73% of all businesses in the U.S. today. Although Mercury is great for startups, this restriction excludes a huge number of companies.
Doesn't accept cash deposit
Mercury is best for companies that mostly handle their finances online. It cannot accommodate cash deposits.
Currently, Mercury business savings has an interest rate of only 0.001%, which is way lower than traditional banks. Additionally, the Mercury Tea Room only has an interest of 0.07% annually.
Check deposits are not supported for all Mercury business accounts. They are only available to accounts with established funding and history. Therefore, initially, you won't be able to make check deposits until you have established a good transaction history.
Brex vs Mercury FAQs
1. Is Mercury a safe bank?
Mercury is one of the most trusted online banking technologies today. Its FDIC-insured bank accounts are covered for up to $250,000. Also, its mobile banking platform is heavily encrypted. You can rest assured that Mercury conducts regular penetration testing to keep your money safe.
2. Azlo vs Mercury, which is better?
While Azlo offers fee-free services like Mercury, it has some big limitations. For instance, you cannot make cash deposits at all, and you can't write checks from your account. Besides, Azlo closed its doors early in 2021.
3. How do I withdraw money from Mercury Online?
You can withdraw cash at Allpoint Network ATMs using your Mercury debit card. The bank does not charge any fees on top of what the ATM operator charges.
4. How long does it take to get a Brex Card?
Your Brex card should arrive within seven to 10 business days from the day it was issued. If your card does not arrive within the specified timeframe, you may ask for a replacement. You can do this by submitting a request via your Brex online account under Cards. Meanwhile, you can use Brex virtual corporate credit cards, which are available immediately upon approval.
5. Is Brex secure?
Brex uses industry-standard encryption to protect its data. It also performs idle lockouts for inactivity. Thus, if you forget to log out from your account, Brex will automatically sign you out to prevent unauthorized use of your account.
In addition, Brex enforces a strict content security policy as a preventive measure against hacking and phishing. On top of these, Brex also performs activity confirmation, identity verification, and device verification.
6. Does Brex have fees?
Brex does not charge any fees. There are also no monthly or annual fees. At the end of each billing cycle, Brex will automatically charge your Brex Cash account for your outstanding balance.
7. Brex vs Mercury, which is the best bank for tech startups?
If you're looking for the best bank for tech startups, you can't go wrong with Brex and Mercury. Using technology, they can make financial management easy and convenient.
Brex is ideal for well-funded startups that need an easy way to make payments and purchases while getting generous rewards. On the other hand, Mercury is ideal for startups that prefer fee-free business banking services with no maintaining balances.
8. Where can you use Mastercard?
Mastercard credit cards have a variety of benefits, from basic purchase protections to merchant discounts and rewards. Many credit card providers feature generous rewards systems, which can include exclusive travel perks.
9. What are Mercury Mastercard pros and cons?
The main advantage of the Mercury debit card is that you can use it to withdraw cash from Allpoint ATM networks. Plus, Allpoint doesn't charge a fee for cash withdrawals. However, the only downside is that you cannot use it to deposit cash at ATMs.
10. What are Brex and Mercury bank alternatives?
There are other online banking platforms that offer similar services to Mercury, such as NorthOne, Novo, and BlueVine.
NorthOne is an online business banking platform designed for startups and freelancers. It comes with unlimited fee-free transactions, digital banking tools, and a Mastercard that lets you deposit cash through the Green Dot network.
Meanwhile, Novo offers business checking with no monthly maintenance fee. What makes it unique is that you can withdraw from out-of-network ATMs free of charge because Novo will refund all ATM fees.
The last alternative, BlueVine, offers an interest-bearing business checking account that earns a competitive 1.2% APY. It also doesn't have a monthly fee and requires no minimum deposit.
Brex vs Mercury: Which Is Better?
Overall, Mercury is a better option for early stage startups for several reasons. The first is that Mercury offers free accounts that don't require a minimum balance. Thus, if you're just starting your business and your cash flow is tight, Mercury is the right bank for you.
Secondly, it has a comprehensive small business banking platform where you can make payments, receive and transfer money, and even make check deposits.
Thirdly, Mercury boasts task management software integrations to make banking more convenient. Unlike Brex, which is focused on credit cards, Mercury offers more comprehensive online banking services in the form of savings and checking accounts. You will also get a debit card you can use to withdraw cash from various ATMs.