If you are looking for the best video conferencing software today, you are not alone. More and more employees and even businesses are now realizing the benefits of a hybrid workplace. The numbers suggest as much based on a recent report from Accenture.
Around 83% of the 9,326 workers who joined the study preferred working remotely at least 25% of the time. Over 60% of high-revenue growth companies have also allowed their staff to work at home or on-site.
Of course, this setup would only work if you have access to technology. You would need the right tools to attend video meetings and video conferences from anywhere. So, how do you choose from the countless software and apps in front of you?
We've got you covered with this list of the best video conferencing solutions in the market today.
Best Video Conferencing Software: Quick Comparison
Software
Free Version
Main Attractions
RemotePC Meeting
Free trial on some plans
Integration with third-party applications, whiteboard, screen share
Webex
Yes
Get a personal URL after signing up
Generous free version
Zoom
Yes
Easy to use
Can host 1,000 attendees
Microsoft Teams
Yes
Integration with Microsoft and other applications
Whereby
Yes
Affordable
Easy to use
Google Meet
Yes
Integration with other Google products and third-party applications
GoToMeeting
Yes
Advanced features
Mobile-friendly
ezTalks
Yes
Cutting-edge meeting protocols
Competitive free plan
RingCentral Video
Yes
Affordable
Has analytics dashboard
ClickMeeting
Free trial for 30 days
Great for webinars
Zoho Meeting
Yes
Easy to use
Affordable
BlueJeans Meeting
Free trial for 14 days
Customizable interface for branding
Lifesize
Yes (Lifesize Go)
Easy to deploy
Integrates with enterprise applications
FreeConference
Yes
Competitive free plan
TeamViewer
Yes
High level of security
Great for beginners
BigMarker
Free trial for seven days
Customizable platform
Highly interactive
Best Video Conferencing Software
1. RemotePC Meeting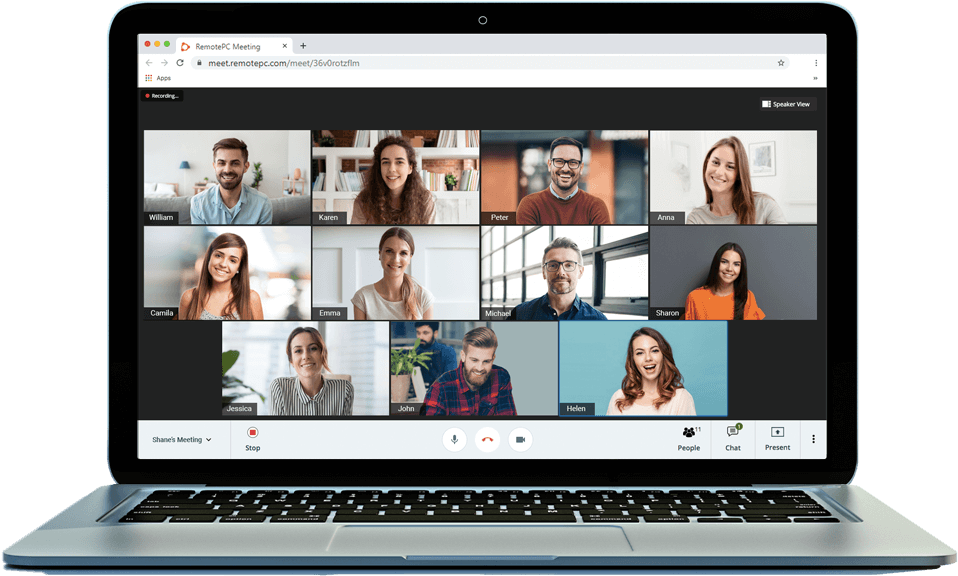 RemotePC Meeting is one of the go-to remote video conferencing platforms for video meetings, voice calls, and phone calls. With this software, anyone can create a video meeting and invite other employees quickly by sharing a link.
The Chrome extension even lets you do this directly from Google, Yahoo, or Outlook. What's more, there is no restriction on who can host meetings, as it has an unlimited number of host licenses.
On top of all these, it is also packed full of many advanced features that make team collaboration seamless. You can use it to schedule meetings on Google Calendar, or you can integrate it with Yahoo and Outlook if you want. It has Voice over Internet Protocol or VoIP, which you can engage in during sessions.
Even better, other meeting participants can join via phone calls. It allows you to have both live audio and video transmissions so that others can join even with a limited internet connection.
The whiteboard is another helpful function of RemotePC Meeting. It helps participants toss ideas around and get on the same page. With this feature, the attendees can draw or write in full view of the other members of the group.
The screen sharing capability is also very useful for presentations and discussions that involve multiple materials from different attendees. As you can imagine, it will make document collaboration much easier.
This video conferencing solution can accommodate up to 50 participants, which should be more than enough for small and midsize companies. A big group can separate into smaller ones by moving from the main meeting room to a breakout room. One-on-one meetings are also possible and have no time limits.
In short, RemotePC Meeting is a powerful video conferencing tool that is very easy to use. It does not have anything unique to offer, but it's rare to find this many features in other video conferencing platforms.
2. Webex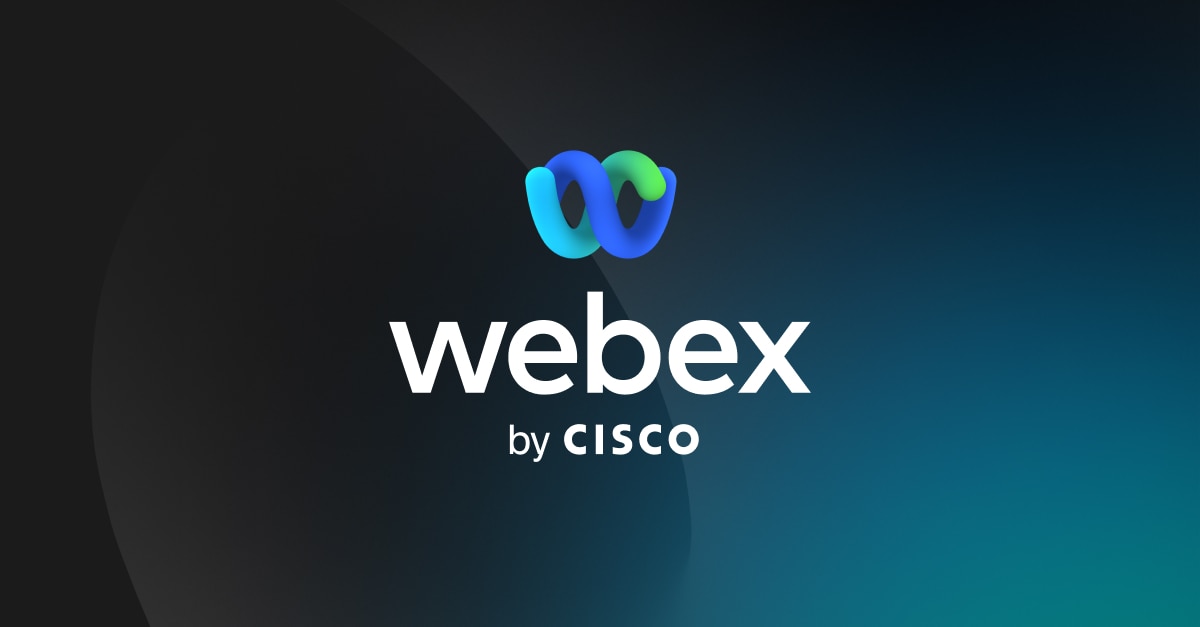 Cisco is one of the most recognizable names in networking software and hardware, telecom equipment, and other high-tech products. It has won many awards from prestigious organizations, including Gartner.
Why is this important? Cisco is the power behind Webex, one of the best video conferencing tools in the market today. If you trust Cisco, then it is natural to have high hopes for Webex.
The good thing is that Webex lives up to the lofty expectations. It allows teams of all sizes to meet, make calls, send messages, and hold events in the cloud. The company slogan displayed prominently on the website says it all. It is a video conferencing app for everything and everyone.
What makes Webex even better is that even the free version is enough for most hybrid workplace applications. It can accommodate up to 100 participants in one HD meeting. It even offers screen sharing capabilities and private video chat rooms.
You can schedule video conferences, organize meetings, or look at your recordings via a personal URL. You will get one after signing up for an account. Webex also offers paid plans. You have seen what its free plan can do, so you can just imagine what you can do with it if you decide to upgrade.
You can use this video conferencing software by downloading the app or logging into the website. That said, some users think that the desktop app offers a more seamless video conferencing experience.
3. Zoom
The word "zoom" took on a whole new meaning during the pandemic. Before, it meant speed or magnifying power; now, it is synonymous with video calls and video conferences.
Zoom is one of the most widespread video conferencing and collaboration tools in the market today, and it is easy to see why. It can bring remote and on-site teams together seamlessly, making a hybrid workplace not only possible but inevitable.
The app is very easy to set up, whether you are using mobile devices or desktops. It also offers a wide array of features that you can scale up if the need arises. One of the many things that make Zoom stand out is that it can host up to 1,000 attendees. Plus, it can display up to 49 videos simultaneously on the screen.
On top of this, screen sharing and file sharing are also possible in Zoom. You can record meetings in the cloud or locally to save valuable information. That's why it has been one of the most popular collaboration tools from the initial stages of the pandemic until now.
Another thing that people love about Zoom is that its free version has a lot to offer. It can accommodate up to 100 participants and host a 40-minute meeting for them, enough for personal use. However, it might be best to invest in one of the paid plans if you will use it mainly for work.
4. Microsoft Teams
Over a million companies all over the world use Microsoft 365. If your office is one of them, you should consider Microsoft Teams as a video conferencing software solution. Microsoft Teams offers full integration with Microsoft 365, which unlocks a whole other level of productivity.
With this setup, all members of an organization can schedule meetings and send invitations to one another more quickly. At the same time, guests from outside the company can still join by using their browsers. Employees can also integrate their digital workspace with their video conferencing software.
The software is already a powerful tool on its own, with screen sharing, live captions, call recording, and other functionalities. Users can even initiate a video conference straight from their chats.
With the additional complementary hardware options, Microsoft Teams has become one of the undisputed market leaders in this industry. Aside from its compatibility with Word, SharePoint, and other Microsoft applications, you can also integrate it with Skype for Business.
All in all, Microsoft Teams is a great video conferencing software to invest in, given how collaboration tools are becoming more ubiquitous in the workplace.
5. Whereby
Whereby is not among the industry's biggest names or heaviest hitters, but don't let its relative anonymity fool you. It is easy to use, customizable and offers many useful features—things that you find only in the best video conferencing software solutions today.
It allows you to create a meeting quickly and send a personal link to other participants. Even better, participants won't have to download anything else or register to join. All they have to do is click on the link once, and they are in.
On top of all these, Whereby comes with a very reasonable price tag. The catch is that the free tier can only host up to four participants. You have to upgrade to one of the paid plans if you want more attendees or need access to add-on features. Still, with its budget-friendly pricing, investing in it is not such a bad idea.
The Pro Plan gives you your meeting room link and offers great value to entrepreneurs and solo business owners. The Business Plan is ideal if you have a larger business. 
Aside from its affordability, Whereby's advantage lies in its simplicity. There is no need to download or install mobile apps to join the meeting. Also, the link works on all mobile devices or computers with an updated browser like Chrome.
That said, it has screen sharing and other video conferencing essentials. It even lets you customize using your company logo or colors!
6. Google Meet
Google has tried and fallen short on communication and chat apps before, but it has redeemed itself with Google Meet. The tech giant made the right move with the recent rebrand, where they streamlined everything into one platform (say goodbye to Google Hangouts).
In addition, Google Meet comes with a free version. You can even integrate it with your free personal Google account, your paid Google Workspace account, and other Google products.
Google improved this video conferencing software solution with business owners in mind. As such, you'll find that it can host many participants, has a user-friendly interface, and makes it easier to interact with clients. It even provides dedicated international dial-in numbers, maximizing the participation of all employees, even those who are on the go.  
What makes Google Meet better is that it works with other video conferencing solutions. It is compatible with Skype for Business, Cisco, Lifesize, and others, as long as you follow the required session protocols, like SIP and H.323.
The free tier can host up to 100 attendees for up to 60 minutes. It offers screen sharing for the entire screen, a window, or a specific file. It also has other essential features, like whiteboarding. If you pay for a premium account, you can host up to 250 participants and live stream to up to 100,000 other users in a domain.
7. GoToMeeting
There was a time when GoToMeeting dominated the digital communication scene. While those days are now gone, the fact remains that it is still a very reliable video conferencing solution. It comes with many features that businesses need to foster seamless communication.
GoToMeeting also has a few tricks up its sleeve that give it a leg up over many of its competitors. One example is the "Raise a Hand" feature, where participants can raise their hands digitally by clicking a button. Another is the polling feature that lets you launch a survey during the video meeting and generate a report after.
Of course, these capabilities include video conferencing must-haves, like screen sharing, web audio, and unlimited meetings.
Another thing you would like about this video conferencing solution is that it is great for mobile users. Anyone can create and launch a conference from their smartphone or join meetings with one tap. Also, you can tweak the settings to maximize image and sound quality on your device.
One knock against GoToMeeting is that its free plan can only host up to three participants. If you compare it to the free plan of other brands, you will be disappointed. Nevertheless, the most basic package would give you access to almost all the standard features.
8. ezTalks
ezTalks is another reputable company that specializes in video conferencing. It offers its software solutions on-premise or in the cloud. ezTalks has all the digital communication essentials, like screen sharing, video recording, interactive whiteboards, telephone call-ins, and many others.
However, before you think it is just one of your run-of-the-mill software solutions, note that it has a few things others don't.
For instance, ezTalks is known for its innovative approach to video conferencing. It uses cutting-edge video meeting protocols and other advanced features. Despite that, it has a user interface that is easy to navigate, even for first-timers. Plus, it is compatible with both Android and Apple devices, maximizing its accessibility.
The free plan is pretty competitive in terms of performance. It can host up to 100 participants for a total of 40 minutes, which is very good considering you paid nothing for it. What's more, it has room for an unlimited number of video recordings. With all its features, ezTalks can easily meet all your video conferencing needs, making your meetings more productive.
9. RingCentral Video
RingCentral developed business communications and collaboration solutions for midsize and larger businesses for many years. It changed gears a bit with RingCentral Video, an updated version of the company's previous video conferencing app called Glip.
RingCentral Video is more of a low-cost video conferencing software solution. However, it still packs a lot of value. It allows other users to join without having to install anything. In fact, they do not have to sign up for an account either.
Another good thing about RingCentral Video is that it lets users switch from one device to another during meetings. If your smartphone's battery suddenly runs low in the middle of a video call, this feature will come in handy.
From its long list of features, none stand out more than its integration of third-party platforms. It works with Slack and Microsoft 365, and Google Workspace users could also schedule calls on it.
A close second is RingCentral's analytics dashboard, a useful feature to help you monitor its performance. It allows you to identify issues right to the exact end-point and maximize video quality. That's why businesses that rely on clear communication lines for optimum productivity like it so much.
RingCentral Video comes with a free plan, which is pretty generous. It allows you access to useful tools that can facilitate seamless communication, especially calls. However, if team messaging is your priority, you might be better off with Slack.
10. ClickMeeting
If you are looking for a video conferencing software to help you host webinars like a pro, try ClickMeeting. It has all the features you need to make engaging presentations and productive discussions.
Firstly, it lets you share your screen with other participants with just a few clicks. You can then play slideshows or videos and even let them control your mouse. This feature is very helpful if there are interactive displays you need to explore together.
Next, it also supports question-and-answer sessions within a meeting. It lets you launch live polls so that you can get the opinions of the other participants. With these capabilities, you can collect valuable information and make the sessions more engaging at the same time.
Another thing that makes ClickMeeting very effective is that you can integrate it with analytical and marketing tools. You can use Google Analytics to analyze its performance or insert a Facebook pixel on your webinar page to track activity. The webinar page is also customizable, giving you an added platform to showcase your brand.     
As you can see, there are many ways that ClickMeeting can make meetings or webinars engaging and effective. It can even send automated follow-ups afterward so that you can build on the success of a great webinar. If you weigh all its value against its reasonable price tag, you can make the argument that it is one of the best video conferencing software solutions today.
11. Zoho Meeting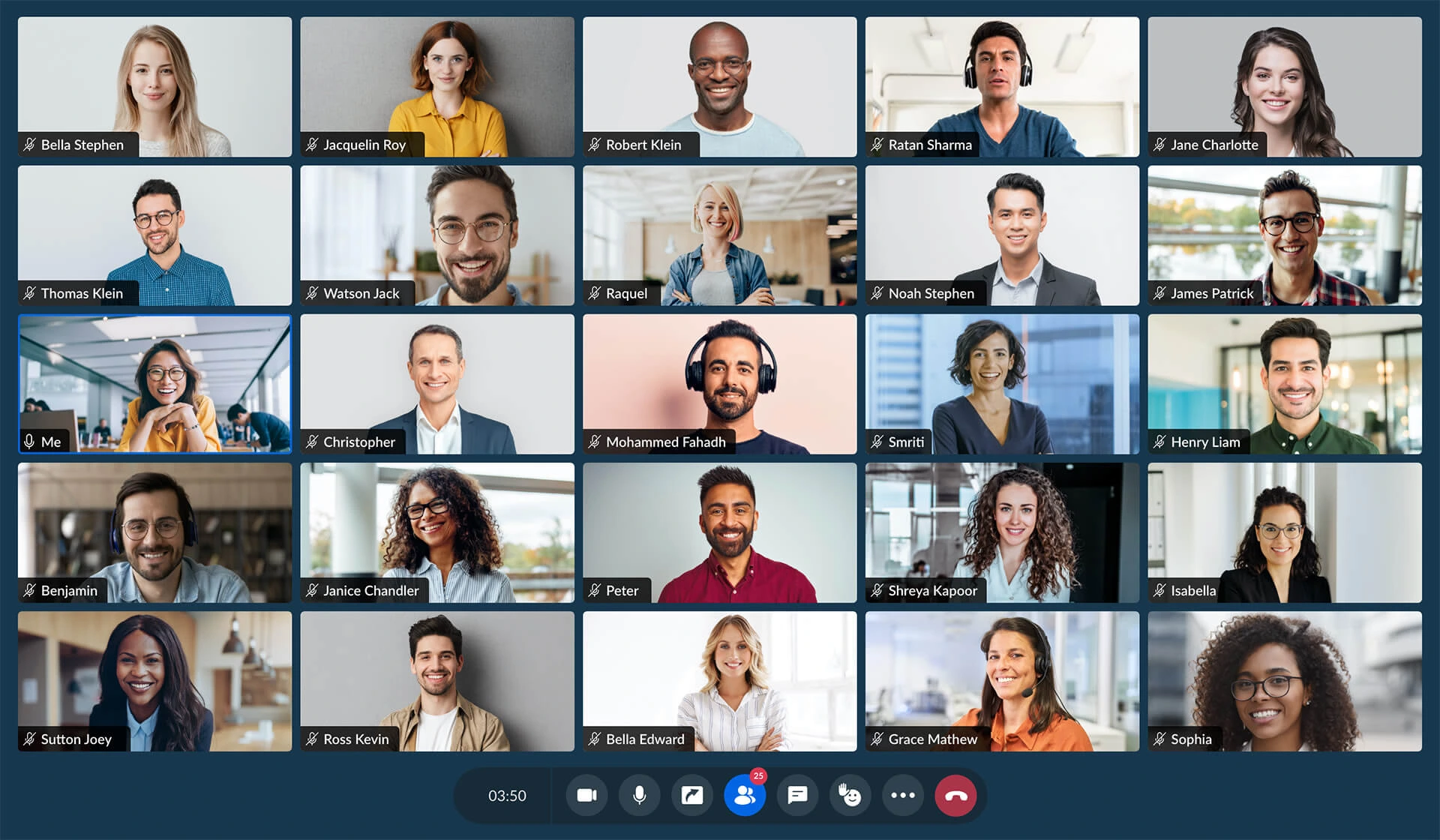 Zoho Meeting is a no-frills video conferencing software solution. That said, it does not have some of the advanced features that many of its top competitors have. For instance, it does not offer cloud video recording, so you won't be able to capture the interactions between employees.
Compared to other video conferencing platforms, it does not have a smart assistant that records video meetings and generates transcriptions automatically. If you use Outlook and other third-party services, you won't be able to integrate it seamlessly with Zoho Meeting. It is also not compatible with Microsoft Internet Explorer.
There is no whiteboard capability to make things a lot easier when it comes to brainstorming ideas. In addition, its basic package can host up to 10 participants only. Without all the niceties that other brands have, why does Zoho Meeting deserve to be among the best video conferencing software solutions today?
First is its budget-friendly price tag. Its paid plans are fairly affordable, even the one that can host up to 100 participants. It is a great option for small businesses that do not have the money for a fancy video conferencing tool. If you need something for more than 100 attendees, you will have to get Zoho Seminar. Still, even this comes at an attractive price point.
Next is its ease of use. There are no complex settings you need to adjust before you can start your first meeting. The screen sharing function is solid, and it can help you make compelling presentations.
Zoho Meeting only does a few things, but it does them exceptionally well. So, if you are looking for a cost-effective video conferencing tool, Zoho Meeting is a great option.
12. BlueJeans Meetings
Established in 2009, BlueJeans is a web-based video conferencing tool designed for small businesses and enterprises. It is the communication platform of choice for some of today's biggest companies, including Facebook, Intuit, and Grubhub.
BlueJeans does not have a free plan. However, if you want to give it a spin, you can use it for free for up to 30 days. Fair warning, though: once you try it, you might want more. It comes in three tiers: the ME plan, the MY TEAM plan, and the MY COMPANY plan.
The ME plan can host up to 50 participants on desktops or iOS and Android apps. You can schedule meetings from your Office 365, Outlook, or Google Calendar. Once the meeting starts, you can share the entire screen or specific applications only.
MY TEAM has room for up to 75 participants. It works with other popular platforms like Slack, HipChat, and Skype. Cloud video recording is available in this plan, although it is a bit limited. You could also access the command center and use the meeting analytics.
One exciting thing about the MY TEAM plan is that it features a web conferencing tool that can measure carbon emission savings.
The  MY COMPANY plan has unlimited cloud recording, a customizable interface, live meeting control, SIP trunking, and other advanced features. All these are on top of what the MY TEAM plan offers. It can also host up to 100 attendees.
That said, whatever plan you end up with, there's no denying it is one of the best video conferencing platforms for any business.
13. Lifesize
Lifesize offers cloud-based communication solutions for today's businesses. Its products are easy to implement and manage, and you can integrate them with other critical enterprise applications.
Lifesize Go is the free version of the company's collaboration platform. It is browser-based and can accommodate up to eight participants. You can use it to host any number of video meetings without any time limit. If you are on a desktop, use the screen sharing function.
A free plan is a great option for one-on-one meetings and small groups. As for the paid plans, there are three: the Lifesize Plus, Lifesize Enterprise, and Lifesize Organization.
Lifesize Plus has enough room for up to 300 participants, integrates with Microsoft applications, and offers one hour of cloud recording for every host. There is no time limit for the meetings, and it supports a single sign-on authentication method.
Lifesize Enterprise can host up to 500 participants, allows unlimited recordings, has live streaming, and offers premium support. Lastly, Lifesize Organization provides customization and branding options, live streaming to up to 10,000 viewers, and unlimited audio conferencing.
While it is clear that the Lifesize paid plans are solid, note that they are a bit pricier than some video conferencing solutions. Good thing you can try them out for 30 days to see if it is a good fit for your business.
14. FreeConference

While FreeConference comes with a free version, you have to pay for its other plans, so do not let the name mislead you. That said, the Free plan has essential features that meet many basic video conferencing needs. It can support up to 100 call participants or five web participants. Also, there is no limit on calls if they come from local numbers. 
The screen sharing and whiteboard functions are available, making collaborations in small teams much easier. With these functions, users can brainstorm ideas wherever they are. You can use the platform to share documents and even annotate them. Also, participants can break out into smaller rooms, although there is a time limit for this service.
That said, if you consider the fact that it is free, it is amazing how much value they are offering. They will even throw in email support to help you out if you encounter any problems. If you need to host more participants, you can try one of two paid plans: the Starter and the Pro.
The Starter plan can accommodate 100 call participants or 15 from the web. It also provides additional services, like meeting summary, access to international dial-in numbers, and phone support.
The Pro plan has a lot more to offer but has a higher price tag. It has enough room for 250 call participants or 250 web participants. Moreover, it has recording and transcription capabilities for both audio and video meetings. You can even customize the music when holding calls and send SMS invites to all participants.  
15. TeamViewer
TeamViewer is suitable for users of all levels. It is highly intuitive and easy to navigate, making it a great option for beginners. On the flip side, it has many extra features that advanced users would quickly fall in love with.
This platform is a versatile video conferencing tool that can connect people using any device and from any location with an internet connection. However, its flexibility is not its biggest draw.
If there is one problem that businesses and employees face in a hybrid workplace, it is security. Hackers can penetrate the company's network, especially if security best practices are lacking. It is here that TeamViewer really shines.
TeamViewer uses many security features that would stop cyber attackers in their tracks. One is end-to-end AES encryption, keeping hackers from getting their hands on sensitive business information. Another is brute force attack protection that protects usernames and passwords.
In short, you can use this platform without worrying about important data getting into the wrong hands. On top of all these, you have your video conferencing must-haves, like screen sharing, file transfers, VoIP calls, smart focus, and more. You can attend meetings from anywhere and enjoy security everywhere.
16. BigMarker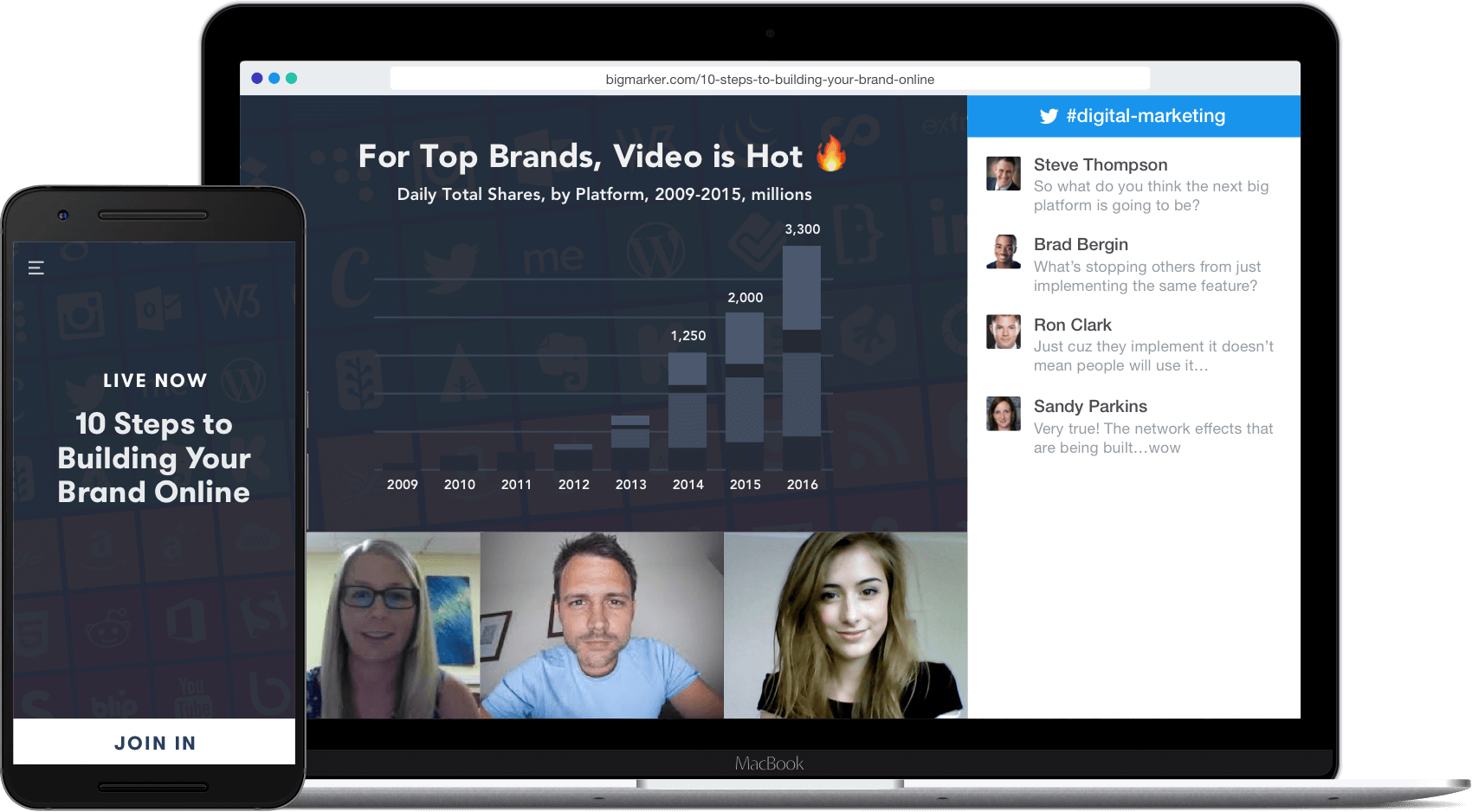 Founded in 2010, BigMarker's claim to fame is its highly customizable platform for hybrid events and webinars. It offers a wide range of products for online events, team meetings, and webinars.
What makes the BigMarker experience unique is that it is highly interactive and engaging. It has Polling, Answering and Publishing, Raise a Hand, Call-to-Action, and other integrated features. If you are looking for much more than just a video conferencing tool, try BigMarker.
Video Conferencing Software FAQs
1. Which one should I use, Skype or Zoom?
The free plans of both brands are fairly similar. They let you record sessions or share your screen with other participants. Both also have a chat function within a video call and are compatible with various operating systems.
However, Zoom has far more business features, including whiteboards, polling, meeting transcripts, and more. If it is for work, you are better off with Zoom.
2. Why should I use video conferencing software?
The right video conferencing tool lets you hold meetings effectively even if the participants are in different places. Beyond that, it brings everyone on the same page, helping you optimize productivity in a hybrid workplace.
3. Should I get a paid plan for my business?
It all depends on your needs. If a free plan lets you do the important things, there is no need to get a paid plan. However, if you need advanced features like branding options or a high level of security, you should upgrade to a paid plan.
4. What is VoIP?
VoIP or Voice over Internet Protocol is a piece of technology that lets you make calls using an internet connection. It does much more than what analog phones can do for a fraction of the cost.
5. How much do video conferencing software solutions usually cost?
The cost of video conferencing tools varies greatly from one brand to another. However, many of them have free versions that offer fewer features than paid versions. Also, paid plans come in different tiers. You will have no problem finding one that will fit your budget and meet your needs.
Choose the Right Video Conferencing Tool for You
Every organization is different, so what works for others may not work for you. The key is to identify your needs, whether that be cost-effectiveness, specific features, or the number of users. From there, you can choose which video conferencing tool ticks the most number of boxes in your wish list.