We are all familiar with the quote "first impression lasts." However, we always relate the phrase to people. What if you apply the same principle to your online store?
If you want to impress your customers, you have to dress up your shop. We want to help you beautify your online store by providing you with the best Shopify themes.
Best Shopify Themes
How your website looks plays a significant role in the success or failure of your online store. That is why many store owners go to great lengths when designing their eCommerce websites.
Fortunately, you will find some of the best Shopify templates in Shopify's Official Store or check other sources for other designs. Today, we will provide you with various free and paid Shopify themes you can use on your website.
Paid Shopify Themes: A Quick Overview
Shopify Theme
Price
Best Features
District
$180
Color swatchesDedicated support
Marketing email popup
Ella
$55
Drop-down shopping cart
Gorgeous child themes
Lazy loading
New themes monthly
Icon
$180
Parallax scrolling
Google web font
Vendy
$48
Several Integrations
Responsive interface
High-performing themes
Prestige
$300
Drag and drop tool
Customizable themes
Flexible layout
Streamline
$320
Fast loading
Focused designs
Flexible layout
Roxxe
$59
Trust Hero badge
Exit intent popup
Email collection bars
Quick announcement bars
Free shipping bar application
Testament
$180
High-end look
Flexible coordinate
Multi-column menu
Responsive
$220
Promotional banner
Multi-level menu
Customer testimonials
Hero video
Quick shop
Shella
$79
Responsive design
SEO optimized
Google rich snippet tool
Wokiee
$79
Banners section
Color, material, size swatches
Numerous filters
Tailor
$310
Customization options
Free theme updates
Customer support
Bullet
$250
Unlimited free trial
Free theme updates
Speed-tested
13 Best Paid Shopify Themes
If you're ready to reinvent the look of your Shopify store, here are the best Shopify templates worth investing in:
When looking for the best Shopify themes, consider District as an option. Created by Style Hatch, Inc., it is a highly customizable eCommerce theme best used for displaying featured collections and products, like clothing and accessories
The District Shopify theme has a functional design that allows customers to see the product image in detail. It is suitable for drop shippers, high-volume store owners processing many transactions, and visual storytellers.
This Shopify theme is priced at $180 and comes in three styles: District, Energy, and Coast.
What Are the Best Features of District?
Besides the District Shopify theme's default feature, other notable ones are worth checking out.
With this feature, potential customers can change the product's color depending on what is available, making it easier to choose which one they prefer.
Besides District's impressive user interface and user experience features, it has a responsive and excellent customer support team. You can contact them anytime with the assurance of getting the best solution to your concern at the soonest possible time.
A popup is an ad on a small window showing or popping up on the same page. This feature allows you to highlight significant products, sales, or promos currently on offer. You can use it to recapture your customer's attention before leaving the page.
One of the top sellers from the Themeforest site is the Ella Shopify theme. It is an affordable and feature-rich choice for eCommerce websites. With almost 20,000 sales, Ella is consistently on the top three Shopify theme best sellers weekly.
This Shopify theme became famous for its drag-and-drop design, excellent mobile-optimized layout, and user-friendly interface. It offers plenty of eye-catching, responsive, and well-designed Shopify templates.
Ella offers a regular license for $55, while an extended one amounts to $2,800, suitable for six months. You can continue both licenses for up to 12 months by paying $15 for the regular and $768.75 for the extended one.
What Are the Best Features of Ella?
Let's talk about the main features of the Ella theme that are comparable to premium Shopify themes.
The shopping cart will appear after the customer clicks on the icon, allowing them to see the bag's status without leaving the page.
The child theme replicates the parent template, including all the features and functionalities. Nevertheless, whatever changes you make to the parent theme will not affect the settings of the child's template.
Lazy loading is an improved technique for reducing online content memory usage and load time. This function only loads the requested product image while delaying the rest. Even so, your customers can go to your product pages to see everything.
Besides the regular Shopify theme updates, Ella releases new themes every month.
Icon has received awards proving it is one of the best Shopify themes in the market today. It is a product by We Are Underground from the Shopify Store and is ideal for businesses with image-focused content and eye-catching brands.
Icon's impressive reputation came from its excellent features, which allow Shopify store owners to create specific and compelling experiences. It has the same price as the District Shopify theme at $180, but it comes in four options: Dolce, Christian, Yves, and Vera.
What Are the Best Features of Icon?
In addition to its default features, Icon promotes the new standard for speed and customizability. Check out other noteworthy features this Shopify theme has to offer below:
Parallax scrolling is a technique for creating an animated action, allowing slow movement of the background images every time your customers scroll down the page. Currently, it has proven to enhance the user's experience efficiently.
The Google fonts integration feature suits art businesses offering huge fonts for a better customer experience. Choose a font that will reflect your objectives of designing a creative and unique online store for your customers.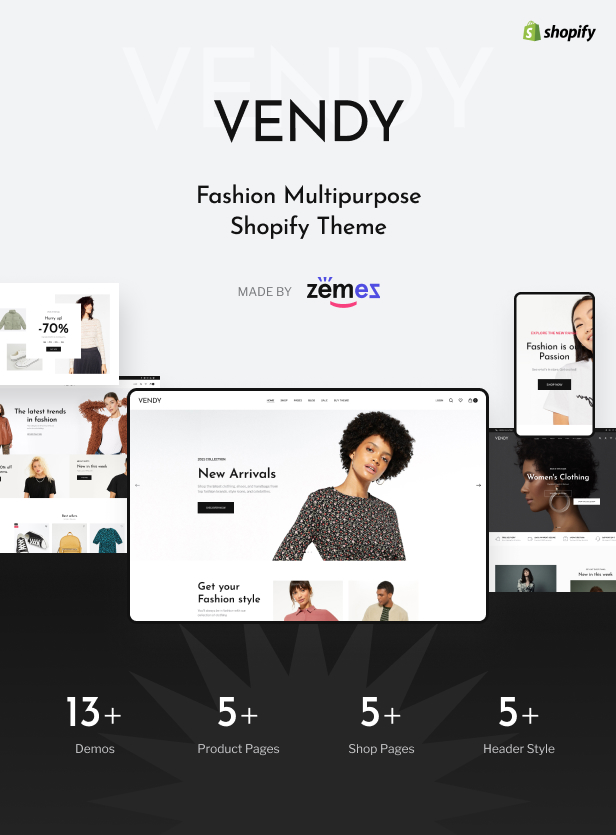 Vendy, a multipurpose Shopify theme, is designed to promote your fashion brand using smooth content integration and sleek styling. It is created by ZEMEZ, a well-known Shopify themes developer, specifically for fashion brands. Conversely, it is also suitable for any online store or niche.
Vendy's regular license amounts to $48, including six months of support from ZEMEZ and quality-checking by Envato.
What Are the Best Features of Vendy?
Your website's overall design is crucial to how you attract customers to your eCommerce store. Vendy's minimalist design will allow your brand's colors to stand out. Here are some features worth checking out:
Vendy offers several built-in integrations so that you can quickly expand the functions of your Shopify website. The first integration is Floatton, a floating link buttons app from Hura that will give people more access to your social media accounts or content.
Next is Vendy's integration of the FB messenger app. It connects the chat widget to your online store so that customers can message you about their concerns. Lastly, you'll find that it also works with various social media platforms, browsers, and payment providers.
Responsive and High-Performing
Vendy is a highly responsive multipurpose Shopify theme, making it usable across different platforms and devices. The minimalist design of Vendy makes it lightweight, so you can be sure it loads the page faster for a better user experience.
The Prestige Shopify theme by the expert Maestrooo is one of the best Shopify templates in the Shopify Theme Store, priced at $300.
What Are the Best Features of the Prestige Shopify theme?
To highlight your products or brands, you can choose from the three luxurious and high-end styles: Allure, Couture, and Vogue.
Which you pick depends on what your store needs and your preferences as the owner.
The Prestige Allure has a classic-modern style with a white-smoke background and dark tones. Allure uses Century Gothic and Futura fonts, completing its classic-modern look.
Similarly, Couture has a minimalist design like the Allure. However, it uses a brighter color palette for a softer and more relaxing effect.
Unlike the first two, Vogue has a more colorful design. You can easily play around with the color palette with these customization options.
The Streamline Shopify theme, developed by Archetype Themes, is perfect for today's ever-changing and -evolving audience. This quick and precise theme, priced at $320, comes with an eye-catching design and a flexible layout you customize according to your brand.
What Are the Best Features of the Streamline Shopify theme?
Here are some features that make the Streamline Shopify theme stand out:
Streamline is a mobile-friendly Shopify theme offering a new online experience. More than anything, it's focused design and quick load times will let you showcase your products effectively.
Showcase your products through GIF-style image animation, seamless video integration, stylish scrolling text, and branded font-first design with the Streamline Shopify theme.
Streamline makes sure that all the essential features are within reach of your thumbs. This design choice makes browsing and checking your products easier, even on a mobile phone.
7. Roxxe
Roxxe is a multipurpose Shopify theme with a powerful navigation system and pre-designed layouts allowing you to change and enhance the template. You can create your online store quickly from one of the unique store demos. Then, just make the necessary changes to customize it according to your design afterward.
Roxxe offers one of the best Shopify templates and works with a Shopify visual builder, allowing you to create different web forms and pages. For the regular license price of $59, you will also receive six-month assistance from ZEMEZ.
What Are the Best Features Roxxe?
Trust Hero badges
Exit Intent Popup
Email collection bars
Quick announcement bars
Free shipping bar application
8. Testament
Adding to the list of the best Shopify themes developed by We Are Underground is Testament. For $260, this mobile-friendly and responsive Shopify theme is conversion-focused to ensure a faster online shopping experience.
Its customization options made it one of the best Shopify themes for various industries, especially in the health and beauty niche.
At $180, you will get to choose from four styles of Testament: Genesis, Exodus, Revelation, and Deliverance.
Testament gives you detailed guidance through step-by-step documentation, lively video tutorials, and animated steps. Customers can easily see the product details through a pop-up window on the same page he is on.
What Are the Best Features of Testament?
Testament has a sticky navigation feature where the menu bar stays on top of your page. This way, your customers can quickly transfer to another section.
The Testament theme brings elegance, luxury, and class to any store. The key is finding the right balance between functionality and aesthetics.
The Testament's SEO-friendly features ensure your store works smoothly on all platforms and devices. It guarantees a higher ranking and loads faster than other Shopify themes.
This theme features a drop-down, multi-column menu, making it easier for potential customers to navigate your site.
9. Responsive
If you are looking for the best Shopify themes, Responsive is an excellent option. Its eCommerce template is perfect for housewares, homes, and garden businesses. It will help showcase your products' appearance in a customer's living space.
Responsive's excellent customization options allow you to modify the theme depending on your needs. This technically flexible theme from Out of the Sandbox has four styles: London, Paris, New York, and San Francisco.
It's priced at $220 and features a versatile sidebar, a currency conversion tool, a comprehensive layout, and an Instagram feed option.
What Are the Best Features of Responsive?
Promotional banner
Multi-level menu
Customer testimonials
Hero video
Quick shop
Product filtering
Product zoom
Related products
Versatile sidebar
Google maps
Special page templates
Megamenu
10. Shella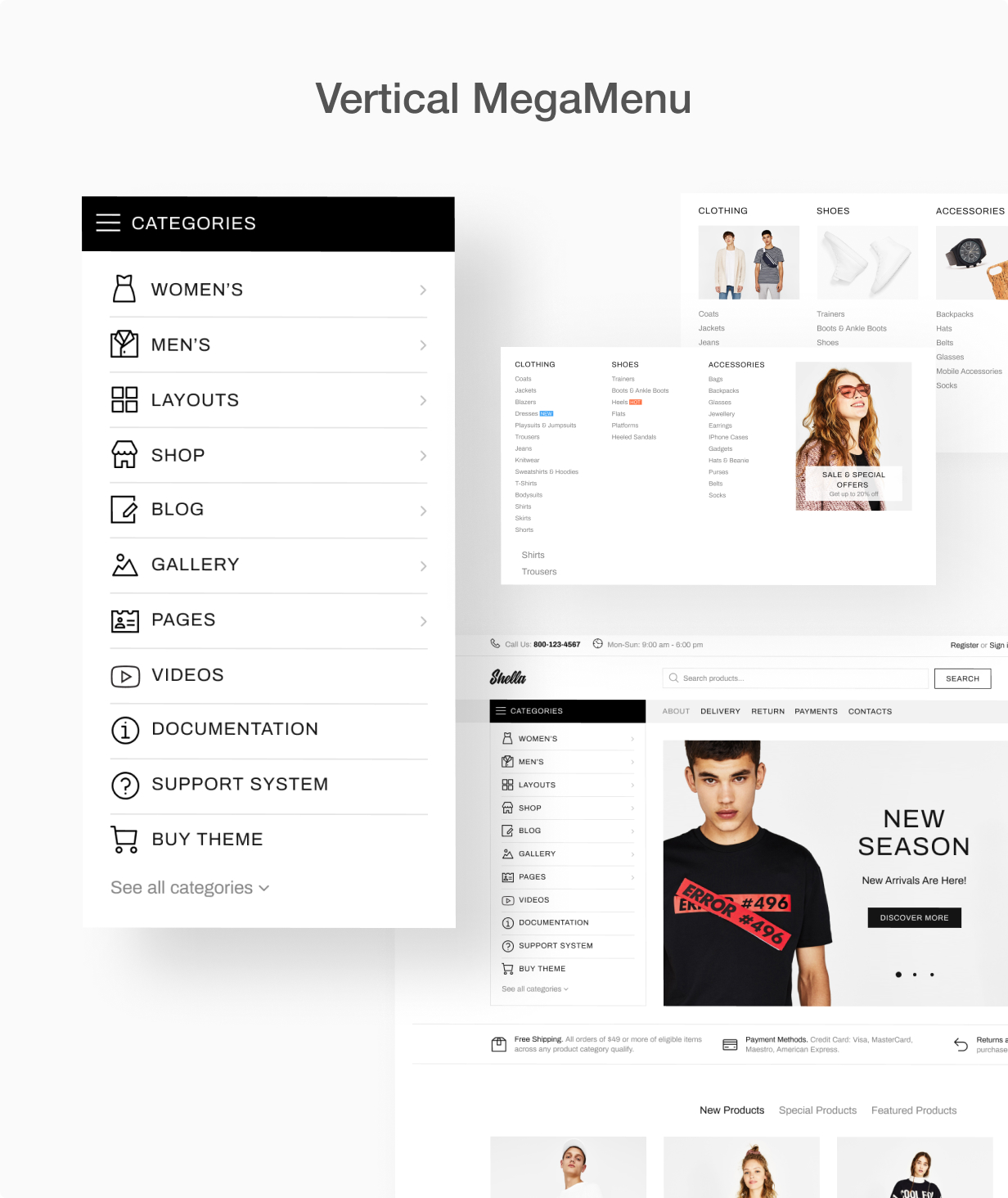 Shella is another multipurpose Shopify theme under the premium category. It is specifically designed for different kinds of eCommerce stores and merchants.
For $79, it has a responsive design that can easily attract online buyers through its various features, including banner builders, fashion icons, genuine collection filters, etc. It comes with 17 layouts and more than 80 site pages predesigned with built-in content.
Get more conversions by optimizing your niche and site using the SEO tool and the Google-rich snippet support. You can also use video players, full-screen sliders, custom sliders, or product features.
What Are the Best Features of Shella?
With several sophisticated design elements for a more responsive user interface, Shella is among the fastest Shopify themes.
SEO optimized
Google rich snippet tool
Newsletter popup
Shipping rates calculator
Full RTL support
Multi-purpose design
Powerful admin panel
11. Wokiee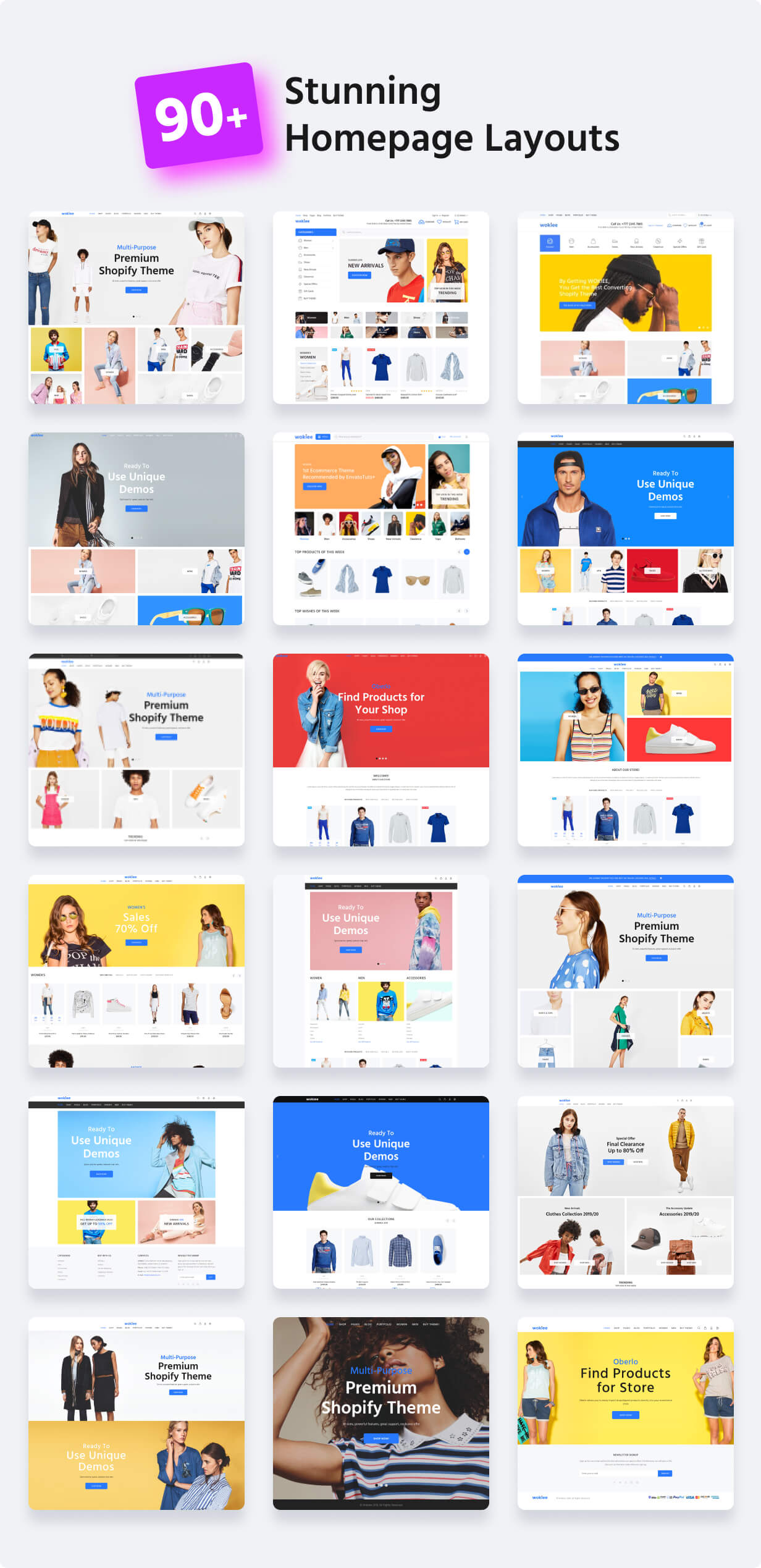 Wokiee is one of Themeforest Shopify themes that can make your eCommerce store look attractive, creative, and professional. You can buy regular and extended licenses for $79 and $1750, respectively. Also, you can create one website with free access to its content with a regular license.
Alternatively, an extended license allows you to create one site and charge anyone who wants to access its content. The license price includes multiple homepage layouts and header options.
What Are the Best Features Wokiee?
This flexible and multipurpose Shopify theme lets you make different arrangements to accommodate your customers better.
Banners section
Color, material, and size swatches
Numerous filters
AJAX search, filter, and load more button
Custom product tabs
12. Tailor
Tailor, from Pixel Union, is made explicitly for modern apparel brands. It comes with multiple customization options to help you sell more items.
For $310, you can create a beautiful and engaging product catalog with informative product details. Display your products using the configurable product page feature and use the cart recommendation feature for upselling other items from your store.
What Are the Best Features of Tailor?
The theme comes with default features, including
Free customer support
Free theme updates
Mobile-friendly design
Social media icons
Since the Tailor theme is specifically built for fashion merchants, you can add shoppable images to transform your site into a personal stylist. Browsing is more enjoyable through customizable product labels, color swatches on product cards, and a quick add-to-cart option.
13. Bullet
For $250, get the fastest Shopify theme from OpenThinking. Bullet offers a minimal grid-based design specific to contemporary brands. It works well with Shopify themes' latest features. While you'll get a free trial, there's a $250 one-time payment if you decide to publish.
What Are the Best Features of Bullet?
You will get the following features once you use the Bullet Shopify theme on your website.
Unlimited free trial
Free theme updates
Speed-tested and approved
Non-expiring license for one site
SEO-friendly markup
Free Shopify Themes: A Quick Overview
Free Shopify Theme
Best Features
Express
FastSlide-out cart
Mobile-first design
Brooklyn
Excellent navigation
Slideshow of products
Homepage video
Boundless
Minimalist
Debut
Customizable
Flexible
Easy to navigate
Debutify
Currency converter
Product slider
Customizable slideshow
Fashe
MinimalistFlexible
Minimal
Homepage video
Product-focused
Narrative
Storytelling
One-product display
Simple
Minimalist
Clean
Supply
CleanElegant
Venture
Outdoor feel
Voonex
Free basic version
12 Best Free Shopify Themes
Using free Shopify themes gives you access to beautiful theme designs and excellent functionality. It is not always necessary to choose premium Shopify themes as long as you know what you need for your site.
As its name suggests, Express is designed to help you get online quickly. In a nutshell, it allows you to display your content and products on one page. With the slide-out cart feature, customers can add items to their cart without going to another page.
Because it uses a mobile-first design, this theme is ideal for mobile commerce and smaller devices. The general design of the Express theme is directed at stores with a small inventory.
Through the quick buy feature, customers can add items to the cart without leaving the page and heading straight to checkout. Merchants can display all their collections on the home page.
2. Brooklyn
Another theme supported by Shopify is the Shopify Brooklyn theme. Thanks to its mobile-first responsive design, you can expect excellent navigation with this theme. That said, the Shopify Brooklyn theme is suitable for merchants with fewer products.
Showing a slideshow of product images on the top fullscreen is an eye-catching feature. It is perfect for modern apparel online stores, as it focuses on brand imagery.
Moreover, the header slideshow allows you to display several products at the top of your home page. Also, the product layout changes. With the homepage video feature, you can add a YouTube or Vimeo video to enhance your website.
3. Boundless
Boundless is the perfect free theme for those whose strong point is posting high-quality photographs of their products. It is a minimalist theme that displays your photography at the center and front of the page.
This free theme will use those quality product images as the focal point of your online store. Overall, it offers a minimalist approach to selling your brand or product.
4. Debut
Many merchants look at Debut as one of the best Shopify themes around, and it's easy to see why. This free Shopify theme is customizable, fast, flexible, and easy to navigate. You can use it in different types of stores, and it is both desktop- and mobile-friendly.
The Debut theme is supported and distributed by the Shopify theme store and can display your brand or product beautifully.
Its best features include pickup availability, customer testimonials, slideshow, and home page video. You also get to add a promotional banner, product recommendations, predictive search, and product filtering.
5. Debutify
If you want an alternative theme to Shopify-distributed ones, you may want to consider the simple Debutify. It has a fast page-loading speed that does not require coding, eliminating instances of cart abandonment.
Even though Debutify is a free theme, it is filled with advanced options beneficial for merchants and buyers. Merchants can add an advanced product filter, customer testimonials, a customizable footer, or a featured image slider.
Other features you will find useful include a currency converter, product sliders, a customizable slideshow, and a customizable header and footer. With Debutify, you can also enjoy a guarantee bar, product images and product descriptions, related products, and product testimonials.
6. Fashe
Fashe, developed by Colorlib, is a free Shopify them that works well because of its minimalist design. It is the perfect Shopify theme for stores under different categories, whether that be an electronic product or a bakery.
Although Fashe may look overly simplistic for some customers, how you customize your site would determine its overall look.
7. Minimal
Have you heard of the saying, "less is more?" Sometimes, we need a plain and simple website to attract people, like the Minimal theme.
The Minimal theme uses the grid format when arranging the products for layout. It offers searchable category pages, while customers can use the product image zoom feature to check the details of HD pictures.
As the name suggests, Minimal is for those with a limited number of products. It can showcase large HD images and turn them into a slideshow. Merchants can increase their sales by using the "related products" feature, subtly suggesting items similar to what is inside the cart.
Other key features include a product-focused design, three styling options, and a homepage video. Supported by Shopify, Minimal is a reliable and free theme for small inventory.
8. Narrative
As its name implies, the Narrative theme is great at storytelling, as it features a single product. It is specifically designed to showcase one product at a time, highlighting its benefits on one page.
9. Simple
The Simple Shopify theme is consistent when it comes to getting good reviews from its users. It has a clean and minimalist design with basic functionalities. The best part is that this easy-to-setup free Shopify theme has a massive area of product image display.
10. Supply
The Supply theme is designed for websites with a large inventory, making it one of the best Shopify themes for different industries.
Both blue and light layouts look clean and elegant, while the grid layout lets you view the products in large numbers. Merchants can filter the pages into different criteria. Furthermore, it stands out because it supports all currencies.
11. Venture
The Venture is among Shopify's free themes mainly designed for dropshipping stores selling many products online. This free Shopify theme has an outdoorsy feel perfect for those who want a different twist to their pictures. It is the perfect theme for merchants targeting adventure and sports products.
12. Voonex
Voonex is a free theme designed for an eCommerce website featuring any kind of event. Its features include event information, sponsors, speaker profiles, schedule, and venue.
The basic version of Voonex is free to use but has limited features. If you want additional options, you can upgrade to the premium version for $56.
What Is eCommerce?
Electronic commerce or eCommerce is a business model allowing people or companies to buy and sell online, whether goods or services. Computers, smartphones, tablets, and other smart devices make transactions over the internet quick and easy.
An eCommerce website is slowly becoming a substitute for a physical store, though you will still find store owners who want to have both. It has helped small businesses establish a broader market for their products while providing efficient and affordable distribution channels.
What Is Shopify?
Shopify, Inc. is a Canadian eCommerce company with headquarters in Ontario. Also, it's the name of an eCommerce platform where you will find online stores and retail POS systems. This subscription-based commerce platform allows people to build an online store and market their products.
With all the competition online, simply posting your products on your page is not an assurance that someone will buy them. You first have to attract online users to visit your store. One way to do that is to customize your store and make it more appealing.
That's where the Shopify themes come in.
What Are Shopify Themes?
Shopify themes are patterns or templates you use to distinguish your eCommerce website from others. These Shopify themes differ in styles and layouts, with each design providing a different user experience.
Therefore, the design you choose is crucial to your eCommerce platform. You have to select a theme based on your niche.
Your Shopify theme will showcase your brand's personality, similar to a human characteristic. Thus, it can attract people who can relate to what your page is projecting. Additionally, the Shopify theme is essential to the overall design of your online store. It will determine its aesthetics, color schemes, layout, and navigation.
How To Choose a Shopify Theme
Are you excited to shop for a Shopify theme? First, let us give you tips on choosing the best Shopify templates for your eCommerce stores.
Decide on Your Budget
The first step in choosing a Shopify theme is to decide on a budget, as these templates have different prices. There are several factors why the prices vary.
Themes made by well-known developers are sometimes more expensive than others. The theme's flexibility and customization level may also affect its price. Most templates with a drag and drop function are pricier than others with a more straightforward design.
Another deciding factor for a theme's price is the amount of functionality it has to offer. Those with limited functions are more affordable. The more expensive ones come with added functionalities and give you the freedom to do as you please to your eCommerce store.
Choose From the Shopify Store First
Many Shopify theme developers sell their designs on platforms other than the theme store. Buying from the official Shopify store is highly recommended because all submitted designs are carefully screened for security and quality.
Also, it is easier to get regular updates and customer support if you buy templates from Shopify's official store.
Know the Features and Functions You Need
Having a clear definition of what you want and need for your eCommerce theme is essential to finding the perfect option for your Shopify website. A Shopify theme with all or most of the features you need will save you from extra expenses for upgrades.
However, it is impossible to find a theme complete with all your required features. Therefore, choose one with most of the functionalities you want. Go to the preview page of your preferred Shopify theme to check on its features. You can also open the theme demo to verify.
Another way for you to check the theme's features is by going to the live store example, and working your way around it.
Consider Your Niche
Most developers create themes specific to a particular industry. That's why ensure that you need to choose a theme appropriate for your niche.
While searching for a Shopify theme, try filtering your choices according to your niche. You can search for them in the official Shopify store by the number of products and their specific industries.
Design and Aesthetics
The design and aesthetics of your eCommerce store play a significant factor in attracting and retaining customers. An excellent Shopify theme typically has an attractive storefront, color palettes that go well with your branding, and an easy-to-understand user interface.
Choose a Lightweight and Mobile-friendly Shopify Theme
The speed of your website is crucial to the bounce rate, conversions, and search rankings of your business. If you want to succeed with your online venture, choose a lightweight and mobile-friendly Shopify theme.
Lightweight themes give priority to their speed and performance. They try to avoid unnecessary features like animations and fancy scrollers. To find the fastest Shopify theme, do not use busy elements that will only add to the file size, slowing the response time.
Another benefit of lightweight themes is their simple design, allowing customers to navigate the website easily. In addition, a mobile-friendly Shopify theme guarantees a fast and easy-to-use website.
Improved Checkout
Most average online stores experience revenue losses due to cart abandonment because of complicated checkout systems. Thus, looking for Shopify themes with innovative add-to-cart buttons and an improved checkout process would be best.
Apart from this, look for the best Shopify templates where customers can quickly check their order total before checkout. Make sure you choose a Shopify theme with a straightforward checkout process to prevent sales loss.
Frequently Asked Questions
1. Is it worth buying a theme on Shopify?
If you are serious about your venture into Shopify, buying a Shopify theme will be your best investment. You might spend a tiny amount at first, but you will gain more as you continue your online venture.
If you don't have the means to buy a theme yet, you can start with the free version. However, you will want to purchase one with exclusive features eventually.
2. What makes a good theme?
A good theme should not be determined by its price. You can choose a free one, but you must not settle for a plain or a basic design. Find a highly customizable theme and personalize it according to your brand's design and business goals.
Also, check the site speed of the theme you want to ensure there will be no cart abandonment. More importantly, it should load fast on any device.
A good theme should match and represent your business or brand, including logo, fonts, and even color schemes.
Further, you must have excellent customer support, especially if you are trying to build your online store for the first time. You must be able to reach someone to help you with your site concerns.
3. Why are Shopify themes expensive?
We always hear the saying, "you get what you pay for," especially when buying affordable things online or in-store. A Shopify theme's pricing typically relates to various factors contributing to its overall quality and value.
The most notable aspect of most affordable themes is the level of support provided by the developer. In most instances, low-priced themes won't have high-quality permission or none.
Theme maintenance is another factor you need to consider. One requires time and resources for a Shopify theme's upkeep; hence, the high price.
4. Do you need to be a designer or developer to use Shopify?
You don't need to be a designer or developer to enjoy the benefits of Shopify. Instead, you can customize your website using the platform's online store builder and themes.
5. Which is better, free or paid themes?
When it comes to design, paid Shopify themes provide more customizable options than free ones. Free themes typically offer a standard layout and a limited selection of colors and fonts. Paid themes boast plenty of customizations and other advanced settings.
It is hard to know how slow or fast your chosen theme is unless you have read reviews or asked about its performance. Most free themes load faster because there are not many components to load. Also, they are almost always supported by Shopify.
That said, it doesn't mean that paid ones are slow. In fact, most of them are designed and developed by professionals.
In general, free themes are easier to use because they don't have many advanced settings. However, it is still better to get paid Shopify themes to have more options to customize your site.
Reinventing Your Shopify Store
Your page design is essential to the success of your website. Therefore, choose the best Shopify theme that will complement your brand excellently. Some free Shopify themes may limit the customization you can do with your site. Even so, you can still find one that will go well with your brand.
The key is to do the research to find the best one that matches all your website's needs. With the list we provided, we hope your hunt for the best Shopify templates becomes less of a hassle.