In 2018, the 3D motion capture global market was estimated at $129.4 million. Last year, it was at $200 million. Industry experts believe that by 2028, this will blow up to $664 million.
Based on this trend, we can safely make two assumptions:
The demand for motion capture technology will keep on growing.
With increasing competition, you will need the best motion capture software to dominate.
If you work with custom animations, whether professionally or recreationally, having the right tools will make your life much easier. However, finding "the one" is harder than it sounds, given how many motion capture software solutions are out there.
We have done most of the heavy lifting for you by taking a closer look at some of your best options today. After reading, you should have a clear choice or a better idea of what key features to look for.
Best Motion Capture Software: An Overview
The best motion capture software can copy natural movements and facial features, creating digital character models that behave realistically. Based on this and other key features, these are the top software solutions for 2023:
| | | |
| --- | --- | --- |
| Software | Free Version | Best Features |
| Adobe Animate | Free trial for seven days | Best motion capture software for 2D animation |
| Adobe Premiere Pro | Free trial for seven days | Professional-level video editing |
| 3DS Max | Free trial for 30 days | A feature-packed animation toolkit |
| Motionbuilder | Free trial for 30 days | Several physics engines and other features that enhance usability |
| Cyberlink PowerDirector | Yes (PowerDirector Essential) | An intuitive motion tracking feature |
| VideoStudio | Free trial for 30 days | Best motion capture software for beginners and hobbyists |
| MakeHuman | Yes (Open source) | Best motion capture software for creating humanoids |
| Davinci Resolve | Yes | Very powerful video production software |
| Houdini | Yes (Houdini apprentice) | Uses nodes to create custom animations |
| Synfig | Yes (Open source) | Excellent for 2D animation |
| Daz 3D | Yes | Realistic human models |
Best Motion Capture Software Reviews
1. Adobe Animate CC
Adobe products are highly regarded in terms of their creative applications, and Animate CC does not disappoint. It is hands down one of the best motion capture software for making 2D animations, and there are many reasons why.
Firstly, it can adjust separate colors using color swatches for the entire project. It also has an advanced layering tool that integrates the z-axis into the user interface. This gives you more control over the movement of the camera.
The color-code onion skin function makes it easier to distinguish the previous frame from the next frame. This will come in handy when doing frame-by-frame animation. The drag-and-drop functionality is also a nice feature, as well as the scripting tool, which allows you to add complex interactivity and playback control.
The program also supports raster graphics, audio, and video embedding, rich text, and more. However, among its long list of features, perhaps the most helpful is the animation timeline. You can use it to organize your content over time, layer by layer, and frame by frame. With this capability, you can create a stunning character animation with minimal effort. 
Adobe Animate CC is the go-to animation software for people who want to design vector graphics for TV, websites, commercials, game development, and more. That said, you would have to invest long hours in mastering it, mainly if you are not used to Adobe Suite.
2. Adobe Premiere Pro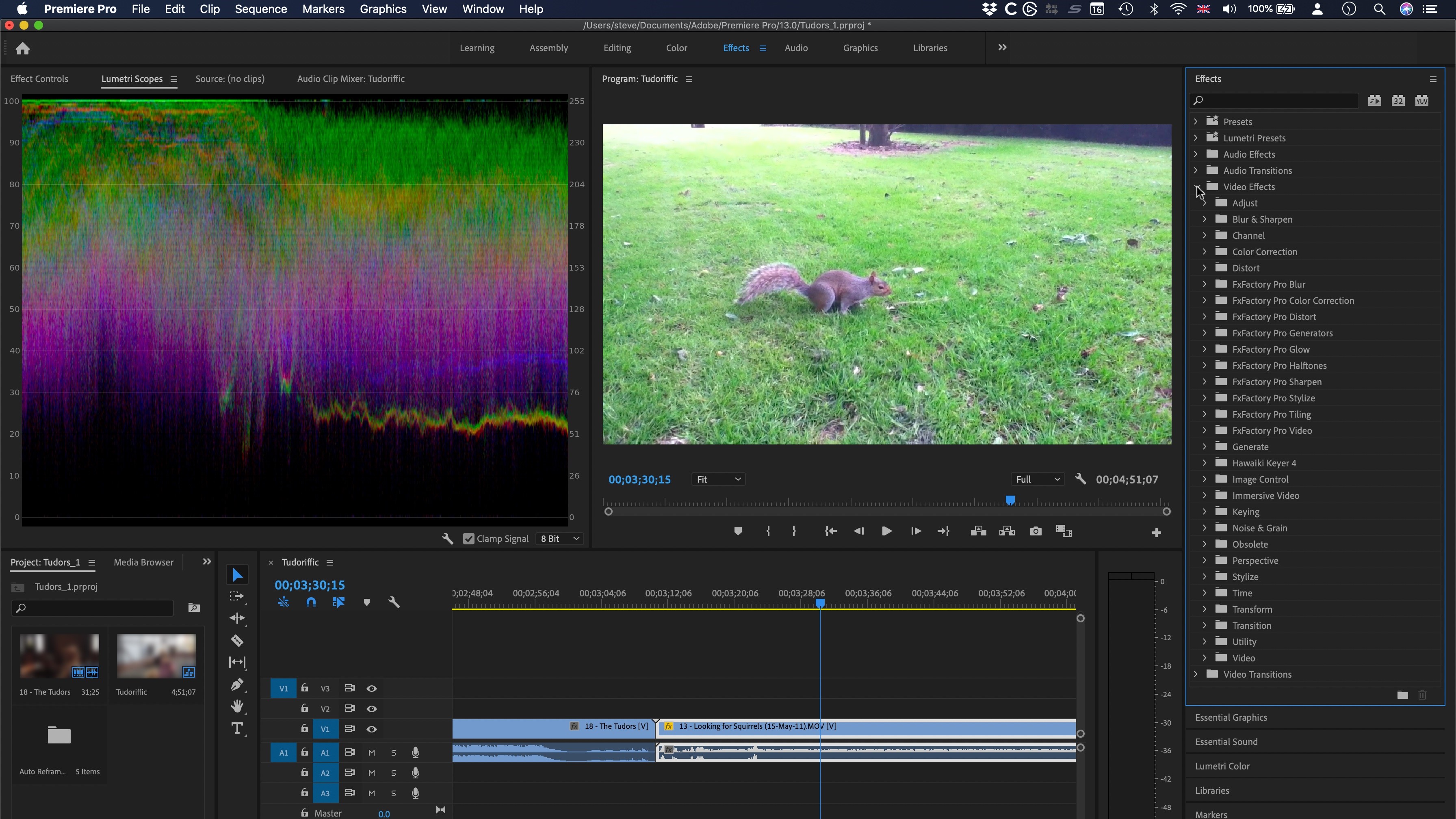 Adobe makes another appearance on this list with Premiere Pro. This motion capture software has set the bar high with its nonlinear video editing interface, advanced tools, and powerful features since 2003. It continues to do so even to this day. 
The newest version of Premiere Pro features a familiar interface. It has the startup view that lets you get to ongoing projects, launch new ones, or search for old ones quickly. The program window is dark, making your video footage the center of attention. You can also switch seamlessly among workspaces for video editing, video effects, and more.
That said, Premiere Pro has learned a lot of new tricks over the years. If it has been a while since you used it, you might be surprised at how much it has improved. It now has caption tools, copy-and-paste audio effects, faster playback, and instant project templates where you can drop your own media.
This program also supports ProRes, which is the video format used by Apple. Plus, there is a share button that lets you export projects quickly and in the desired output format. The list goes on.
Its name says it all—Premiere Pro is your best option if you are looking for professional-level mocap software. If it is just for personal use, Premiere Elements might be more suitable.
3. 3DS Max
3DS Max is an animation software that boasts advanced motion capture capabilities. As such, it is popular among professionals involved in game development and video production. There are many things that make 3DS Max a must-have animation software for users with strict requirements.
First are the two-character animation utilities. With this feature, you can design bipedal characters or bring non-humanoid objects to life. It also has an automatic rig tool for crowd animation. These capabilities are helpful in the gaming and entertainment industries.
The Motion Paths function lets you preview the paths your animated objects will take. It allows you to make adjustments directly in the viewport and make them move the way you want them to in real-time.
When it comes to VFX, it has combustion and magic particle effects. It also has solid character modeling tools that allow you to build new models from scratch or sculpt them from existing ones.
The 3DS toolkit offers much more, including 3D polygon models, textures, and lighting. It even has rendering software you can use to preview scenes in near-finished quality, which can streamline the whole process and make you more efficient.
That said, please note that 3DS is a bit on the expensive side. Also, given all that 3DS is capable of doing, it would work best in the hands of a professional.
4. Motionbuilder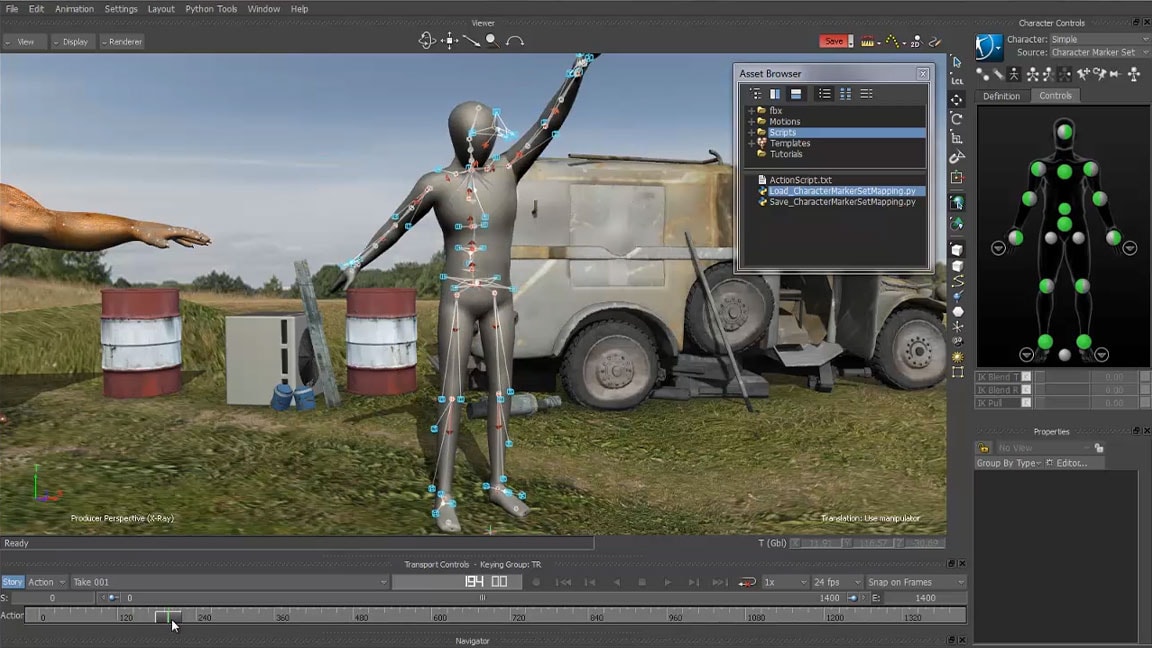 Motionbuilder is another motion capture software from Autodesk, the same company that made 3DS Max. Like the previous option, it has an array of advanced features that make it a great option for professionals and serious users.
First on the list is keyframe animation, which you can use to change magnification, framing, color, or audio. You can also use it to rotate the image or fade in and out.
Of course, it also has motion capture capabilities and virtual production functionalities, giving the different characters realistic movements. It offers single-pixel editing, which will help you control the tiniest details and allow the models to move consistently with precision and speed.
This motion capture software is equipped with several physics engines to initiate movements in a dynamic manner. One example is the ragdoll physics, which you can use to animate falling models.
All these features allow Motionbuilder to perform real-time 3D character animation with realistic movements, the likes of which you often see in today's animated films and video games. The motion capture capability is enhanced by keyframe animations and other layers to generate specific visual effects or to finetune animation.
Like 3DS Max, Motionbuilder is a bit pricier than others, but it does come with a software development kit. You could also try it out for free for 30 days to see if it is indeed the best motion capture software for you.
5. Cyberlink PowerDirector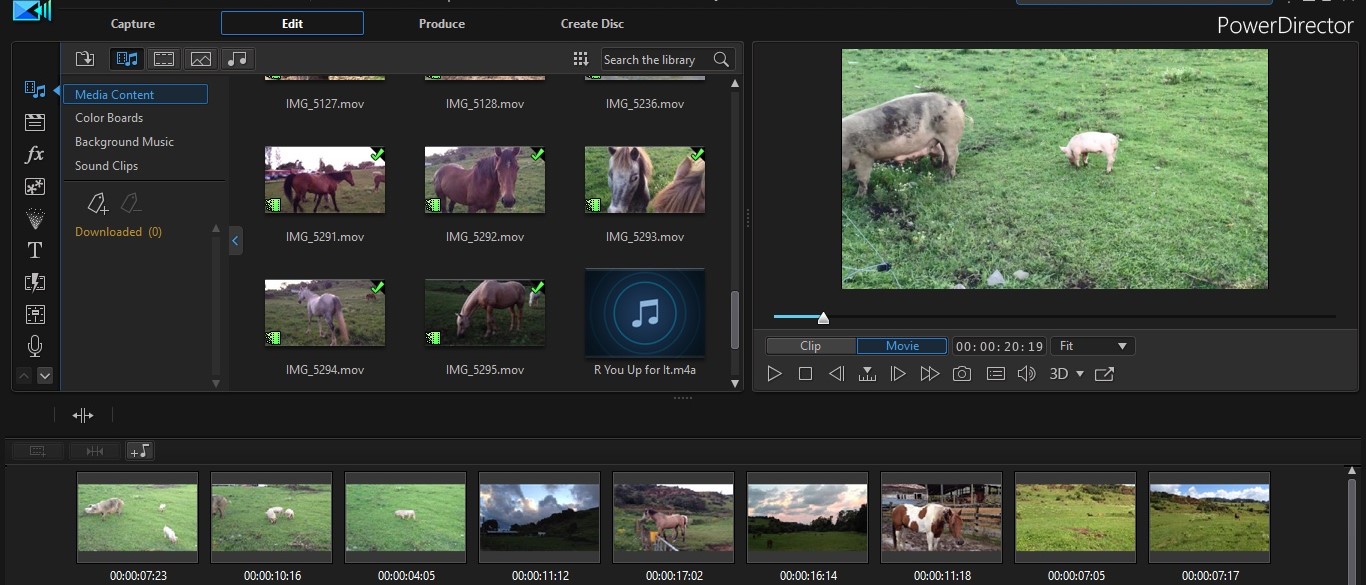 The Cyberlink PowerDirector is another advanced motion capture software that can help professional animators create realistic movements. It comes with high-quality video editing tools integrated into a streamlined user interface that is easy for beginners to use.
The video editing toolkit is comprehensive and includes 360-degree editing. It also supports keyframing, which lets you optimize the effects between frames. Once you have edited between frames, the software will take care of the rest, creating a seamless and blended transition.
What makes the Cyberlink PowerDirector stand out is that its motion tracking feature is highly intuitive. Again, this quality makes it easier even for beginners to achieve spectacular results.
The motion trackers can easily track objects and people in your footage, allowing you to create realistic movements that emulate how people or objects behave naturally.
Granted, motion tracking is not a standalone effect. Instead, it is the cornerstone of stunning visual effects. That's why motion capture technology is very important in game development and animated films.
Cyberlink has multiple plans, so you can choose whichever fits your budget. There are also special offers at any given time, so make sure you check out its website. Best of all, this motion capture software comes with a free version called PowerDirector Essential.
6. VideoStudio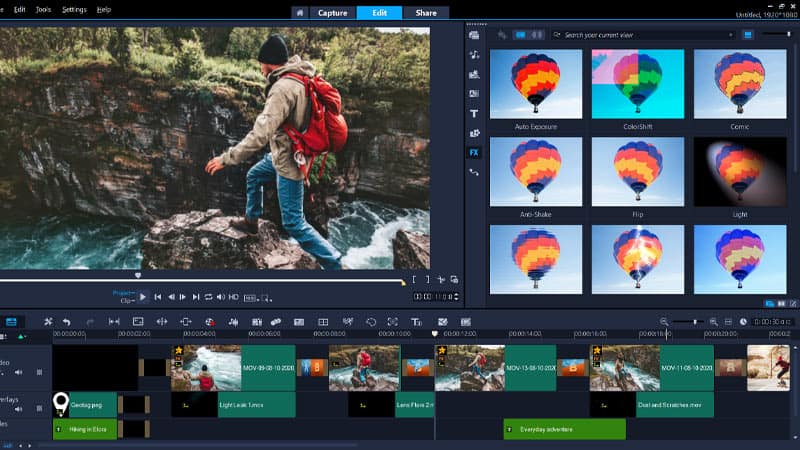 VideoStudio is one of many brands under the umbrella of Corel, a company that provides different productivity solutions for professional creativity. This motion capture software can help you edit videos easily, making it a great option for beginners and hobbyists.
Make no mistake—VideoStudio has a comprehensive editing suite and offers all the functionalities you need for engaging character animation. It is even widely considered a go-to software program for virtual reality content. You can use its motion tracking feature to track various subjects and even blur faces.
The beauty of VideoStudio lies in its ease of use. Despite having advanced features, you won't have to go through a very steep learning curve. Many of its functionalities are automatic, like the instant project templates that are just waiting for you to tap into. Moreover, the user interface is fairly simple, and anyone with minimal experience can navigate it confidently.
VideoStudio comes in two versions: the Pro and the Ultimate. VideoStudio packs more video editing power with its add-ons and special visual effects. You can use either one for free for a total of 30 days, which is longer than with some other software programs.
7. MakeHuman
MakeHuman is a bit basic compared to the top motion capture software programs today. However, it stands out in two ways. For one, it is among the best in terms of character customization. It has built-in functionalities that let you change your character's gender, age, skin tone, weight, and height. It even lets you play around with your facial features.
What's more, all these things are adjustable using some sliders. You could also change the attire of your character from a selection of clothing items. Doing this makes your animation project more realistic.
The second thing that makes MakeHuman unique is that it is a free motion capture software. It is an open-source program developed by an online community of programmers and other individuals. You can get the latest versions from the Downloads section on its website.
8. DaVinci Resolve
DaVinci Resolve is massively powerful, and it is a favorite among professionals. That said, it also comes with a free version, which is no slouch, either. That's why it has attracted a cult following from ambitious enthusiasts.
This motion capture software has everything you would need to make a compelling video, including cutting, keyframing, motion graphics, and audio production. Its interface is a bit different from some other programs, though.
Instead of using the usual "modes," it uses "pages." There are seven of them, one each for Color, Cut, Deliver, and others. You will see them as buttons running side-by-side at the program window's bottom.
It takes some getting used to, and there is a steep learning curve if you want to master all the features. However, once you do, you can make magic happen and give life to characters like never before.
9. Houdini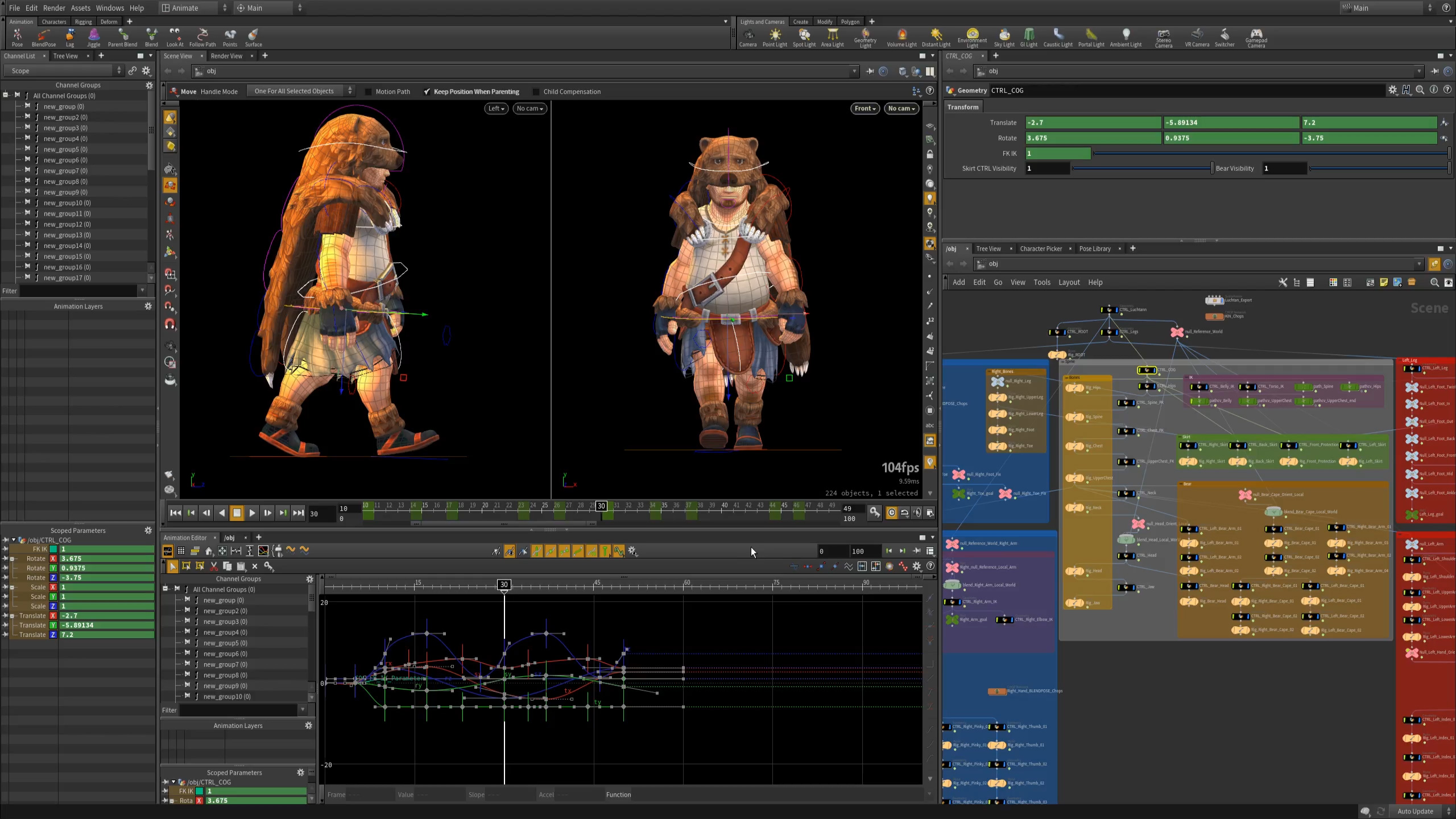 Houdini is another motion capture software that can hold its own against today's top programs. It lets you set and customize animations using a node-based visual scripting method. It also uses a system that lets you change the model quickly and adjust individual values to process complicated geometrical calculations with ease.
With its automatic rig tool, you can use Houdini to animate two-legged and four-legged 3D models quickly. As such, you can say goodbye to manually doing this part of the process. It also has a muscle simulation system that is highly life-like, making your bipedal and quadrupedal animations.
Note that the user interface is a bit complex, so you might need some practice, especially if you are new to it. Also, updates are few and far between.
10. Synfig
Synfig is an excellent motion capture software if you are focused on 2D animations. It uses a bone method to rig characters, making them capable of natural movement. The distinctive result is very refreshing, especially when compared to what many other software programs do.
On top of this, Synfig features a cutting-edge HDR compositing system. It lets you deploy different visual effects right in the software. The Sound Layer is a nice touch, as it helps you synchronize your animations with the audio.
What makes Synfig a good option for beginners is that it's free. It is an open-source 2D animation suite similar to MakeHuman. You can get all the source code on GitHub.
11. Daz 3D
Established in 2000, Daz 3D helps 3D artists and designers generate high-quality renders and animations. It even created Daz Studio, a free motion capture software suite with a lot of built-in functions.
Daz Studio has an extensive selection of preset models you can use to create your own. You could also buy one from the Daz 3D marketplace if you see something you like better. Using the puppeteer tool, you can create custom characters within seconds, and breathe life into them using your rigs, poses, or renders. 
While this software was designed mainly for hobbyists, you can become a published artist by selling one of your works on the website. Not only will you get paid, but you will also gain access to exclusive perks and other offers.
Motion Capture Software FAQs
1. What is motion capture software used for?
Motion capture software records natural movements and lets you transfer this information to digital objects, making them behave realistically.
2. What industries use motion capture?
Motion capture software is used in making animated films, developing games, and creating visual content for other applications.
3. How much does motion capture software cost?
The price of a motion capture software program varies significantly from one brand to another. Some might cost you tens of dollars, while others might set you back by hundreds. Most of these programs have a trial version you can use before making a bigger financial commitment. There are also free versions that don't cost anything at all.
4. Why should I use motion capture software?
While it is possible to create animations manually, the whole process is time-consuming and tedious. Motion capture software can streamline the process, giving you professional-level results in a fraction of the time.
5. What do I need to use motion capture software?
There are mocap software programs that run on smartphones, but most of them need an advanced computer to work properly. Aside from a smartphone or computer, you would also need a video camera to capture the movements.
Find the Right Software for You
Motion capture is a key ingredient of animation. If you want to be successful, you need a software program that not only offers mocap but a ton of other features as well. We have laid out some of your best options, from free to cost-effective to premium products. With these in mind, you can now take your pick and start your animation journey the right way.