Flowchart software is a fantastic tool for visual data representation through easy-to-follow workflow diagrams and organizational charts.
The best flowchart software offers an extensive library of templates, creative objects, and multiple file export and import options.
It makes your presentations more compelling and leaves a lasting impression on the audience.
Research shows that flowcharts help people remember complex processes and in recalling interactions.
However, not every flowchart program on the market is effective. Some software makes the processes so complicated that its usage becomes ineffective.
That's why knowing which online flowchart software is the best is essential to getting the maximum results out of your data representation.
Best Flowchart Software: A Detailed Look
Below is the table of the best flowchart Makers for creating professional, high-quality visual diagrams and charts. These programs offer creative flowchart tools to make your task easier.
The table summarizes the best flowchart software for creating visual data presentations and compares the best programs regarding features and rates.
Software Name
Supported Operating System
Best For
Starting Price
Microsoft Visio
Windows, Web
Professional Diagrams
Subscription for $5
Purchase for $768
Lucidchart
Web
Visio Alternative
$7.95
Textografo
Web
Text to Drawing
$4
diagrams.net
Windows, Mac, Web, ChromeOS, Linux
Free Flowcharts
Free
SmartDraw
Web
Maximum Templates
$9.95
Cacoo
Web
Customization
$6
Miro
Windows, iOS, Mac, Web
Team Collaboration
$8
Zen Flowchart
Web
Simple Whiteboard
$7.95
Best Flowchart Programs Reviewed
You've seen the basic features in the table. The following list contains detailed reviews of each software, its advantages, and the best applications.
Since most of these programs are quite expensive, you need to read these reviews carefully to make an intelligent investment.
Microsoft Visio is the best flowchart software for Windows and MS Office users as it contains a similar interface to Word and PowerPoint.
Introduced in 1992 and incorporated in Microsoft Office in 2000, it's one of the oldest drawing and flowchart programs still in use and popular today.
Features
Microsoft Office users find it convenient to operate on the familiar interface of Visio and can easily navigate it with simple training.
Further, the integration of Visio with Office makes it easier to view, share, and convert Excel, Word, and Powerpoint data to Visio diagrams.
People working extensively on Microsoft Office, especially Excel, can benefit from Visio using the Data Visualizer add-in. This add-in is extremely helpful for creating flowcharts and linking data from Excel tables.
Real-time data sharing and collaboration are also possible through Microsoft Teams, where you can create a tab for Visio and see comments, edits, and mentions. Thus, Visio acts as a project management software for teams.
Although Visio offers less flowchart software integration than other programs, you can still export Visio data as an image, PDF, or web file.
Pricing
Visio offers multiple options in terms of pricing and subscription plans. The program is web-based and available for download as a pro version.
The basic subscription plan, called Visio Plan 1, costs $5 per person monthly, requiring an annual or monthly commitment.
Visio Plan 2 is another subscription option that costs $15 per user per month with the same commitment.
The difference between the two plans lies in data integration and automation with other Microsoft programs.
You can also buy the one-time-purchase offer that includes two plans, Visio Standard 2021 and Visio Professional 2021.
Visio Standard 2021 costs you $309.99, while Visio Professional 2021 has a price tag of $579.99.
Again, the difference in plans reflects better collaboration features and integration of tools, design elements, and objects.
Pros:
Familiar interface and easy navigation for office users
Hundreds of templates and diagrams for professional use
Accessible anywhere through the web
Cons:
Less integration when compared with other flowchart software
The download and install option is not available for Mac users
Lucidchart is fast replacing Visio in many areas. Though Visio is still dominant in professional environments for individuals, Lucidchart is bridging the gap fast.
It's not hard to see why Lucidchart is gaining ground in the online flowchart maker world. The features outshine many of its competitors and are easy to use.
Features
It's a web-based program, so no downloads are necessary. The online platform also makes Lucidchart a more effective tool for collaboration.
It allows you to comment and edit in a team to see changes in flowcharts and diagrams from your co-workers in real-time.
What's more, it does not deviate too much from Windows' familiar menu containing file, edit, and view tabs.
This feature makes it easier for people familiar with Visio to operate Lucidchart efficiently.
The program has an import and export option for most of its leading competitors, including Visio, diagrams.net, and Gliffy.
Plus, you can export files in PNG JPEG, PDF, and Visio formats. The templates, design elements, and objects in Lucidchart are modern and sleek, unlike those in Visio.
Pricing
Lucidchart is one of the best Visio alternatives and an exceptional flowchart software as it has all the Visio features except a high price tag.
There's a free version of Lucidchart, but it only allows the creation of three documents. It's only good enough to let you try out the program and see if you like it or not.
The individual plan costs $7.95 and offers unlimited editable documents and 1TB of storage. This plan does not include team collaboration.
Team Lucidchart costs $9 per user and offers commenting, revision history, and integration with other programs.
If you want Lucidchart for an enterprise, you can contact the sales team and get the best deal that suits your needs.
Pros:
Best Visio alternative
Less expensive yet has all the necessary features
Better integration with other flowchart programs
Modern design objects and templates with more flexibility in creativity
Cons:
No desktop version
Difficult to select and arrange multiple objects for new users
If you're looking for software that enables you to create visual diagrams and flowcharts using only your keyboard, Textografo is for you.
Textografo makes it easier to transform your text into an infographic or a process tree model through simple commands on the keyboard.
Features
It is a unique flowchart software that deviates from the usual drag-and-drop model of diagram making.
Instead of letting you create and arrange boxes and objects through your mouse, Textografo works only with text commands on your keyboard.
This might seem a drag for beginners as you must remember the syntax for specific objects and create flowcharts from scratch.
However, software engineers and programmers used to typing can benefit from this way of making infographic charts and process models.
The software is better suited for technical teams more inclined towards complex diagrams without focusing too much on design considerations.
The program does not allow free movement of design elements which can only happen through text editing.
Also, there are no design templates to get you started. After selecting the theme, you must build the whole flowchart from a blank page.
You might not like this feature at first. However, once you get the hang of it, it's a much faster and more efficient tool for creating complex diagrams.
Pricing
Textografo offers two premium plans for users. The basic plan, called the essentials, costs $5 per month ($4 if you select the annual billing).
In this plan, you can create up to five private diagrams, with each diagram having an upper limit of 50 objects. In the basic plan, your diagrams will have Textografo branding.
The premium plan offers unlimited diagrams without restrictions on the number of objects per diagram. It costs $19 a month ($14 when billed annually).
The good thing about basic and premium plans is that both allow you to collaborate with your coworkers to create shared diagrams.
Pros:
Faster flowcharts designed for professionals
Great for creating detailed diagrams and flowcharts
Better for programmers with syntax editing
Cons:
Only good for flowcharts and process tree diagrams
Basic plan contains a Textografo branding
Diagrams.net is a favorite flowchart maker that offers several designs, and you don't even need an account to get started. The builders made this online flowchart maker free to use for everyone.
Previously known as Draw.io, the online software has a user-friendly and intuitive interface with multiple design options for beginners and veterans.
Features
This diagramming software stands out from the crowd because of its simple yet effective arrangement of design elements.
The first thing you'll notice is the shapes tab, prominently sitting on the left side. It contains all the basic shapes and lines for making a flowchart.
Next, you can select your frequent shapes and add them to your scratchpad, which you can later use without going through the search process.
Further, when you start putting shapes on the canvas, the grid helps you arrange objects logically and symmetrically.
You can store your files on your hard drive or use cloud services such as Google Drive etc.
The software makes it easier to work with other programs as file imports from Visio, Lucidchart, and Gliffy are allowed.
The program also has an offline version which you can download for Mac, Windows, Linux, and Chromebooks.
About limitations, the software only offers a small number of shapes and starting templates.
You can only work with nine flowcharts, a count which is small even for free software. Also, you only have eight Venn diagram templates.
Further, you cannot collaborate in real-time on the platform and have to use cloud storage services to add, comment, or share your diagrams.
Pricing
Drawings.net is completely free. All you have to do is visit their website and start creating your diagrams and flowcharts.
The offline version is also available free of cost from the website, which is compatible with all the major operating systems.
Pros:
No login or account registration needed
Free of cost with all the major diagramming features
Flexible in files import and export
Cons:
Limited design templates available
Real-time sharing is not possible
SmartDraw has multiple uses besides being an online flowchart maker. You can create floor plans, sketches, family trees, flyers, and organization charts from various templates.
The online platform has an extensive library of flowchart categories with relevant designs ready to customize online.
Features
The prominent feature of SmartDraw is the flexibility and variety of options available for users from different fields.
You can be an engineering student, a medic, a teacher, or working in a SaaS company and use the platform's templates to create wonderful designs.
Moreover, you get to collaborate with a large team on SmartDraw, making your work more effective and fast.
The flowchart tool has seamless integration options to work with different platforms such as Microsoft Office, Workspace, and more.
You can easily save your files on OneDrive, Google Drive, or Dropbox. The SmartDraw enterprise version also enables you to collaborate with large teams working on various programs.
Although the platform has a somewhat complicated interface for beginners, it's worth the effort as the complexity pays off later.
Freelancers will love it the most as they have clients from multiple industries asking for all kinds of flowcharts and diagrams.
Pricing
There's a seven-day free trial that you can use to check out all the features of an individual plan.
After the free trial, you'll pay $9.95 per month (billed annually) if you purchase the individual plan.
You can also select the team option, which costs $5.95 per person per month. However, you'll need at least five team members to get this plan.
For a business, you can select the site plan, which costs $2995 per annum and allows 500 or fewer employees.
Pros:
Versatile templates allow design for various fields
Customization of existing designs is easy
Easy to convert diagrams to other formats
Cons:
Monthly payment option is not available
Difficult to make intricate diagrams without training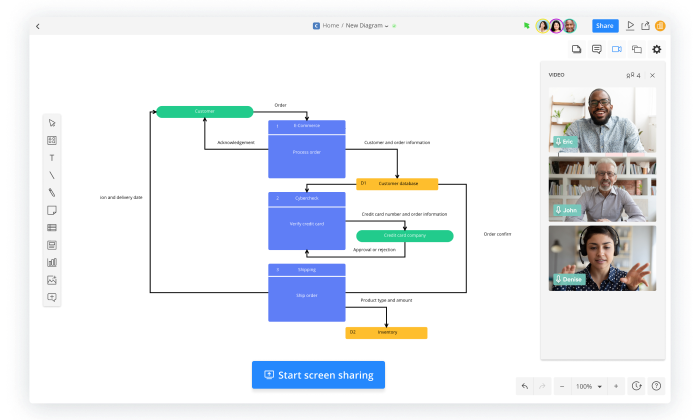 Cacoo takes flowcharts and diagram-making for team collaboration to the next level with its effective communication tools within the program.
It works as a digital whiteboard where team members from different departments can share ideas, edit each other's work, and give real-time feedback.
Features
This online flowchart software offers a variety of design templates that work best for professional environments and individual presentations alike.
The design interface and working of Cacoo resemble Google Docs as you get to share and edit each other's work instantly.
Cacoo also has a video calling facility, so you don't need multiple apps to remain in contact while working on the project.
One advantage of Cacoo over other flowchart designing apps is the complex collaboration among various departments.
You can assign tasks to different departments, such as sales, marketing, and design, and each can contribute to the development of the presentation.
The app also has a handy feature for graphs and charts. It allows you to input data and gives you a pie chart or a diagram for that data sample.
Moreover, you can easily integrate the app with other programs such as Visio, Powerpoint, Docs, etc.
Pricing
Cacoo offers a 14-day free trial without a credit card. For a free trial, you have to create an account on Cacoo.
Pro plans have two options. You can select the monthly option, which costs you $6 per user.
The annual option costs $5 per user monthly.
Considering the features of Cacoo, the price is less than those of its competitors.
Pros:
Real-time collaboration and brainstorming for teams
In-app communication options for effective workflow
Powerful visuals for complex ideas and processes
Cons:
Free version only has six sheets allowed
Lags on some computers with low processing power
Miro takes the lead in futuristic design templates in large numbers with intelligent features that make your task easier.
The program works best for complicated diagrams and helps you present them to engage your audience and keep things organized.
Features
When you start on a Miro screen, you immediately notice the impressive templates, screen gadgets, and helpful commands.
The templates provide multiple options to create stunning flowcharts, infographics, organizational charts, and production schedules.
The layout of Miro is quite elegant, and there's no cluster of commands and tools to overwhelm you. All the necessary menu items are available without making the whiteboard messy.
Miro's whiteboard has creative elements that enable you to bring out your artistic side with sticky notes, colorful charts, and touch-screen editing.
Hundreds of library images, videos, diagrams, and mindmaps make your task enjoyable.
You can access the best options for collaboration, including screen sharing, co-creating, and video conferencing.
It's one of the few programs that work equally well on mobile and tablet screens and shows full features for handheld devices.
Pricing
Miro offers a free plan for starters where you get three infinite whiteboards for making flowcharts. You can collaborate with as many people as you like.
The pro plans start from $8 per member per month. Although it's called a team package, you can purchase it for one person if you need it.
This plan offers infinite whiteboards and better security and privacy features for online collaboration.
The next plan is business which costs you $16 per member per month and is perfect for small to medium companies that need frequent collaboration.
If you need Miro for an enterprise, you can contact their support team and get a quote for customized capabilities.
Pros:
Intelligent design features for a creative outlook
Excellent communication tools for real-time collaboration
Integration with all the major design and cloud services
Con:
Adding team members is complicated
8. Zen Flowchart
Complexity is necessary for many projects, but sometimes, you just need a simple flowchart without garnishing.
Zen Flowchart is the best software to make those simple flowcharts. It allows you to create simple designs that are logical and easy to follow.
Features
Zen Flowchart has simple design commands that make it stand out. It allows you to create diagrams with just one click.
When you want to add a box, you just click the new node option and get a process flow diagram in minutes.
The connectors are also easy to attach with a simple click-and-drag method. The library offers simple shapes which you can use to make a flowchart in minutes.
Although there are not many shapes and you must rely on simple boxes, the flowchart maker is trendy among entrepreneurs.
The interface only contains a small number of commands that help the creator focus on data rather than design.
The program has all the necessary collaboration features, including the option for viewing, commenting, and editing from team members and clients.
When you need an online flowchart maker that saves you time and effort, use Zen Flowchart because there are no complicated options that take time. For many experts, it is the best online flowchart creator.
Pricing
The service offers a free version, but it only contains nine templates and limited nodes per document.
The pro option costs $7.95 per month and contains unlimited flowcharts and mind maps. It also allows real-time collaboration.
You can upgrade to team membership, which costs you $9 per month and will enable you to create team folders, docs, and project management tools.
If you want Zen Flowcharts for an enterprise, you can contact support. The monthly cost for enterprise is $19, but flexible payment options are available.
Pros:
Simplest flowcharts maker
Fast flowchart making
One-click flow chart designing
Cons:
Limited templates and design features
Not suitable for creative professionals
Choosing the Best Flowchart Program
When you have so many options available in flowchart programs, you're always confused about the best software for you.
One way to choose a suitable online flowchart software is to consider your needs. If you're a professional, you may need more complex designs than a student would need.
Still not sure? If we were to select for you, Lucidchart is the best flowchart maker for professionals and amateurs alike.
It allows for the necessary complexity but also contains enough creative flowchart tools to design elegant and modern diagrams.
Although Microsoft Visio is used widely in professional settings, its design templates are not futuristic, so it might not be your best option.
FAQs About Flowchart Programs
If you're unfamiliar with flowchart programs or still have questions about them, this section will clarify your thoughts.
1. What is flowchart software?
Flowchart software provides the necessary tools and commands to create a diagram with a logical sequence.
The shapes in a flowchart are interconnected, meaning there should be a logical connection and suitable pointers to follow the process.
A best online flowchart creator provides that connection as well as a hierarchy and structure to introduce data and information in a flow.
2. Which is the best software to create flowcharts on Windows?
Microsoft Visio is the best software for Windows as it integrates with other Microsoft apps such as Word, Excel, and Powerpoint.
Since most office computers use Windows OS and have built-in Office apps, it's better to use Visio for flowchart making.
Plus, you can make professional network diagrams on a similar layout as Word and Excel with Microsoft's classic menu.
If you're looking for a simple flowchart designer, you can use Zen Flowcharts. It does not have too many confusing details, so for beginners, this one is the best option on Windows.
3. Which is the best flowchart program for Mac?
Miro is the best flowchart program for Mac users due to its vibrant colors, professional layout, and modern themes.
It also offers complete integration with similar programs and connects well with cloud services.
Moreover, you don't need to install it on your computer to collaborate with your teammates. It works well online, helping in project management tasks.
4. Is Visio good for flowcharts?
Visio is great for professional flowcharts where you need to relay the information without too much emphasis on creative design.
Although the program offers enough tools to create an engaging flowchart, it doesn't give the user too many creative tools to make the design futuristic.
Still, considering the wide array of options and its ability to handle complex information, Visio is a good program for flowcharts.
5. Which one is the best Visio alternative?
The best Visio alternative is Lucidchart which provides the most features and also has enough tools to present complex information.
The advantage of Lucidchart is its collaboration tool that helps the users work on the same project from different locations.
Also, there are no downloads necessary so you can use it on any device anywhere in the world. With online accessibility, you'll have much more flexibility in use.
6. Which is the best free flowchart software?
Diagrams.net is the best free flowchart creator, and you can start making a diagram without even making an account.
This online flowchart maker's free service also offers creative tools to make other designs, including Venn diagrams, calendar items, and sticky notes.
The program has different versions, including Windows, Mac, and Chromebook. Diagrams.net is one of the best online flowchart creators.
7. How do you choose the best flowchart maker?
Most flowchart programs are expensive, and those which cost less are not as effective.
That's why it's best first to analyze your requirements and see which one fits your needs best.
Then, you can rely on free trials to check the efficacy of the software and see if you should make a long-term commitment or not.
Once you've checked all these parameters, you can select the best online flowchart software for you.