If you're looking for the best data migration software for private or professional use, you're at the right place!
Data migration is prevalently used for personal or commercial purposes worldwide. The good news is that a good selection of free and paid versions of data migration tools is available.
Free data migration software performs a small volume of data transfers impressively. However, you might want to invest in a premium version of data migration software for massive data migration as well as some added benefits.
In this post, we'll discuss the 15 best data migration software in 2022, including their key features and pricing plans. Let's begin!
Best Data Migration Software
In businesses having the right data migration tool ensures that the company records are up-to-date and securely backed up. Data migration software acts as a bridge to two servers, operating systems, apps, or computers and aids in safely transferring data between these locations.
However, data transfer is a high-risk and high-reward process as many things can go wrong during the migration. Therefore, a reliable migration tool is a necessity for modern-day businesses.
Below is a brief tabulated comparison of the 15 best data migration software in 2022.
| | | | |
| --- | --- | --- | --- |
| Migration Software | Free Version | Free Trial (Full Functionality) | Backup |
| EaseUS Todo PCTrans | Yes | No | HDD, SSD, drive image |
| Acronis True Image | No | 30 Days | Network or external drive, cloud, NAS |
| NovaBACKUP PC | No | 15 Days | Local, online PC, cloud |
| Paragon Drive Copy Professional | No | No | Drive, virtual hard drives |
| DriveImage XML | Yes | No | Drive |
| MiniTool Partition Wizard | Yes | No | SSD, HDD |
| Laplink PCmover | No | No | SSD, HDD |
| Macrium Reflect 8 | Yes | 30 Days | Drive, image |
| AOMEI Backupper | Yes | 30 Days | Cloud drives, HDD, SSD, NAS |
| CloverDX | No | 45 Days | Drive, cloud, SSD, HDD |
| DAEMON Tools Pro 8 | Yes | 14 Days | Drive, virtual hard disks, image |
| Clonezilla | Yes | – | HDD, SSD, drive |
| O&O DiskImage | Yes | No | SSD, HDD, and image |
| Samsung Data Migration | Yes | – | Samsung SSD |
| IBM Infosphere Data Replication | No | No | Cloud, data warehouse, drives |
15 Best Data Migration Software in 2022
1. EaseUS Todo PCTrans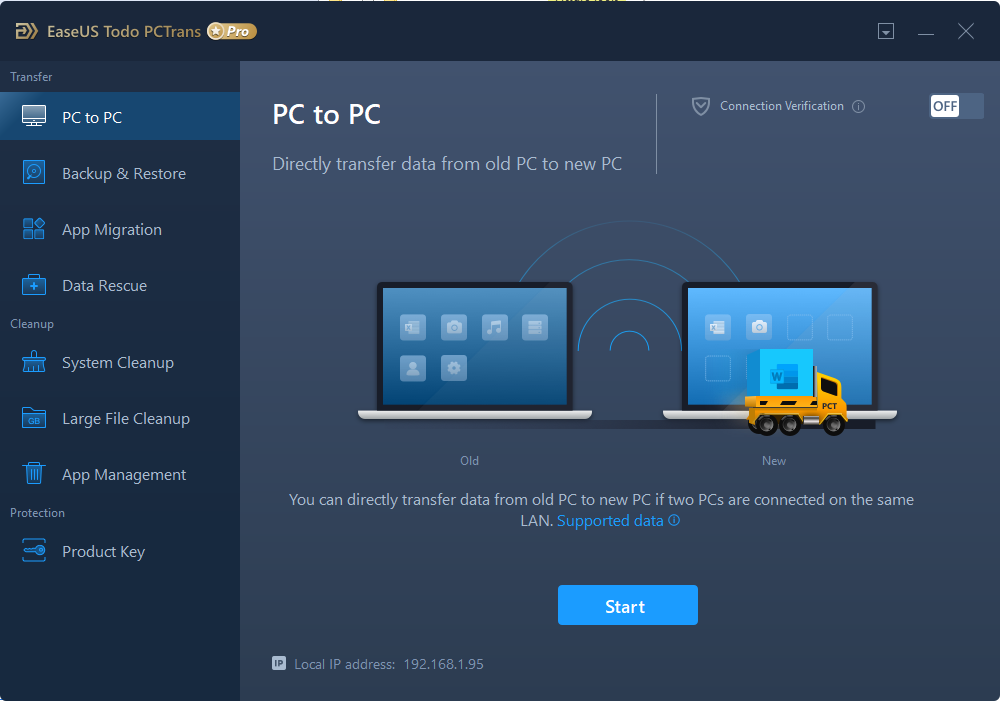 Todo PC Transfer by EaseUS allows users to migrate data from their old Windows system to a new Windows 11. This reliable data migration software supports popular programs, including Adobe packages, Apple applications, Dropbox, MS Office, WinRAR, and AutoCAD.
The best aspect of EaseUS Todo PCTrans is that it allows free data migration for up to 2GB. Moreover, the free plan includes the migration of five programs, such as Netflix, YouTube, Zoom, etc.
EaseUS Todo PCTrans also allows users to migrate OS to HDD or SSD and offers HDD to SSD upgrades. This reliable data migration software is very user-friendly and doesn't require much technical knowledge. The data migration process comprises these simple steps:
Run EaseUS Todo PCTrans on both PCs,
Select 'PC to PC' mode,
Choose the PC to connect with,
Select which data to migrate,
Click transfer to start the data transfer.
Key Features:
Offers automatic transfer of your file and features 24/7 transfer assistance during the entire data migration process
Once migrated, all your programs are pre-installed.
Option to either transfer data locally or via a network connection or image files
Recovers lost data from a broken laptop and transfers all your files to a new PC
Pricing:
The Professional version of EaseUS Todo PCTrans costs $49.95 per year. This version offers an unlimited data transfer license for 2 PCs on top of all the features available in the Free version.
2. Acronis True Image
Acronis True Image, recently named Acronis Cyber Protect Home Office, is a flexible data migration software that allows users with multiple data migration benefits. You can create backups for the entire data, upgrade to a better storage system, or restore backed-up data to your desired PC using Acronis.
Acronis allows you to backup and protect multiple data types, including operating systems, programs, files, and photos, to local storage or the Acronis cloud. You can clone the entire data or simply a partition of it on compatible devices – Windows, Mac, iOS, or Android, in just a few clicks.
What's more impressive about this popular data migration software trusted by more than 5.5 million users is its Active Disk Learning feature. It allows users to clone their operating system while it is still running, i.e., one needn't reboot the system during data migration.
As the Intel Data Migration Software ended its services, Intel now recommends Acronis True Image as one of its best replacements.
Key Features:
Offers cloud-to-cloud backup for Microsoft 365 accounts
End-to-end encryption and built-in active anti-malware feature to secure your data and protect its privacy.
sure-shot privacy and security of client's data
Allows migration of data from Android to iOS and vice versa
Allows data migration within HDD and HDD, SDD and SDD, and HDD and SSD
Easy restore of backed-up Acronis True Image files in just a few clicks
Pricing:
Acronis True Image offers Essentials, Advanced, and Premium packages which cost you $49.99, $89.99, and $124.99 per year, respectively.
These plans offer quick data recovery, flexible backups, active disk cloning, universal restoration, and ransomware protection.
3. NovaBACKUP PC
If you want data migration software with a full-proof data recovery plan, NovaBACKUP PC is probably the right fit.
NovaBACKUP PC's Backup and Disaster Recovery feature is designed for individuals and businesses to protect all their data from accidental data loss. It works by ensuring automatic data image backup of all your data on your PC.
NovaBACKUP PC allows users to securely transfer data, including files, disks, and operating systems. This data migration software boasts centralized management and allows users to back up their data locally or on NovaBACKUP's cloud.
Moreover, this fantastic data migration software allows users to schedule differential, incremental, or automatic backup jobs for safe and secure data transfer.
Key Features:
Offers a wide range of backup solutions and guides potential clients to the appropriate backup plan for them
Offers four encryption options:

AES 128-bit,
AES 192-bit,
AES 256-bit and
Blowfish

Screen readers for blind-friendly user interface
Offers 5GB of free cloud storage to all users, regardless of their plan
Boasts 'Pricing upon request' option for companies seeking data migration or storage of more than 25TB
Pricing:
NovaBACKUP single PC plan costs $49.95 per year. The 3-user PC and 5-user PC migration software cost $79.95 and $99.95 per year, respectively.
4. Paragon Drive Copy Professional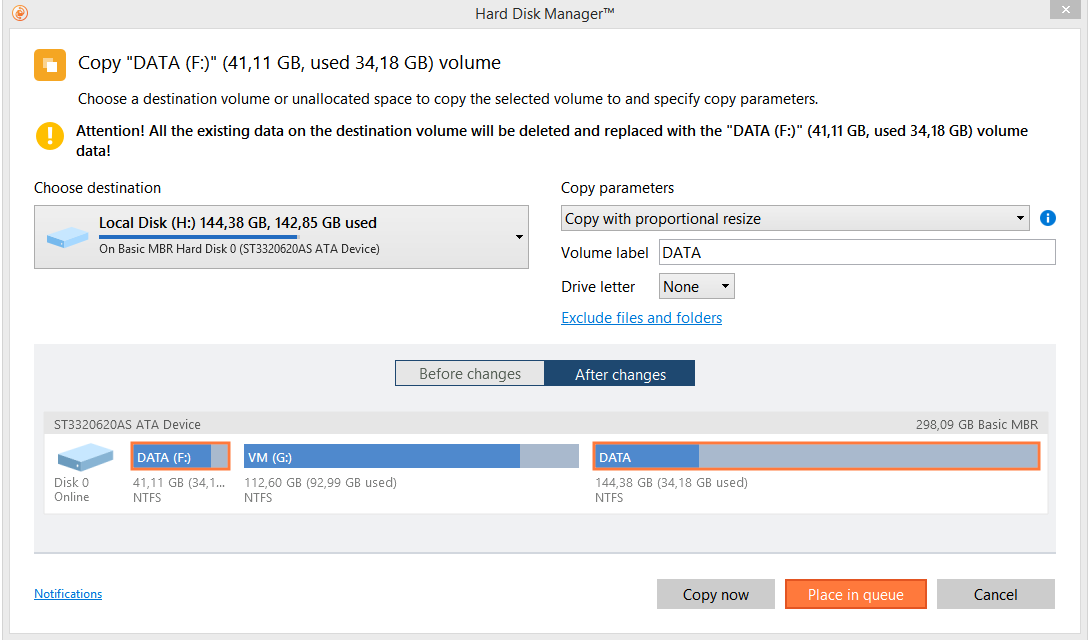 Paragon Drive Copy is one of the best data migration tools for disk cloning and partitioning. It allows users to migrate their data and even OS from Windows 7 and above or to any source.
Paragon Drive Copy's best feature is that you can clone OS to a portable USB flash drive. While this data migration tool doesn't offer data recovery or disk repair, you can restore the backup images created in just a few steps.
Paragon also offers post-transfer disk partition management features to its users. Unfortunately, Paragon Drive Copy Professional only supports Windows 7 and later operating systems.
Moreover, this data migration software offers an 'Advanced' version targeted toward home users and a 'Business' version for commercial data backup and management purposes.
Key Features:
Allows HDD to SSD data migration
Offers data migration flexibility; You can choose from either entire hard disk cloning or copying just a partition.
Easy 512-byte hard disk to a 4K hard disk cloning and data restoration
Pricing:
Paragon Drive Copy Professional charges their client a $79.95 one-time payment charge.
5. DriveImage XML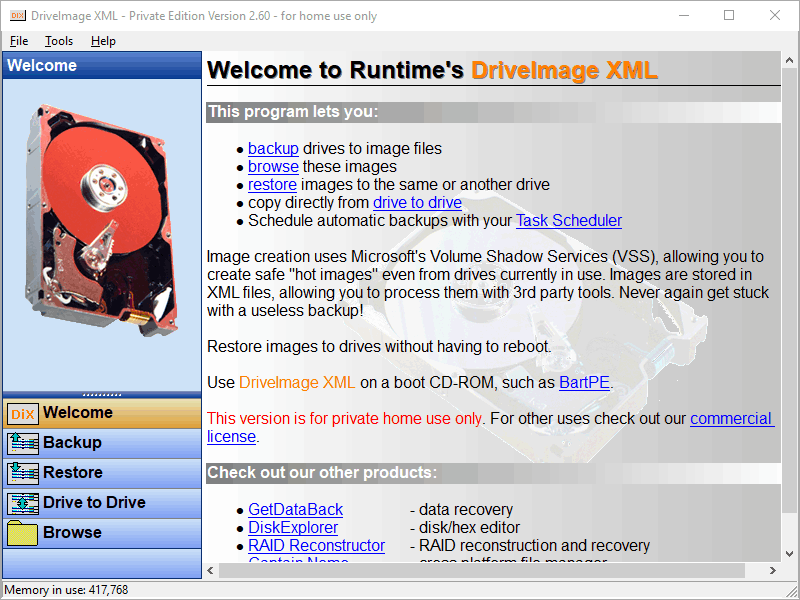 DriveImage XML is a backup software by Runtime Software. It allows users to backup logical drives and create hot images even if the drive is still in use. The data migration tool helps users transfer, clone, back up, or restore drives.
This software is compatible with Windows XP and higher operating systems. It uses Microsoft's Volume Shadow Services (VSS) technology to create hot images. Also, it saves the backup files as XML files.
The private version of the software allows users to download and use the software without any charge. However, the company does not provide customer support for private users. As mentioned in their packages, multiple-user commercial packages receive support incidents.
Key Features:
Allows drive-to-drive cloning
Offers backup scheduling for automatic backups feature
Doesn't require a reboot after the backup, migration, or a restoration process
Allows the backed-up data restoration to the same or a different drive
Features FAT and NTFS formatted program drives for increased data security
Pricing:
The good news is that DriveImage XML is free for private home users. However, the commercial-use pricing starts at $100 for a 5-user license and two support incidences packages. The software license can cost up to $500 for 100 users and 10 support incidences.
6. MiniTool Partition Wizard
Windows built-in disk management does a pretty decent job. However, if you seek to keep your PCs running at their best, MiniTool Partition Wizard is for you.
Its ability to maximize disk performance, a data recovery program, and powerful disk cloning feature make MiniTool undoubtedly one of the best data migration software.
MiniTool Partition Wizard supports Windows XP and above, and this free data migration software helps users migrate OS from HDD to an SSD. FAT 12/16/32, NTFS, Ext2/3/4, and exFAT are some supported file systems.
MiniTool's Data Recovery feature identifies and restores lost files from damaged or inaccessible drives and folders. Likewise, the Partition Recovery Wizard feature can recover the lost partitions of the drive.
Key Features:
Effectively converts partition from NTFS to FAT32 and vice versa
Data Recovery Program to identify and recover deleted or lost files from broken or formatted drives and recycle bins or a specific folder
Disk Diagnostic Master to measure and analyze several disk parameters and usage, solve logical file system errors, and detect any bad sectors on the drive
Offers powerful disk cloning and system migration features;
Pricing:
MiniTool Partition Wizard has free and pro 'For Home' versions. Pro annual subscription costs $59, Pro Platinum annual subscription costs $109, and perpetual home Pro license costs $159.
For business users, Server Standard and Enterprise annual subscriptions cost $159 and $499 annually. Likewise, the two remaining perpetual licenses – Server Lifetime and Technician cost $259 and $699 annually, respectively.
7. Laplink PCmover
Laplink PCmover transfers programs, profiles, settings, and files via several streams. Such streams include a network connection, Laplink USB, or an ethernet cable from one PC or an operating system to a new one. The transfer process is pretty easy and simple:
Install the Laplink PCmover on both your source and target PCs,
Select the transfer option or choose what you'd like to migrate,
Now you wait for the wizard to finish its job!
Once the transfer is complete, most apps are pre-installed and ready to use. This feature saves you the hassle of finding old license codes and serial numbers. That said, please note that the application migration might cease if the program is incompatible with your new OS.
Laplink PCmover has replaced Windows Easy Transfer since Windows 10. This reliable data migration software prides itself on the fact that Microsoft recommends it. In fact, it is also one of the best Intel data migration software you can find. However, Laplink doesn't recommend transferring data from a newer Windows OS to an old one.
Key Features:
Offers streamlined data transfer
Comes with a full-proof 'undo' feature
Finishes the data migration in hours
Offers up to 100MB/sec of data migration rate via their USB cable
Offers an impressive 24/7 customer service for their clients
Pricing:
PCMover Professional by Laplink costs $59.95.
8. Macrium Reflect 8
Reflect 8 by Macrium is a media imaging, cloning, and backup software that offers an effective Free Version for both homes and professional users.
However, if you'd like more benefits, such as incremental and differential imaging and Macrium technical support, Premium versions are available relatively cheaply.
Aside from cloning the partitions or an entire hard disk, Macrium Reflect 8 can also perform full-system backups locally, via networks, or via USB cable.
Macrium Reflect 8 offers disaster recovery, scalable backup, and anti-ransomware features. This data migration software offers a 30-day trial period for its Pro versions to help users decide.
Key Features:
Offers image file verification using Oracle VirtualBox and Microsoft Hyper-V to ensure that the files are reliably backed-up
Paid versions offer centralized intra-daily backup
Guarantees ransomware protection and encrypted data backup in the paid version
Bare Metal Restore option in Pro versions to allow backup data restoration in an entirely new bare metal PC
Features multiple image compression options
Pricing:
The single license Home Pro version of Reflect 8 is priced at $69.95, whereas the 4-pack license costs $139.95. The Business version has three package options: Workstation, Server, and Server Plus, priced at $75, $299, and $599, respectively.
9. AOMEI Backupper
If you're seeking data migration and backup software for Windows OS and servers, Backupper Wizard by AOMEI might catch your attention. AOMEI Backupper allows files, systems, and drives backup to local or external storage, NAS drives, and flash drives and also offers cloud migration.
Trusted by more than 50 million users, this data backup software supports all Windows XP, Vista, 7, and above editions. AOMEI Backupper offers an impressive free-of-cost standard version. However, the plan doesn't include advanced functions, such as differential backups, backup to CD/DVD, encrypted backup, and dynamic backup restore.
Paid AOMEI Backup also offers the Universal Restore feature, allowing users to restore backed-up images to a different computer. It also allows operating system migration from physical to virtual systems.
AOMEI Backupper is also a good replacement for the Intel Data Migration Software.
Key Features:
Allows small disk to HDD and HDD to SSD upgrade
Offers office hours technical support in Standard and 24/7 technical support in paid versions
Free of cost lifetime upgrades in paid versions
Allows selective files and folders migration
Linux or Windows PE bootable rescue media creation feature – create CD/DVD or USB drive bootable media for backup and recovery
Pricing:
Standard AOMEI Backupper is free. The paid versions available are Professional, Workstation, Server, Technician, and Technician Plus. Below are their one-time rates:
Professional – $49.95
Workstation – $59.95
Server – $199.00
Technician – $559.20
Technician Plus – $899.10
10. CloverDX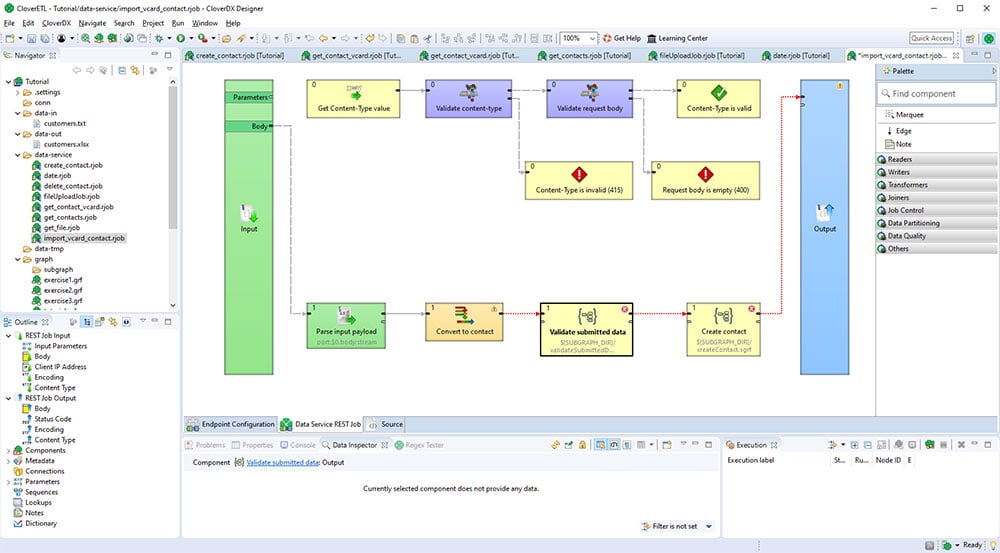 CloverDX is an innovative platform with several in-built data processes and ETL tools. This data process tool boasts its ability to handle data of any format and complexity. It is the perfect platform for small to mid-sized businesses for data management, integration, or warehousing.
CloverDX helps users build scalable, automated, reproducible, and impressive workflows in just a few clicks. Users can choose to automate regular data migration within systems or to the cloud using the migration tool by CloverDX. Thus, data migration is customizable, efficient, and quick using this platform.
The Data Quality feature on CloverDX allows users to validate and clean their data before loading it into the new system. CloverDX allows users to tweak, repeat, debug, and publish data using a single platform.
Key Features:
Features multiple data tools in a centralized platform
Offers Quality Feedback feature that helps create cleaner data by excluding any data or value that doesn't conform to the rules
Automatically records workflow, making everything transparent and easily trackable
Heavily customizable yet code-free and easy to use
Offers professional consultation service and live training from experts
Pricing:
CloverDX plans are quote-based.
11. DAEMON Tools Pro 8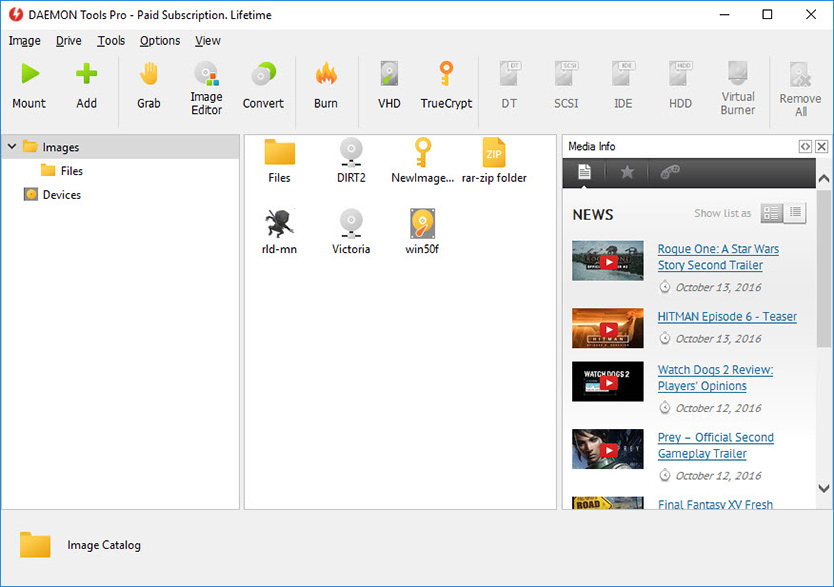 DAEMON Tools Pro 8 is a fantastic disk imaging and emulation software. This tool captures images from disks and creates up to 32 virtual drives. It can even create flexible and dynamic virtual hard disks using content from a USB device.
DAEMON Tools offers extreme data protection and storage. This software stores data as Virtual Hard Disks (VHD) backups in TrueCrypt containers.
Key Features:
Emulates up to 32 HD, DT, and SCSI drives together with 4 IDEs
Allows users to migrate safely and store sensitive data in VHD backups using password
Features virtual burners to emulate the disc burning process
Easy to navigate and highly functional user interface
Supports a wide variety of data formats, such as .mds, .ape, .mdf, and many more
Pricing:
DAEMON Tools comes in Lite, Ultra, and Pro versions. DAEMON Tools Pro 8 offers a 14-day trial period followed by $5 per month, $18 per 6 months, and $28 per 12 months. The lifetime subscription costs a discounted price of $26.99 as of 10/07/2022.
12. Clonezilla
If you're looking for a reliable tool to migrate data without investing hundreds of dollars on a proper package, Clonezilla has your back! Despite being an open-source and free tool, Clonezilla is a surprisingly safe and rapid method of migrating data.
Clonezilla is primarily a disk imaging and cloning software. It supports multiple file systems in Windows, GNU/Linux, macOS, FreeBSD, NetBSD, OpenBSD, and many more.
Clonezilla offers Live, Lite Server, and SE versions. Clonezilla Live is a single-PC backup and recovery tool. On the other hand, Lite Server and SE versions are for massive cloning tasks on multiple systems simultaneously.
On the downside, Clonezilla hasn't introduced incremental or differential backup yet. It also doesn't support online disk or partition imaging or cloning.
Key Features:
Supports many file systems across multiple OS
Features Bare Metal Backup and Recovery function, allowing users to restore their lost data after a catastrophic failure or damage
Pricing:
Clonezilla is free data migration software and can be downloaded and installed quickly and easily.
13. O&O DiskImage
O&O DiskImage, a proud gold Microsoft Partner, is a multi-functional tool that helps clone and back up files, hard drives, or an entire computer. It is also a great tool to restore your lost data in the event of corruption or an unbootable system.
This data tool allows users to create boot mediums easily. It further permits users to restore the backed-up data to a new system even if it features different hardware than the legacy system.
On the downside, unlike DriveImage XML and NovaBACKUP PC, O&O Diskimage doesn't feature an automated backup job scheduling option.
O&O Diskimage professional is targeted at desktop and notebook systems users, and the Server edition is designed to assist servers.
Key Features:
Supports SSD and UEFI system
Can clone data even when the system is in use
Ability to create incremental/differential images of virtual drives
Integrated O&O DiskImage RecoveryPartition in the latest version – allows quick and direct image recovery
'To Go' function to allow automatic backups when an external hard disk is connected to the system
Pricing:
O&O DiskImage costs $45.95.
14. Samsung Data Migration Software
If you're a Samsung enthusiast, you might already know what wonders Samsung data migration software can perform.
Samsung Data Migration software allows users to migrate their data, including files, applications, and OS, from the existing data location to a Samsung SSD. This data migration software doesn't support SSDs from other manufacturers.
Please note that any existing information on the target location, i.e., on Samsung SSD, will be wiped during data migration. So, please make sure to back up the existing data on the target location before you proceed with the data transfer.
Key Features:
Compatible target SSDs are 470, 830, 840, 850, 860, 870, 950, 960, 970, and 980 Samsung SSD series
Allows safe transfer of large data files from any HDD storage to a Samsung SSD with ease
Supports Windows 7 SP1, Windows 8, Windows 8.1, Windows 10, and Windows 11
Supports MBR and GPT type partition
Pricing:
Users can download and use Samsung Data Migration software for free.
15. IBM InfoSphere Data Replication
Despite being primarily a data integration and replication platform, IBM InfoSphere Data Replication also offers a zero-downtime data migration feature.
This data tool collects, integrates, and delivers large volumes of data in real-time with the help of the Massively Parallel Processing (MPP) feature. It quickly loads real-time information into a data warehouse, making it an excellent tool for large-scale companies that rely on data warehousing.
IBM InfoSphere Data Replication features a commendable user interface to monitor and manage data. The CDC Replication Management Console interface provides the following rights to clients:
Access
Control
Configure
Operate
Monitor
Key Features:
MPP function to handle large volumes of data efficiently
Hybrid cloud storage – a unified platform connecting on-premises as well as cloud resources
Employs Virtual Storage Access Method (VSAM)
Offers high-performance frameworks on both on-premise and cloud workflow
Pricing:
No rate is exclusively mentioned on the IBM InfoSphere Data Replication website. Please get in touch with their customer service to better understand pricing and plans.
What Features Do You Need for Data Migration Tools?
When looking for a data migration tool, you might want to consider a few essential factors. While many popular data migration tools have similar characteristics, some simply have better feature offerings than others. The moment you scout for the best data migration software, keep these factors in mind:
1. Customer Support
If you're dealing with critical data, you must ensure that your chosen data migration software will provide you with customer and technical support. No matter your software package, data migration software should attend to their clients in need.
For those dealing with business or enterprise data, our tip is to get in touch with the software's technical experts and support team beforehand. Some data migration software provide live demos and training to potential clients before they invest in the products.
2. Data Protection
Your data migration tool vendor should guarantee your data safety and privacy. Critical business and commercial data should be transferred using software that offers end-to-end encryption, anti-malware, and anti-ransomware benefits.
3. Connectivity
Data migration can be self-scripted to be compatible with any source or destination. However, self-scripting simply isn't feasible for handling large data for businesses and big companies.
Therefore, one should opt for a data migration software compatible with the source and target files, databases, or operating systems they're working with.
Different on-premise data migration tools might support varying source and target locations. Moreover, cloud-based data migration software doesn't have much limitation when it comes to source or target files, databases, and OS.
4. Scalability
When investing in data migration software, business owners or commercial users should research the software's data limit.
Sooner or later, if the business prospers, one might need to deal with larger data. In such cases, the data migration tool you're relying on should be scalable and able to accommodate your data.
Cloud-based migration tools can scale up or down as per their client's requirement. However, the hardware on which the software is running limits the scalability of on-premise tools.
5. Functionality
The best data migration solution for you should offer functionalities that suit your requirement. An impressive data migration software offers a streamlined data migration option and also allows clients to schedule automated jobs.
The tool should minimize manual workload and offer fast solutions to transfer files. It should further allow users to replicate and tweak previous workflows and automate backups or data migration. Some tools also permit users to recover lost data.
6. Ease of use
If you're not too tech-savvy, you should opt for a data migration software that offers a user interface that is easy to use and navigate. Software that offers interactive and intuitive user interface designs helps increase efficiency and reduce the time and workload while moving data.
Customer service or technical assistance should also be readily reachable via live chat or quick-reply forums.
7. Pricing
You should invest in a data migration tool that offers you the best data volume and speed at as low a price as possible. That being said, you should also ensure that the software is compatible with your source and target systems.
Some software, such as MiniTool Partition Wizard, migrates data and offers disk management solutions for free for home users.
Free versions are effective but don't offer protection, functionality, and scalability as paid versions do. For commercial users, Pro or Premium paid packages provide the best value for money.
Many tech connoisseurs are convinced that cloud-based data backup software offers the best pricing. Such cloud-based data migration software often offers a 'pay as you go' payment option.
What are Typical Challenges of Data Migration?
1. Data Loss
Companies fear losing even a single record from their database, and rightfully so. Data loss or corruption during data migration can be hazardous to your company. Experts recommend always backing up data before migrating it into a new system to reduce the risk of data loss.
Taking note of the numbers of records in the legacy system and cross-checking it with the migrated data also helps reduce the issue.
Testing to verify the accuracy of the migration tool and process is also highly recommended. Doing so ensures that the process goes smoothly during the actual data migration.
2. Messy Data
Another major data migration issue is inconsistent or messy data. Data cleaning and normalization processes can help eliminate duplicate or outdated data and human errors. Some migration tools, for instance, CloverDX, offer in-application data validation and cleaning.
3. Incompatibility
More often than not, file formats or database structures used in the old and new systems might differ. This incompatibility raises a major problem during data migration. Formatting the old data to match the new system can solve the issue.
4. Lack of Planning
If you're dealing with massive data, properly laid-out data migration is a must. Understanding your data source, the migration process, and the new system is a must before you begin the migration process.
Moreover, proper planning also helps in selecting the right migration tool. Likewise, identifying things that could go haywire during the migration helps you become proactive about the possible solutions.
5. Poor Migration Tool Selection
Regrettably, poor migration tool selection often results in wasted time and money. Please note that the migration tool your business selects should be backed-by testimonials.
If not selected properly, you might end up with migration software that doesn't support your source or destination systems. Or, the migration methodology might be erroneous and untested, leading to data loss or privacy issues.
The exciting offers and discounts might sure seem catchy. However, while dealing with critical and large data, a genuine and tested migration tool is a must. Numerous credible testimonials back the top data migration software listed above.
6. Lack of Data Governance
Misunderstanding and clarity issues often compromise the data migration success and the security of the transfer.
It is always beneficial to discuss the responsibilities and authority of individuals in the data migration team beforehand. The rights and duties should be well-documented to avoid clarity issues.
7. Duration of Migration
When migrating large volumes of data, data migration can be lengthy. The speed of the connection, number of source and target system, the migration tool, and data size determines the duration of data migration.
While some data migration software can transfer files wirelessly, wired data transfers are much faster.
Data migration can be hectic, especially when there's a time constraint. What's more, if multiple failures or trial and errors are involved, the duration can be much longer than anticipated. According to a 2017 study, about 73% of cloud migration took more than a year.
8. Legal Compliance and Data Protection
Data security and privacy are of utmost priority during data migration. The migration tool you opt for should comply with your industry's data security and storage requirements.
Businesses can consult with professionals to discuss the appropriate data security measures, for instance, encryption or chain of custody.
Which Tool Is Best for Data Migration?
If you wish to migrate data within Windows systems, EaseUS Todo PCTrans is one of the best data migration software. A good data migration software offers transfer flexibility, anti-malware, and anti-ransomware benefits and prevents data loss.
That said, the benefit various third-party data migration tools offer varies. So, as long as your data is safe and secure, the data migration tool that suits your specific purpose should be the right choice.
Data Migration Software FAQs
1. What is data migration software?
Data migration is a process of transferring data, such as files, images, operating systems, and more, within computer systems, storage devices, data formats, or applications. Users often need to migrate data when there's a better and upgraded storage location or a computer system for the data.
Data migration software is often third-party software. It offers fast, safe, and secured data migration from one location or system to another with minimal manual work. Many of these programs also provide data backup and cloud-based storage benefits.
2. Does Windows 10 have a built-in migration tool?
One can easily transfer profiles and the data from one Windows 8 and above PC to another using their Microsoft account. The data backed up in your OneDrive account will be migrated to the new Windows PC. All you need is to log into your Microsoft account in the new OS.
Windows Easy Transfer, a data migration software for Windows, was replaced by Laplink in Windows 10. While Laplink conveniently migrates data, files, profiles, settings, and applications, regrettably, it isn't a free tool.
Likewise, Microsoft's User State Migration Tool (USMT) is a command-line utility program that allows file and setting transfer from one Windows to another. Moreover, one can even backup drives in Windows 10 by creating a System Image backup for the data.
3. How long does data migration take?
The duration of data migration depends upon multiple factors and ranges from around 30 minutes to more than a year. These factors include the volume of data, the data migration software, its transfer rate, the number of sources, and the target locations.
Transferring data from a computer hard drive to another is much faster than migrating an entire company database between two servers.
Another factor that affects the duration of data migration is hardware capabilities. Some computer processors and memory modules have the power to move files at a much faster rate than others.
4. What is ETL in data migration?
ETL is an abbreviation for three commonly used terms in the field of data warehousing: Extract, Transform, and Load. These are, in fact, three steps to gathering information from multiple sources, transforming them, and loading them into a data warehouse.
In case you're wondering, ETL and data migration are similar because both processes transfer data from one location to another.
5. Why is data migration needed?
Often companies and businesses must upgrade their server or system to accommodate their data volumes. They tend to perform data migration from an existing system to a newer one that consumes less power and space to reduce their storage footprint.
Moreover, data migration to cloud storage is a common way companies backup and recover data as part of their disaster recovery plan. Transferring data to reliable storage is also a way of cutting down on-premise storage load and the costs involved.
Similarly, personal computers become obsolete as innovations in microchips enable the manufacture of faster computers. If you've been using a personal computer for work, you probably have a significant volume of files you need to keep. Upgrading your computer means having the need to transfer important files from your old computer to the new one.
6. Do I need a data migration tool?
Any tool that allows you to migrate OS or data to another system or storage is a data migration tool. So, if you ever need to migrate your data within operating systems, applications, or storage, you will probably need a data migration tool.
However, you can transfer your one-drive backed-up profiles from one Windows OS to another by simply logging into your Microsoft account. For more complicated data migration, you will need a data migration tool.
If you're a private user who wants to perform simple data migration tasks, the free version of data migration software will get the job done.