Banks don't just provide a secure place for a startup's financial infrastructure; they also assist in raising equity. The best bank for startups provides tools and support to help your business grow fast. These include cash management, reporting, technical integration, digital banking, and even debt financing.
Overview of the Best Banks for Startups
Check out this list of the best banks for startups dedicated to helping small businesses scale and succeed.
| | | | |
| --- | --- | --- | --- |
| Provider | Monthly Fee | Features | Drawbacks |
| Mercury Bank | Zero | Customized software integrationOnline bankingFee-free transactions | Doesn't accept cash deposits |
| Silicon Valley | $32 plus an overdraft fee of $30 | Venture debt serviceFree unlimited wires and mobile depositsBanking services in nine currencies | All services have fees |
| JP Morgan Chase | $15 | Three checking packagesEasy cash withdrawals across 16,000 ATMs | Low interest rates |
| Bank of America | $16 | User-friendly websiteMobile app for cash flow management | Hefty fees |
| Wells Fargo | $10 | Online bankingInterest-bearing accountsCustomized debit cards | High transaction fees |
| Revolut | Free account for up to 10 members£25 per month | Virtual debit card and software integrationAllows clients to exchange in 30+ currencies | Limited free transfer for free account |
| Brex Cash | Zero annual fee | Expense report system for easy monitoring of cardsWorks with business owners with little to no credit history | Requires high account balance |
| BlueVine | Zero | Credit card with an interest-bearing checking account | High cash deposit fees and outgoing wire fees |
| US Bank | Up to $20 | Many checking account packages for businesses | Hefty fees and low interest rates |
Best Banks for Startups
To find the best bank for small businesses, let's look at several options available to you. If you are an entrepreneur looking for a secure place to manage your funds, these financial institutions are a good choice.
1. Mercury Bank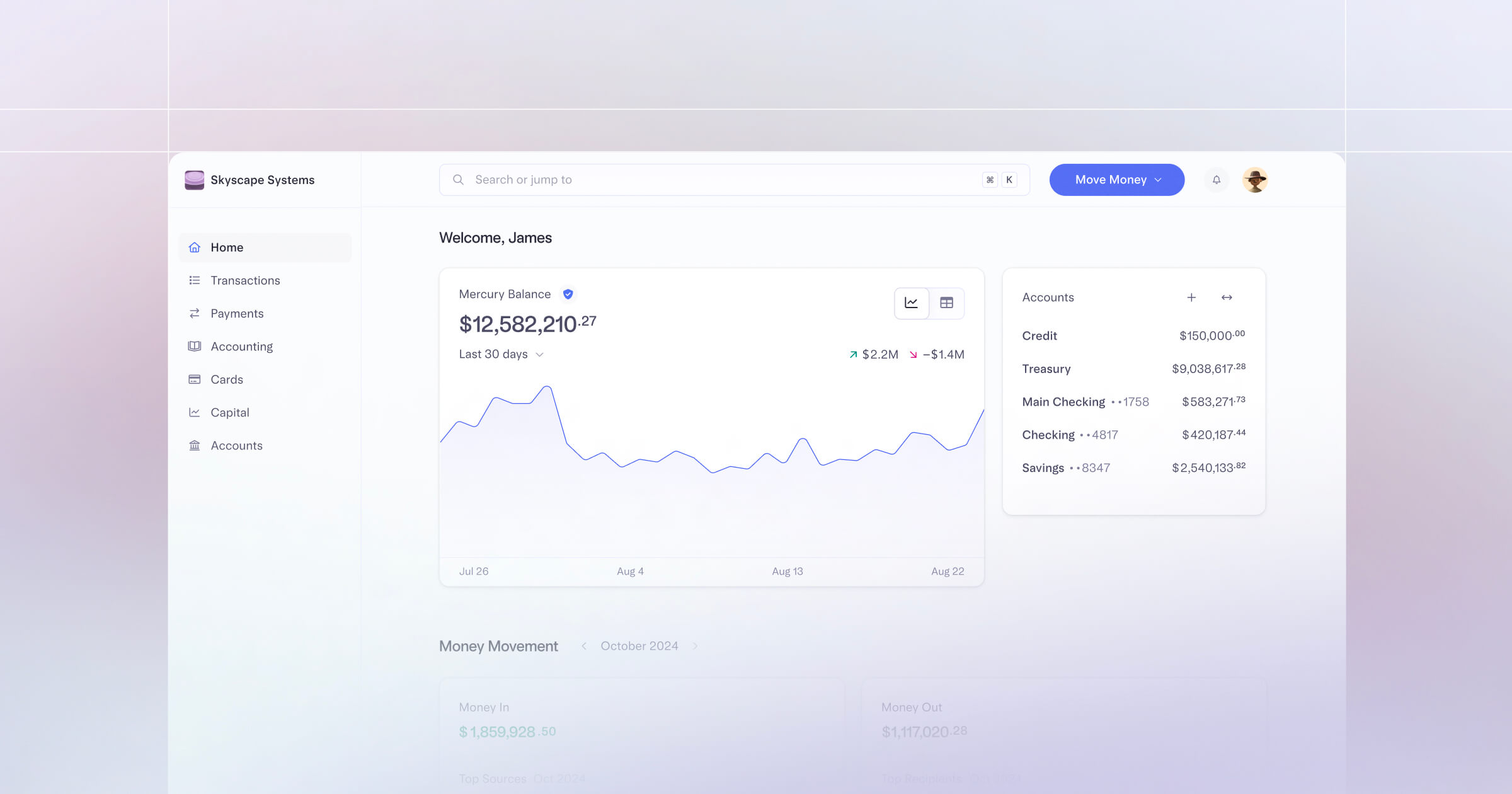 Mercury Bank is an online banking platform specifically designed for startups and tech-focused enterprises. Unlike many business banks, opening an account with Mercury Bank is free.
What makes Mercury Bank stand out?
Mercury Bank is the best bank for startups for many reasons. Firstly, it makes it easy for small businesses to apply for an account. If you have your articles of incorporation and EIN ready, you can complete an online application in minutes.
What's more, registration is possible even for startups outside America. Of course, there are other documents needed to open an account, which you most likely had taken care of when you launched your business.
Secondly, Mercury Bank provides its clients with scalable digital tools. Once registered, you will have access to a user-friendly online platform that lets you manage your cash flow in real-time. Such a platform is integrated with two of the biggest bookkeeping software solutions today: Xero and QuickBooks.
If you prefer a different accounting software than Xero and QuickBooks, that's fine. Mercury Bank can also be integrated with a large number of other applications through the third-party company, Plaid.
Additionally, Mercury Bank offers a premium version of its platform called the Mercury Tea Room. It is designed for businesses that hold a balance of over $250,000 in their accounts.
This upgraded version comes with many perks on top of the basic services. They include free domestic and international wires and exclusive partner discounts to selected merchants or vendors.
Furthermore, Mercury Tea Room members are eligible for the Mercury Treasury Cash Management account. You can use this to help streamline your finances by managing cash, investments, and other financial assets.
Who is Mercury Bank for?
Mercury Bank is the best bank for small businesses that want a banking platform with no transaction fees and prefer to manage their finances online. It is also catered to startups looking to customize their banking using digital tools and software integrations.
The bank doesn't charge incoming wire fees; however, some transactions may require a minimal fee. To avoid unexpected fees when sending wires, send them via the OUR (charges ours) structure.
Pros:
Streamlined application process
No monthly fees
Access to virtual cards
Advanced digital tools for customized banking
Many third-party platform integrations
Cons:
Not available for sole proprietors
Doesn't accept cash deposits
Low savings interest rate
Is it worth it?
Overall, Mercury Bank is a great place for low-cost business banking. It is easy to open an account, and it integrates well with other business tools, like cash flow analytics and reporting.
Unfortunately, even though it allows you to receive online payments and create virtual debit cards, it doesn't support cash deposits. If your business financial transactions are mostly online, Mercury Bank is worth it.
2. Silicon Valley Bank
Another great bank ideal for startups and tech companies is the Silicon Valley Bank (SVB). It offers banking, lending, and investment products to startups worldwide. This bank has been supporting small businesses for nearly 40 years.
What makes SVB stand out?
SVB offers a variety of banking solutions for startups, along with expert advice and connections to help your company grow and expand internationally. In addition to cash management, the bank also provides fraud prevention and venture debt services.
Let's talk about Venture Debt in detail. This service is designed for fast-growing investor-backed startups. It is intended for early-stage enterprises that have raised $5M in a single round.
The program enables companies to take on additional capital they can use as a safety net in case it takes them longer to reach the next round. It can also be used to fund sales and marketing efforts, extend cash runways, and support business expansion.
Another unique feature of SVB for startups is their deposits and investment solutions called SVB Cash Sweep Program and Money Market Account. Aside from these two, SVB also provides a checking account for startups and seasoned businesses, with a monthly fee of $32 and an overdraft fee of $30.
The Cash Sweep Program is an automated investment in low-risk funds. It automatically moves cash you are not using into the market funds, including U.S. government bond funds. Meanwhile, the Money Market Account enables you to earn compound interest by setting up a deposit account.
For startups, the bank offers the SVB Edge, a type of checking account with free unlimited wires, mobile deposits, and bill payments. It does not have a minimum balance requirement and allows multiple account creation at no extra cost.
Another exciting feature of SVB for startups is that they provide banking services in 19 different currency options. That said, businesses can open FDIC-insured multi-currency accounts that allow them to perform same-day outgoing wires.
Lastly, SVB offers two types of business credit cards to help founders scale their businesses. These are:
The Innovators Card is designed for companies that need flexibility. It has no fees or personal liability and allows cardholders to earn reward points for merchandise and travel.
The Multi-Card Mastercard is best for companies that need to increase their spending cap. It features transaction-specific spending control, virtual card number creation, cash-back rewards, and more.
Who is Silicon Valley Bank for?
Silicon Valley Bank is ideal for all business types and sizes, particularly those in the tech industry. The bank prioritizes startups and serves them in various stages of business growth, from wealth advisory to global commercial banking.
With SVB, you can have cards with flexible limits and a money market account with 1.00% APY. They also provide financial services for venture capital firms. If you are starting to build your business, SVB can recommend solutions for your current and future needs through their Asset Management team.
Pros:
Provides wealth management solutions
Simple account setup and access
24/7 online banking access
Cons:
All services are fee-based
The online banking interface is not user-friendly
Is it worth it?
All in all, the Silicon Valley Bank is a reliable financial institution backed by decades of experience. If you need help with financial strategies and funding, SVB might be the bank to help you.
3. JP Morgan Chase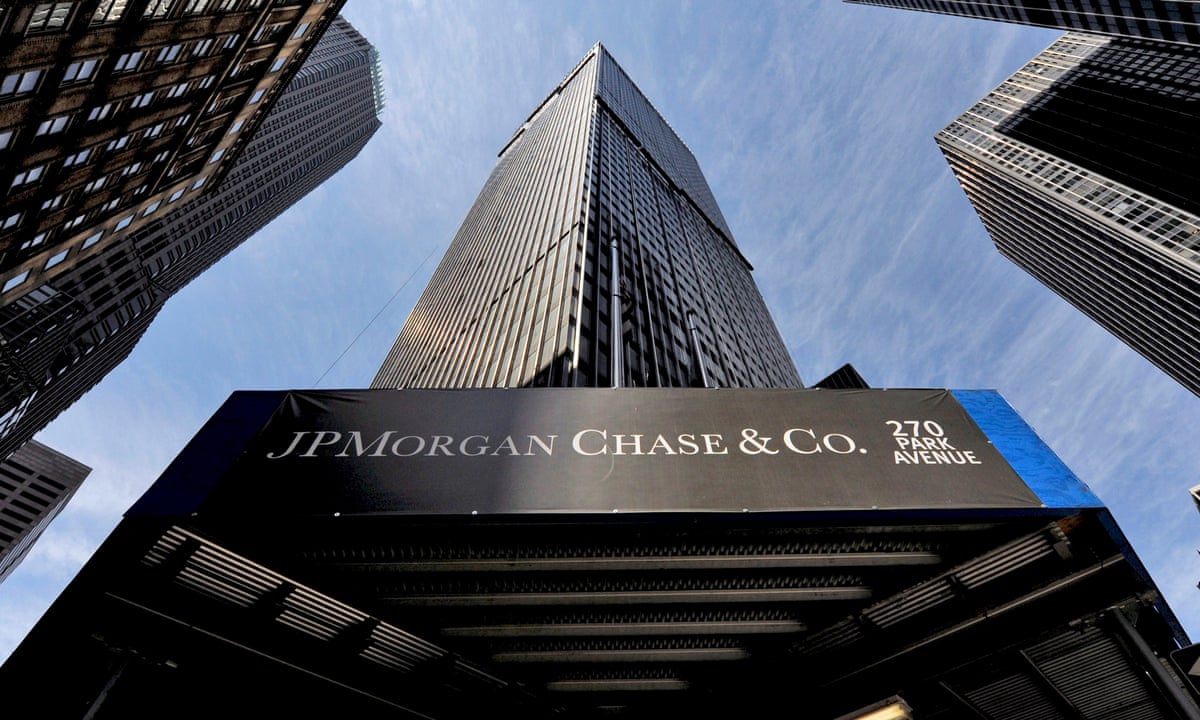 Chase is among the best banks for startups because it is one of the largest banks in the United States. As such, it offers some of the most comprehensive services for businesses. What's more, Chase Bank offers lower monthly maintenance fees than other traditional banks.
What makes Chase Bank stand out?
Chase offers three different checking solutions for businesses:
Complete Banking
A small business account that covers basic banking services plus built-in card acceptance
Features unlimited debit card and Chase ATM transactions
$5,000 in cash deposits per statement cycle with no fee
Performance Business Checking
A flexible account designed for mid-sized businesses
Up to 250 transactions per month at no charge
Unlimited electronic deposits and incoming wires
$20,000 in cash deposits per statement cycle free of charge
Platinum Business Checking
Designed for more prominent companies with bigger cash management needs
Covers 500 transactions per month at no charge, along with unlimited electronic deposits and incoming wires
$25,000 deposits per statement cycle with no fee
For most startups, the Chase Complete Banking account is the best option. Aside from the advantages we just listed, account holders can accept card payments from customers or clients. It also features Chase QuickAccept, which allows same-day deposits into your Chase business checking account.
Another big advantage of Chase is that since it's one of the largest banks in America, the company has over 4,700 branches around the country. This means it's easy to find a Chase banking center.
What's more, Chase has 16,000 ATMs for convenient cash withdrawals. The bank offers credit card accounts for businesses where you get great rewards, like cash back, travel perks, and much more.
Who is Chase Bank for?
Chase is a great bank for small, medium, and large businesses. Their Complete Checking Account package has multiple ways to waive the service fee so that enterprises looking to save money can benefit from it.
Pros:
The bank offers more ways to waive fees
Low monthly service fee
Online banking has a user-friendly interface
No minimum deposit to open an account
Cons:
You need to visit a branch to open an account
Transaction fees could add up if you do a lot of paper checks
Their interest rates are pretty low
Is it worth it?
With a huge network and close to 5,000 locations, you will never be far from your bank when you choose Chase. Plus, their mobile app lets you manage your transactions, make transfers, and pay bills whenever, wherever.
4. Bank of America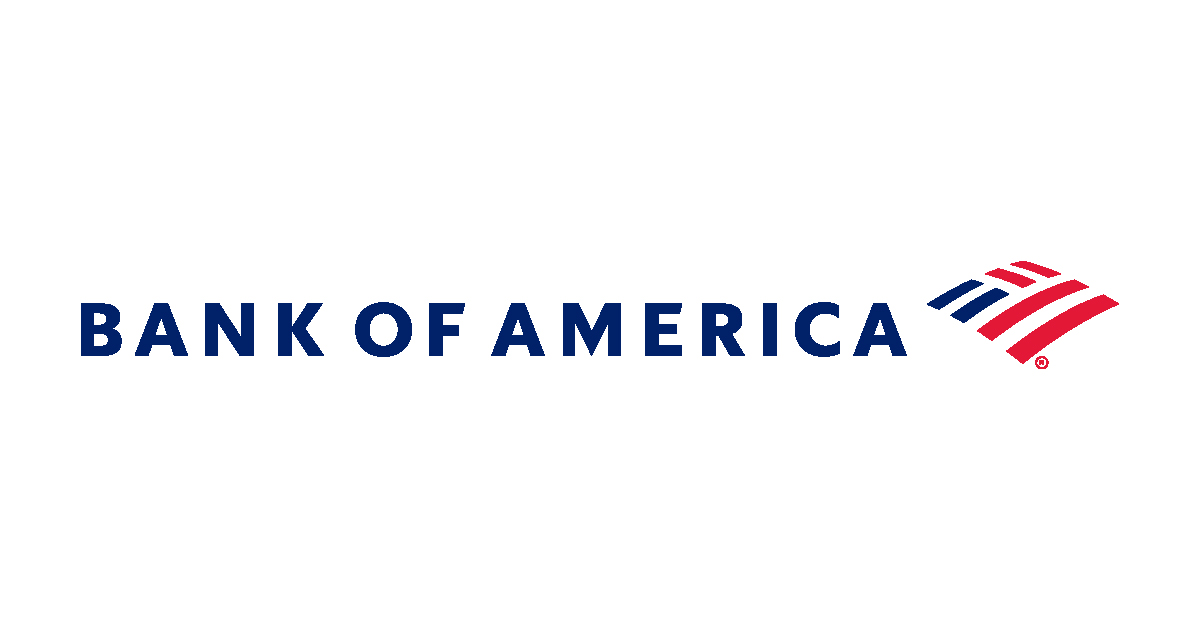 As one of the oldest and most popular banks in the United States, Bank of America offers a variety of account types for small and large enterprises. They also have the Business Advantage Relationship Rewards Program, which gives incentives and rewards to qualified clients.
What makes Bank of America stand out?
What sets the Bank of America apart from most banks is it offers a great user experience. It has an easy-to-navigate website and mobile app, where you can manage your cash flow conveniently.
Like Chase Bank, Bank of America has locations across the United States. Currently, you will find over 4,400 branches and 16,100 ATMs under its name, making it a great option for many businesses.
What benefits does Bank of America offer your business? You can choose from two checking accounts for small businesses:
Business Advantage Fundamentals
The Business Advantage Fundamentals boasts free electronic transactions, including deposits, remote deposits, and debits. It also offers up to 200 fee-free non-electronic transactions, such as cash deposits and checks paid.
Banking and Business Advantage Relationship Banking
The Business Advantage Relationship Banking covers unlimited electronic transactions without a fee. You can also perform up to 500 non-electronic transactions without a charge.
In addition, Bank of America offers the Preferred Rewards for Business program, where you can waive the monthly fees. To be eligible, you must have an active checking account with a balance of at least $20,000.
Enterprise clients get access to digital tools to help them scale and manage their cash flow. Once you open an account, you will have an online banking platform that will enable you to view and manage statements and transactions, pay bills, and download activity from QuickBooks.
Who is Bank of America for?
Bank of America is a great choice for businesses, big and small. They offer a fairly good selection of bank account types. Plus, this bank has a great website, mobile banking app, and customer service that stands out from competitors.
Pros:
User-friendly website and mobile app
Excellent customer service
Rewards program features special interest rates, bonuses, and discounts
Cons:
Low interest rate
A large number of fees
Is it worth it?
With 67 million clients across the country, Bank of America is one of the most well-known banks for businesses. Overall, it can be a great option for all types and sizes of enterprises. That said, keep in mind that it has low-interest rates and requires several recurring fees.
5. Wells Fargo
With over 8,000 branches and 13,000 ATMs nationwide, Wells Fargo is another trusted bank that provides various business account solutions. They work with sole proprietors, small enterprises, and large companies.
What makes Wells Fargo stand out?
Wells Fargo is considered the best bank account for small businesses for various reasons. One is that they offer more customizable and widely accessible banking solutions than most brick-and-mortar institutions.
Wells Fargo is the third-largest bank in the US based on assets. They offer different savings accounts and checking accounts depending on the size of your business, the number of transactions you conduct, and the complexity of your banking needs.
Currently, Wells Fargo offers three options for small enterprises:
Initiate Business Checking
No fee for the first 100 transactions
No cash deposit processing fee for the first $5,000
$25 minimum account deposit
Navigate Business Checking
No fee for the first 250 transactions
No fee for the first $20,000 cash deposit
Premium benefits
Interest-bearing checking account
$25 minimum opening deposit
Optimize Business Checking
No fee for the first 250 transactions
Equipped with digital solutions for business monitoring
Premium benefits
Access to treasury management services
$25 minimum account deposit
All of these three checking accounts feature online banking, 24/7 fraud monitoring, access management, mobile check deposit, and customized debit cards. Do note, however, that all of these accounts have monthly fees.
Furthermore, if you get a business credit card and link it to your checking account, Wells Fargo gives you great perks, including cashback on all purchases and travel rewards.
Who is Wells Fargo for?
Wells Fargo is ideal for growing businesses and startups that want convenient banking services. In addition to savings and checking accounts, Wells Fargo offers loans and merchant services.
Each account has an increasing number of features. Thus, if your business outgrows one account, you can upgrade to one that covers more transactions.
This bank attracts startups that mainly operate online. You can open an account through their website or over the phone. From there, you can start managing your account online. Wells Fargo has customer support available 24/7 in case you encounter some issues.
Pros:
Expansive branch access
Easy account registration and setup
Offers loans and merchant services
Cons:
No free checking option
Stingy transaction limits
High ATM and incidental fees
Is it worth it?
Wells Fargo offers a full range of services to help you grow your business. With a big footprint, you can easily access their services anywhere in the country. Moreover, the bank has a great mobile app that offers a lot of interesting features and advanced technology.
6. Revolut
Revolut first started as a prepaid card provider in 2015. Since then, it has grown and developed more financial products, including business accounts.
Their business banking solutions are designed to tackle the hefty charges of traditional banks and make it easy for small enterprises to open up a checking account. Currently, Revolut operates within the U.S., European Economic Area (EEA), and Switzerland.
What makes Revolut stand out?
Revolut is another modern digital banking solution catered to small enterprises. It has several pricing plans available depending on the size and type of your business. That said, they also have a free account, although with limited features.
One of their popular packages is the Revolut Business, a banking platform offered via a mobile app for iOS and Android users. This plan is ideal for enterprises with a somewhat international presence. For instance, if you have suppliers or clients from different parts of the world and deal with multiple currencies, the Revolut Business is likely to suit your needs.
When it comes to currencies, Revolut allows its business clients to exchange more than 30 different currencies free of charge. On top of these, the Revolut Business has many other features, such as:
Virtual and prepaid debit cards
24/7 priority customer support
Software integration
Ability to add team members to the account
Another interesting feature of the Revolut Business is the incorporation of prepaid debit cards and a mobile app. With the Revolut platform, you can take full control of your business expenses by issuing business cards for you and your team.
Additionally, you can track your employees' spending through the app and control their expenses with the approval feature. You can even issue virtual cards to be used for making online payments or managing subscriptions.
Lastly, Revolut allows you to integrate numerous accounting and productivity applications to help streamline your business process.
Who is Revolut for?
Revolut is the best bank for small businesses that often work with offshore customers and suppliers. It is also ideal for local businesses that need extra support in managing their finances and streamlining their processes.
Pros:
App-based business bank account
Innovative app for financial tracking
Ability to create virtual cards
Con:
The free checking account is very limited
Is it worth it?
The simple design and ability to work with different currencies make Revolut for Business a fantastic option for small businesses. It is a digital alternative to traditional banking, where everything can be set up online.
7. Brex Cash
Brex Cash's Brex Card is designed for well-funded startups that need access to enough credit to meet their growing needs. Founders who may be recent graduates or have little to no credit history can depend on this institution.
What makes Brex Cash stand out?
The Brex Card aims to provide a solution for startups that need extra funding to manage their cash flow. However, what really sets it apart is its generous rewards program called the Brex Exclusive.
The more you use your Brex Card for purchases and payments, the more you earn points for travels and hotel stays, recurring subscriptions, food, and other things. Moreover, qualified companies can get access to virtual cards they can use to securely pay merchants. There's no limit to the number of Brex Cards that can be given to a company.
Another advantage of the Brex Card is the expense report integration. Thanks to this, you can sync your QuickBooks and other apps you might need to manage your business well.
The holder's eligibility and credit limits will depend on their spending needs and funds. Currently, companies with at least $50,000 in professionally managed funds can get a Brex Card.
On top of these, Brex Cash offers other useful features for businesses. These include software integration, expense management, and instant payouts. With the platform, you can use payment processing networks such as PayPal, Shopify, and Stripe.
Another feature of Brex Cash is its expense management tool, allowing businesses to keep track of their expenses. As the account manager, you can approve or reject card transactions. You can also enable features like receipt matching, where employees can submit photos of their receipts and get them consolidated into the platform.
Who is Brex Card for?
The Brex Card is designed for companies looking to become more liquid and manage their cash flow effectively. Startups seeking credit cards with a generous rewards program will greatly benefit from Brex Card.
It is also best for small business owners who want a free cash management account and prefer to manage their finances online.
By the way, the card carries an annual fee of $150. However, the more you use it, the more rewards you earn. For example, if your company spending reaches $5,000 in the first three months, you get a $500 bonus.
Pros:
Unlimited cards and customized (vendor-specific) cards
Generous rewards system
Expense report integration
Cons:
Requires a high bank account balance
No revolving balances
Is it worth it?
Few cards in the market offer lucrative rewards and earning structures without a personal guarantee requirement. Even if you don't have a credit history yet, Brex Card is a good option as long as you carry the kind of balance sheet they require.
8. BlueVine
BlueVine is a fintech company that offers online banking and financing services to small and medium-sized businesses. It was established in 2013 and has become one of the most sought-after banks since then.
What makes BlueVine stand out?
BlueVine offers business checking accounts with unlimited transactions and no fees. What makes it unique is that alongside the online banking features, you can earn interest without a monthly or daily minimum balance requirement.
Currently, the bank pays 1.2% APY on balances up to $100,000. However, you need to spend $500 per month using their BlueVine Business debit card and receive $2,500 per month in customer payments into your checking account.
Also, unlike many online-only accounts, BlueVine allows you to make cash deposits.
What are the other benefits of opening a checking account with BlueVine? Firstly, there are no monthly fees. However, they charge $15 per transaction on outgoing wires, $4.95 for cash deposits, and 2.9% for credit card transactions.
BlueVine also comes with a bills management system that lets you make payments anytime. You can even automate or schedule your payments so that you don't miss any deadlines. In addition, you have the option to pay vendors directly from your checking account or via credit card payments.
Another advantage of choosing BlueVine is its top-rated customer support. In case you experience issues with your online banking account, you can get live support from them.
Lastly, BlueVine offers a business line of credit to help your business get extra funding. It works more like a revolving credit, which gives you access to more funds if you repay the outstanding debt.
Who is BlueVine for?
BlueVine is the best bank for startups that want a free business checking account that yields interest. It is also suitable for businesses that prefer to manage the majority of their finances online and don't want to go to a physical branch.
That said, although they allow cash deposits, they are limited to $7,500 per month.
Pros:
No fees and no minimum account deposit or balance
Interest-bearing
Free ATM access
Comes with a variety of payment methods
Cons:
No physical branch
Has cash deposit fees
Is it worth it?
Overall, BlueVine is one of the best choices for small businesses because they offer free checking with unlimited transactions. Aside from that, the bank provides business financing solutions for up to $250,000. It can be a great option for early stage startups that need extra funds to grow their business.
9. U.S. Bank
U.S. Bank ranks fifth in the top 10 biggest banks in the country based on assets. With over 3,000 locations and 4,500 ATMs, it is another great option for businesses just getting started. Aside from making banking convenient, it lets you open an account for free without any monthly fees or minimum balance requirements.
What makes U.S. Bank stand out?
U.S. Bank offers a variety of checking solutions for businesses, including a fee-free option. The basic package, called the Silver Business, is ideal for new businesses that do not expect to maintain high balances. It covers 150 fee-free transactions per statement cycle and doesn't have a monthly fee.
They also offer a Gold Business package, which includes 300 free transactions and 100 free cash deposits per statement cycle. This one costs $20 monthly but has more features, including a cash bonus and a reward system.
For bigger businesses, U.S. Bank recommends the Platinum Business and Premium Business Money Market, which come with more perks and benefits. Even though they have slightly higher monthly fees, these checking options offer more free transactions and deposits, as well as lower fees for other services.
Who is U.S. Bank for?
For startups who need banking services that scale with their business, U.S. Bank fits like a glove. Like any traditional bank, it has a lot to offer for all types of businesses.
It works best for companies that need to work with cash or who wish to open a checking account with no monthly fees. In addition, U.S. Bank offers small-business financing, so if you need extra working capital, they are able to assist you.
Pros:
No minimum requirement for the basic checking account
Many locations across the U.S.
Comes with a user-friendly mobile app
Cons:
Hefty fees, including overdraft
Middling interest
Requires in-person application
Is it worth it?
U.S. Bank is a decent bank that offers a wide range of banking options for businesses. Compared to most traditional banks, it has some of the most comprehensive packages for startups.
If you are unsure what package is best for you, you can start with the basic checking. You can then upgrade your account as the need arises.
Bank for Startups FAQs
Choosing a bank is one of the most important decisions every business owner has to make. Below are the most common questions entrepreneurs have about opening a business bank account.
1. How do banks support startups?
There are many ways that traditional and online banks support startups. Primarily, banks offer a more streamlined process for businesses to manage their funds.
The best banks for startups offer services like online and mobile banking and other products tailored to the needs of startups.
For example, most banks provide an online platform that lets you monitor and manage multiple accounts from a single dashboard. This gives early stage startups more flexibility and the ability to focus on more important tasks.
2. Do banks fund startups?
Yes, some banks offer small business loans to qualified companies. Often, financing for startups requires strong collateral, cash reserves, and a good credit score. Many national and local banks also offer SBA loans, which generally have low-interest rates and long repayments.
3. Which account is best for business?
The best checking account for startups makes separating business from personal spending easier. When looking for the best bank account for small business, the things to consider are the features and services, interest rates for deposit accounts, branch banking and ATM access, service fees, and ease of integration.
4. What do I need to open a business bank account?
In general, you need the following to open a business bank account:
Articles of incorporation
Employer Identification Number (EIN)
Personal identification documents
5. What type of bank account do I need?
There are four types of business bank accounts to consider:
This is a great choice for managing payroll, company expenses, and other financial tasks to keep your business going.
In addition to a checking account, businesses likely need a separate account to hold their earnings.
This account is ideal if you plan to accept credit and debit card payments.
For a startup business that need extra funds to manage their cash flow, a credit card account is a good addition to a checking account.
The Best Bank for Startup Businesses
Overall, Mercury Bank is the best bank for startups because most of its services require no fees. Plus, clients are provided with scalable digital tools to effectively manage their finances. If you need more services like ATM access and cash deposits, you may consider big banks like Chase and Bank of America.